START THE SHOW! Knights' Perkins prepared for Encore
Aug 06, 2021
Photo by Lily Cox
Episcopal senior Morgan Perkins doesn't care for "real-life" TV.It doesn't grab her attention.

Animation does, however, which is why the 6-foot-1 middle and Oklahoma-commit is a devoted fan of The Amazing World of Gumball— "since the sixth grade!" Perkins said — and identifies closely with Finn the Human from Adventure Time.
"He loves adventure, but he also stays true to himself through every adventure," Perkins said. "I like being adventurous, and I like that he has his buddy, Jake the Dog, and I have my buddy, Hailey."
'Hailey' is former Episcopal setter Hailey Black, now playing at Cal State-Fullerton. And like any intriguing cartoon story, change awaits the protagonist, Perkins.
Most of her friends were seniors who have now moved on, and now Perkins must adapt, on and off the court.
Indeed, this season could look quite different. Perkins is likely to play more on the outside, which she is excited about because it allows more control over the opposing team's blocking and better uses her length and athleticism to hit from range.
Perkins will also assume a primary leadership role. Generally reserved and introverted, she is no longer shy and timid. She is more familiar with teammates and, therefore, more confident engaging them.
"It took me coming out of my own shell," Perkins said. "I used to just hang with Hailey, and I never really went outside of that circle. Now, I have to. It's good for me."
The Knights had an uneven 2020 season after winning the 2019 Southwest Preparatory Conference championship, their second title in three years. Because of the COVID-19 pandemic, the SPC only permitted 14 matches to be played by its members in 2020. There was no postseason. Perkins still hit .368 with 60 kills and 30 blocks against a loaded schedule that included College Station, Fulshear, Memorial, George Ranch and Deer Park.
Perkins wants to leave a legacy of winning at Episcopal.
Though substantial talent graduated, she trusts there is more than enough to get back on top.
Perkins also has a more significant, personal drive. Her father, Derrick Perkins, once had the potential to be an NFL prospect, she said, but academics held him back.
That has not been lost on him or her.
"I want to go as far as I can for him, since he didn't have the opportunity," Perkins said. "The best advice he's given me is to stay on top of my grades, and how grades come before any sport. You can't go anywhere without it."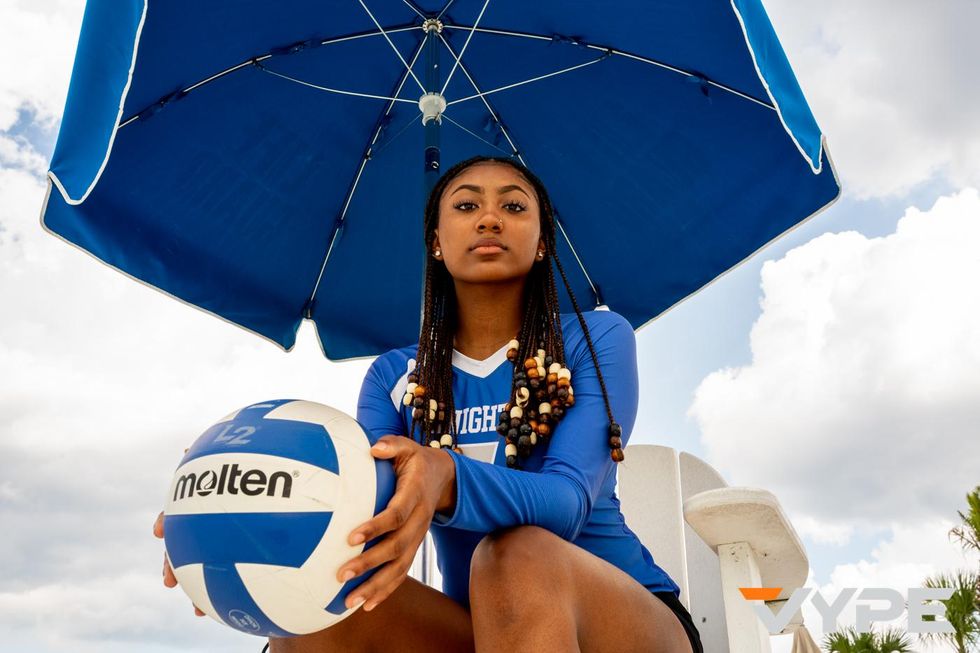 To purchase the 2021 VYPE Volleyball Preview CLICK HERE
To view the VYPE Digital Magazine CLICK HERE
To view all photos from the photo shoot CLICK HERE