Photo by Bradley Collier
AVA ZINDLER HAD A BREAKOUT SEASON IN CROSS COUNTRY IN 2020, HELPING LEAD THE CRUSADERS TO SILVER AS A TEAM AT THE TAPPS STATE CROSS COUNTRY MEET
The junior finished 15th overall and looks to carry the proverbial baton in 2021 as the captain of the team. Zindler has an easy-going demeanor but don't be fooled, she's as competitive as they come on the course.
VYPE caught up with the three-sport athlete this spring.
VYPE: Concordia Lutheran had a tremendous finish in cross country this year. Were you surprised?
ZINDLER: I was expecting to have success. We were training for so long and our coaches pushed us along the way. We were hoping to do great things and the hard work paid off.
VYPE: How important was chemistry to the success of your season?
ZINDLER: It's so important. Sometimes you might be having an off-day or your teammate is having an off-day. You have to rely on your other teammates sometimes and you can't be selfish if you are the one slowing down the team. We pick each other up and that is so key.
VYPE: What is it that drew you to the sport of cross country?
ZINDLER: There is such satisfaction at the end of a race that you were able to complete that feat. It takes heart to compete in this sport and you learn a lot about yourself.
VYPE: What does it take to be an elite long-distance runner?
ZINDLER: It's very mental and a lot of times it hurts, but you just have to push through it. When you are in the middle of the race and you have a mile to go, you just have to really focus and it really goes pretty fast.
VYPE: Outside of cross country and track what do you do? What does the future hold?
ZINDLER: I'm also on varsity tennis, so the seasons don't really overlap. It's pretty easy to time manage it. As far as the future goes, I'd love to run in college. The communication is going really well with that.
CLICK HERE to view the Concordia Lutheran Magazine

CLICK HERE to purchase Concordia Lutheran Photos
Photo by Justin Hartojo
Frassati is coming off an impressive season, where they went 11-9 and reached the Regional Finals under first-year coach Trina Searcy.
In the five seasons that Frassati Catholic has played volleyball, only once (2018) have they missed the postseason.
With three starters back from the 2020 squad, the Falcons look to get back again.
The leader in the locker room will be Alexis Bodunrin, who led the team with 318 kills and 231 digs a year ago. She was named first-team, all-district.
Other key returners include Natalia Kacprzak (59 kills, 34 digs, 23 blocks) and Katherine Liepman (53 kills, 47 digs).
Keys to success for Searcy's group in 2021 include "great defense, serve-receive, communication, trusting teammates and being physically ready to hit the gym floor on day one".
The Falcons could claw their way to a deep playoff run again in 2021.
To purchase the 2021 VYPE Volleyball Preview CLICK HERE
To view the VYPE Digital Magazine CLICK HERE
To view all photos from the photo shoot CLICK HERE
Photo by Bradley Collier
The Psencik house is a den of competitiveness in a good way.
"My mom and I are really competitive with board games. That's our thing," Lily Psencik laughed. "Qwirkle… we are really competitive with that one."
But who is the best athlete in the house? "I'd say, me," she said.
"My mom played volleyball and my dad was good at football and baseball. My brother might give me some competition and he is probably better in a single sport. I'm the best overall athlete in multiple sports."
My sister should stick to reading. She's kind of competitive but would be just as happy if a game ended up in a tie. Look, I'm in my prime but back in the day my parents might have taken me out."
Psencik is coming off a pair of first-team, all-district honors in volleyball and softball.
She helped lead the Pioneers to the Regional round in softball before falling to the eventual state champ Second Baptist. In volleyball, Psencik flew around the court leading LSA to the Regional round as well.
"I've always played multiple sports," she said. "My first love is volleyball and I'd love to play it in college somewhere. I grew up playing softball too and I love to compete on the diamond as well. I love to stay active, so playing sports all the time has always been my way of life. In the summer, it's speed and conditioning camp and the beach."
Her father, Rob Psencik has coached and been the athletic director at LSA. While mom, Sheila, was the Head of School. Her brother, Beau, played football at LSA and is now a preferred walk on at the University of Nebraska.
Lily has always been a coach's kid. She's always been around the weight room or the gym.
"Having our parents at school is good and bad," she laughed. "When you need something at school, they are right there. It can get embarrassing because they have to punish your friends if they get into trouble. We've been here since I was in Pre-K, so I'm used to it."
While she doesn't plan on going into education or coaching, she does have plans to stay in sports.
"It's been my life for so long," she said. "I'd like to do physical therapy and help athletes get back on the field."
But once a coach's kid, always a coach's kid.
"I'd like to leave a legacy of being a great leader," she said. "It's so important in sports and something you can use the rest of your life. Being competitive is great, but being involved in sports is also a great way to meet life-long friends. It's a win-win.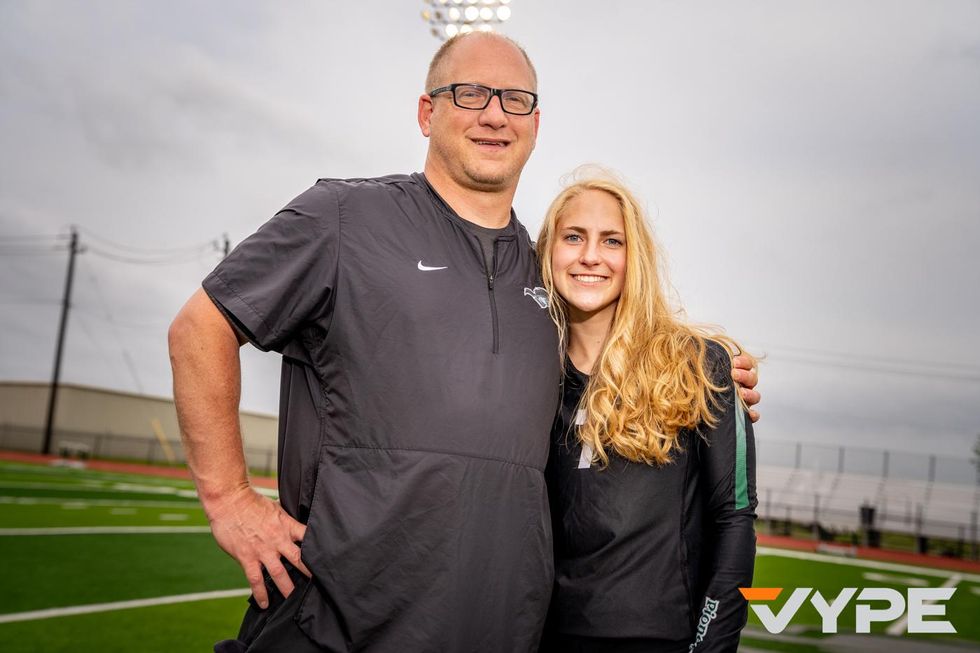 CLICK HERE to view the Lutheran South Academy Magazine

CLICK HERE to purchase Lutheran South Academy Photos
Join the #VYPETEAM
Get up to date news from all over the country!