ALL BUSINESS: LSA Swim returns to TAPPS State Meet
Feb 07, 2023
Photo from Lauren Ferguson's Instagram: @lauren.ferguson06
Lutheran South Academy swim is headed back to the TAPPS State Tournament for the fourth consecutive year, hoping to add to the Pioneer legacy.
In recent years, the LSA boys have become a model of consistency, considering they are the reigning State Champs, and also won it all in 2020.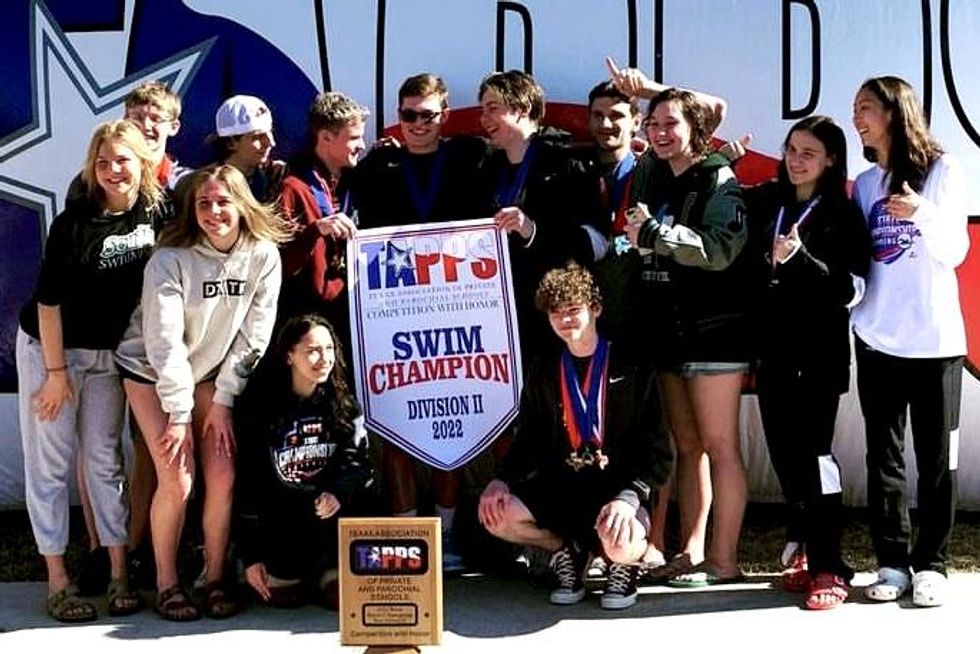 The 2022 TAPPS-D2 Swim Champions: Lutheran South Academy
Despite LSA having fewer swimmers than most, coach Jamie Mueller emphasizes quality over quality in her confidence that both the boys' and girls' teams can bring home some medals this week.
"Our high school team, it might be small, and we're always looked at as the underdogs," said Mueller. "But, our skill set and perseverance always show through at State. A State Title isn't out of the question for us. We're definitely going to be contending and for sure bringing home some medals, individually."
Said individuals who are sure to stand out on the boys' side include senior swimmers Kai Beckum and Elliott Miles, who already have two titles under their belts. They've been among the leaders on the young Pioneers' team.
"Sometimes it's a little tricky to set an example for the younger athletes, the kids are kind of rowdy," laughed Beckum. "So, our coaches need a little more help than usual and I'm glad to do that. But we all know when it comes to State, we won't have time to mess around, so we'll get business done."
Miles shares the same sentiment.
"I'm hoping to inspire the freshman and younger crowd during my time here," said Miles. "It takes a lot of dedication and hard work to reach the level of success we have with such a small team. But we thrive in that."
The girls' team, despite not having the recent success of the boys, has performed exceptionally well this season. Sophomore Lauren Ferguson, younger sister of LSA swim star Chase Ferguson, is aiming to lead the girls to their first State Title while carrying the Ferguson torch.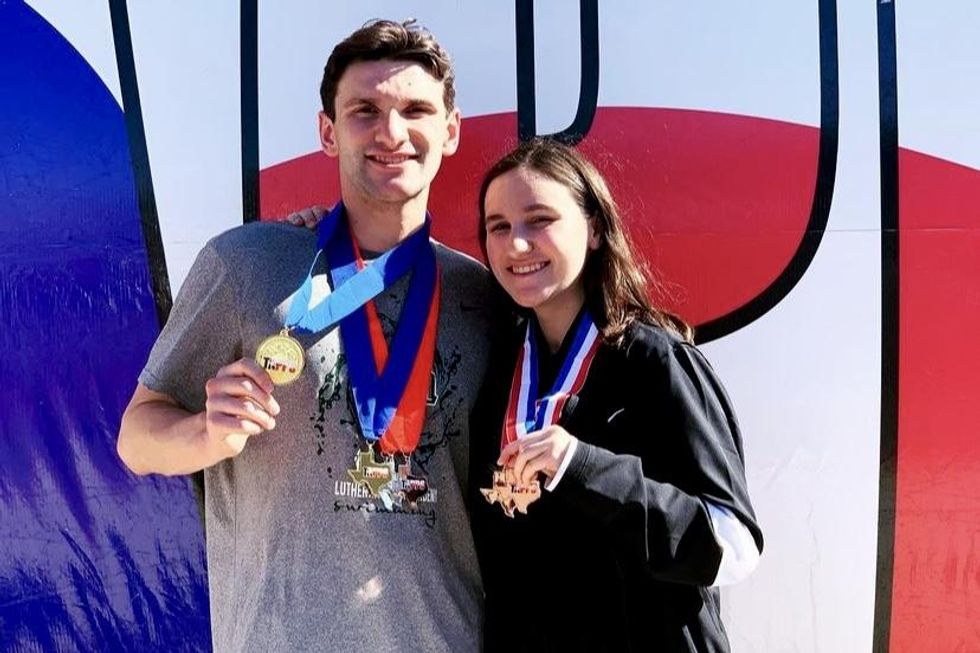 LSA's Lauren Ferguson and her older brother, ChasePhoto from Ferguson's Instagram: @lauren.ferguson06
"It's so cool to be a part of a team that's been built up so much," Ferguson said. "Really having that strong backbone with my teammates behind me, that's really what can make our success happen. The positivity that everyone creates at all the meets, it wouldn't be what it is without them."
Coach Mueller will look to her leaders to push the rest of Pioneer Swim during Tuesday's State meet, with the goal of bringing home another TAPPS State Championship.
"Everyone on the team has a winning mentality, especially the older kids," Mueller said. "With them, the attitude is always not screwing around at practice, taking it seriously, and cheering everybody else on. They know how to be a part of the team and when it's a meet day, attention will be on high alert and it will be all business for us."