By Jacob McCready
The Tomball Memorial Wildcats won an instant classic over crosstown rival Tomball in a 5-set match (25-22, 19-25, 30-32, 25-23, 15-9).
Memorial is currently leading the district with a record of 4-0, 26-8 overall, the Cougars are in second place.
CHECK OUT THE PHOTO GALLERY BY JACOB MCCREADY.
As featured on X
Ray Garza is an Alvin ISD lifer.
He has been tasked with leading the Iowa Colony Pioneers, the district's newest school.
In just its second year of varsity play, the Pioneers are 4-0 as they head into Class 12-4A-DI play which is filled with long-time power programs.
"This is my home," he said. "This is my community. My mom still lives in the house I was raised in and it's an honor to lead Iowa Colony. I've been able to stay in one place and raise my own family, while having been a part of the district's winning tradition."
Garza played at Alvin High and tried his hand in college football at Blinn. He would graduate from Texas A&M and did his student teaching in Alvin. He was on coach Kirk Martin's first staff at Manvel High School and was a part of the winning culture of "Hoka Hey". He was the defensive line coach when the Mavs reached the State Finals in 2011.
He would follow Brad Butler to Alvin ISD's next new school – Shadow Creek. The Sharks played for a State Title in 2018, the first year it truly played a varsity schedule. Shadow Creek would go on to win State in 2019.

"I've been a part of some big games around here," he said. "And I've had some tremendous mentors."
Garza was a no-brainer to open Iowa Colony. The Pioneers took their lumps last season, going 2-8 on the season. They played a varsity schedule with freshmen and sophomores but were extremely competitive.
"We are building a family culture here," he said. "We are much-improved because we have simply had our kids for another year of development. From the offseason boot camp and summer work outs, we have come together as a family. It runs throughout the school because so many of our kids play multiple sports. Our kids are seeing their hard work pay off as we evolve as a program."
Running the offense is sophomore Cam Renfro, a dual-threat QB with over 800 yards of total offense and 15 scores. He is joined in the backfield with RB Eric Mosely III, who has burst onto the scene. The receiving room is loaded with four WRs with over 100 yards. Jacody Miles, the 2022 District Newcomer of the Year, is dynamic with the ball in his hands either running, receiving or returning.
Antoine Martin, Jr. is a speedster with length to stretch the defense, while freshman Carson White and junior Landy White are also primary targets. The line is led by center Tyson Windham.
"We have some pretty special receivers for Cam to throw to," he said. "He is understanding the offense really well with another year of experience. Mosely has run really well and Windham diagnoses things up on the line. Our defense is making plays with some very talented kids who work really hard."
Chris Johnson is the star at defensive end at 6-foot-3. He has an offer from Baylor.
"When your best player is your best leader, that goes a long way," Garza said. "He keeps everyone on track."
Bruce Robinson, Henry Kalu, Haydon Caston and Treshaun O'Neal lead a fast and physical linebacking corps, while Jeremy Gardner patrols the secondary.
"We are off to a great start, but we are in a very competitive district," Garza said. "There are some great programs with a lot of tradition and great coaches. We will be tested every Friday in a playoff atmosphere. You want that pressure to make a playoff spot. It makes you focus one week at a time."
Absolutely "on brand" as Garza builds his colony.
Jamey Wright (VYPE)
Cypress Ranch volleyball entered the 2023 season with some uncertainty. Coach Chrissy Woodward left to take over the Cypress Christian program and All-America Brianna Muoneke began her career at Texas A&M.
Enter coach Dr. Collea McKinney, who was an assistant at The Woodlands High School last year... which reached the State Tournament in 2022.
Cy Ranch is currently 22-5 as they are completing the first round of district-play with at ton of momentum. It's been a smooth transition as McKinney brings a new, fresh perspective.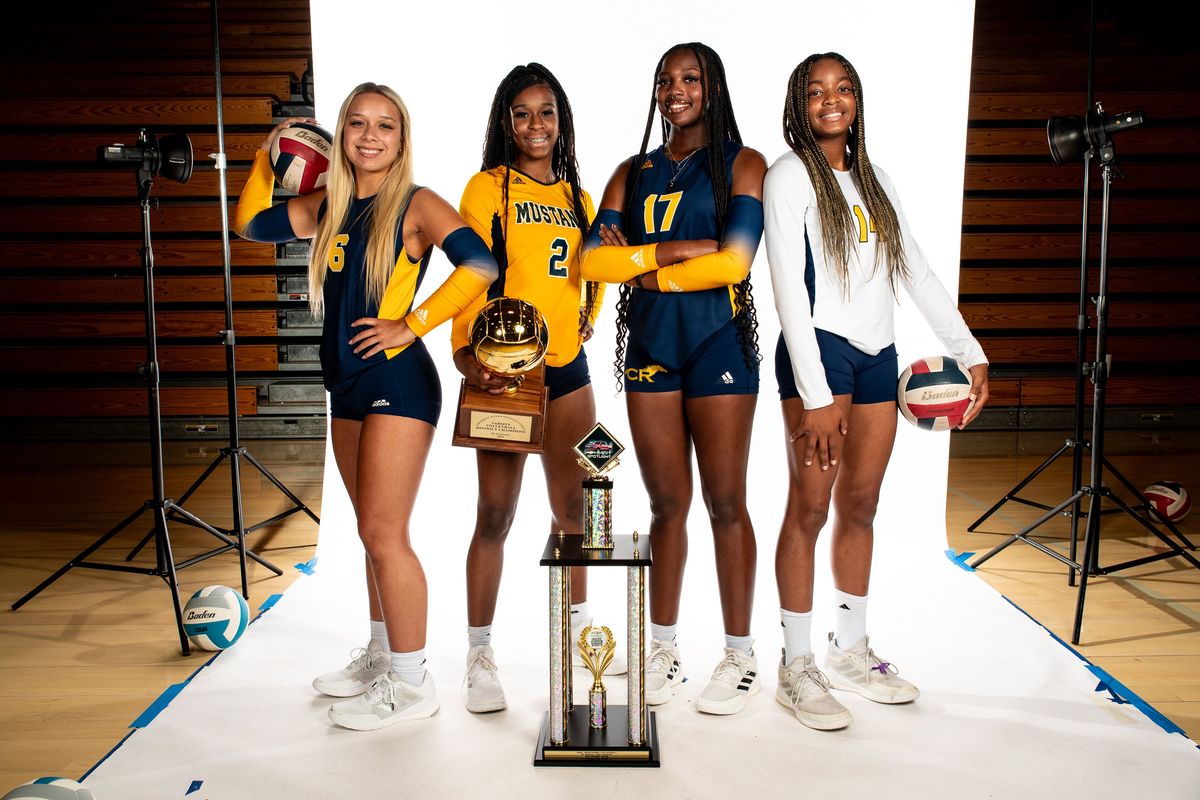 Jamey Wright (VYPE)
"Our culture is about respect," said McKinney. "The players are not only respecting the coaches, but respecting each other. We preach building each other up. We're only as good as our weakest link, so as long as we're all staying together, everybody brings something to the table."
The Mustangs are led by a trio of senior captains, headlined by Gabrielle Eads (L), Taryn Gilreath (S) and Vanderbilt-commit Taylor Porter (OH).
Porter leads the team Cy Ranch in kills (332), while Gilreath leads in assists (357). Eads is in the top-three of each of the team's stat categories.
"Porter just has a great energy about her," she said. "She's a great player but more importantly, a great teammate and leader. She has a great personality. She's a really unique player and were are blessed to have her. Taryn is back in the program after taking a year off. We are happy to have her back."
However, McKinney is most impressed with how they've led with accountability.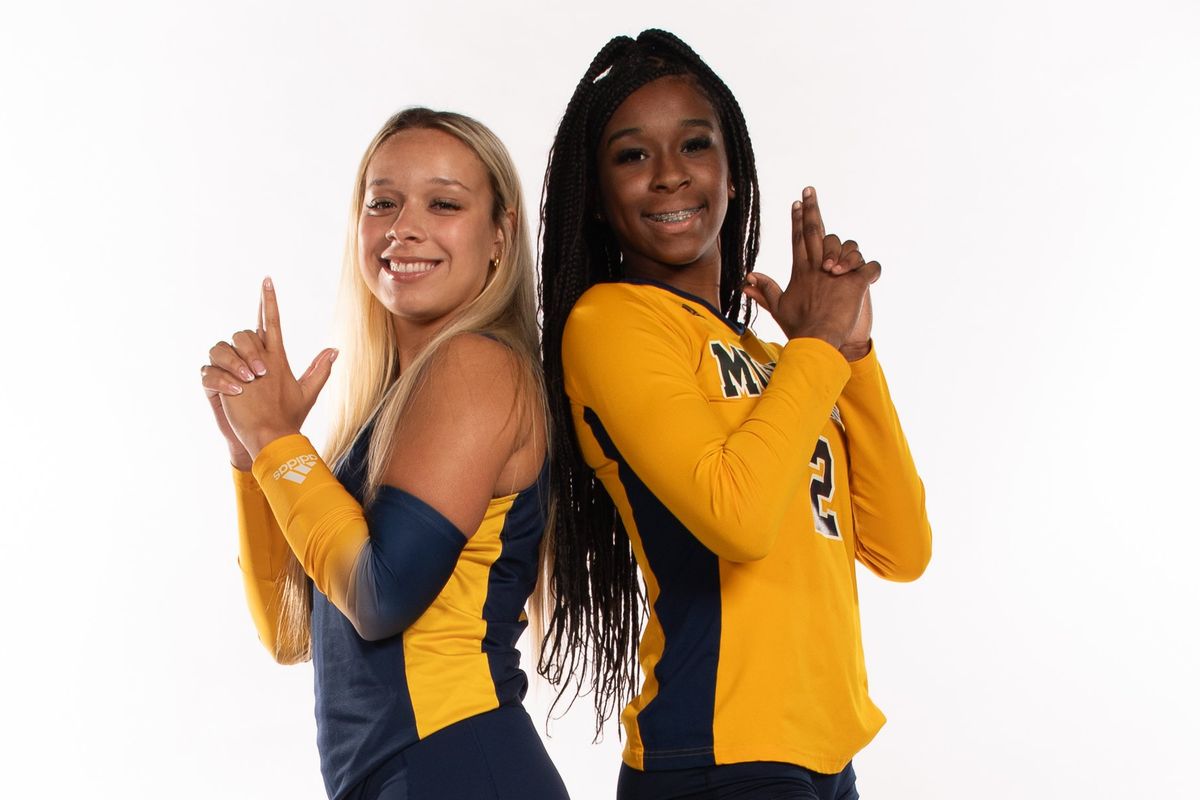 Cy Ranch's Gabby Eads & Taylor PorterJamey Wright (VYPE)
"We have a working relationship where they share ideas with me about what can help the team," she said. "The coaches have to occasionally make hard decisions, but I've been leaning on them to uphold the standards we have and keep the team together. We come to a compromise but I hear them. It's really helping me with my active listening, which I'm working on.
"I feel like the other teammates respond to them well. It's hard to lead when you don't have the right relationship. Them being friends off the court, makes it easier for them to stay connected on the court."
McKinney is clearly a player's coach, which stems from the time she played volleyball at Henderson State. It's where she would meet her husband, Anton McKinney Jr., who coaches at boys basketball Conroe.
It's also where she would pursue her doctorate in education. Given her upbringing, it seems like it was always meant to be.
"I couldn't handle the blood to be a medical doctor, but I've always been around the educational system. That's why I wanted to pursue a doctorate in education. My father was a teacher and a preacher with several degrees and my mother worked in higher education for years," McKinney said. "Apparently, it's my passion because I like building up others. I think that's because of my background, growing up in the church and the positive influence of my family.
"I feel like you always have to build up the whole person, which is what my parents and coaches have done for me over the years. I feel like if I can help somebody out that way, then my work is done."
While Bridgeland, Langham Creek and Cy Woods will make for a challenging district race, count on the 'Stangs to return to the postseason.
For Cypress Ranch is in good hands with the Doc McKinney.
Join the #VYPETEAM
Get up to date news from all over the country!