Celina XC runner, Adele Clarke, is VYPE DFW's Public School Female Cross Country Runner of the Year presented by Academy Sports + Outdoors
Dec 03, 2021
Success in Running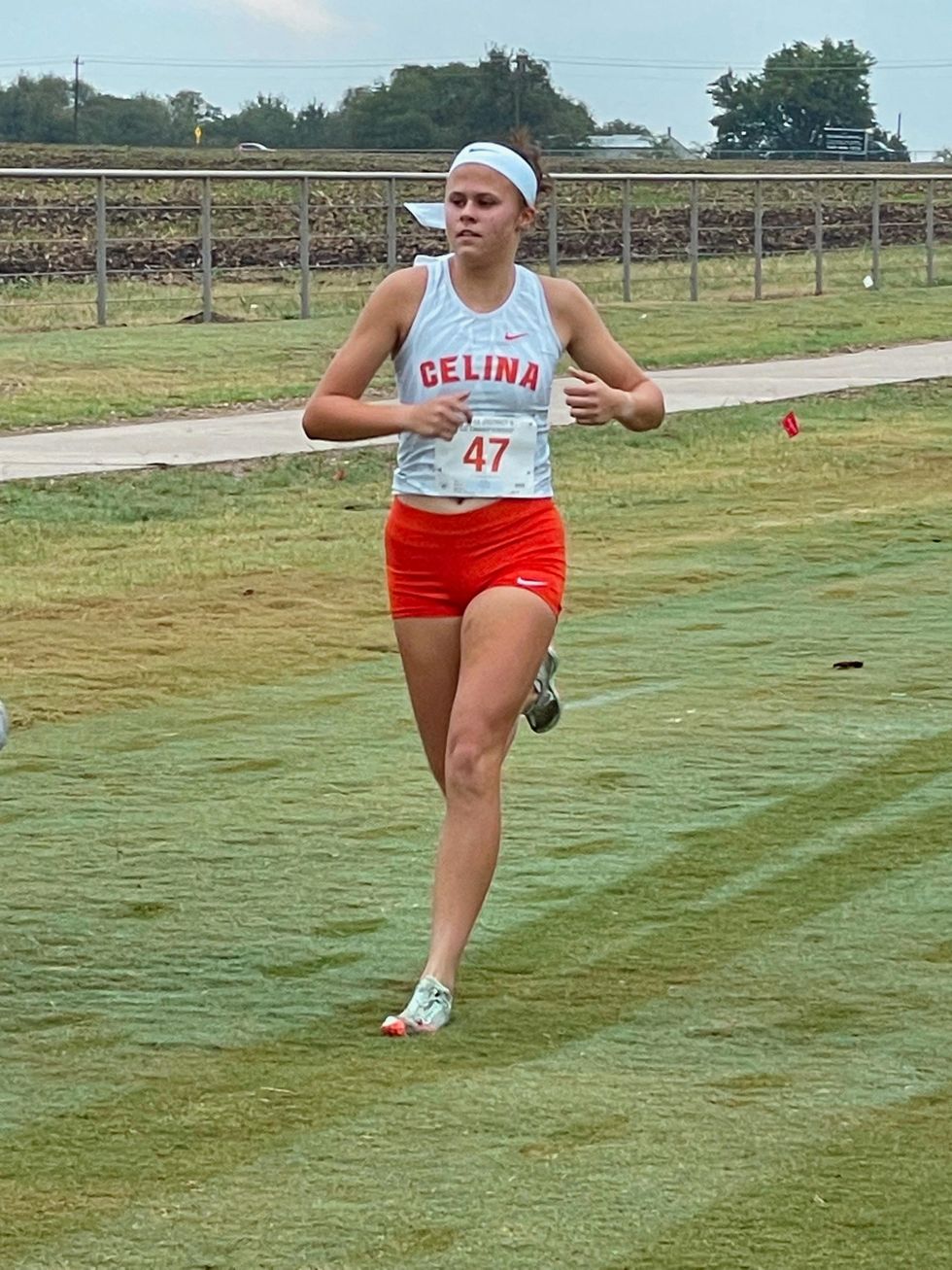 Clarke is an extremely gifted runner who has posted many stats to be proud of. In reference, Clarke shared he stats that she is most proud of. For personal records, Clarke has posted 2:11 in the 800, 4:58 in the 1600, 11:08 in the 3200, and 18:41 in the 5K. Clarke was the 2020 4A cross country state champion, the 2021 4A track runner-up in the 800 as well as the 2021 state champion in the 1600, the 2021. 4A cross country third place individual, and has placed in the top ten at the 4A cross country state track meet all four years of high school.
So, with such a decorated high school career, what has helped Clarke stay focused through various off-seasons? "I think about my end goal and what I'm working for," Clarke told VYPE. "Everything I'm doing is for that." While staying focused through the off-season, Clarke made sure to have a clear head coming into her senior season. Her mindset was to stay strong through anything that might come her way. "My mindset this season was staying mentally strong and getting back into that hurt of racing. It was a hard process, but by our home meet and through the championships season to state, I performed really well and was happy with my efforts."
With as much success as she has had, fans and aspiring runners might wonder just what her secret is to a successful season. For Clarke, it's about putting her team first. "I think that my success this season came from running for my team," Clarke said. "A state championship was on the line and I knew I had to do my absolute best to get those points. It also came from the great training our coach gives us." As far as the team's success? Relationship building. "I believe that the secret to our team's success this season was our close family bond and our drive and motivation to do our absolute best in order to improve off of our runner-up finishes the past two years."
Goals and Accomplishments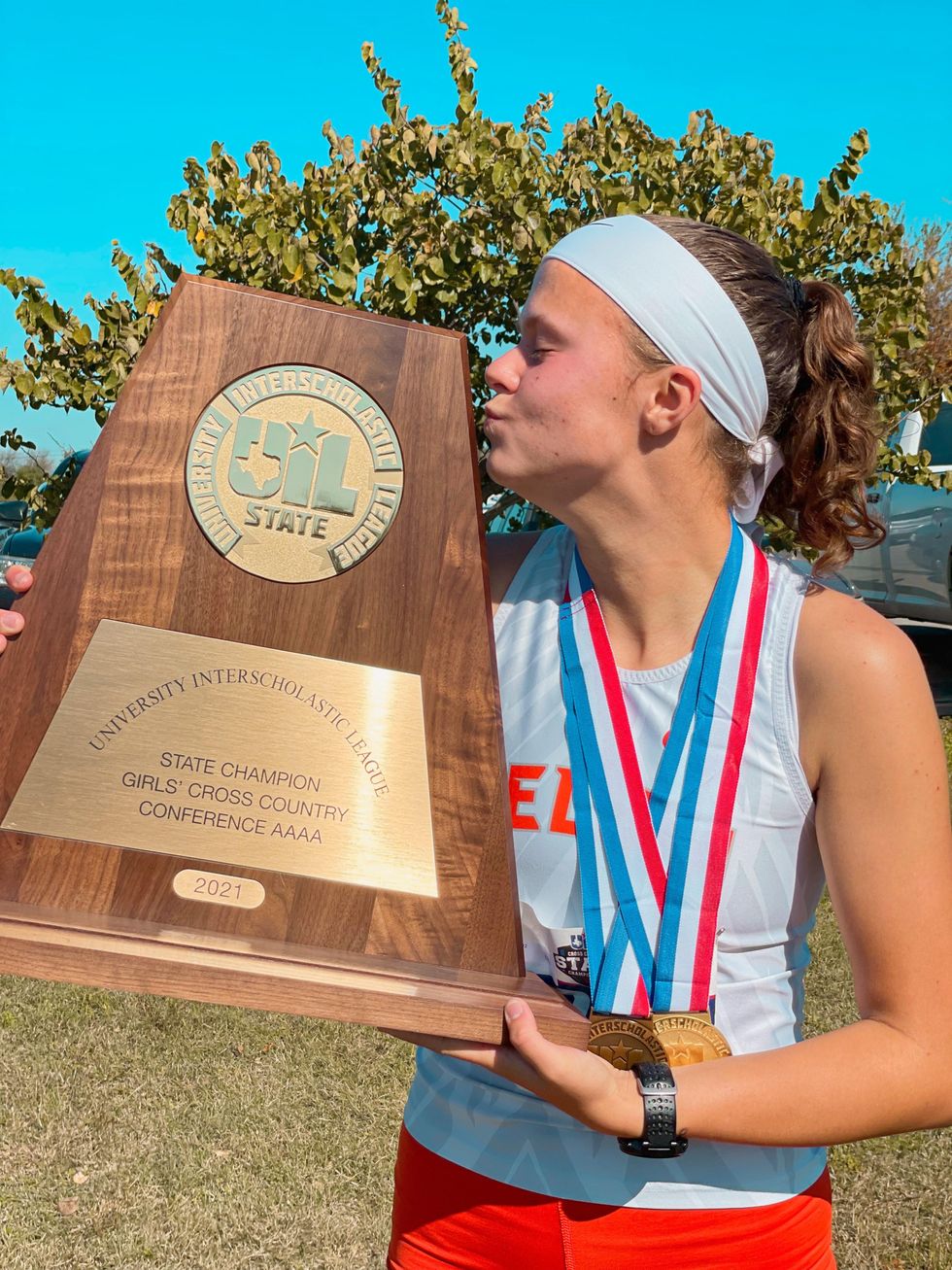 Photo provided by Adele Clarke
Coming into any season, it's typical for a student-athlete to set goals for themselves. This has been the case for Clarke who came into her senior cross country season with plenty of goals. "My individual goals for this season were to improve off of last year and win state as a team. I do feel that I accomplished those goals as my state race was my fastest at the state meet. Even though I didn't defend my state title, I am so incredibly proud of my third-place finish and how I competed in that race. Of course, I am beyond proud of my team for accomplishing something we've been working so hard for-- for so long."
As she checked off goals and made big accomplishments, one in particular stood out as what she believes was her biggest accomplishment this season. "My race at state," said Clarke. "I feel that race was the best race I have ever ran because I was mentally in it 100%. I was pushing myself the most I ever had and I was running for my team. It for sure paid out as we came away with the state title."
Finishing her high school cross country career, there's still an off season ahead. Her goals for the off season? "Define my goals for this upcoming track season and go into my training with the mindset of finishing this season as my best season yet."
Making Memories
As a talented runner, it's easy to make memories that you will cherish with your team for the rest of your life. When asked what he favorite memory was while running with Celina, Clarke couldn't pick just one. There are too many moments that really made an impact on her, so she gave her top three.
"I have multiple favorite memories and I think my top three would be my first individual state win, my second state win when I broke five minutes in the 1600 for the first time, and when we won state as a team. Winning state is such a huge accomplishment and it is really something special- especially to have done it three times and one of those being with my team."
A Bright Future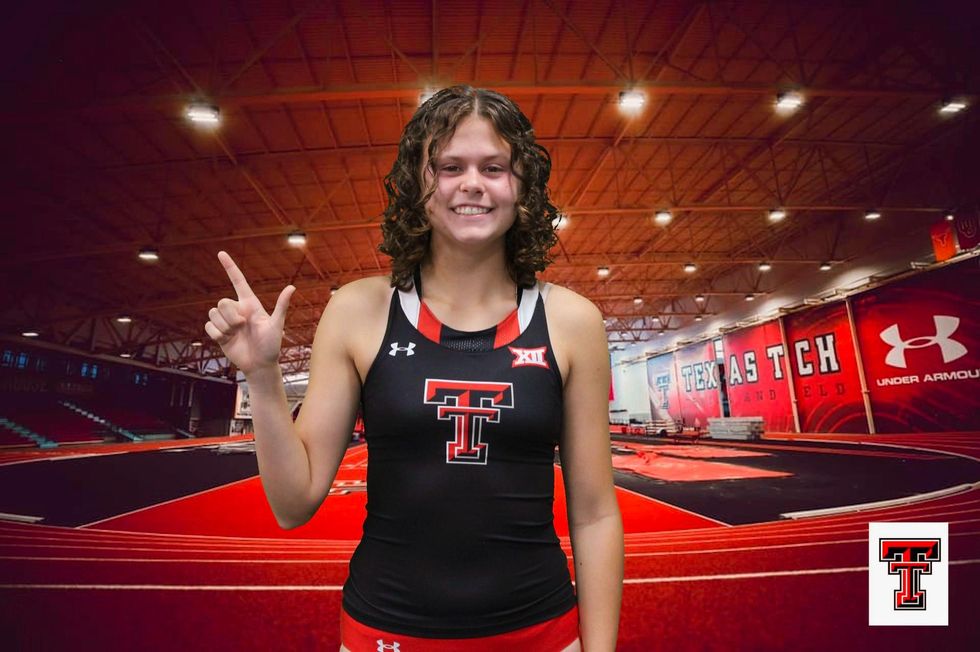 Photo provided by Adele Clarke
At the end of her high school career, Clarke will head to Lubbock to run for Texas Tech University. "I chose Texas Tech because it felt like home," Clarke told VYPE. "I felt welcomed and like I was already a part of the team. I know it is a place where I can thrive both academically and athletically."
Clarke plans on majoring in mass communications with an emphasis in the creative media industries. She wants to prioritize photography and film.
A Special Thanks

Going out as a senior on a high in her running career, Clarke acknowledges that she is lucky to have such a supportive community. She wanted to extend her gratitude to all those who helped her pave a path of success as well as those who voted for her in the fan poll. "Thank you so much to everyone who voted for me," Clarke said. "I am so grateful to live in such a supportive town and go to such a supportive school."
Fun Questions
Who is your favorite professional sports team?
"My favorite pro running team is the Bowerman Track Club."
Who do you look up to as an athlete?
"I look up to many pro runners, like those who compete at nationals at the college level or those who competed at the Olympic Trials- or even at the Olympics. Some of my favorites are Nikki Hiltz, Colleen Quigley, Shalane Flanagan, Craig Engels, and many, many more."
If you could go to dinner with one person (dead or alive) who would it be? What would you hope to talk about?
"I think it would be Steven Prefontaine. He was a huge inspiration in the running community and it would be really cool to meet him and talk to him."
For all the ways you love to play, Academy Sports and Outdoors makes it easier than ever to gear up and have fun out there! Get free shipping on your favorite brands at academy.com or get free curbside or in-store pick-up at your Academy store. Gear up this Winter at Academy Sports and Outdoors.