VYPE-U: Coach Maddie
Jan 20, 2021
If you've ever played sports, then you understand the importance of having coaches that ultimately want the best for their players. Having coaches who are very reliant and trustworthy often leave a big impact on student-athletes, and inspire them to be the best versions of themselves. Madeline Nayfa is a high school varsity coach for Bridge Lacrosse in Dallas, Texas. Coach Maddie is a former Bridge Lacrosse athlete and after high school, she furthered her lacrosse career at Texas State University playing club lacrosse. As she says, "The people I am cool to call me Maddie and some very special people of mine call me Coach Maddie."
Coach Maddie was studying Family and Child Development at Texas State which allowed her to know that she ultimately wanted to work with youth. In 2014, she happened to be in town and needed a summer job which ended up being with Bridge Lacrosse. Through her experience, she found a passion that she never knew she had. She wasn't teaching how to scoop up ground balls; she was, "planting seeds and witnessing the growth." Because of this, she found her current purpose.
I got to interview Coach Maddie about her coaching philosophy and the importance of being the best coach one can be. During this interview, I asked her to tell me more about her coaching philosophy, and she responded, "My coaching philosophy is pretty simple: Build skills that will help student-athletes for life with a focus on determination, growth, and hard work. Win or lose, there is a lesson, on and off the field. Whatever your best is that day, give it. As young kids say, "It's a growth mindset for me!"" Just by hearing her philosophy, I can say that Coach Maddie definitely pushes this philosophy during practices and games by encouraging us to not feel down whenever we make mistakes or lose a game, instead she focuses on acknowledging that we can grow from those mistakes, and become better athletes.
Although Coach Maddie can be laidback at times, she also believes discipline is incredibly important in lacrosse. As she said, "A disciplined player not only pays respect to the sport; they pay respect to themselves." Nayfa wholeheartedly believes that the ability to motivate is one of the most valuable traits to have, but that motivation isn't the same for everyone. During the interview, she emphasized the importance of becoming an excellent motivator, saying, "Some people are motivated by positive reinforcement, and some are motivated by intensity. The way I motivate my players is different for each individual. Usually, I start the season by modeling positive motivation and step back towards the end. A coach motivating their team is powerful, yet not as powerful as a team motivating themselves. I want my players to walk away from our team with the capability to self-motivate."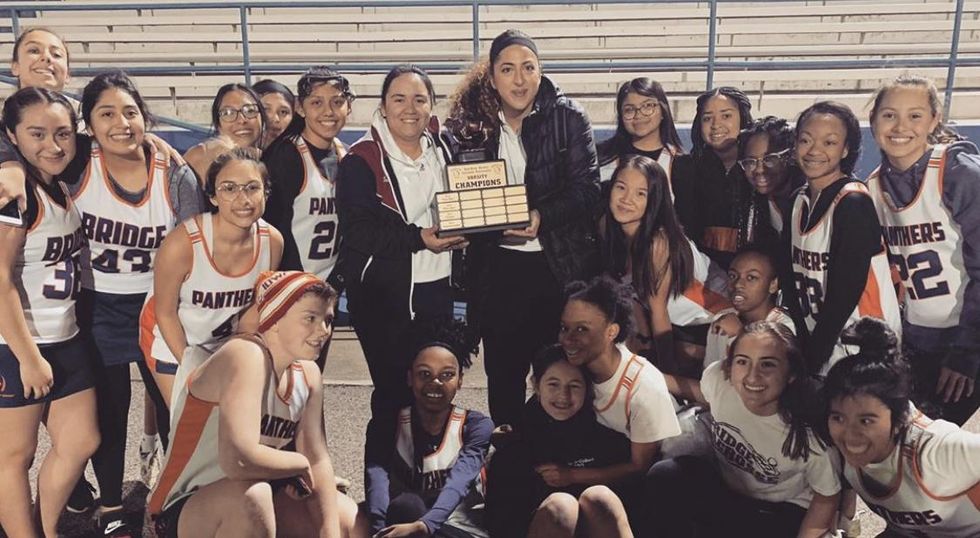 Although Coach Maddie is an exceptional coach, everyone comes with strengths and weaknesses. Nayfa is able to point out that she does have flaws and that she often self-reflects after practice. Because she does this, she believes positive reinforcement is her biggest weakness. I, as a student-athlete of hers, think that it is an area she does focus on simply because after a game I know could've gone better she always makes sure our team understands that it's not a bad thing to make mistakes, and often points out that we're doing ceratin drills because that's what would've helped us in the previous game and will help us in future games.
She works to make her girls better and to light a spark in them to accomplish anything they put their minds to. After all, one of her favorite moments as a coach is, "Watching some amazing young women evolve, grow, gain confidence, and reach their goals. I have seen some of my girls reach their goals for college commitments and offers. I have seen some master their passions over quarantine and some work to stay positive over Covid. Some are killing it at college. Some were putting in work despite the state of the world. THEY set their mind to that and did that all for themselves. They inspire me beyond what I can put into words."

As for where Coach Maddie sees herself in the next five years; Bridge is a family for life for her. She plans on moving on up into an Assistant Principal position at her school and plans on being with Bridge until the day she stops coaching, even if it means 5 years from now.