VYPE U: 2020 Katy ISD Bubba Fife Relays Recap: Presented by Athlete Training + Health
Mar 04, 2020
The annual Katy ISD Bubba Fife Relays were hosted this past Saturday at Paetow High School, and many teams did not disappoint, to say the very least. The long time Texas high school track meet invited schools from all over the greater Houston area, including teams from Katy, Spring Branch, and Fort Bend independent school districts. Tompkins, Elkins, and Strake Jesuit stood out amongst the top teams in the boys division, while Katy, Atascocita, Seven Lakes, and Cinco Ranch stood out amongst the girls.
The boys and girls field events and 3200 meter run kicked off the meet at 8:00 am. Katy Taylor's four-star football recruit Bryce Foster set a meet record and a current US #1 in the discus with a throw of 198'0.5" and a current US #2 in the shot put with a throw of 61'7.75". Another current US #1 was set late in the morning by Paetow's Johnathan Baker after he jumped 26'2.75" in the long jump. Pole vault was mainly dominated in both divisions by athletes from Cinco Ranch. Senior Madison White won the girls division with a jump of eleven feet, while senior Ben Conacher won the boys division with a jump of sixteen feet, which is just one inch off from what he jumped last week as the current national best for high school boys.
In the boys 3200 meter run, returning 6A State Champion in the 1600m Cole Lindhorst of Tompkins won the gold with a time of 9:14.73, while second place went to Tompkins's other runner Gavin Saacke, who ran a time of 9:16.71. The Gillan twins, Zane and Miles, from Strake Jesuit ran the whole race together and put up big points for their team, coming in fifth and sixth place and scoring times of 9:44.29 and 9:44.39, respectively. In the girls 3200 meter run, Avery Clover of Atascocita took first place, running a time of 11:03.31.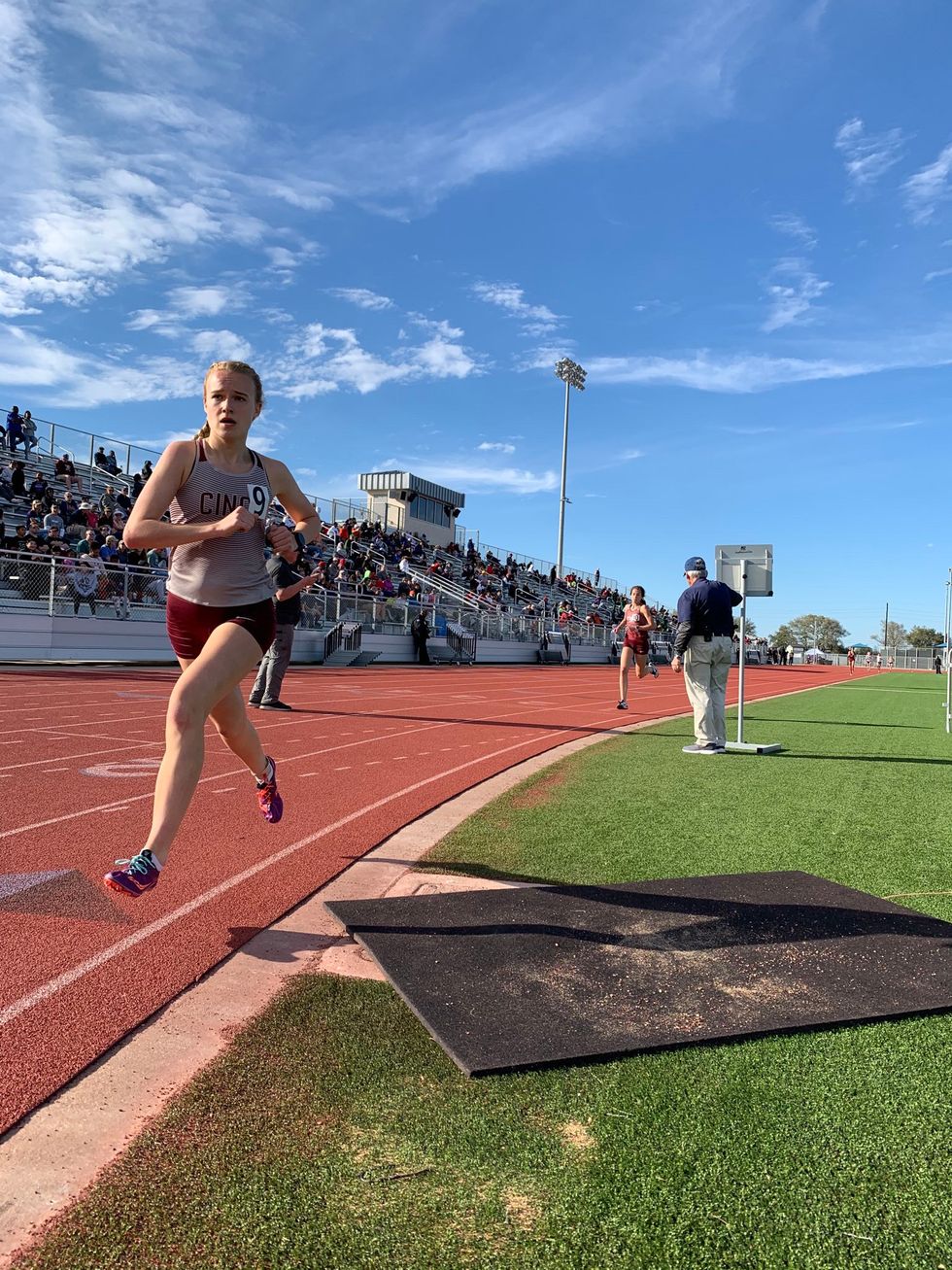 As for the other distance events, Elkins boys won the 4x800m relay with a time of 8:15.45, followed by Strake Jesuit with a time of 8:15.63. In the girls division, the 4x800 was won by Katy with a time of 9:54.32.

Huge performances from Saturday's athletes were also put up in the sprinting events. In the 100 meter dash, David Foster from Tompkins set a current US #1 with a time of 10.29 seconds. Tompkins boys also showed out in the relay events, winning both the 4x100 and 4x400. The 4x200 was won by Strake Jesuit in a photo-finish race against Klein Cain. They ran a time of 1:28.50. Atascocita's girls also picked up many points in the hurdling events. Their very own Danielle Johnson came in first place in the 100m hurdles and second place in the 300m hurdles.
Katy's Lindsay Simms was named the Most Outstanding Athlete of the meet in the girls division, as she competed and scored in five different events. In the field events, Simms long jumped 18'1.25" for second place, pole vaulted ten feet for third place, and triple jumped 37'3" for fifth place. For her running events, she came in first place in the 300m hurdles with a time of 46.74 seconds and second place in the 100m hurdles with a time of 14.99 seconds. Simms scored a total of thirty-four points for her team, which secured the Katy girls' overall win for the meet.
In the boys division, Tompkins was named the meet champions.
As for being an early meet in the 2020 high school track season, the Bubba Fife Relays were yet again, a top meet with many impressive performances and broken records---records that will likely be broken again later in the season by some of the same athletes. The final results to this years Katy ISD Bubba Fife Relays can be viewed at HERE.
About Athlete Training + Health
Athlete Training + Health's mission is to use best practices of health and performance to provide a world-class training environment for active adults and athletes of all ages and abilities. Our multi-field, state-of-the-art facilities are equipped with advanced pro-style weight rooms and dedicated areas for adult and youth athletes. ATH's highly-skilled coaches deploy training strategies that elevate – regardless of age or ability – athletes' performance to the highest level through consistent evaluation and education. A key component of ATH is its forward-thinking approach to collaboration with hospital systems, professional sports teams, universities and independent school districts to raise the bar for health and performance training. For more: www.athletetrainingandhealth.com.