IT IS A RAINY TUESDAY IN AUGUST. TRENT MILLER, SITTING AT HIS OFFICE DESK, LOOKS AROUND TO SEE BOXES THAT ARE STILL UNPACKED FROM APRIL.
Miller just hasn't had time to finish unpacking.
"Everybody wants to come in and talk football, talk about the team and the community," Miller, who was hired on April 9 as Willis' next head football coach, said. "They want to talk about where to eat and where not to eat. Former players, current players, future players. I still to this day haven't had the chance to sit down and fully unpack everything in my office."
The passion that the Willis community shows overall towards Wildkats' athletics is something that Miller takes note of.
It is a town that has ballooned from a Class 4A high school to a Class 6A, playing alongside well established programs such as The Woodlands, Conroe, College Park and Oak Ridge.
Willis and their community want to compete in that group of power programs across all sports.
"The term that gets thrown around a lot with people in this town is they want to be relevant," Miller said. "We're trying to bring that mindset and that culture to this town that relevant is not the standard. The standard needs to be the No. 1 program in the State of Texas."
Slowly but surely, Miller believes that they are changing that mindset. Their season-opening 73-14 victory over Bryan Rudder was a big step.
It was the first home game for Miller as the head coach of the Wildkats. A game that he will soon not forget, not because of the score or the video-game stats produced, but because of the community.
When the football team bus arrived at Berton A. Yates Stadium on August 26 at 4:30 p.m., Miller guessed there were around 1,500 fans to welcome them that had been tailgating for two hours prior to kickoff.
"It's a one-horse town deal," Miller said. "Everybody shuts down and comes to the game on Friday nights. Football is just a bigger deal in this town."
The scene for Miller's first game was right out of the movie Friday Night Lights. Fans began setting up for tailgating at 9 a.m. that morning. Tailgating started around 2:30 p.m. once the middle schools let out. Gates opened around 5:30 p.m. and as Miller and his team went out for their pregame warmups at 6 p.m. the stadium was nearly full.
As the game started, a line of fans waiting to get in could still be seen "wrapped around the stadium and to the back of the middle school".
"That stadium was rocking," Miller said. "It was standing room only. We're talking about people lined up and down the fence and around the fieldhouse area just trying to see the game. It was an amazing feeling. It was really cool."
Miller, his wife Lindsey, who teaches English at the high school, and sons Michael and Cole, who attend a middle and elementary school in Willis ISD, are still ingraining themselves into the community. So far, it has been a smooth transition.
The school Cole goes to shares a parking lot with Willis High, allowing Miller to drive his son to school every morning on a golf cart.
At the end of the day, Lindsey will pick them both up from school and it's off to practice with dad and the Wildkats.
"They're both on the practice field every day, so they're hanging out with the boys on the field in practice," Miller said. "Then, they get to hang out with them in the locker room and then they are all over the sidelines on Friday nights.
"The community knows my kids almost as well as they know me because they see us everywhere. We're heavily involved. Our roots are building deeper within this town. The more we're seen in public, the more welcoming people are towards us. It's been a surreal and unbelievable experience so far."
Welcome back to another edition of VYPE Austin/San Antonio Helmet Stickers for the 2022 Texas High School Football season.
There were tons of amazing performances last week across the Central Texas. We compiled all of those top performances in the VYPE Austin/San Antonio Football Player of the Week Fan Poll - CLICK HERE TO VOTE - but then we boiled that down to what we felt were personally the Top 7 performances of the week
These are Week 5's Helmet Sticker selections (in no particular order).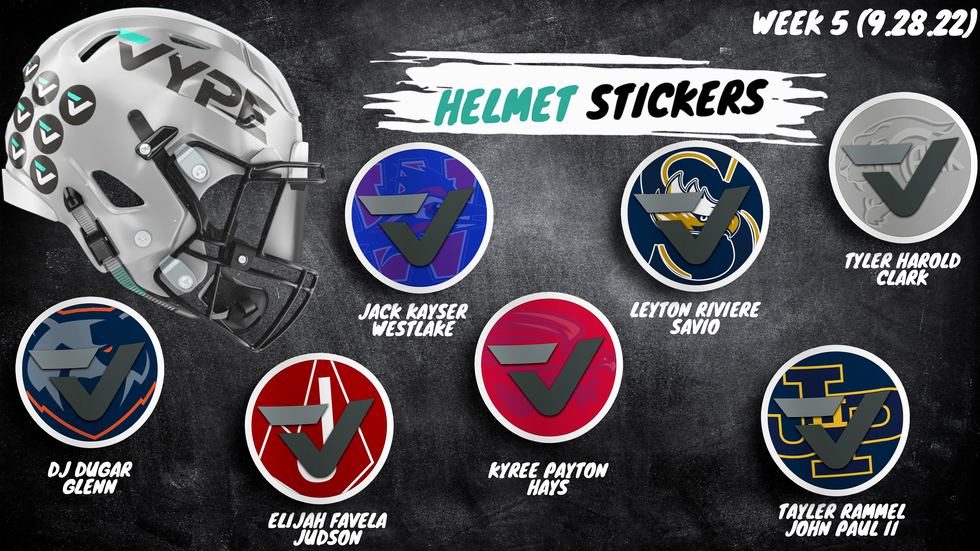 DJ DUGAR-GLENN
In Glenn's 38-28 victory last week versus Hendrickson, DJ could not be stopped. He rushed for 261 yards on 28 carries. This included 3 touchdowns. The Hawks had no shot on stopping him as he averaged almost 10 yards a carry with a long of 63 yards.
ELIJAH FAVELA-JUDSON
Judson got back on the winning way after 3 straight loses. One of the keys to that victory was Elijah Favela. Favela was near perfect completing almost 85% of his passes going 33/39 for 443 yards and 5 touchdowns through the air and adding another 49 yards on the ground through 7 carries.
JACK KAYSER-WESTLAKE
In the Battle of the Lakes, Westlake faced its toughest competition to date this season against Lake Travis. But behind the legs of Jack Kayser, Westlake stayed undefeated and continued its 40+ game winning streak. Kayser carried the ball 30 times for 211 yards and 2 touchdowns.
KYREE PAYTON-HAYS
Earning his second Helmet sticker of the year is Kyree Payton who has continued his amazing 2022/2023 campaign. Going against one of their toughest opponents yet, Hays defeated Boerne Champion 34-29 with Payton leading the way for the Hawks. Payton carried the ball 21 times for 233 yards and 1 touchdown.
LEYTON RIVIERE-SAVIO
After their loss in Week 3 to Holy Cross, Savio has rebounded with wins against John Paul II and Brentwood Christian. Leading the way for the Eagles against the Bears was Leyton Riviere. Riviere was 16/32 for 375 yards and 3 touchdowns with another 11 yards on the ground.
TAYLER RAMMEL-JOHN PAUL II
Speaking of John Paul II, the Guardians got back in the win column beating St. Andrew's 42-27 this past Friday. Junior Taylor Rammel was 13/22 for 245 yards and 5 touchdowns in the game while also adding 69 yards on the ground on 9 carries.
TYLER HAROLD-CLARK
Our lone defensive player on the list this week is Tyler Harold of Clark. In their 58-17 over Lee, Harold tallied 11 tackles and 2 sacks for the Cougars
Join the #VYPETEAM
Get up to date news from all over the country!