Photo by Justin Hartojo
This season could be the year of Kierstyn McFall.
The 6-foot-4 senior middle is ready to show all she's learned during the last three years, whether it was from watching her Bearkats fall short at the regional and state tournaments or all she's picked up from studying previous upperclassmen.
"I feel like through my years of high school, and even club, I've started out as someone who's watched other girls and drawn from them the energy and intensity," said McFall, a North Florida-commit. "I want to see myself become that older girl and become the athlete that myself as a little girl watched."
Paying attention to past Klein greats like Devan Taylor (Clemson), Annie Antar (North Florida), Nena Mbonu (Louisville) and Baylee Laskoskie (McNeese State), among others, McFall observed how to push through adversity.
"I can take what they showed, apply it and talk to other players like they talked to us," McFall said. "I can be a role model."
McFall has always been special. She was 24 inches when she was born and seemingly destined to be a star athlete.
Last season, McFall averaged 2.3 kills per set with 54 blocks. She boasted an unreal .409 hitting percentage and 50.4 kill percentage.
This season, McFall anticipates playing an expanded role. Because of the graduation of five seniors, including Taylor and Antar, rotations will be different for coach Kate Zora. McFall said she could see herself playing more on the right side, a spot she's dabbled in during past seasons when not dominating the middle.
Either way, McFall just wants to show who she is.
Her favorite motto is "Win in the dark". Work hard when no one's watching, so when the moment comes, you can rise and achieve.
"I just want to show I'm a fierce competitor who will do anything to win and who will push others," she said.
The Bearkats have come oh-so-close to that coveted state championship, including playing for the Class 6A crown a year ago against Seven Lakes.
Klein has been there. The Bearkats just need to finish, McFall said. And she's the one to get them there.
"We all have the mentality that every day will be a grind," McFall said. "We know nothing will be handed to us. We're not going to take any games off. Everybody is going to want to come after us. We're going to use all of that to keep pushing us forward."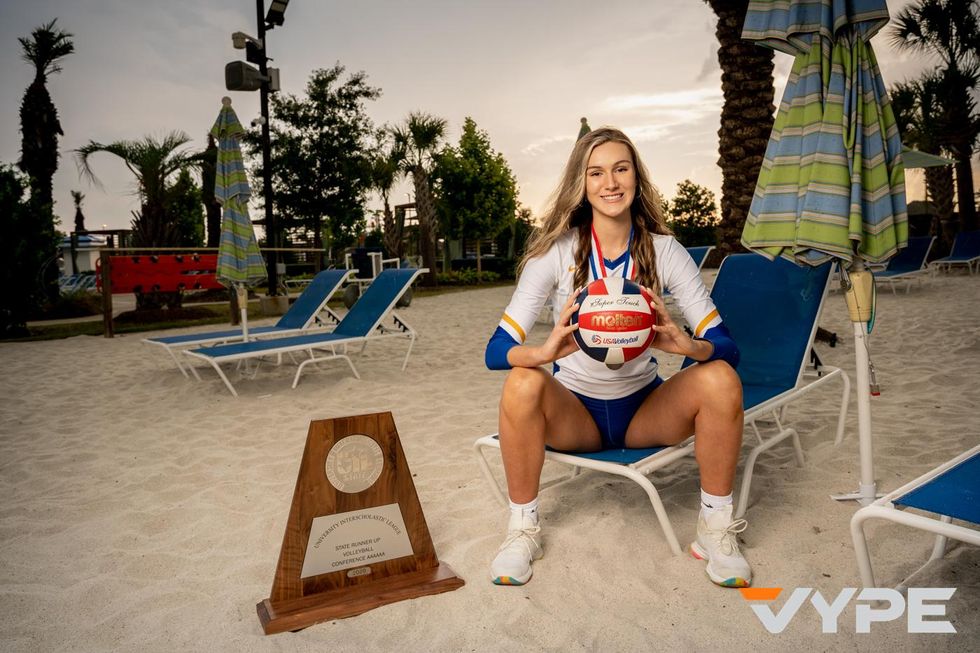 To purchase the 2021 VYPE Volleyball Preview CLICK HERE
To view the VYPE Digital Magazine CLICK HERE
To view all photos from the photo shoot CLICK HERE
By Lily Cox
The Richmond/Rosenberg area has a small-town feel, but big-time ideas.
Lamar Consolidated ISD Superintendent Dr. Thomas Randle and Athletic Director Nikki Nelson have been pivotal in the direction of the district. A beautiful new school, Randle High School, opens this fall and another is on the books.
With that being said, VYPE is happy to welcome LCISD to the VYPE Campus Family. Their schools -- Lamar Consolidated, BF Terry, George Ranch, Foster, Fulshear and the new Randle -- will be featured heavily on all VYPE platforms.
Follow VYPE_lcisd on Twitter and Click Here for all your LCISD coverage. The district's first VYPE publication will roll out in late August so make sure you get a copy.
We are excited for the future as we see who fills the shoes of the likes of CeeDee Lamb (Dallas Cowboys), Ava Underwood (future Texas A&M Aggie), Darius Anderson (Indianapolis Colts), Jacquizz Rodgers (Tampa Bay Bucs) and Alan Faneca (Future NFL Hall of Famer), just to name a few.
And how about the hardware? Lamar Consolidated and George Ranch have recent football titles, BF Terry has a basketball title back with Derrick Griffin and Fulshear won state volleyball in 2019.
Let's go LCISD.
Arlington Lamar Volleyball Twitter (@lhs_volleyball)
Arlington Lamar stands out among some of the best in the state when it comes to their athletics. Fans know that they can always count on energetic play as well as strong runs towards playoffs from their sports teams. This holds true with their volleyball team as well. Looking ahead to the 2021 season, fans should expect to see something great come from their Lady Vikings on the court.
Rewind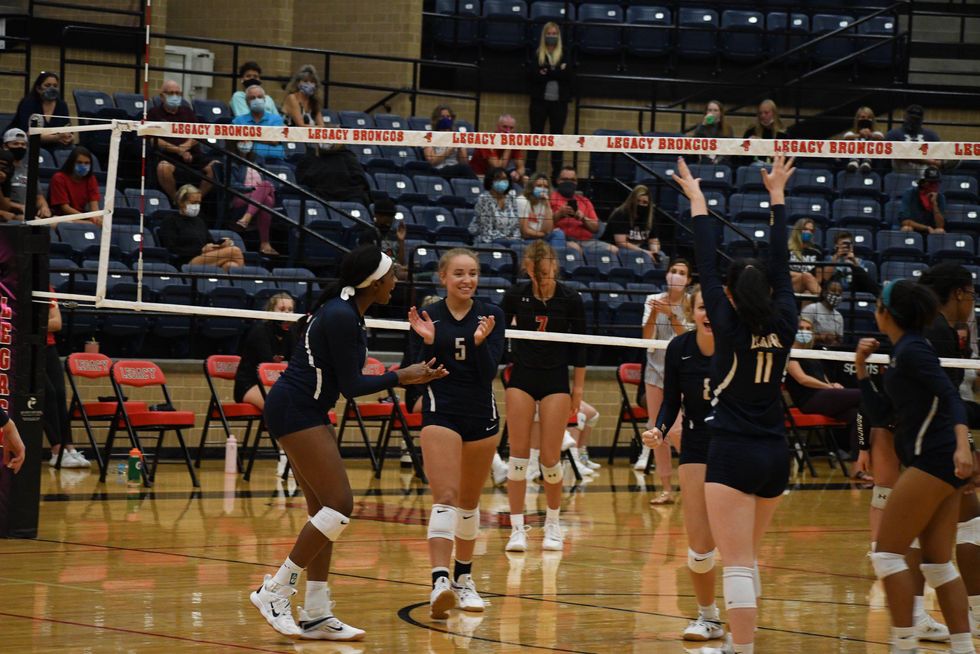 Arlington Lamar celebrates during a game (2020)Arlington Lamar Volleyball Twitter (@lhs_volleyball)
It's safe to say that the 2021 season didn't pan out as great as the team, coaches, and fans would have hoped. Don't get us wrong, Lamar still had an exceptional season finishing in the top 3 of their district and winning huge games against the likes of North Crowley, Grand Prairie, Arlington Bowie, and more, but the Lady Vikings fell short of making it to the state tournament as they finished in the Bi-District round. With an 8-4 district record (9-10 overall), the Lady Vikings have had three consecutive playoffs appearances.
Two secrets to their success in 2020 that will play a huge role in getting Arlington Lamar where they want to be this year are senior setter Ellie Rather who posted 10 aces, 200 assists, and 79 digs last season and sophomore outside hitter/middle blocker Kaitlyn Jones who tallied 20 aces, 134 kills, 62 digs, and 18 blocks as a freshman last season. Jones was also awarded the 2020 District 8-6A Newcomer of the Year title.
Looking Forward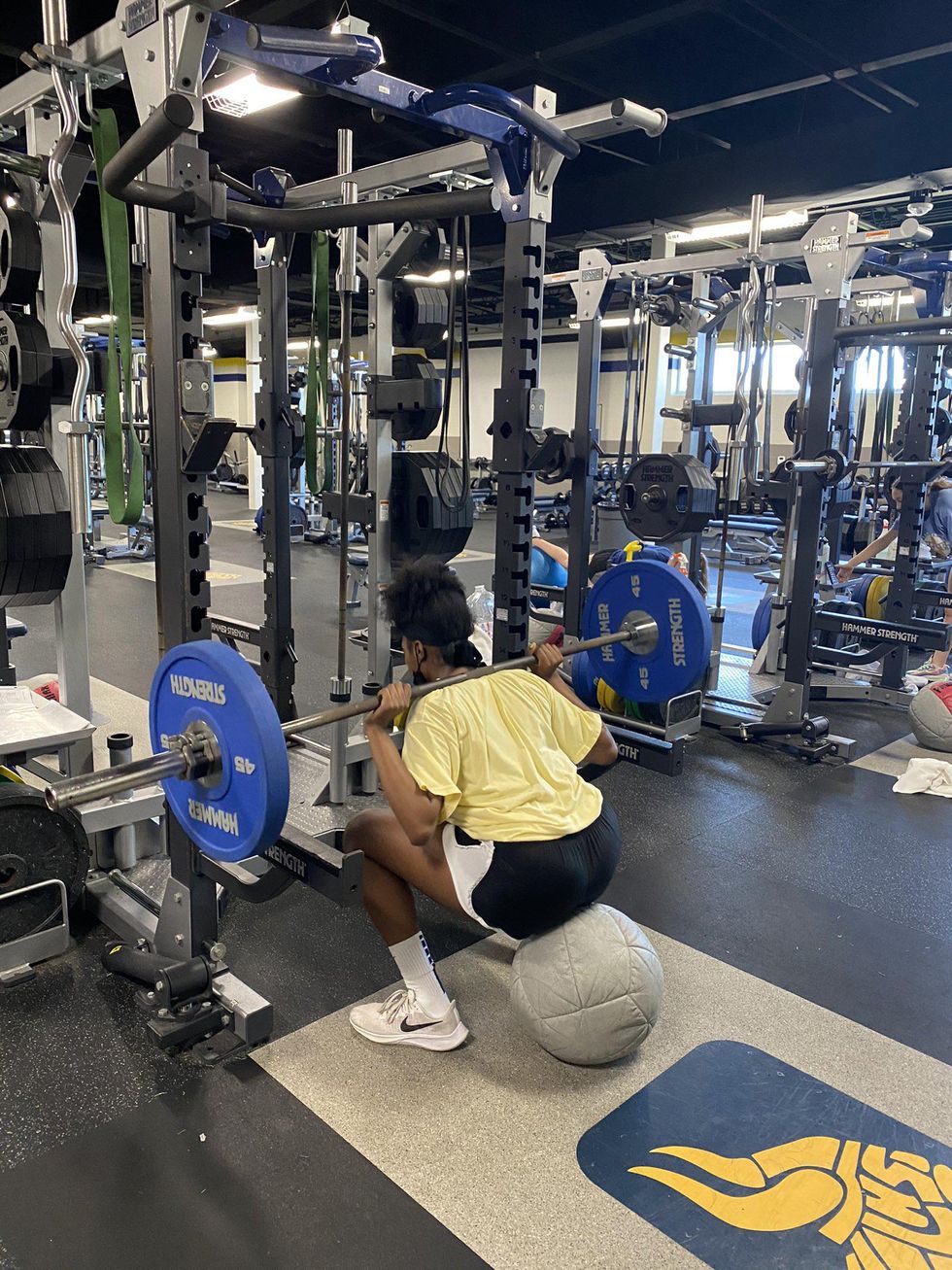 Arlington Lamar athlete working out during off seasonArlington Lamar volleyball twitter (@lhs_volleyball)
"Feed Kaitlen Jones the ball!" says coach Heather Woodman when it comes to what will play the biggest factor in the upcoming season for the Lady Vikings. This yeah will be the 8th year coaching at Arlington Lamar for Woodman who has a 183-96 record on her career. The time put in during the off-season and summer workouts will prove to be everything that Arlington Lamar needs to make a deep playoff push this season.
With a full schedule ahead, first facing Euless Trinity on August 8th, fans can expect Lamar to show their strength early. They will watch the growth in the younger players as only two returning starters take the court. The leadership Rather will show will provide the Lady Vikings with poise and confidence. You're not going to want to take your eyes off of this team as they take on the likes of Justin Northwest, Mansfield Legacy, and more in preseason play before opening district play against Kennedale in September.

Join the #VYPETEAM
Get up to date news from all over the country!