Class of 2023 Atascocita DL Samu Taumanupepe made his commitment to Texas A&M after visiting Aggieland for the pool party and receiving an offer while he was there this past weekend. Taumanupepe is a 6-foot-4, 380-pound defensive lineman who possesses a quick twitch off the ball and has tremendous strength.
VYPE's Jackson DiPasquale caught up with Taumanupepe to talk about his commitment and more.
Taumanupepe's recruitment blew up this past offseason receiving offers from Oregon, Texas, and Houston to name a few but none were the school he "dreamed" about playing at. According to Taumanupepe, his dream school has always been Texas A&M and when he received his offer this weekend it was a done deal.
When asking Taumanupepe what really made the decision for him to commitment to Texas A&M, he said he just "loved the environment" and the culture Texas A&M has, and it just felt like home.
Taumanupepe's commitment also continues the Aggies success with recruiting the Eagles. Taumanupepe is their third commitment from an Atascocita player in the past five classes. Talking about what it means to continue the Atascocita to Aggieland pipeline, Taumanupepe said he plans to "keep the pipeline going" especially with some of his teammates Class of 2024 OL Nate Kibble and Class of 2025 RB Tory Blaylock who also were in attendance for the pool party.
Lastly, when asked what message Taumanupepe has for Aggie fans after making his decision, he kept it short and sweet by saying " I'm home".
Taumanupepe is now looking ahead to a big-time senior year at Atascocita.
True
Dennis Silva II | VYPE Media
Caelyn Dumas has 'it.' Gravitas. Pull. A gift to always find a way, and know how to go about it.

Paetow's sophomore setter/right side hitter has wasted no time asserting a standard and culture of expectation for a Panthers program in dire need of it.
Dumas stepped onto the Paetow campus last summer and immediately made an impact. It's no coincidence that the Panthers, who enjoyed their best season in four varsity years at 15-23, won three times as many games as the previous two seasons combined.
"From day one, she was a leader," second-year Paetow coach Alyssa Brown said. "She walked into our gym and had no issue working with the varsity as a freshman. She was talking to seniors, working with the other sophomores and juniors … everyone has always looked to her as a leader since she got here."
Dumas did whatever was necessary for the team.
She played six rotations for the first time. She was influential in all aspects of the game, totaling 351 assists, 245 digs, 219 kills and 31 aces. Late into the season, she was named captain.
Dumas is a revelation for a program that has struggled to find its footing, as most of its roster does not play high-level club volleyball.
"It's my job to let our team know that we can beat any team if we put our mind to it," Dumas said. "We can't go into games scared or thinking that we're not a good team. We have improved so much. We can compete. We just have to believe it."
Dumas is making believers out of a lot of people.
She had an outstanding summer, being named to the USA Volleyball Girls Junior National Championship All-Tournament 15U team. She helped her team to two first place USA Division National qualifiers.
More than that, however, she made a concerted effort over the offseason to get to know her teammates more.
"Last season was overwhelming. I felt a lot of pressure was on me," Dumas said. "I didn't want to make too many errors or mistakes. But getting to know my team and coach, I was able to get more comfortable. Things got a lot better. And now with the summer I've had, I really look at the game differently. I know this season I can bring more to the table for my team."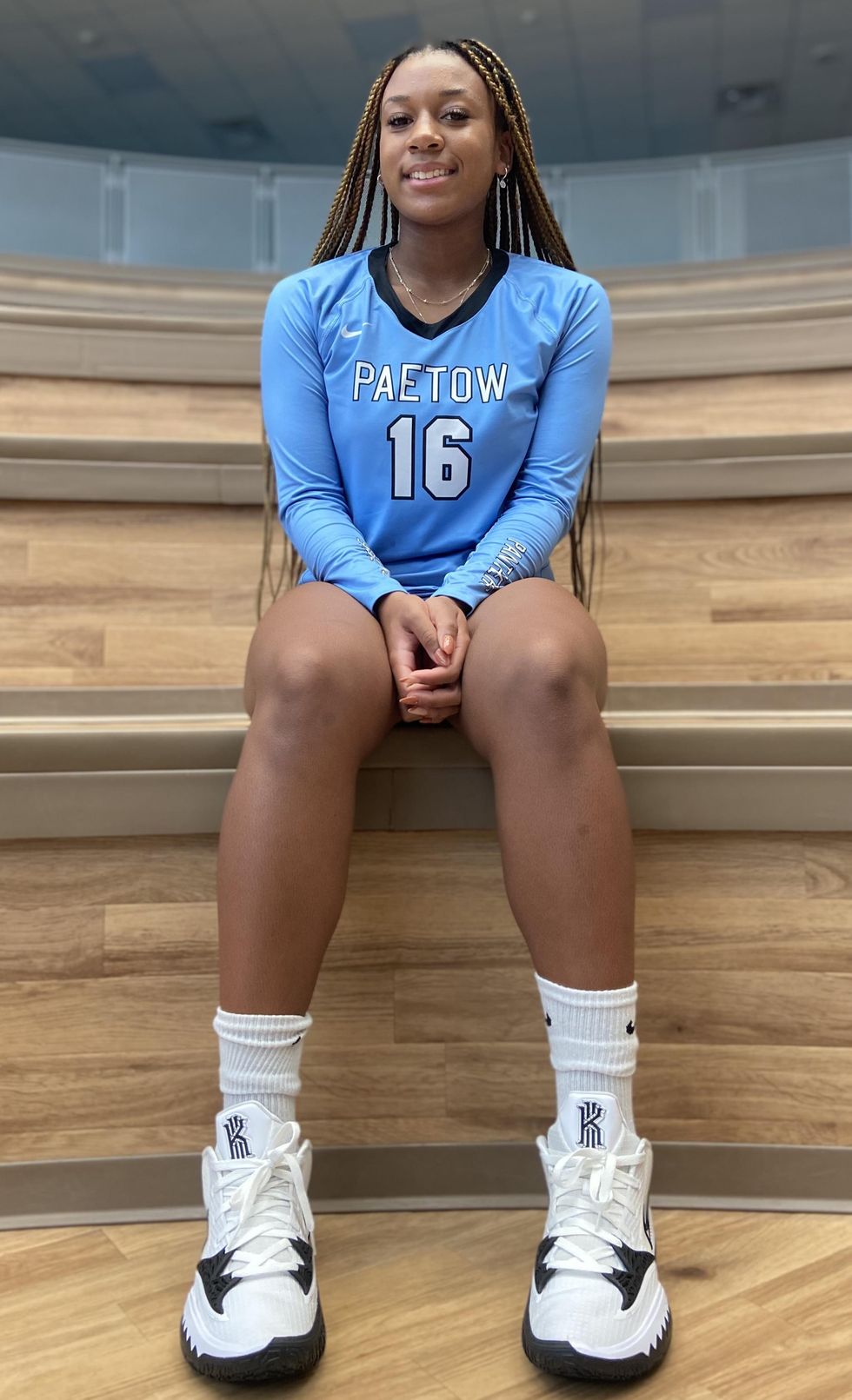 Paetow sophomore Caelyn Dumas.Dennis Silva II | VYPE Media
Brown said there is a lot of opportunity for Dumas to be great.
"She already has so much talent and skill," Brown said. "She's capable of doing such big things in volleyball."
Dumas is skilled, surely. She is rangy, athletic and quick. She is a natural, coming from a family of athletes, and has been ever since she started playing volleyball in the second grade.
But Dumas' value lies in her character and demeanor. Brown said she has a desire to be great, and therefore is coachable and always seeking input or offering ideas on ways to be better.
Brown credits Dumas' family upbringing for her maturity and perspective. But she also sees in Dumas a desire to prove people wrong and do what's right.
Brown remembers an intense moment after a tough loss last season when Dumas spoke up to her teammates about expectations and what would be required of them all moving forward.
It's not typical for a freshman to be the voice of a reason on a varsity team.
"She has a certain quality about her where she's not intimidated by much," Brown said. "Or, if she is, she doesn't show it. She can walk onto any court and play against anyone. She challenges herself and those around her to be great, and that type of personality leads to success."
Dumas credits Brown for helping her become a leader. Because of Brown, Dumas said, she gained a lot of confidence being thrown into the varsity fire as a freshman, and then assuming a captain's role.
Dumas said Brown's camps and trainings in the offseason were important, geared towards the significant number of girls who can't afford to play club volleyball. Brown—who also coached at Kempner and Needville, leading the latter to a Class 4A state runner-up finish in 2018—provided a valuable resource through advanced teaching through strategic coaching and drilling.
That's where the bond between coach and captain starts. Each wants nothing more than to introduce a winning culture to a program foreign to it.
"It's important, because in past years we always felt like we were a shadow," Dumas said. "We share a season with football, and they're now a state champion. I just want every one of us to come out and play and show we can compete, and we can win and make our games something to watch."
True
The Batenhorst-era at Seven Lakes is officially over with the graduation of Casey Batenhorst. The Spartans will need to replace a ton of the offense and will look towards Temi Sam-Olibale (139 kills) and Sameena Burns (121 kills) to do just that.
Burns will be a force defensively at the net as well after registering 107 blocks a year ago. Grace Lanier will be the leader of the defensive unit. Lanier led the team in digs with 427 in 2021. Next was Sam-Olibale with 216. Simone Romriell will be looked to fill the shoes of Batenhorst at setter. She had 292 assists in 118 sets played.
Also, watch out for Isabella Deuel (MH), LeAnna Beaty (M/OH) and Julia Valverde (Setter) to fill in some much-needed roles for 2022 as well.
Keys to success for Amy Cataline's crew will be the "young returners and strong defense". Cataline enters 2022 only five wins away from career win No. 400 in her 14th year as a head coach.
True
Join the #VYPETEAM
Get up to date news from all over the country!