Doug Brown (VYPE)
After putting up some big numbers over the past three-plus years and enduring the recruitment process, Concordia Lutheran's Lou Lamar finally has a place to call home at the conclusion of this school year.
The Crusaders' senior RB/DB had a variety of offers to choose from, such as the Colorado School of Mines, as well as interest from a handful of Ivy League schools like UPenn and Harvard. However, Lamar ultimately announced his decision to commit to Dartmouth, earlier this month.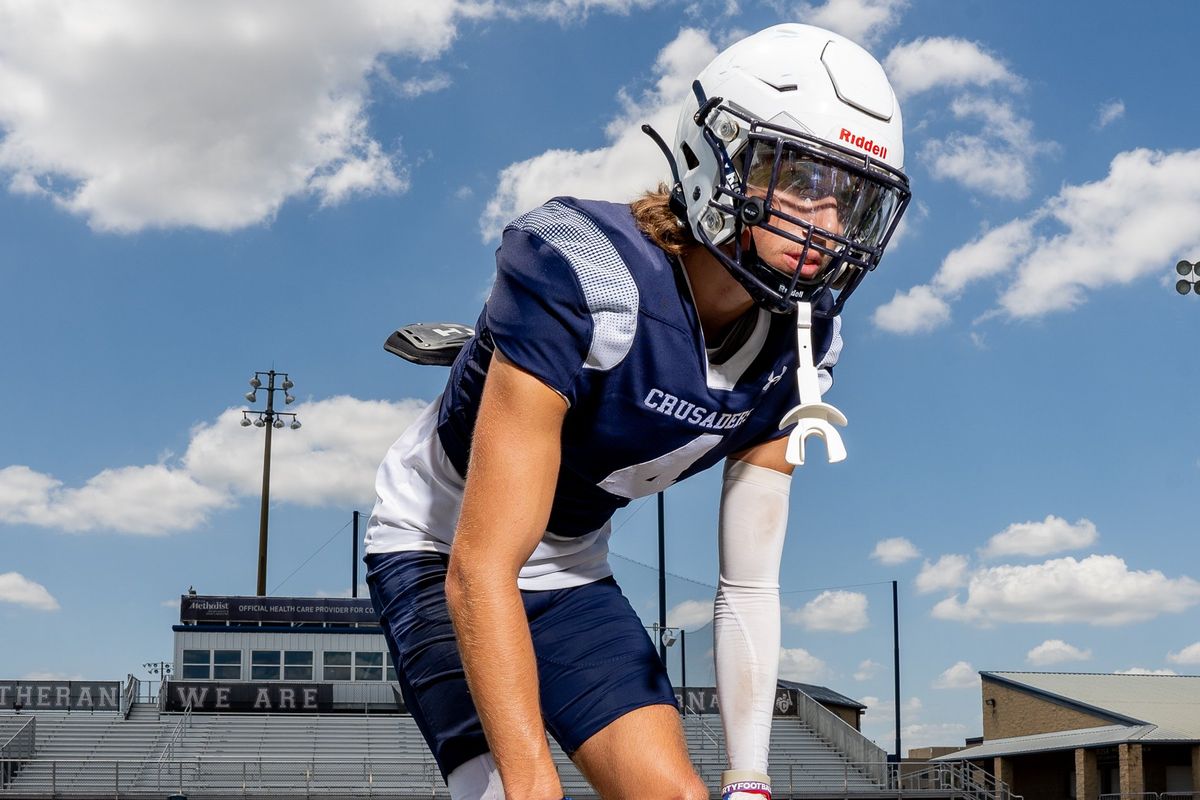 Bradley C. Collier (VYPE)
"Even if I got an offer from any other school, I could really only see myself going to Dartmouth," Lamar said. "They have such a tight community and when I went up there for my official visit, I was just flooded with alumni telling me how much of an impact the school has had on them."
"The football program is great, they have an incredible staff and culture, but it's also what they have to offer outside of that which really caught my attention. It (the university) is pretty secluded, in the woods, and I also love that part about it."
The timing couldn't be better for Lamar, as he competes alongside his teammates to ensure that 'Sader Nation has a memorable experience in his final year suiting up in the blue and white, prior to advancing to Big Green.
"It (being committed) has been a relief off my chest," he said. "Every game, in the back of your head, you're worrying about getting film out and making highlights. Now, that's off my shoulders. If anything, it motivates me to go even harder, now that I don't have to worry about that anymore in my last year."
Under the direction of second-year head coach Willie Amendola, the Crusaders have started the season 3-1, which featured two immense comebacks against Liberty (24-23) and Lutheran South (20-16),
Courtesy of various impressive Fall debuts from Lamar, Tanner Huckfelt (Jr. QB), Cole Chance (Sr. RB/LB), and a budding line in the trenches, Concordia Lutheran is poised to make a dramatic entrance as they prepare for the district portion of their remaining schedule.
"We can't get in our own heads, and that starts with the leaders – Myself, Jayden Noack (Sr. TE/LB), Ben Hubenak (Sr. DL), Tanner Huckfelt," Lamar said. "We talk about what needs to be done, and we're not getting overly emotional. We're analyzing everything, talking to the coaches, and making the adjustments that are necessary to win."
We're only into week No. 5 of the season, so don't expect the Crusaders, or the newly-committed Lou Lamar for that matter, to slow down anytime soon. This is only the beginning.
By Jacob McCready
The Tomball Memorial Wildcats won an instant classic over crosstown rival Tomball in a 5-set match (25-22, 19-25, 30-32, 25-23, 15-9).
Memorial is currently leading the district with a record of 4-0, 26-8 overall, the Cougars are in second place.
CHECK OUT THE PHOTO GALLERY BY JACOB MCCREADY.
Just down the road from each other, Flower Mound and Lewisville have been rivals for a long time. Both teams prepare to open up district play against each other on Friday night. VYPE DFW takes a look at these teams so far and what fans can expect heading into this matchup!
Flower Mound Jaguars (2-1)
The Flower Mound Jaguars are riding a high this season despite having posted a loss. The team opened up their season with a 38-31 victory over Keller Fossil Ridge and followed it up with a week two victory over Lake Highlands (41-21). In week three, the team lost to a strong McKinney squad, but that doesn't mean this Jaguars' squad should be taken lightly. Their victories this season have spoken far louder than their loss against a tough team. In fact, their loss in week three followed by a BYE week just might be the fire and regrouping time necessary to pull ahead as Flower Mound enters district play.
Led by Nicolas Rosso, Marcus Simpson, Jason Welch, Carter Massey, Mason MacDonald, Jake Watson, Elliot Trawich, and more, this team knows how to battle back against adversity and show up to every single play like the game is on the line. Wanting to make a huge start to district play, Flower Mound will seek a victory on Friday night in Lewisville.
Lewisville Farmers (2-1)
Lewisville opened their season with a convincing 50-7 victory over Garland Naaman Forest. In week two, however, the team dropped a disappointing loss against Highland Park (21-18); the match was hard-fought with every moment worked for on the gridiron. Week three saw the Farmers pick back up and shut-out Mesquite (36-0). After a BYE week and time to focus on week five, the Famers are headed into what could be one of their most physical matchups in district play.
Led by top athletes like Julian Gonzales, Vance Walker, Viron Ellison, Jayden Hardy, Gabriel Lewis, Addison Wells, Sean Oliver, O'Marious Dimry-Lockhart, Rhyan Sewell, and more, this squad isn't to be looked over. Despite their loss against Highland Park, they have a lot of fight in them and will look to prove that on Friday night as they open district play.
What To Expect
Last season, in a battle, Flower Mound fell to Lewisville by a score of 28-21. With the drive and dedication this season, the Jaguars want revenge and can be expected to do whatever it takes to set the tone early on Friday night. Lewisville, however, wants to showcase its ability to be one of the strongest teams in its district and will look for a hot start to district play.
Kick-off is slated for 7 p.m. on Friday, September 22nd.
Join the #VYPETEAM
Get up to date news from all over the country!