VYPE traveled to every Aldine ISD campus earlier in July for their Fall Media Day.
Aldine ISD football, volleyball, cross country, tennis and cheer teams were featured during the one-day event which started at the Mercer Botanic Gardens and then proceeded to stop at each campus.
Check out the Behind the Scenes featuring Nimitz High School!
Video shot and edited by VYPE Media's Cameron Driskill.
Liberty Christian volleyball twitter (@lcs__volleyball)
There's something special about coming into a new sports season as the reigning state champion. Argyle Liberty Christian knows all about that as they get geared up and ready to go for the upcoming season. VYPE DFW dives deeper into the program at Liberty Christian and gives an insight into what fans can expect in 2021!
A Look Back
When the season was uncertain, the Lady Warriors never feared. Finishing their district as one of the top teams, they went into playoffs poised and ready to take down any opponent that stood in their way of a state title. One by one, Liberty Christian downed their opponents before facing off against former reigning champion St. Agnes. In an all-out battle to be the best in the state, Liberty Christian held strong and won the championship game.
The championship game was only their third appearance in the state tournament and their second title since winning in 2006. In their only other appearance, Liberty Christian finished as the state runner-up in 2007. Defeating St. Agnes in 2020 was huge for the Lady Warriors as St. Agnes holds the TAPPS records not only for most state titles, but also for most state tournament appearances!LCS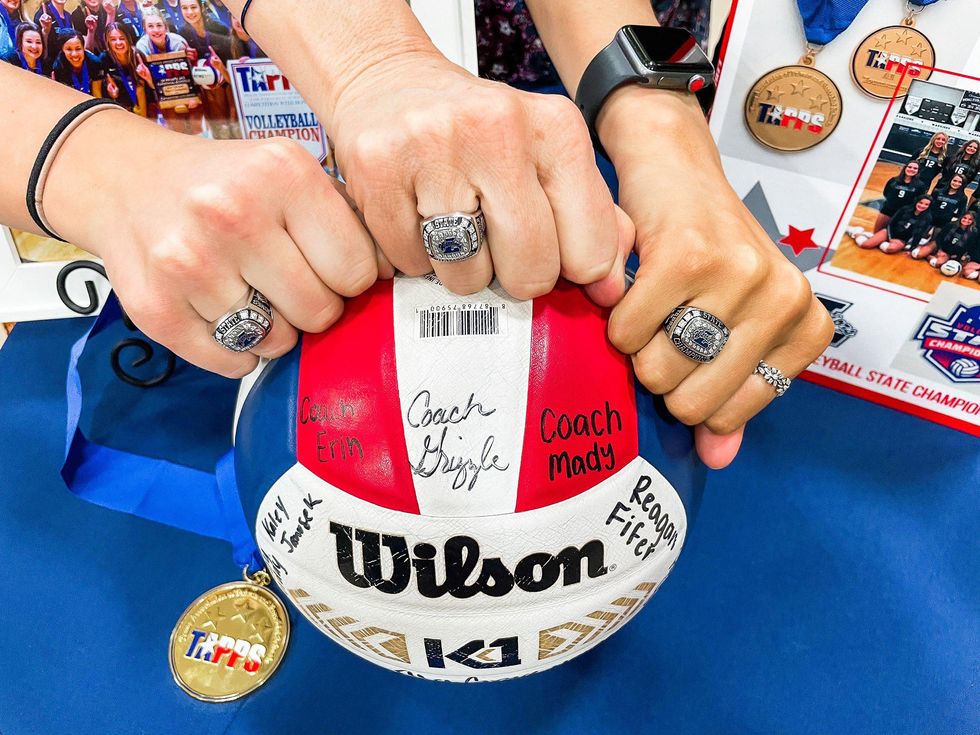 LCS coaches pose with their rings and a volleyball. Liberty Christian volleyball twitter (@lcs__volleyball)
Looking Forward
The Lady Warriors can be expected to come into the new season strong. Although the team lost quite a bit of graduating seniors last year, the leadership in the new upperclassmen will prove to be what helps the newcomers and underclassmen maintain their composure as they begin the season.
After a bit of a rebuild in early games, fans should expect Liberty Christian to find the groove meant for them as they continue on towards trying to harness another appearance in the state tournament... and possibly another state title to add to their belt!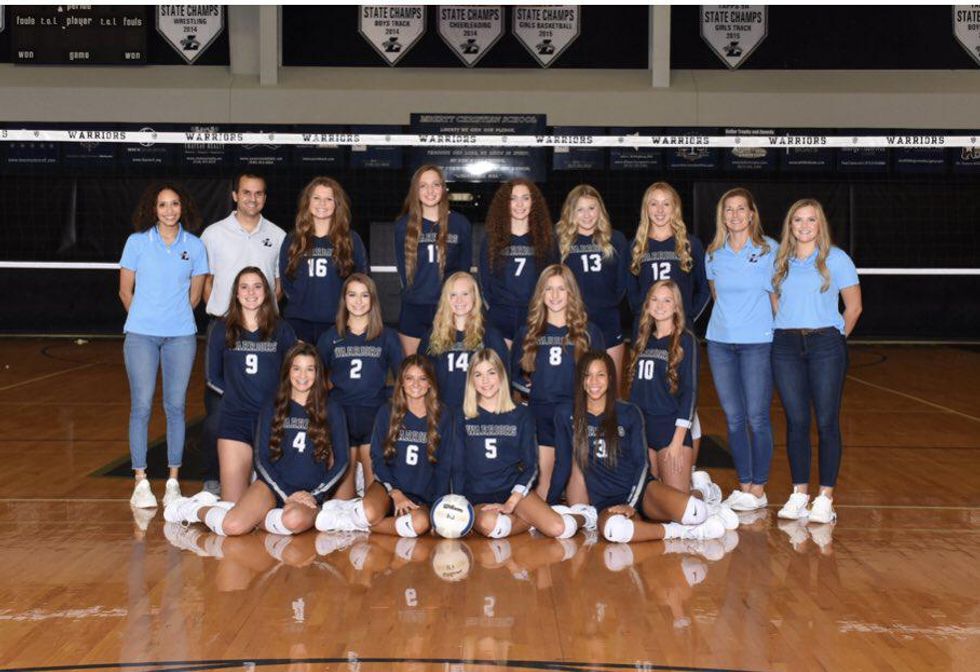 Photo by Bradley Collier
Tompkins was a young, precocious bunch last season, but made significant strides late in the year.
That included an eye-opening 3-1 win over eventual Class 6A State Champion Seven Lakes that prevented an undefeated district title for the Spartans.
The Falcons return a lot of firepower.
Senior 5-foot-11 outside hitter/defensive specialist Paris Herrman (3.2 kills per set) and junior 6-foot outside hitter Cindy Tchouangwa (3.1 kills per set) lead a potent attack that also includes junior 6-foot-1 outside hitter Ella Folse and junior 5-foot-9 outside hitter/middle Katy Lopez as emerging playmakers.
Herrman is Tompkins' dynamic do-it-all. She led the team in aces with 34 and averaged 3.2 digs per set to go along with her dominant swings.
Though the Falcons graduated key defensive specialists, Herrman, senior Cassidy Karonka and Tchouangwa are enough to step in.
The Falcons will need Karonka and junior Presley Powell to step up at setter. Also keep an eye on junior 5-foot-11 outside hitter Tendai Titley.
To purchase the 2021 VYPE Volleyball Preview CLICK HERE
To view the VYPE Digital Magazine CLICK HERE
To view all photos from the photo shoot CLICK HERE
Join the #VYPETEAM
Get up to date news from all over the country!