Bradley C. Collier (VYPE)
TWCA HAS HAD A LEGENDARY CROSS-COUNTRY PROGRAM BUILT BY COACH TOM EARLE. THE ALL-STATE NAMES DATE BACK DECADES.
Setting the pace for the Warriors since her freshman year, Zoe Calimani enters her senior season.
The captain led her team to the TAPPS-5A State Meet in 2022, in which the team placed seventh overall. Calimani played a huge role in the team's finish as she placed eighth individually out of nearly 150 runners.
"My teammates are definitely my biggest inspiration," said Calimani. "Furthermore, being a captain on this team helps
to motivate me because I've been given the responsibility of setting an example for them. It's my teammates who drive me to be better."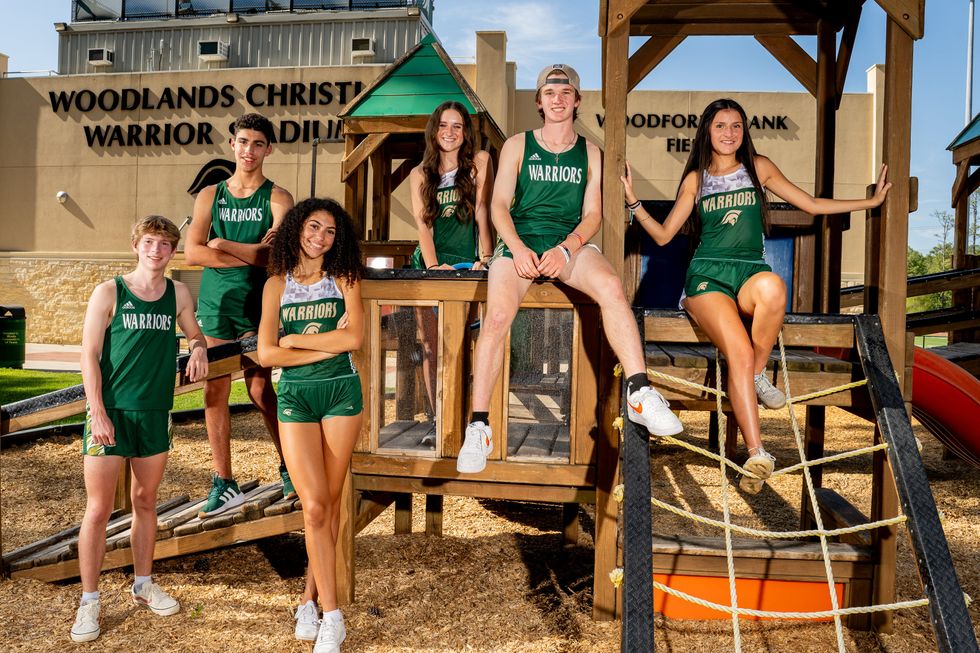 2023-24 TWCA Cross Country Bradley C. Collier (VYPE)
When she's not on the trails or the track oval, the senior Warrior quite literally plays her own tune to unwind.
"I happen to be a pianist, along with being a distance runner, which I think helps me to be somewhat distinct," Calimani said. "I've been playing the piano for 10 years now. I found that it helps to balance my life, especially since I'm often in the spotlight with cross country and track.
"I find that playing the piano is like my quiet place. I mostly play classical music, but it allows me to be alone for a period and relax."
It won't be long before Calimani graduates, so, what might her future hold?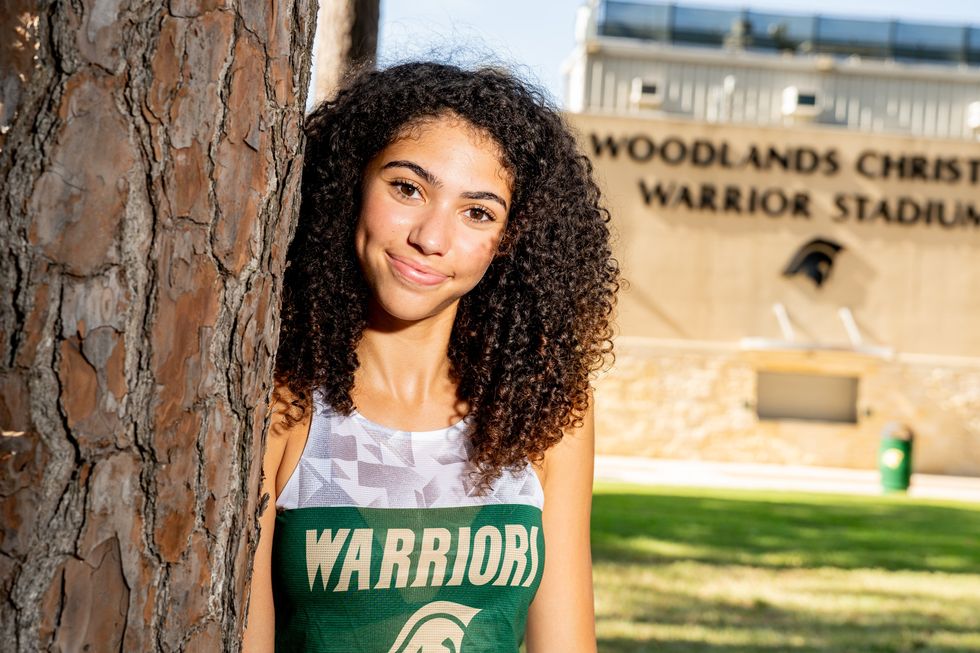 Bradley C. Collier (VYPE)
"I know it's funny to say, but I still see myself running," she laughed. "I just love to run, it keeps me healthy and I feel like there's such a great community around the sport. If I get the opportunity to run in college, even if it's not competitive, I'm more than likely going to take it.
"Career-wise, I want to go into medicine or maybe in the field of pediatric nursing. It can be a difficult field to get into, but it's an aspiration of mine."
If she has the determination to run several miles in the brutal Texas heat on a daily basis, it shouldn't be too much of a stretch to assume that Calimani is capable of making anything a reality.
VYPE caught up with The Kinkaid School Girls Cross Country Coach Cheryl Mitchell at the VYPE Kinkaid Fall 2023 Media Day, discussing the season and more!

Check out the interview below!
Bradley C. Collier (VYPE)
EVERY CAMPUS HAS ITS SHINING STAR.
Senior Salem Armstrong-Behe seamlessly embodies that role with style.
The first thing that piques one's attention is the uniqueness of her name.
"I was born in October, and my Dad has always been a Halloween freak," she laughed. "My name was initially going to be Scarlet, but it didn't give off the Halloween vibe. Eventually, my parents landed on 'Salem' from the Salem Witch Trials."
Given the fact that she is a leading figure on both the Warriors cheerleading and volleyball teams, Armstrong- Behe is a difficult figure to miss on the school grounds.
Despite the commitment of doubling up in athletics, she still manages to thrive.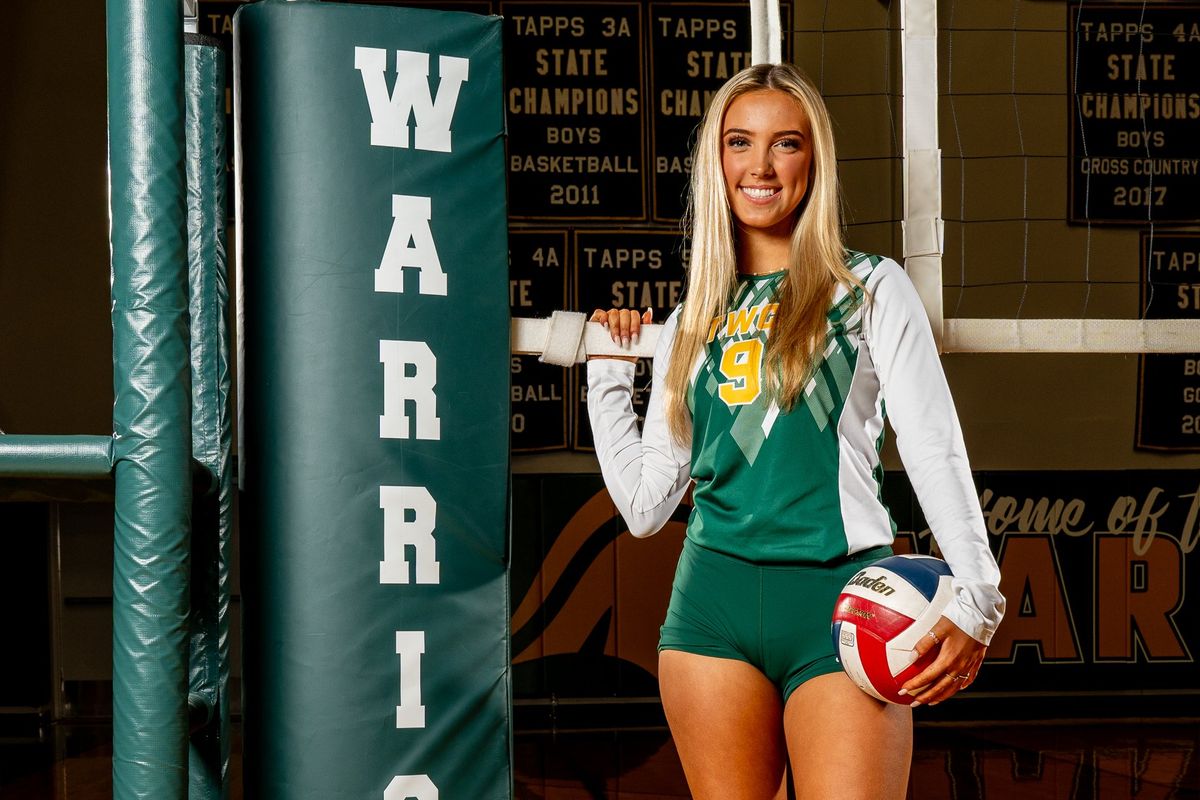 Bradley C. Collier (VYPE)
"I love staying active, especially now that I'm a senior and have a leadership position," said Armstrong-Behe. "I've been here since the second grade, so it's been such a great experience to be with girls who I've grown up with. We grew together, learned together and competed together. I kind of just wanted to get as much of that as possible."
It's that same connection that has made Armstrong- Behe the person she is today.
"Being here (TWCA) for essentially my entire education, I have built friendships that I would never have had otherwise," she said. "It's also shaped me into the woman I am today, particularly through Christianity and knowing my faith better. This experience, the friends and the community has allowed me to progress in so many ways."
While she emphasized the love she feels towards volleyball, Armstrong-Behe's true passion lies where it all began for her.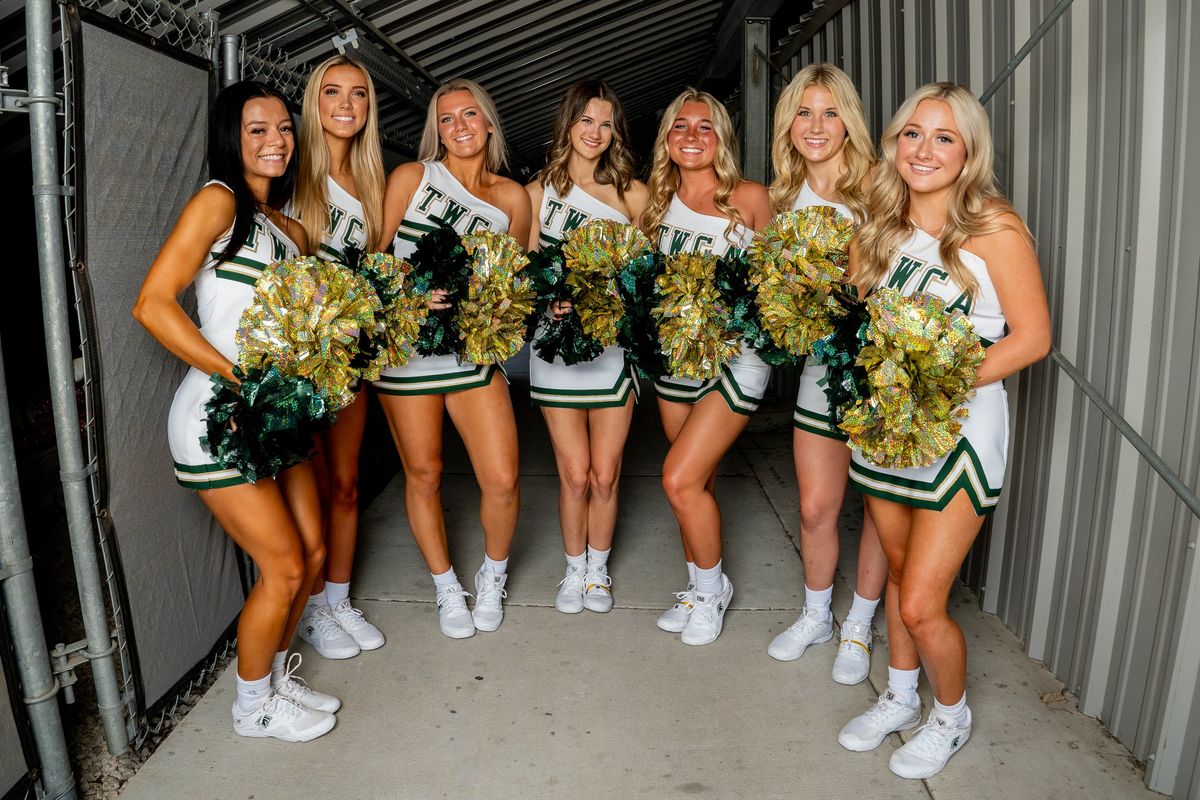 2023-24 The Woodlands Christian Academy CheerBradley C. Collier (VYPE)
"My Mom was a cheerleader for the University of Tennessee, so I've always wanted to follow in her footsteps," Armstrong-Behe said. "I grew up in competitive cheerleading and dance. It always came naturally to me. I just love everything about the sport, getting to perform in front of people. I'm a very girly- girl, so getting ready for games is always fun to me.
"But, I think the skill required for it can be overlooked at times. There's a lot that goes on behind the scenes, because we're not just out there yelling at people. There are stunts, tumbling, coordination and choreography involved throughout. Doing that in college would be tremendous."
Whether she's on the court or on the field in the future, count on this star to keep shining.
Join the #VYPETEAM
Get up to date news from all over the country!