Photo by Tiger Media--Provided by Coach Brett Sniffin
Belton High School has risen to new heights in recent years, and the 4-0 start to this season indicates that the best may be yet to come.
It's been some time since the Tigers have seen such success, and part of that could be attributed to the influence of coach Brett Sniffin, who came over from Ridge Point a few years ago.
Sniffin opened Ridge Point in 2010. However, something about Belton appealed to him.
"When I was at Ridge Point, it initially had that small-town feel before it grew to the point it is now," he said. "I missed that aspect, since I'm not much of a big-city-type-of-guy, so that's what kind of drew me to Belton. I'm sure other coaches share that same mindset and are drawn to that feeling, because it is definitely an event on Friday nights when we're playing at home."
That sentiment runs even deeper.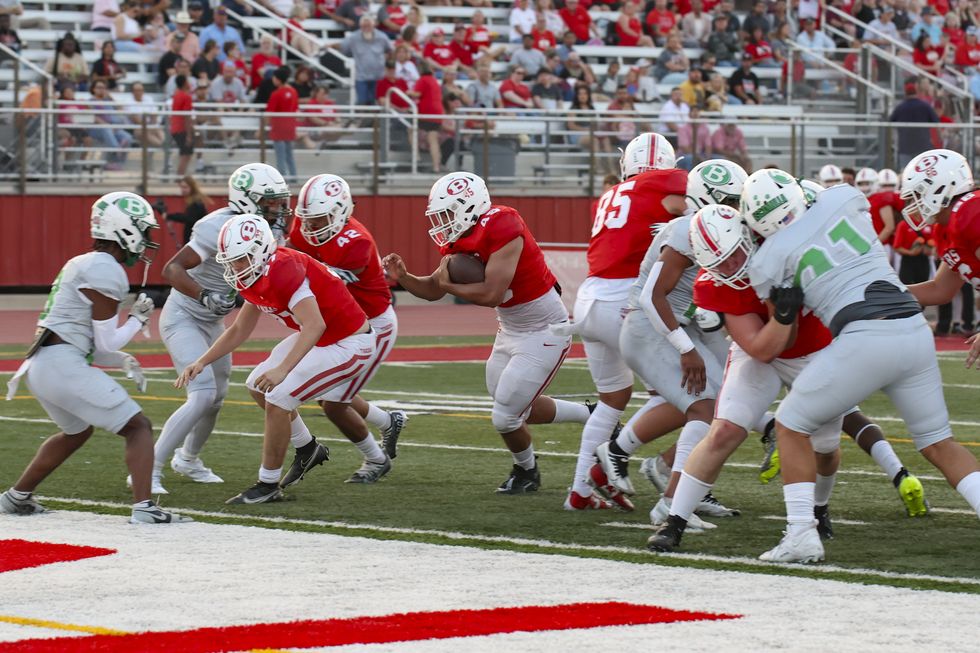 Photo by Tiger Media--Provided by Coach Brett Sniffin
"Belton is its own unique area and our school pretty much is Belton," Sniffin said. "It's unique to have that small-town feel. There aren't too many chain restaurants, it's mostly mom-and-pop type stuff. There's a nice home-town feel, and the more you win, the more the season ticket holders come in and fill up the stands. That support has been overwhelming."
Since Sniffin and his staff took over the reins of the program four years ago, Belton has gradually re-established itself as a true contender in the Class 5A-II race.
"We like to say we're doing things here that haven't been done in a long time," said Sniffin. "Last year, we had the first outright district title since 1998. Now, we want to win 10 games for the first time since 2009. They've never won three playoff games so that's something we want to do. Those are our long-term goals, but obviously the first one is to win tonight, and we want to start off district on the right foot."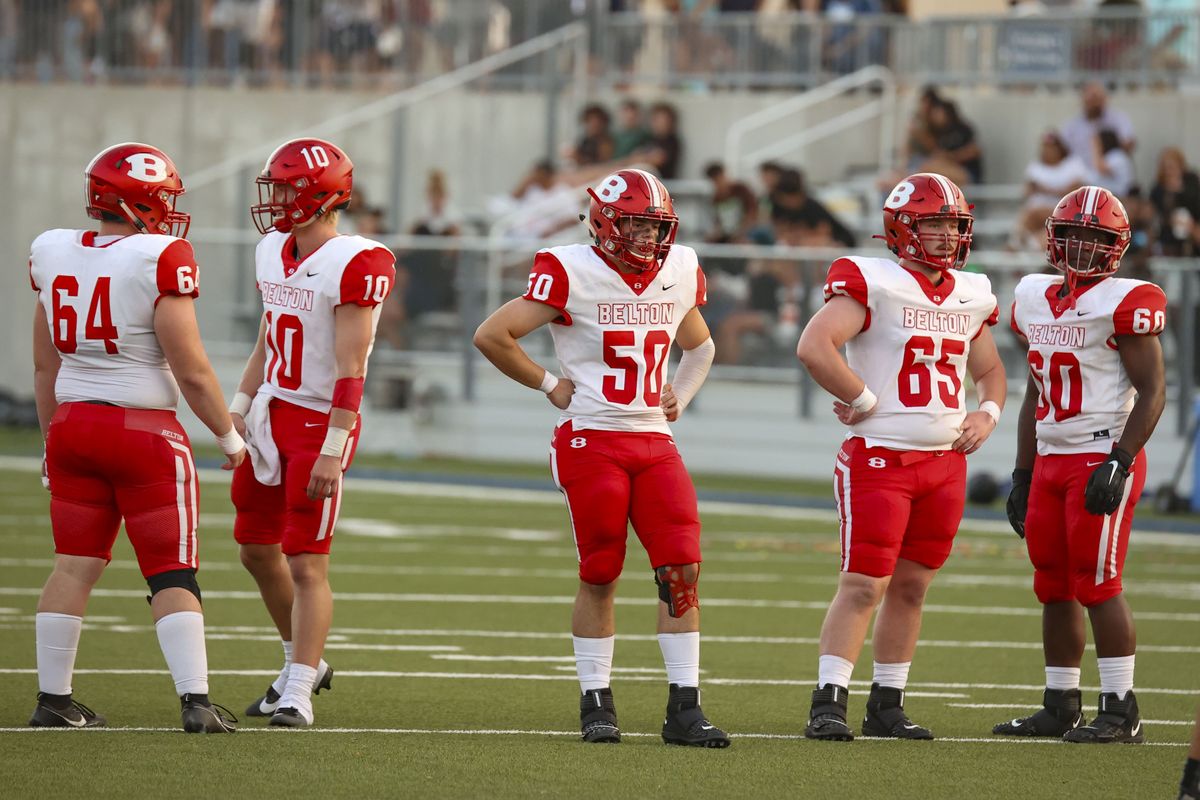 Photo by Tiger Media--Provided by Coach Brett Sniffin
Senior QB Reese Rumfield has been the star of the show, while Belton's RB Shaun Snapp, Wyatt Butler (Sr. LB) and Dante Martinez (Sr. LB) have been among the key contributors to the program's fast start.
They'll be essential to coach Sniffin's keys to their district opener against Pflugerville this evening.
"We want to be able to drive the ball and consume some clock against their (Pflugerville's) big defensive front," he said. "Defensively, we want to shore up the pass-defense and put some pressure on the quarterback. Lastly, special teams has been a strong point for us, and that's what's helped us get over the hump."
Don't sleep on the Tigers. They might have a small-town feel, but they have big-time aspirations.
By Bradley Collier
Senior libero Andi Vaught can read a room.
Earlier this season, she led movie night where the Friendswood Mustangs huddled to watch "When the Game Stands Tall". The movie chronicles De La Salle High School, one of the nation's best high school football teams.
The message – no one is bigger than the team. It's about leadership, love and the brotherhood of a team.
The movie hit.
"It was the perfect movie at the perfect time for the perfect team," coach Sarah Paulk said. "We have had adversity this year and the girls keep stepping up. We played a tournament in Florida and it was a great team-building experience for us. It was then when I could see this team really coming together."
The team suffered a set-back in the preseason, however, losing Meghan Donoughue to an Achilles injury. She will be lost for the season. Sophomore outside Sydney Gibson has been out all season but will return in the next week, and junior DS Anna Melgren should be back in a few weeks with another injury.
The Mustangs reached the State Tournament as recent as 2019 and have had continued success in the postseason since, but they have been tripped up by Fulshear of late.
"We haven't won district in two years (Manvel) and we've hit some road blocks late in the season," she said. "But this team really works hard and has great chemistry."
The 'Stangs are currently 16-9 overall and 3-0 in district play with a young and talented team.
Vaught keeps the youngsters on track… and they are really talented.
Sophomore Nadi'Ya Shelby is hammering balls at a violent pace and she is set up by sophomore setter Caroline Adams.
"Nadi'Ya does some things athletically that I've never seen before. She is special," Paulk said. "Caroline has stepped up huge running the offense. She has allowed us to run a 5-1 instead of a 6-2."
Other sophomores Haley Patton (DS) and Tallah Benson (OH) have played expanded roles, along with juniors Jordyn Sims (right side) and Preslee Alaniz (MB).
"It has been true team effort," she said. "Everyone plays a role."
Next Tuesday will be very telling. The Manvel Mavs are looming, who have been a thorn in the hooves of the Mustangs the past two seasons.
Will the "Stand Tall"?
Vaught will see to it.
Wylie East and Sachse are headed for a week five district matchup against each other. Wylie East is undefeated so far this season and looking to continue their hot streak while Sachse is looking to improve their record. VYPE DFW takes a look at these two teams and what fans can expect heading into this district matchup:
Wylie East Raiders (3-0, 1-0)
Wylie East is off to another hot start this season. The team has posted big victories against their opponents while allowing only 27 points combined in three games. First, the Raiders had a hard-fought 14-13 victory over Richardson Berkner before posting a 49-0 shut-out victory over Grand Prairie. Last week, Wylie East secured a convincing 58-14 win over Garland Naaman Forest.
As the team looks to continue their hot streak, Raiders fans can look to dominant athletes putting in the work to be successful on and off the field. Kason Atkins, Michael Henderson, Howard Fisher IV, Keveyon Thorne, Amarean Porter, Alex Ainsworth, and others help lead this offense through key moments while Zach Loftus, Sean Berry, Ki'Neal Reed, Jamal Olford, Kory Boyd, and others lead the defense to powerful stops each week.
Sachse Mustangs (2-2, 2-0)
Dropping both of their non-district games shouldn't leave fans looking passed the Sachse Mustangs this season. The team showed a drive and focus through both non-district matchups. Week one saw a tough 44-41 battle against Coppell while week two saw an intense competition against Prosper (49-13). With a fresh breath of air and determination to enter district play strong, the Mustangs defeated Garland Lakeview Centennial in a convincing 31-7 victory. Last week, the team hosted Rowlett where they posted another huge victory (45-7).
Having allowed only 14 points against them against district opponents, the team is looking to battle hard against Wylie East. The offense is led by Kaliq Lockett who has averaged over 150 receiving yards per game, Brenden George, Kendrick Hanks Jr., Brendon Haygood, Joshua Ridge, Robbie Rothrock, and more. Ready to score early and often, this offense is focused on the game ahead. The defense is led by Sean Davault, Vashon Brunswick, Cory Bennett, and more.
What To Expect
Last season, Wylie East defeated Sachse 45-17 en route to a 7-1 district record and a finish at the top of their district standings. The Raiders will be looking to continue showcasing their strength as they take on Sachse. Sachse is looking to display their talent against a tough opponent. Fans can expect an intense matchup against these two opponents.
Kick-off is slated for 7 p.m. on Friday night.
Join the #VYPETEAM
Get up to date news from all over the country!