Provided by Coach Oji Fagan
The Bayou City has its own "Coach O".
Cypress Springs third-year head coach Oji Fagan has been "chopping" his way through the Houston high school football wilderness to lead his Panthers to a 3-0 record entering district play.
The Brooklyn-native moved to Houston after playing college ball and getting his feet wet in professional coaching.
By luck, he landed on staff with Fort Bend Marshall with coach James Williams. He quickly found out about winning and running a program.
"You don't have enough time for me to go over the things I learned from Coach Williams," he laughed. "What he taught me was to control the controlables. He never complained about the obstacles we had… he never complained. He just finds a way to make the most of every situation. That's what I try and do."
Fagan got the Cypress Springs job in 2020 and now enters year three. His program has taken hold, but it took some work.
"When I first got here, I was just hearing about the obstacles," he said. "It thought they were joking. That is when I really realized what we had to do to build that program at Marshall under Coach Williams. I just didn't focus on the problem, but the situation at hand."
He was able to bring on his three "dynamic" coordinators, who "understood the vision and helped me build the foundation," he said.
"What I learned at Marshall is that you have to invest in relationships with your players," he said. "It has to be at a deeper level. It's a marriage between coaches, players and the parents. That just establishes trust."
Last season, the Panthers went 4-6, just short of the postseason. They were just "a year away."
Now, it's 2023 and the Panthers have hit their stride, knocking off Bush, Heights and Jersey Village with Cypress Ranch on deck.
"We just block out the noise," he said. "We have the making of a good team, but we are not trying for a playoff spot or a district title, we are just being the best we can each day. We don't know how good we can be. We don't know what our ceiling is, so we can't cap ourselves."
Running the offense is three-year QB Harrison Mass, who has over 750 yards of offense and 12 TDs.
"He's the General," Fagan said. "He has taken ownership of the offense. Tim Saunders is back from injury and will be the bell cow running the ball. We are blessed with some great receivers in Michael Johnson and Rashod and Jamon Richardson. Nick Brown and Paris Melvin flip over from their corner positions to play slot too. They are a special group."
The defense has been a pleasant surprise.
"Ryan Lynch and Isaiah Wheat have been very disruptive up front and LB Ja'von Mims has been playing at an unbelievable level. Melvin and Brown are Power 5 cornerbacks," he said.
Fagan also took another page out of his mentor's playbook.
"Coach Williams helped me find the right job," he said. "You have to have athletes and we looked at the feeder patterns. There has been talent here, so I knew we would have a chance. I've been in heaven since arriving at Cypress Springs."
His energy is rubbing off on the student body as well.
"When we first got here, there was just family and some staff members in the stands," he laughed. "Last week, the stadium was packed. We didn't know what to think. It was great to see. This place is
excited and we have seen a different vibe in the hallways."
Winning doesn't hurt.
In their final non-district games of the season, the South Grand Prairie Warriors and the Rockwall Yellowjackets are geared up to face each other. VYPE DFW looks at these two teams and what fans can expect heading into this matchup:
South Grand Prairie Warriors (0-3)
The Warriors have had a rocky start to the 2023 football season. In week one, the team traveled to Arlington ready to go up against Mansfield Timberview and fell 35-0. Week two saw a lot of fight out of the Warriors as they hosted Coppell. Despite incredible effort on both sides of the ball, South Grand Prairie fell 44-34. Last week, South Grand Prairie stayed home to host Mansfield and lost 49-29.
Looking to pick up steam and secure their first victory this season, athletes like Austin Delay, Jaden Stanley, Leo Morris, Cahmari Anderson, Ahmad Jenkins, Xavier Farrow, Tory Jacobs, and others are ready to put in whatever work necessary to succeed on Thursday night.
Rockwall Yellowjackets (2-1)
Rockwall has made some big waves already this season. In week one, the team posted a 56-21 victory over Cedar Hill. Week two saw a 60-59, hard-fought battle against Dallas Jesuit in which the Yellowjackets lost. Last week, the Yellowjackets overcame adversity as they stunned state-ranked Prosper with a 47-41 victory in front of a home crowd. This week, they're looking to start a hot streak before entering district play.
Led by Devin Knox, Ashten Emory, Tanner Hart, Hayden Curey, Brady Sanders, Matthew Young, Sebastian Moyer, Mason Marshall, Neville Mah, Ethan McCrillis, and more, this team has what it takes to put up a battle and come out victorious against their opponents this season.
What To Expect
Last year, South Grand Prairie put up a battle and showcased tremendous effort on the field, but came up short against Rockwall in a 38-31 Yellowjackets victory. The Warriors are going to do whatever it takes this season to try to put a stop to Rockwall and post an upset in Rockwall. Riding a high and knowing their capabilities, Rockwall is focused and determined to finish non-district play on a high note. Fans can expect this team to fight through every moment on the field to shut down the Warriors.
Kick-off is slated for 7 p.m. on Thursday in front of a home crowd.
By Bradley Collier
TRENTON "TJ" BURKHALTER, JR. IS AS VERSATILE AS THEY COME.
The junior DE for Klein Forest has established himself as one of the program's top competitors on the gridiron, having earned second-team, all- district honors in 2022.
Given all the college camps he's attended, Burkhalter may have the chance to play at the next level, holding offers from Mississippi Valley State and Midwestern State.
While he hopes to hear from more colleges in the coming months, Burkhalter's primary focus still remains at home.
"For me, I'm really more focused on the team right now," he said. "I want to help us make it to the playoffs. With recruiting, if I do well during the season and get some offers, I'd be excited. But the team is the top priority right now."
It's no secret that the Klein Forest football program will look slightly different now that coach Darrick Vaughn has
taken the reins. However, Burkhalter feels that this will give him and his teammates the opportunity to thrive in a new system.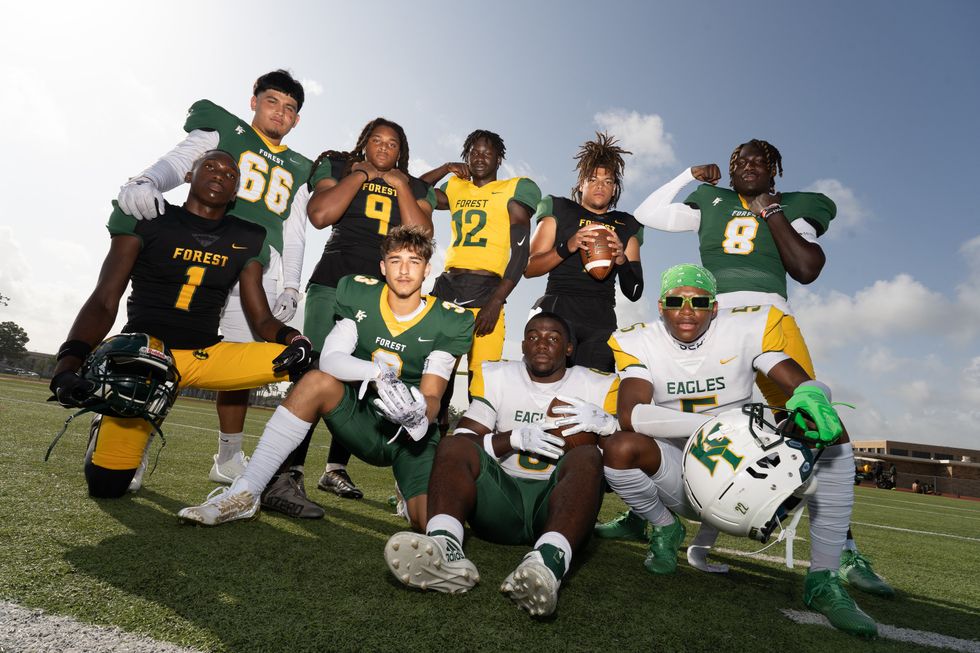 "We're definitely a lot more focused," said Burkhalter. "We lost a lot of players, which kind of hurts, but I definitely think that our team is coming together. Coach Vaughn is really big on discipline and attention to detail, and he's trying to make sure we get the little things right. I think that will benefit us in the long run."
When football ends, Burkhalter sheds the pads and prepares to enter the wrestling ring. In fact, he's so adept in the ring that he was the individual district champion at 215-pounds a year ago.
No wonder he's become a force off the edge.
"I think going back and forth with football and wrestling really helps with my stamina and physicality on the defensive line," he said. "People don't always realize the kind of conditioning you need for wrestling – you get worn out a lot quicker. So being trained that way year-round is incredibly valuable for me."
What's something that many people might not know about the Klein Forest junior ?
"I'm in FFA as well. I'm really big on livestock," Burkhalter said. "I've shown steers for the past two years, and I've been working with FFA since the sixth grade. I actually showed at the Houston Livestock Show & Rodeo and ended up winning $6,000.
"I definitely see that in my future, which is why I intend to major in something agriculture-wise once I go to college. I grew up around horses since some of my family would participate in rodeos, so it just feels right."
Suffice it to say, whatever path Burkhalter chooses to take, the future is bright for this Golden Eagle.
Join the #VYPETEAM
Get up to date news from all over the country!