Courtesy of Nick Codutti Twitter
One of the best young high school football coaches in Texas, according to Dave Campbell's Texas Football, is a Philadelphia native who took his first head coaching job in Texas almost four months ago.

As a player, he was an offensive lineman at a small NCAA Division II school and professionally bounced around NFL and NFL Europe camps. As offensive coordinator at Beaumont Westbrook and, for the last six years, Tomball, he developed a sharp mind for the spread offense.
DCTF recognizing Fulshear head football coach Nick Codutti on its "40 Under 40" coaches list last week may have surprised some. Heck, it even surprised Codutti, who was one of only four from the Houston area to be named to the 30-man list of high school coaches.
"I was, like, these guys must have me confused with somebody else," Codutti said, laughing. "It's pretty cool to be represented. A lot of those coaches are dudes who are well-known and well-liked and well-thought of. Just to be involved is cool."
But the catch may be that maybe it shouldn't have been a shock. In this rich era of offensive football that is more and more geared toward getting the ball into the hands of playmakers, at whatever cost schematically or personnel-wise, Codutti is nuanced in the art of scoring points. He is well-traveled as a coach, starting with six years at Marshfield High in Missouri—where he was head coach for three years, going 12-18—before going to Beaumont for two years and then Tomball.
Last season, Codutti directed a Tomball offense that averaged 31.4 points on 469.9 yards per game.
"I'm a wide-zone guy," Codutti said, referring to an offensive scheme based on horizontal movement. "I don't pull linemen. I don't run power. I don't run counter. My philosophy is to keep it very simple for the offensive line. Our offensive line knows one blocking scheme to run. Our passing game is the same. My theory is I'm going to be so well-versed in the one or two things we do, that I know what our weaknesses are and people will have to adjust to us instead of us adjusting to them. We have a system instead of a collection of plays."
Codutti's style is to fit kids into roles that fit them best and mold his schemes around that.
During his first couple of years at Tomball, he ran an offense that featured compressed sets with multiple players in the box at one time because the Cougars had big, physical receivers. Last season, the offense mostly ran an "empty" formation, featuring no back in the backfield.
Codutti, who will call the offensive plays for the Chargers, will have talent to work with at Fulshear. He singled out playmakers like speedy junior dual-threat quarterback Parker Wilson and dynamic junior receiver Jax Medica. But one thing is for certain: Offensive linemen at Fulshear are at the head of the class under Codutti.
"I'm asking kids to play O-line that never played there, and they're starting to enjoy it," Codutti said. "The way I go about it is we're going to make the O-line cool, the place to be. They eat first, they get the first pick on equipment. They're going to be kings. It's something that will be new to a lot of people."
Any newness has been embraced. If social media is any indication, players and coaches around Fulshear are all-in on Codutti's culture of inclusiveness. Codutti is excited about what's to come because of the rapid growth of the area.
When he started at Fulshear on March 1, Codutti said the school had 1,750 kids. When school ended in May, it had more than 1,900. By the time school starts again in August, Codutti said he was told enrollment could be up to 2,200.
"I've never seen anything like it," he said.
As the school's numbers find footing, Codutti will attempt to establish his. He has his work cut out trying to bring a winning culture to a program that has won eight games in three years of varsity play.
Fortunately, he will have quality experience around him. Assistant head coach/defensive coordinator Kaeron Johnson played at Baylor. Offensive coordinator Dillen Ashton has quickly climbed the coaching ranks. Running backs coach Davin Meggett is a former NFL player. Offensive line coaches Chris Morton and Derek Jones arrive following successful stints in Klein ISD. Special teams/linebackers coach Nick Jones was formerly the assistant head coach at Ridge Point.
"The guys I've brought in are 100 percent relationship guys," Codutti said. "Three things I look at when I hire are character, connection, and competency. I have good men, and that rubs off on the kids and it helps them buy-in when those relationships are built."
The high school honorees on Dave Campbell's Texas Football 40 Under 40 list:
>> Courtney Allen, North Crowley
>> Garret Avalos, Rankin
>> Brian Bell, China Spring
>> Kevin Berneathy, Pasadena Dobie
>> Kasey Black, Rio Vista
>> Robert Boone, Carrollton Newman Smith
>> Trey Bryant, Richardson Berkner
>> Ervin Chandler, Princeton
>> Nick Codutti, Fulshear
>> Lance Cannot, Brownsboro
>> Alton Dixon, Crockett
>> Justen Evans, Corpus Christi Miller
>> Jahmal Fenner, Austin LBJ
>> Thad Fortune, Midland
>> Zac Harrell, Athens
>> Ben Hoffmeier, Bryan Brazos Christian
>> Nathan Larned, Houston Kinkaid
>> Will Littleton, PSJA Memorial
>> Jonny Louvier, Gladewater
>> DJ Mann, Lubbock Coronado
>> Ricky Joe Meeks, Center
>> Eric Mims, Amarillo Palo Duro
>> Daniel Novakov, Dallas Parish Episcopal
>> Eric Peevey, Little Cypress-Mauriceville
>> Frank Sandoval, West Mesquite
>> Cody Simper, Cy Woods
>> Cooper Thornhill, Blum
>> Joseph Turner, Fort Worth North Side
>> Logan Turner, Lone Oak
>> Kyle Westerberg, Whitehouse
The collegiate honorees on Dave Campbell's Texas Football 40 Under 40 list:
>> Shawn Bell, Baylor (Quarterbacks)
>> Ryan Carty, Sam Houston (Offensive Coordinator/Quarterbacks)
>> Zarnell Fitch, TCU (Defensive Line)
>> Blake Gideon, Texas (Safeties)
>> Julian Griffin, UTSA (Running Backs)
>> Jacob Peeler, Texas State (Offensive Coordinator)
>> Billy Riebock, Texas A&M-Commerce (Offensive Coordinator)
>> TJ Rushing, Texas A&M (Defensive Backs)
>> Ra'Shaad Samples, SMU (Assistant Head Coach/Running Backs)
>> Steven Thrash, Mary Hardin-Baylor (Wide Receivers)
HOUSTON – The night before Chris Carter was set to compete for one of three spots on the United States Olympic Track & Field team in the triple jump his phone dinged.

It was a text message from Jaden Patterson.
"He sent me a message the night before that said 'Hey coach, go out there and handle your business, be confident, make sure you have fun and I'm proud of you no matter what. I'm blessed to have you as a coach'," Carter said.
"That really touched me because he sounded like me. That's something I would say to him."
Patterson, who is a University of Kansas-signee, is one of Carter's athletes he coaches at Atascocita High School in Humble, Texas. In fact, just a month ago, Carter was at the University of Texas watching Patterson win the Class 6A State Championship in the triple jump.
On Monday night, the roles were flipped as an athlete was watching a coach on an online stream at the University of Oregon compete in the Olympic Trials for a spot in Tokyo.
"Having that bond with your athlete and being able to motivate them that much to where they can feel what you do and feed off your energy, it's special."
Carter, who competed in college at the University of Houston, competed in the finals of the men's triple jump competition in what was his third Olympic Trials.
The 32-year-old Carter after his second jump of 54-feet-10 ¼ inches took over second place. His mark held him up in the top three through the fourth attempt.
On his fifth attempt, Carter felt like he had a monster jump that would have won the competition but was called for a foul, and in the end after everyone had six attempts, he finished fourth overall. One place away from Tokyo.
"This year was different, obviously with COVID, so I already had to wait five years," Carter said. "I was hungry. I really wanted to go, and I knew I had a really good chance to go. In the fifth round, I had a jump that would have won the competition, but I was over [the board] by less than a centimeter.
"So, knowing that I missed the Olympics by something that small is not the easiest thing in the world."
Carter, who started coaching at Atascocita High School back in 2013 and is now an Assistant Cross Country and Track & Field coach, had a little watch party going on for his jumps.
On the team Twitter account photos were posted of the team gathered at Atascocita track & field head coach Todd Symons house watching him compete.
"Having my athletes getting together and watching and having that support through texts, calls, and social media posts, it means a lot," Carter said. "It makes me feel like I'm doing it for something."
AHS Coaches Todd Symons & Karyn Lacour, along with members of AHS Boys Track and Field, gather together to cheer on Coach Chris Carter as he competes in tonight's finals of the Olympic Trials! Catch the coverage on @KPRC2 tonight at 10 pm. pic.twitter.com/nDc3R6Y538
— Humble ISD (@HumbleISD) June 22, 2021
Symons told KPRC2: "He does a lot for the school. He does a lot for these kids behind me and he just means the world to all of us. He got fourth and did a great job. We're so proud of him, it's unbelievable."
With his athletes watching their coach go for the Olympics, Carter hopes that they take away a few different life lessons.
"I hope that they understand that you can do everything right, work as hard as you can and still fail but you have to be able to bounce back and learn from it," Carter said. "You have to enjoy the experiences because you don't always win, you don't always succeed. But if you enjoy the journey and learn from it, you'll become stronger and take that to other avenues of your life."
Carter continued: "Sometimes they put me on a pedestal but sometimes they see that I get nervous just like them. I'm on the biggest level and I get nervous. I struggle through workouts sometimes. But you just have to keep going, keep believing in yourself and stay consistent.
"When they see me do it, it makes my job a lot easier because they believe it for the most part."
So, what's next for Carter?
The next Olympic Trials won't roll around again until 2024 when the summer games will head to Paris and if Carter decides to make another jump for the Olympics, he will be ready.
"That's a long time off, I'm just going to take it day by day," he said. "I'm 32 now, so this was perfect for me. But with technology, proper treatment, and proper diet, I could make it to the next Olympics. If I do decide to go for it, I'll be hungry. I'll be motivated."
It is awards season here at VYPE!

We welcome you to the Countdown to the 2021 VYPE Awards presented by Houston Methodist Orthopedics & Sports Medicine. Over the next two weeks, we will be unveiling the finalists for the player of the year awards. Team and Coach of the Year awards will be announced LIVE during the Fourth Annual VYPE Awards.
The winners will be honored in a one-hour virtual show on Sunday, June 27 at 6 p.m. on VYPE Houston's website, Twitter account and on the VYPE Texas Facebook page and YouTube Channel! It will be an event to get dressed up for and to tune in to as it will be an evening full of special moments!
Let us get it started! Here are the finalists for Public School Women's Golfer of the Year!
GOLFER OF THE YEAR FINALIST: Remington Isaac, Montgomery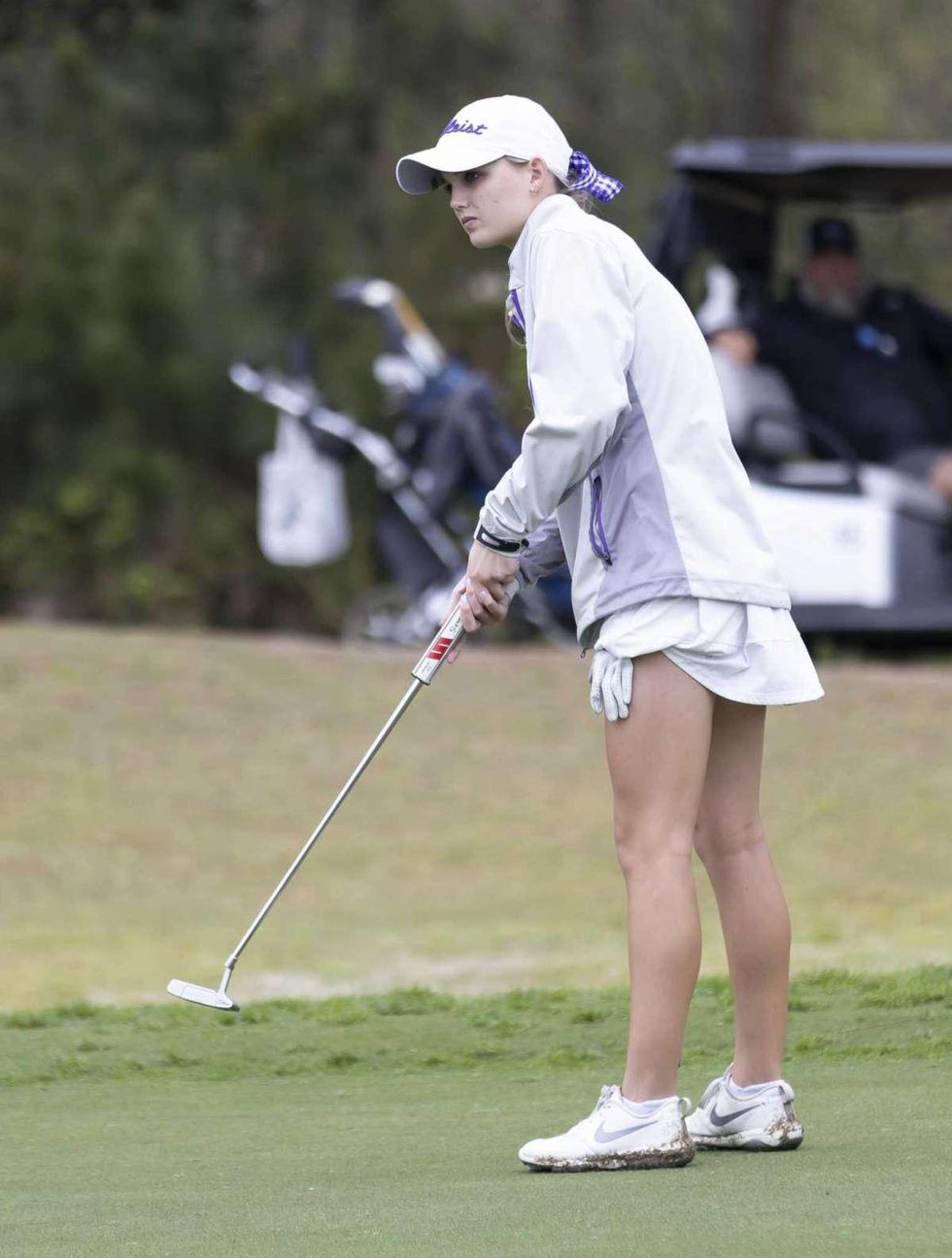 Photo from Gustavo Huerta:Houston Chronicle
Montgomery has a legendary girls golf program and the Bear continued their success this season finishing second at the UIL State tournament. Senior Remington Isaac led Montgomery in a tie for fourth place. The Kansas State-commit shot even on the tournament, going two-under on the first day and two-over on the second.
GOLFER OF THE YEAR FINALIST: Maelynn Kim, Seven Lakes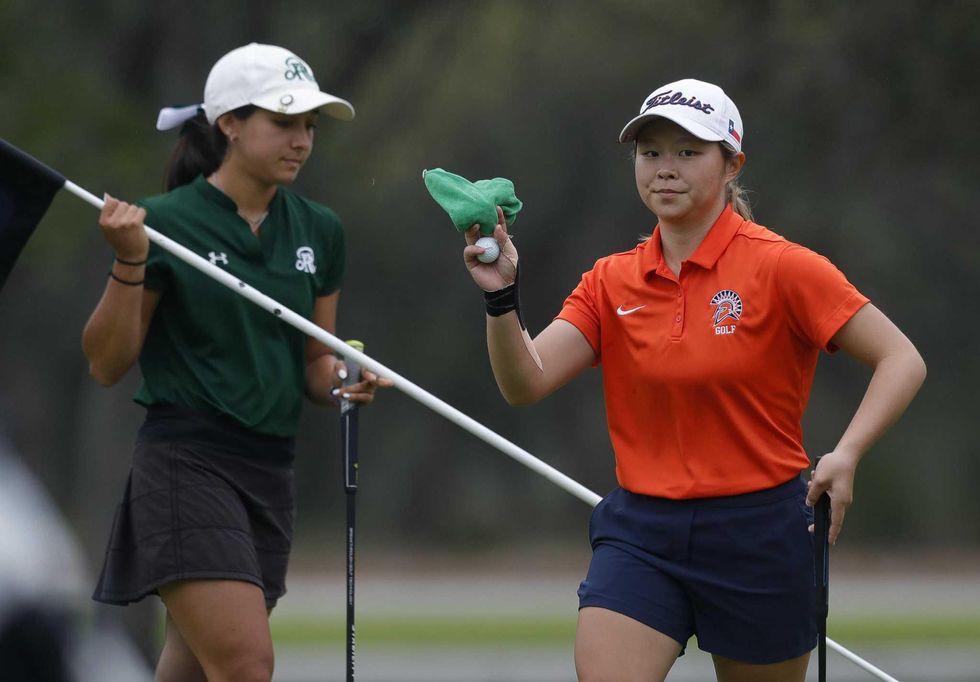 Jason Fochtman, Houston Chronicle / Staff photographer
Seven Lakes' girls golf team finished sixth at the Class 6A state tournament as the top Greater Houston area finisher.
Seven Lakes posted a two-day score of 623, shooting 310 on Day 1 and 313 on Day 2. The Spartans struggled to finish after a strong start to the tournament.
Sophomore Maelynn Kim finished one better as an individual, tying for fifth individually with a two-day score of 146 (74-72).
GOLFER OF THE YEAR FINALIST: Avery Blake, The Woodlands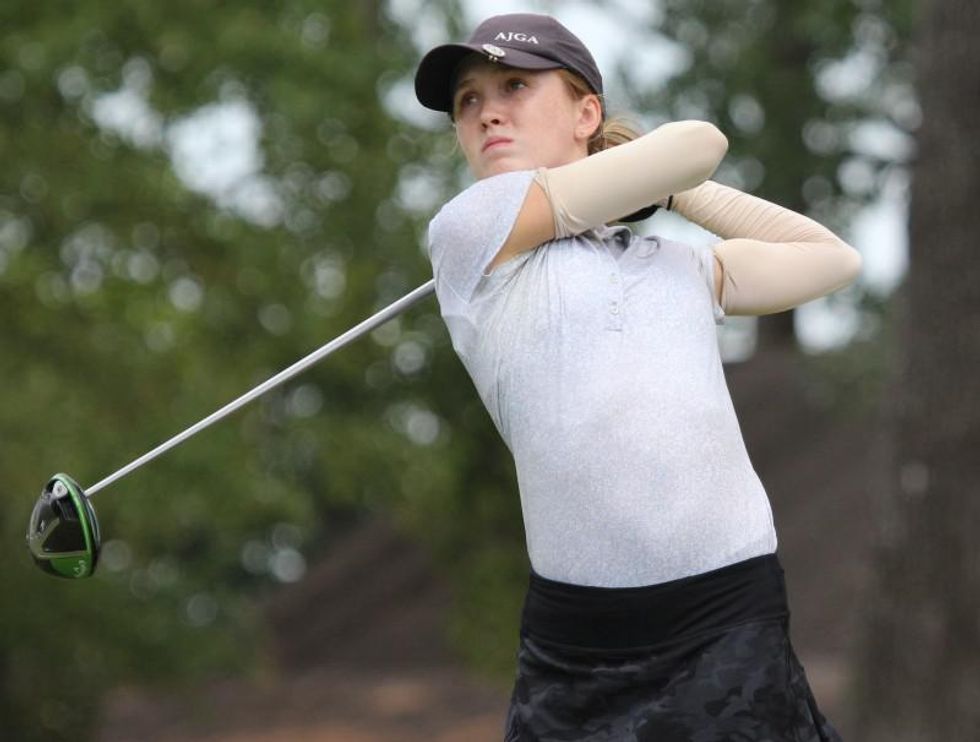 Photo from ajga.org
TCU-signee Avery Blake has been a name to reckon with for several years now. She won the District Tournament with a 1-over par 145 for the tournament after rounds of 72 and 73. The Woodlands A won the team title by 33 strokes at 610 (309-301) while College Park A advances as well as it rallied with a 643 (322-321) to edge The Woodlands B 646 (319-227).
She finished tied for eighth at the 6A UIL state meet.
Houston Methodist Orthopedics & Sports Medicine is Houston's leading provider of orthopedic services, from sports medicine to joint replacement. Houston Methodist offers comprehensive diagnostic, treatment and rehabilitative services with a high standard of excellence for elite athletes, active adults and student athletes. Houston Methodist serves as the official health care provider for the Houston Texans, Houston Astros, Rice Athletics, Houston Livestock Show and Rodeo™, Houston Ballet, Houston Symphony and Houston Grand Opera.
Join the #VYPETEAM
Get up to date news from all over the country!