By Bradley Collier
The Lamar Texans are a cool bunch, so VYPE took a trip to the newly-renovated HISD school to get to know the volleyball squad.
We caught up with the nucleus of the Texans' volleyball program – hitter Kaylie Victoria, captain Vivian Chaney, hitter Kortni Johnson and senior middle Nia Lafrance.
VYPE goes Inside the Huddle.
NIMITZ JUNIOR HOLLY RICHARDSON HAS A WARNING FOR OPPONENTS THIS SEASON.
"You don't want me in the front row," Richardson said. "I'll block your ball, smash on you. And don't let me get one. I'll scream to the top of my lungs."
Richardson is "fire" on the court. A monster, she said. She is the passion behind the Cougars' fight, and it stems for her genuine love for the game.
"I've been playing since the fourth grade," Richardson said. "I just fell in love with the sport. I love the tempo. I love the aggressiveness.
"I don't want to stop. I want to play forever."
Richardson has goals of playing collegiately and professionally. She's on the right track.
The 5-foot-10 Richardson is a versatile, dynamic player who affects the stat sheet in many ways for coach Shannon Harrison. Richardson mostly plays middle blocker, but also sees time at outside and right-side hitter. Heck, she can even set the offense if need be.
This year, she expects so much more out of herself after getting her first varsity experience in 2020.
"My goals are to come out hitting hard and digging any hit they're throwing at me," Richardson said. "Start strong, finish strong. I want to be seen, heard and noticed, on the court and off the court."
While a menace to opposing front rows on the court, Richardson is sweet and thoughtful off it. She uses her creativity as an outlet from her exhausting, aggressive style of play on the court.
Richardson is an artistic individual. She likes to paint and draw. Lately, she's been trying her hand at cartoon characters. Richardson often presents her drawings to family members as gifts, as her own personal 'thank you' for them being the reason why she does what she does and is who she is.
"I'm a very confident person," Richardson said. "My confidence comes from my family's support, from their belief in me."
Her drive is to validate their trust and justify their faith. To make something for them and herself out of the game she loves so much.
"I've been training for this," Richardson said.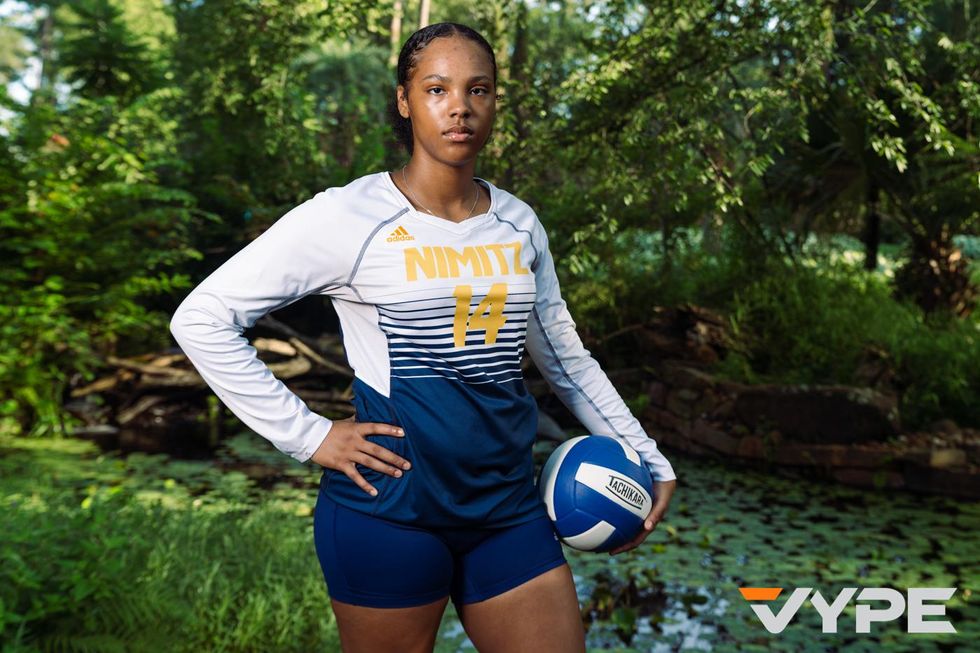 Photo by Bradley Collier
"WE ARE… MARSHALL!… WE ARE… MARSHALL!" RANG OUT FROM THE TV SET INSIDE THE CLASSROOM. SITTING IN ONE OF THE DESKS WAS TRUDELL BERRY.
The then-seventh grader watched the 2006 film at least five times during that year. It was his teachers' favorite movie to play on free days.
Five years later, Berry who plays both defensive back and receiver for the Lee Ganders ironically will be heading to Huntington, West Virginia next fall to be a part of the Thundering Herd.
A fitting movie-type script, right?
"Everybody in the town is behind Marshall football. Everybody," Berry, who verbally committed to the Thundering Herd this summer, said. "They are projected to be first in their conference this year. I'm excited to see what they bring. Them bringing heat to the field is going to make me feel more inspired to play and ready to play. I can't wait to see them play; it's going to fuel the fire for me watching them play."
The 6-foot, 180-pound defensive back is rated a three star prospect by 24/7 Sports. Along with Marshall, he had offers from Colorado State, Columbia, Pennsylvania and Utah State.
Going from the high school to college game, Berry believes he has a solid groundwork to build off of."
My speed. I think I'm a fast athlete," Berry said. "My feet, I've got good footwork and I'll be playing DB for Marshall, so technique in your footwork is critical at the next level. I feel like I have it, but I will continue to improve on it."
Berry will have this season to improve on his skill as he tries to get the Ganders back into the playoffs for a second-straight season with a "target on our back"-type feeling.
"First thing is we're going to take Battle of Baytown back home again and then we're going to go further in the playoffs," Berry said. "We were just getting our feet wet this past year. We arrived but now we're here to stay."
Join the #VYPETEAM
Get up to date news from all over the country!