VYPE Austin/San Antonio Helmet Stickers: Week 8 (10.19.22)
Oct 19, 2022
Welcome back to another edition of VYPE Austin/San Antonio Helmet Stickers for the 2022 Texas High School Football season.
There were tons of amazing performances last week across the Central Texas. We compiled all of those top performances in the VYPE Austin/San Antonio Football Player of the Week Fan Poll - CLICK HERE TO VOTE - but then we boiled that down to what we felt were personally the Top 7 performances of the week
These are Week 8's Helmet Sticker selections (in no particular order).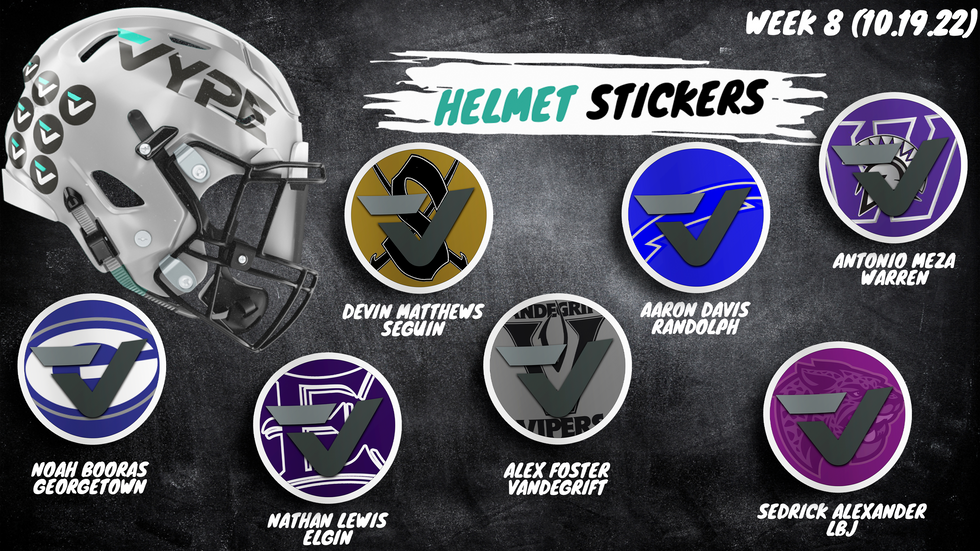 NOAH BOORAS-GEORGETOWN
Noah Booras was literally perfect in their Friday 59-19 win over East View.Booras was 12/12 for 245 yards and 3 touchdowns.
NATHAN LEWIS-ELGIN
Nathan Lewis helped lead the Wildcats to a 36-35 victory over Waco University on Friday. Lewis was 12/18 for 204 yards and 5 touchdowns while also running for 40 yards on 13 carries.
DEVIN MATTHEWS-SEGUIN
In a big district matchup this past Friday, Matthews did it all for the Matadors in their 41-34 victory over Hays. Matthews had 9 catches for 168 yards and 3 touchdowns and 1 rushing touchdown of 71 yards.
ALEX FOSTER-VANDEGRIFT
Talk about a defensive showing! In what was likely a game that will decide the winner of 25-6A, Alex Foster totaled 25 tackles in the Vipers 30-22 win over Round Rock
AARON DAVIS-RANDOLPH
Aaron Davis was a 1 man show on Friday. In their 42-6 win over Ingram Davis was 10/16 154 yards and 3 touchdowns while also running for 95 yards on 15 carries and 2 more touchdowns.
SEDRICK ALEXANDER-LBJ
LBJ walked away with a 70-0 victory over Austin Navarro on Friday. Sedrick Alexander tallied 225 yards on 16 carries and 5 touchdowns, and 1 more touchdown on a 24 yard reception for the Jaguars.
ANTONIO MEZA-WARREN
The Warriors rebounded to their loss to Brennan with a 40-12 victory over O'Connor on Thursday. Antonio Meza was near perfect going 20/22 for 343 yards and 4 touchdowns on the night.