VYPE Austin/San Antonio Helmet Stickers: Week 4 (9.21.22)
Sep 21, 2022
Welcome back to another edition of VYPE Austin/San Antonio Helmet Stickers for the 2022 Texas High School Football season.
There were tons of amazing performances last week across the Central Texas. We compiled all of those top performances in the VYPE Austin/San Antonio Football Player of the Week Fan Poll - CLICK HERE TO VOTE - but then we boiled that down to what we felt were personally the Top 7 performances of the week
These are Week 4's Helmet Sticker selections (in no particular order).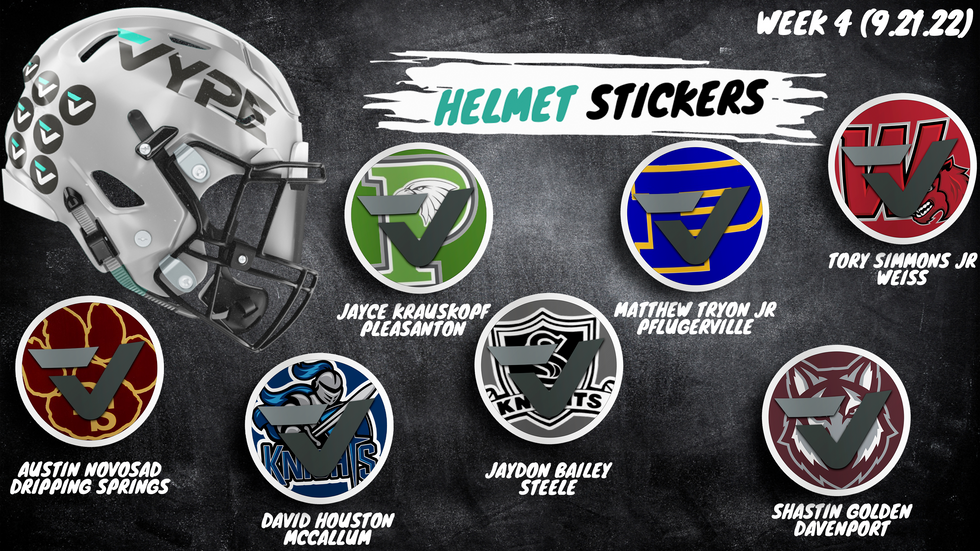 AUSTIN NOVOSAD-DRIPPING SPRINGS
The first game for Dripping Springs in District 26-6A is in the books and Dripping Springs looks like they will fit right into class 6A. The Tigers came out and dominated Austin High 77-0. Quarterback and Baylor commit Austin Novosad was effective and efficint in the win completing 80% of his passes for 253 yards and 4 Touchdowns. Next up for Novosad and the Tigers? Austin Bowie, probably their toughest test since Week 1.
DAVID HOUSTON-MCCALLUM
Houston was instrumental to the Knights 49-28 victory in their first district game versus Crockett. In the game Houston did it all throwing for 112 yards and 2 touchdowns and ran for another 137 yards and 5 touchdowns. The win brings McCallum to 2-2 on the year and a much needed bye-week before a big time game versus LBJ
JAYCE KRAUSKOPF-PLEASANTON
Offense and defense came into play for Jayce and the Eagles in their 37-14 victory over Gonzales. Krauskopf had 5 receptions for 45 yards on offense and followed that up with 12 tackles and 2 interceptions on defense.
JAYDON BAILEY-STEELE
Winning when traveling to play a tough opponent is never easy. Doing so when traveling nearly 6 hours is even tougher. But Steele did just that in their 35-28 win over Midland Legacy. Steele leaned on Jaydon Bailey for this one. Bailey had 28 carries for 165 yards and 4 touchdowns to help keep Steele perfect on the season
MATTHEW TRYON JR-PFLUGERVILLE
Tryon Jr was the key offensive weapon in the Panthers win versus Bastrop this past Friday. Tryon Jr had 27 carries for 240 yards and 4 touchdowns. The win gave Pflugerville its first win on the season and if Tryon continues to have games like that it won't be the last.
SHASTIN GOLDEN-DAVENPORT
What could be more impressive for Davenport's first UIL season than a 4-0 start? How about Shastin Golden's performance in their win Friday over Lockhart. Golden was downright unstoppable, carrying the ball 30 times for 372 yards and 7 touchdowns. Golden has arguably been one of the best backs in the state already nearing 1,000 yards rushing heading into their last non-district matchup against a really good Devine team.
TORY SIMMONS JR-WEISS
After tough losses to Round Rock and LBJ to start the season, Weiss has rebounded with back to back wins over Judson and New Braunfels to finish up non district play. One of the keys to their victory over the Unicorns Friday was Tory Simmons Jr who caught 8 passes for 168 yards and 3 touchdowns on offense and 2 pass break ups and 1 interception. Weiss could be finding their rhythm at the right time.