RING CHASERS: The Class 5A Top 10 powered by Champion Energy
Aug 15, 2019
The 2019 VYPE Class 5A Preseason Football rankings are here!
Of course, the track team, I mean football team that made it to AT&T Stadium last season is back at No. 1. Fort Bend Marshall brings back a ton of firepower this season and should contend for the top spot. There is a chance that the Buffs could run into Huntsville again in the Regional Final, which would be a great showdown. Also making the list is Shadow Creek, which will have to replace some top players but could have the nastiest defensive unit in H-Town. Check out the rest of the Top 10 below.
VYPE is offering fans the opportunity to purchase a copy of the magazine and have it delivered to you, instead of waiting to find it in stores.
CLICK HERE TO ORDER - 2019 VYPE Houston Football Preview Magazine
No. 1 Fort Bend Marshall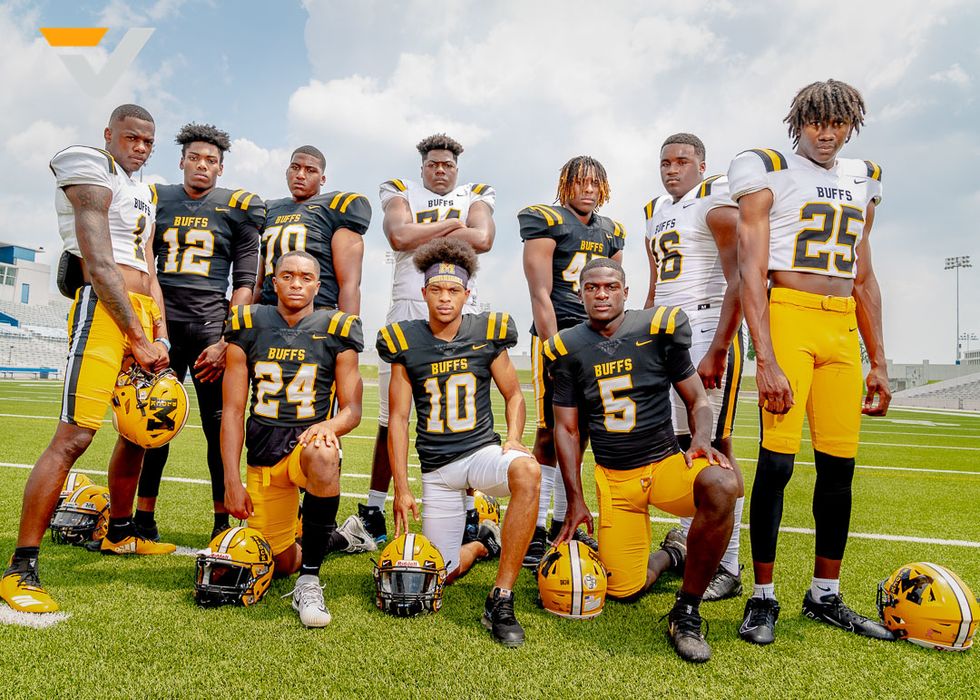 The "M" Block is back after getting a taste of the bright lights of AT&T Stadium, reaching the state title game last Christmas. But it's different being the hunted instead of the hunter. Talk about star power. Quarterback Malik Hornsby showed off his feet and arm a year ago and emerged as a high-major DI prospect. Devon Achane is ridiculous out of the backfield. He's a weapon running, catching and returning. He's the most exciting player in Houston. The offensive line has a huge piece in Larry Moore (Texas Tech). On defense, teams must game plan around LB Warren Robinson, who will blow you up. The Buffs are No. 1 for now, but have a tricky non-district slate with an improved Eisenhower and Hightower on the sked. Manvel is the only test in district play. The only team standing in their way of a return to state? The Huntsville Hornets who lost to the Buffs in an instant classic and definitely want a rematch.
No. 2 Shadow Creek Sharks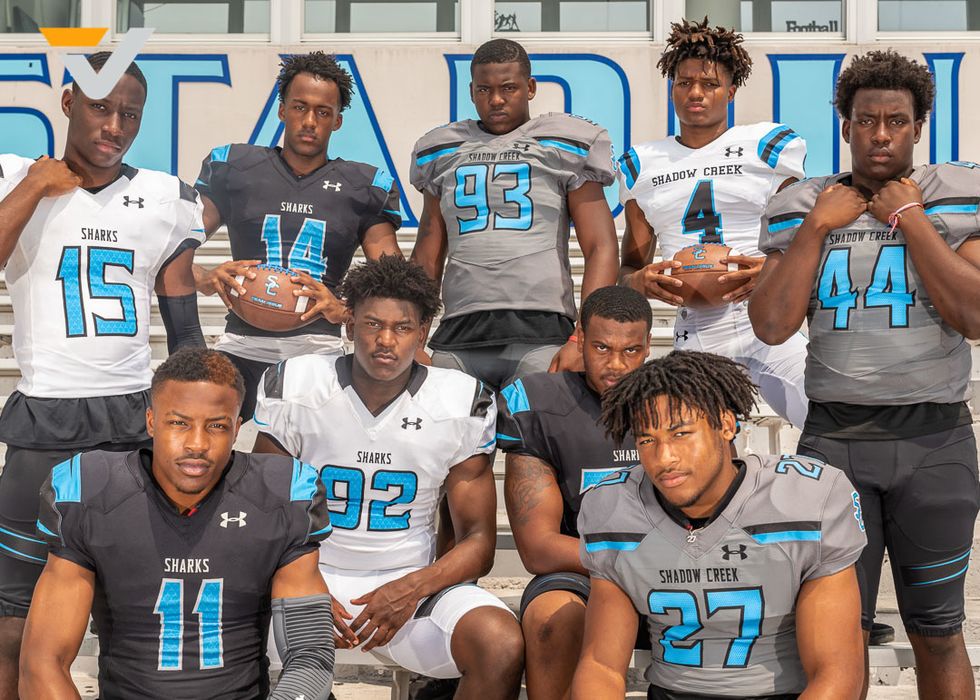 Likely the best story in the history of Houston-area high school football. In their first year of varsity play, the Sharks ran the table in a tough district all the way to the state title game. That is setting the bar high. Coach Brad Butler says goodbye to bobble-head QB Jamarian George to graduation, but Kyron Drones gives the Sharks a different look. A more pro-style guy leading the offense. He can also run but his arm is what will wow people early. The offensive line will need some rebuilding and the WR corps needs to have a No. 2 and No. 3 emerge. Tight end Trent McGaughey needs to become a factor in the offensive plans as a national 2022 recruit. The defense is going to be salty with extra spice. LSU-commit Alec Bryant is unblockable on the edge, while K-State-commit Ronald Triplette stuffs the run. The linebackers? Forget about it. K-State-commit Jeremiah Harris and Warren Shankle lead a deep group. Defensive back Xavian Alford is a household name in recruiting circles. He will shut down an entire side of the field. The Shark bite was deadly in 2018 and should be again this year.
No. 3 Foster Falcons
District 10-5A-DI is a gauntlet. Foster, Shadow Creek, Angleton, Friendswood and Hightower make for the state's toughest 5A conference. Foster finished third last season before making a run to the Regional Finals and falling to? District-mate Shadow Creek. Quarterback Ryan Stubblefield is the straw that stirs the drink. He will target stud WR Cody Jackson, a CeeDee Lamb clone. Running bac Issac Johnson is a 1,000-yard rusher and will run behind giant tackle Reuben Fatheree. If the 6-foot-9 offensive lineman gets a mean streak, he can dominate. On defense, Chidozie Nwankwo could be the best defender in the city. He's an Ed Oliver-like player who can shut down the run and chase the QB. He's the heartbeat of the team. Ricky Rich backs him up at linebacker. Foster or Shadow Creek will represent Houston in the state semis or beyond.
No. 4 New Caney Eagles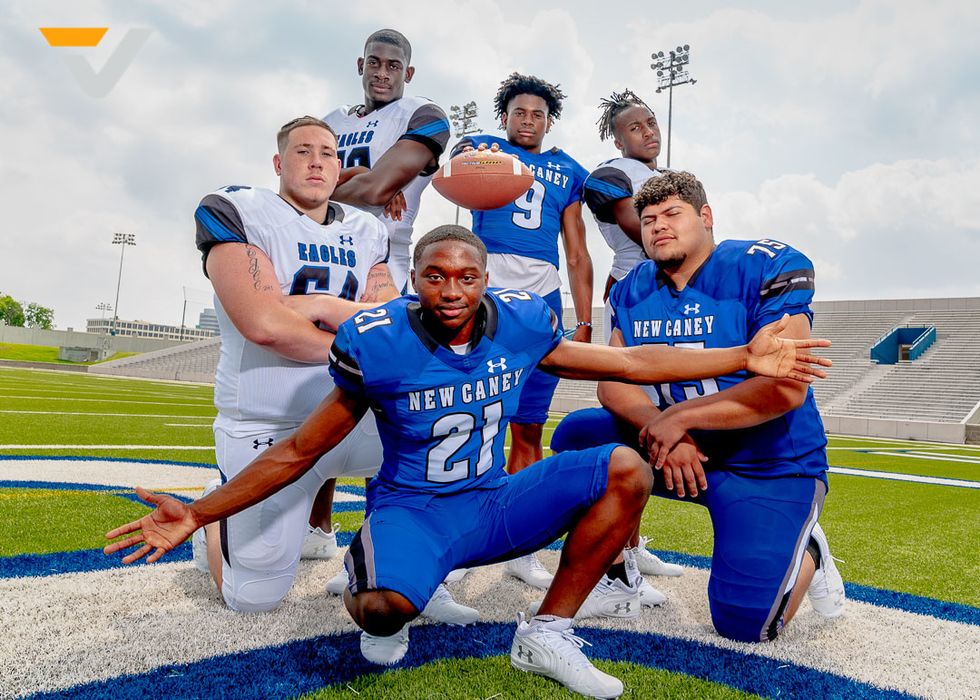 This program is ready to make that playoff run. New Caney has had success in the regular season – making it to the playoffs for four-straight years and winning three-straight district titles. The Eagles are coming off the greatest season in program history winning 10games for the first time. Now, the goal is to make it past the second round of the playoffs, which has never been done in program history. But that's all that Brady Pennington and his coaching staff has been able to get this program to do since arriving is making history. Zion Childress (UTSA-commit) will lead the offense again after being named the District 9-5A-DI MVP a year ago. Childress racked up more than 2,700 yards of total offense last year. In the backfield with him will be running backs CJ Sanders and Anthony Robles, who will both play bigger roles this season. The offense will hum. Defensively, they will be strong as Derrick Harris Jr. is set for a monster year. This offseason, Harris has received offer after offer, measures up and passes the eye test as a division one prospect. Kaylye Jackson and Ladarion Henson will also be big players on that side of the ball. New Caney is used to making history, now a second-round playoff win is next on the checklist.
No. 5 Angleton Widlcats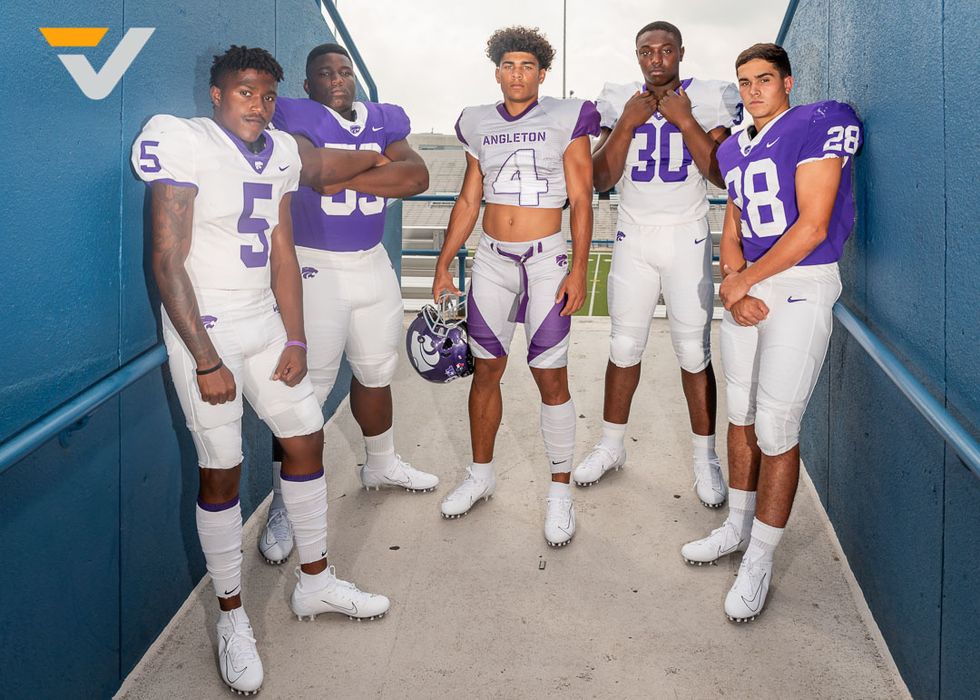 Angleton has been a consistent power in Houston. Every season since 2008, the Wildcats have been in the playoffs. Four of those seasons, Angleton secured a district title. Jason Brittain continued that successful run that Finis Vanover and Ryan Roark started in his first season in 2018. The Wildcats won 10 games a year ago and reached the second round before falling to Hutto. With seven starters back, including first-teamers Jordan Jones (RB), Jose Rodriguez (LB) and Cameron Stone (CB). Jones is the leader of the offense as he returns off a 1,200-yard rushing performance and should be penciled in for another big year. Seth Cosme is gone to graduation, so the Wildcats will have to find an answer at that position. Justis Mayon should step into his role nicely. The defensive unit will be one to watch with Cameron Stone, Landris White and Jose Rodriguez back. Angleton is not far removed from reaching a Regional Semifinal. This program is known for deep playoff runs and will be battle-tested playing week-in and week out against district competition, which includes Foster and Shadow Creek.
No. 6 Manvel Mavericks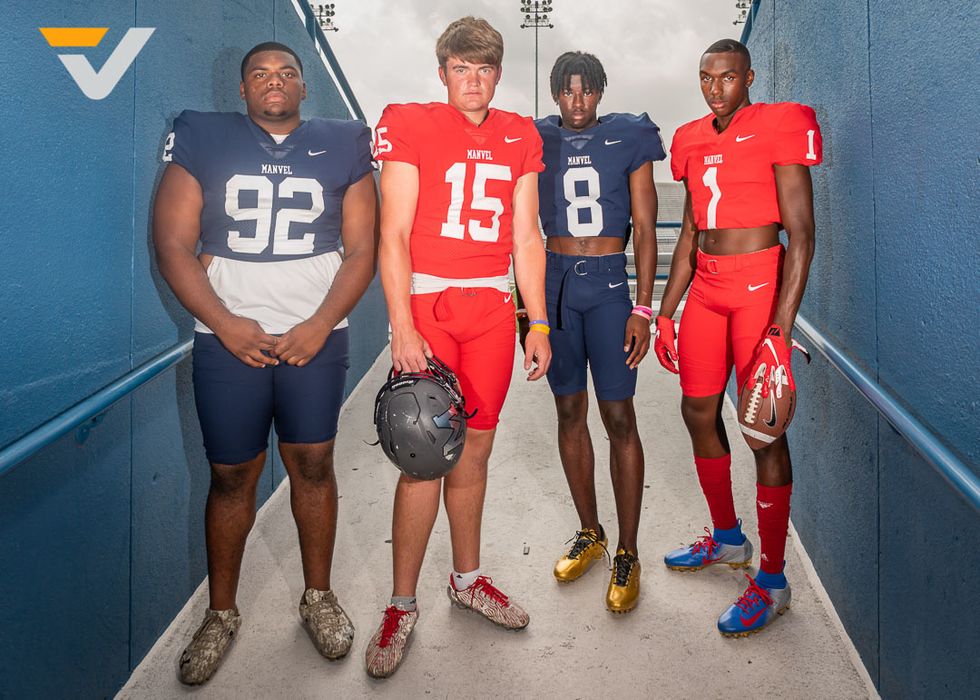 The Manvel Mavs are just a year-and-a-half removed from an instant-classic state title game against Highland Park. Coach Kirk Martin left for Syracuse and Kevin Hall took over the proud program. The Mavs need for quarterback Tucker Yarbrough to have a huge season with his big arm. The offensive line will need to be rebuilt but has a returner in first-teamer Jamail Zenon. The group will need to protect and open lanes for RB Donovan Eaglin. The skills are always on point. Leading that group is Jalen Paxton at WR. Who is the next big thing at Manvel? Class of 2022 LB Justin Medlock has the tools to be a destroyer of opposing offensive game plans. He will need to develop but he will have help from De'Undre Potts, Vinson Brown, Mycah Sesay and Treyvon Jenkins. The Mavs have been affected by the opening of Shadow Creek, but Manvel is still in the conversation as a perennial playoff program.
No. 7 Porter Spartans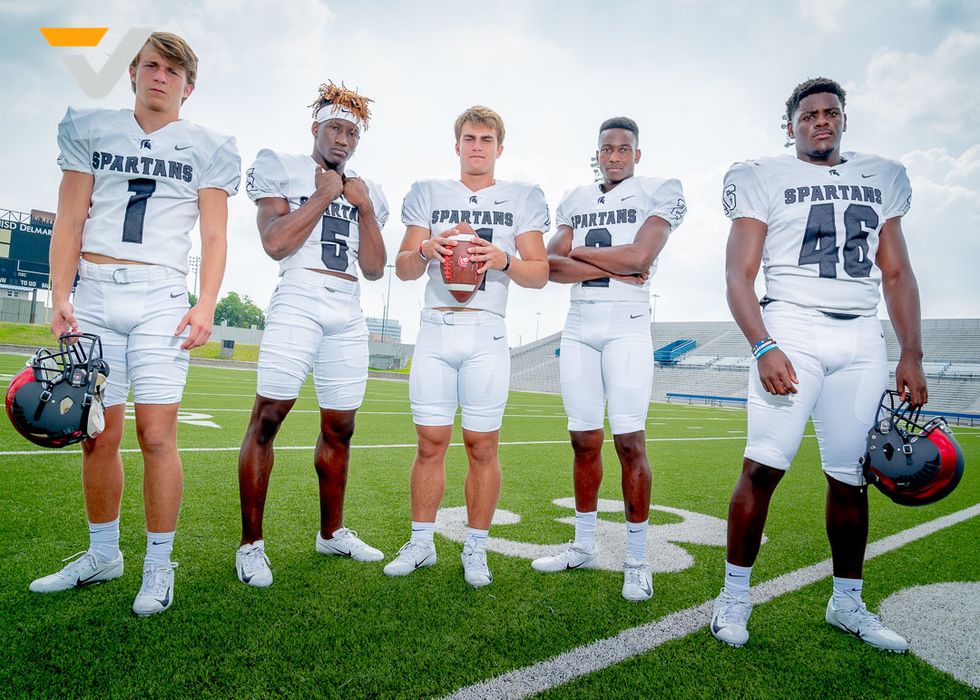 This has been one of the best turnaround jobs in the city and Jim Holley has been the architect. Before Holley left his administrative role to get back into coaching, Porter struggled. The Spartans hadn't won more than three games in a single season and never had made the playoffs. Enter Holley. Now, Porter enters 2019 seeking its fourth-straight playoff appearance and winning season. Offensively, Jack Reilly will slide in to be the new quarterback with Baron Bradley being his top target. Defensively, Zhyon Bell sets the tone. Bell had 120 tackles a year ago and was the Defensive MVP for the district. Jarrod Rickle, Trace Knight and JoJo Guillory will also anchor that side. Heading into this season, the main goal, outside of a district crown, has to be winning a playoff game. It's been three-straight one and done trips to the playoffs. Porter was close to its first playoff victory a year ago, falling to Shadow Creek by one score. The Spartans could make history in 2019.
No. 8 Barbers Hil Eagles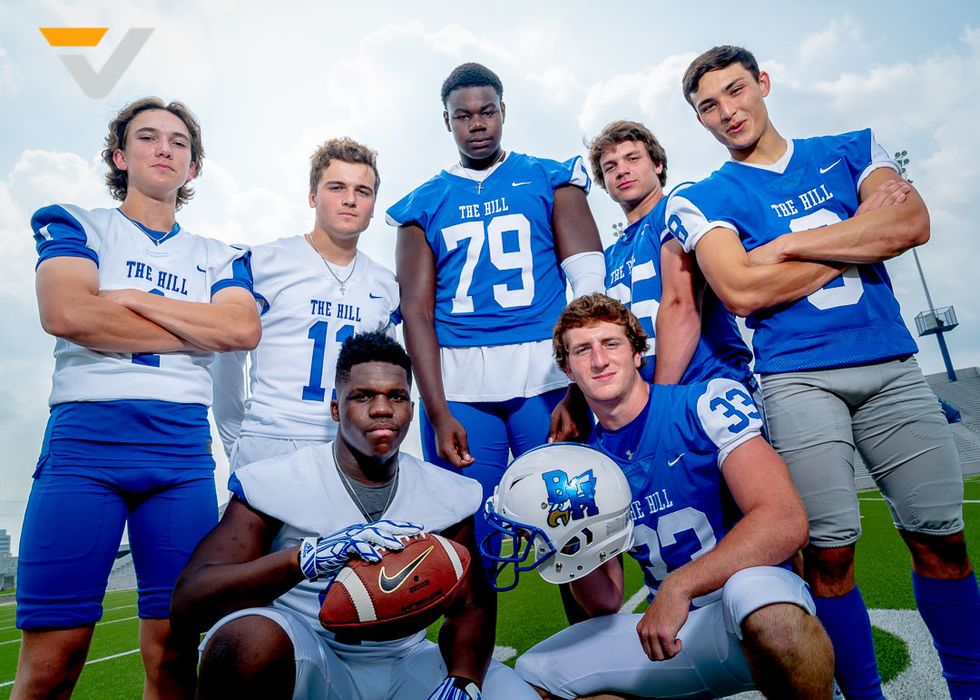 Tom Westerberg enters year four leading Barbers Hill. In his tenure, two of the three seasons has ended in making the playoffs, which is the best stretch for the program since 2009-2012. In a top-heavy district with Port Neches-Groves and Nederland leading the group, Barbers Hill should fight for one of the two final playoff slots. With 11 starters back, Westerberg is excited about the receiving corps, which he considers a "great group". QB Conner Dunham and WR Cameron Cauley will be keys to getting the offense going. Another key is having a big offensive line, which Westerberg believes this year's is "bigger than we've ever had". Defensively, Branden Heffernan and Canvin Branin will be the lockdown keys to the defense, which has six starters coming back. Barbers Hill last won a district title in 2011 and will have to overcome some SETX powers to do that this year.
No. 9 Magnolia Bulldogs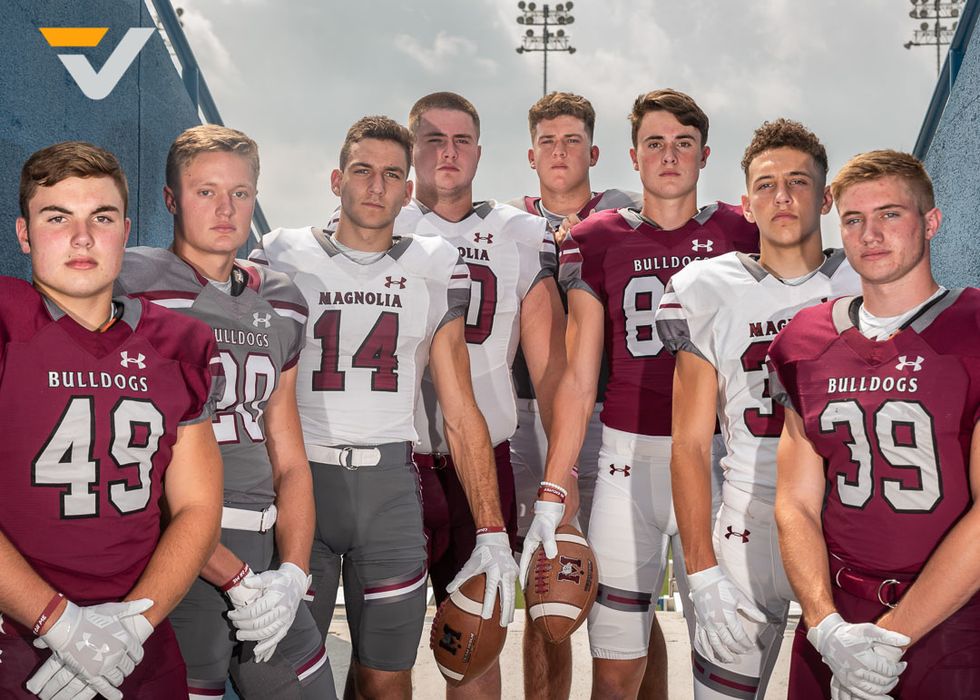 Some team has to emerge out of District 8-5A-DI. The Magnolia Bulldogs just missed the postseason in 2018.Then coach Sterling Doty departed for his alma mater at Stephenville. Enter Craig Martin, Temple's DC to take over the Dog House. The cupboard is not bare. It starts up front with a stud OL line consisting of Derek Bowman (Houston), Kade Bond, Tristan Simpson and Matthew Wykoff. That will help the continued development of District Newcomer of the Year Travis Moore at QB. He threw for over 1,100 yards in 2018. The main man on offense is first-team receiver Ben Renfro, who will build on his high school resume with a possible 1,000-yard season. Whatever RB emerges will likely go for 1,000 yards as well. The defense often takes second-billing but the 'Dogs return first-teamers Williams Spicer and Jarrett Pleasant at LB, and Hunter Kitchens at DB. Nathan Hakes will also complement in the secondary. Barbers Hill, Shadow Creek and Montgomery will get them ready for district play.
No. 10 Friendswood Mustangs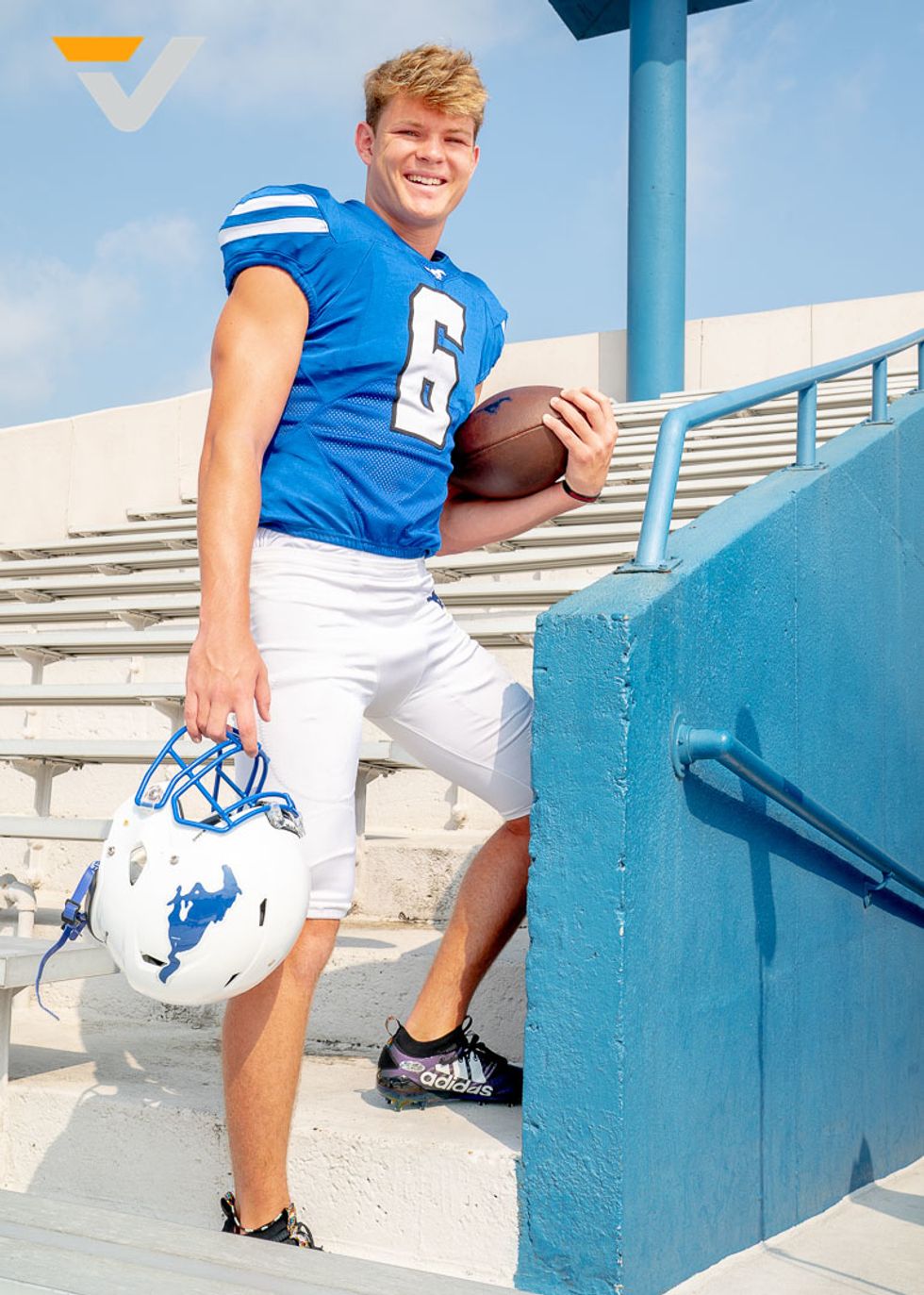 The Mustangs are a perennial playoff team over the past few decades. The missed out a year ago with a loss to Hightower late in the season. Coach Robert Koopman and Friendswood will not let that happen in 2019. The 'Stangs return a three-year starter at quarterback in Luke Grden and he needs to dominate. The junior needs to grasp the reigns of the Mustangs and lead. His favorite target is North Texas-commit Christian Lee, who had over 600 yards receiving. The spread offense will allow for RB Noah Palitz to find creases in the defense to exploit. The defense has been the Achilles Heel for Friendswood, but the unit should have some teeth in 2019. Dane Roenne and Ryan Mappe will direct the defense. Make no mistake, Friendswood will need to outscore people. Beating Ball, Texas City, Terry and Hightower are a must and that is no easy order. They will be a tricky opponent in the postseason after running the gauntlet of their district.
Keep reading...
Show less