Top of the Class: Top OL of the '23 Class
May 18, 2022
As we head into the 2023 Football season, we take a look at the top 2023 recruits from across the state of Texas. Our last Top of the Class focused on the top ATH's, this week we end our Offensive Top of the Class by looking at the Offensive Linemen.
**Rankings reflected as of May 18th **
**Stats and Rating gathered from Max Preps**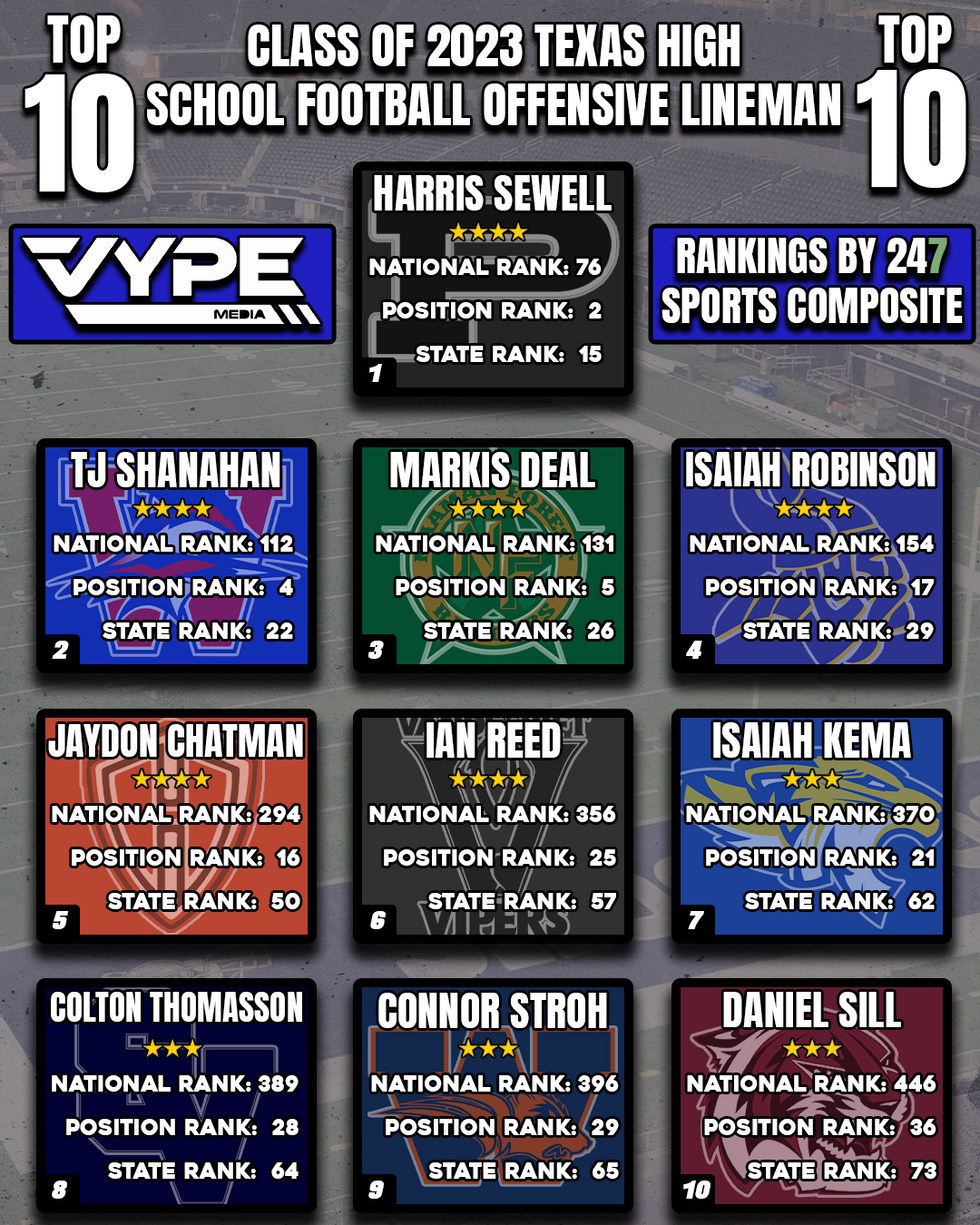 Harris Sewell- Odessa Permian: The top offensive linemen in the class of 2023 is Harris Sewell. The 4-Star Guard from Odessa Permian looks to continue the MOJO spirit during his senior campaign and is currently down to 5 schools heading into his senior year: Clemson, A&M, UT, OU and Alabama.
TJ Shanahan- Westlake: The Westlake Offensive linemen will try and help lead the Chaps to their 4th state title in a row. He will be protecting a new QB this season. But the #2 Linemen for the class of 2023 is one of the key cogs into another state title run.
Markis Deal- Naaman Forest: The 6'6" 290 Jr currently holds 41 offers and is a versatile athlete on both side of the ball for Naaman Forest. He will head into his senior season not only looking to narrow down his offers, but to commit. His play during that time will go a long way in him making that decision.
Isaiah Robinson- Lamar: The 4-Star offensive linemen out of Arlington Lamar has been busy this Spring. Not only has he found himself competing in the State Track meet, he has also been racking up offers left and right. Expect Robinson to have a monster senior season.
Jaydon Chatman- Harker Heights: Texas is hoping to land Chatman to it's impressive OL room after his senior season, as the Longhorns have been pursuing him since Early September of 2021. The 6'4" 286lb Chatman will head into his senior season looking to build upon his successful 2021/22 campaign.
Ian Reed- Vandegrift: Reed is one of the most talented athletes in the states capital, and help lead Vandegrift to the 3rd round of the playoffs in 2021. He recently narrowed his schools down to his top 10 ahead of the 2022/23 season.
Isaiah Kema- Frenship: The offensive guard out of the Lubbock area comes into his senior season with accolades a mile long including 6A 1st Team Texas All Sate and being part of the ESPN Top 300.
Colton Thomasson- Smithson Valley: The Texas A&M commit comes into his senior season as the lone San Antonio Linemen on this list. The 6'8" Linemen has been impressive not only in his Junior season but also during Spring camps. Expect another great season from Thomasson.
Connor Stroh- Wakeland: Stroh comes into his senior year having narrowed down his schools to 5: Arkansas, Texas, A&M, Florida and Auburn. The Wakeland linemen is a versatile linemen that can play either tackle or guard and is talented in both positions.
Daniel Sill- A&M Consolidated: Sill comes into his senior year having been committed to Texas Tech since December of 2021. With the decision of what college to go to out of the way, Sill will come into 2022/23 focused on the season and improving his craft.
True