The John Cooper School Fall SPC Wrap-Up
Nov 19, 2019
The John Cooper girls placed fourth in the Southwest Preparatory Conference Championship with four of their five scorers finishing in the Top 25 of the 5K race.
"The girls ran extremely well. The SPC has become a tough competitive conference, and I am really proud of the way our girls ran today," Coach George Dohner said. "Specifically, junior Katie Drake has done a great job of leading this team. She sets the pace, both in practice and in meets and did a great job today of that very thing with a time of 20:03"
Senior Madison Breaux finished right behind Drake with a time of 20:07.
"Madison saved her best race for her last race and ran the most relaxed we've ever seen her run," Dohner said. "I'm so happy for her to end her career with a great performance."
Cooper's next five runners were two freshmen and three sophomores: Chloe Smith (23rd), Megan Day(35th), Rebecca Melin (35th), Abby Mendenhall (36th), and Amber Navarra (50th). "This was a great team performance today."
Cooper's future looks bright as they only lose one of their top 10 runners to graduation.
Girls Final Results - 4th Place
Katie Drake – 14th – 20:03
Madison Breaux – 17th – 20:07
Chloe Smith – 23rd – 20:23
Megan Day – 25th – 20:28
Rebecca Melin – 35th – 21:04
Abby Mendenhall – 36th – 21:05
Amber Navarra – 50th – 21:46
CROSS COUNTRY - Boys
The boys' team had a rough ending to their season as two of their top six runners failed to finish the race due to injuries and illness.
"Just about anything that could have gone wrong today," Dohner said. "The boys just had a tough day. These boys did everything that was asked of them to prepare for this race and were ranking in the Top 5 going into the race."
Will McDermott led the Dragons and picked up an All-SPC honor with his seventh overall finish.
"We will not let this race define our season," Dohner said. "This group of young men had a great season and accomplished many great things. They worked incredibly hard this season and were as dedicated as any team I have ever coached."
Boys Final Results - 8th Place

Will McDermott – 7th - 16:24 (pr) (All-SPC)
Cadan Hanson – 28th - 17:21
Zac Winton – 33rd - 17:28 (pr)
Vishnu Swaminathan – 80th - 18:49
Nathan Seamans – 82nd - 18:50
Brian Mekelburg – 83rd - 18:50
VOLLEYBALL
After starting the SPC tournament with a 3-1 victory over Hockaday, the Dragons got swept in the semifinals by the Episcopal School of Dallas.
The Dragons' season concluded with a fourth place finish after a hard-fought 3-2 loss to St. John's in the third place match.
"The team played hard, pushing the match to five sets but came up short losing the fifth set by two points," Coach Ray Hedden said."
The team will return four of their six starters next season, including Sophomore Laura Weatherford who set the season record in digs with 541.
Also returning is Freshman Lauren Wolford, who set a new assist record with 805.
"The team has a lot of youth who will contribute a lot next year and build on the success of this year," Hedden said. "A school best 32-6 on the season is a lot to be proud of from these coaches."
FOOTBALL
The Dragons lost 41-0 in the SPC Championship for their second consecutive year as the SPC 3A Runner Up.

"We fell short of winning an SPC Championship, but our seniors are the MVPs of this team," Coach Erik DeHaven said. "I can't tell you how proud I am to coach a group of young men that fight for every yard and for each other. They are leaving a legacy and standard that will not be forgotten."
John Cooper All-SPC Honors
The following fall athletes from The John Cooper School earned All-SPC honors for the 2019 Fall Season:
Volleyball: Anna Claire Adam, A.J. Harrell
Football: Thomas Elkhoury, Kase Harris, Jake Peterson, Cameron Reed, Joe Wilkins
Girls' Cross Country: Katie Drake, Madison Breaux
Boys' Cross Country: Will McDermott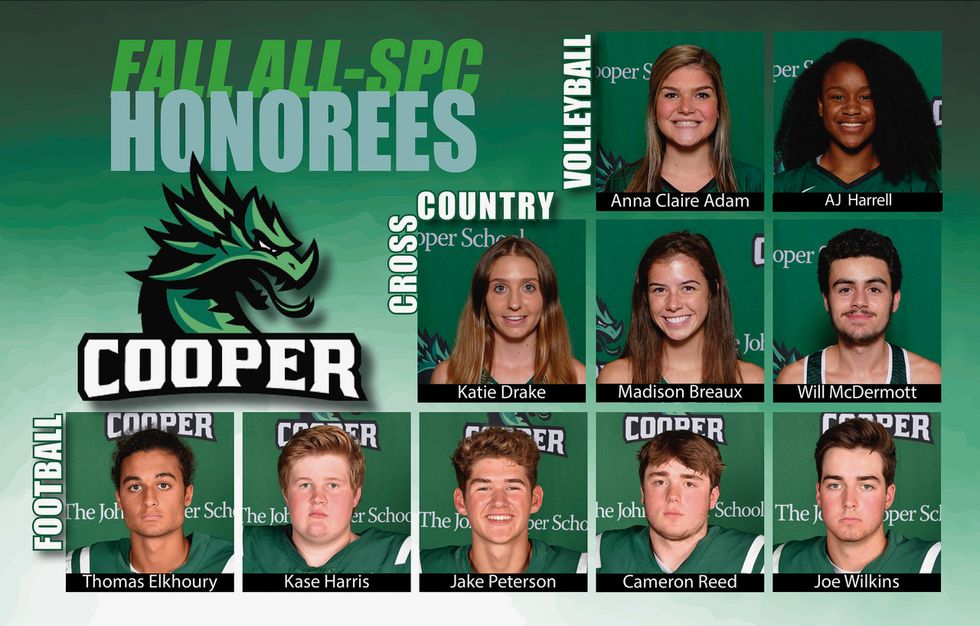 Keep reading...
Show less