Surging Clear Falls seizing time as playoffs loom
May 05, 2022
Courtesy of Clear Falls baseball social media
The Latin expression carpe tempus translates to 'seize time' in English. But to Clear Falls senior shortstop Tristan Zarella, time might as well not exist beyond this baseball season.

At 27-4 and in the playoffs for the fifth time in six seasons, Zarella and Clear Falls are seizing the season. The 27 wins are already a program-best. The Knights hovered around the top 10 in the Class 6A state rankings all season.
Clear Falls has sights set on surpassing the third round of the playoffs for the first time. With an average run differential of plus-3.3, against a solid strength of schedule, this could be the team to do it.
"Earlier in the year, Tristan came in and told me, 'Carpe tempus!'" coach Eddie Youngblood said. "I had no idea what he was talking about. I'd heard of carpe diem. But carpe tempus? Seize the season, he told me. I haven't fact-checked him on it, but I think it's worked. Make the most of this season.
"So far, we've done a good job doing that."
The Knights have the perfect storm of talent, experience and motivation to be a team to keep an eye on as the postseason journey looms, beginning with Alvin in a one-game bi-district playoff Friday in Baytown.
"It's the same mindset as always," senior second baseman Chase Bourgeois said. "Just win. Stay focused on us, stay focused on our bond. Win."
This season is a byproduct of a rise that started for the Knights last season.
Clear Falls was 15-12 in 2021 but finished one game out of the playoffs. A week's worth of injuries to key pitchers and hitters ultimately doomed its prospects.
That the Knights were even in postseason contention, however, was remarkable to begin with. In the season opener, 14 players took the field as varsity players for the first time. In the season opener against Santa Fe this season, Youngblood did not have a player without varsity experience.
"That's huge," he said.
So, when Youngblood, who has been at the helm of the program since it opened 12 years ago, says he saw this season coming, he's not being cocky.
"I knew we had a strong team coming back," he said. "We have 19 kids on the roster, 17 are seniors. I knew if we could keep the seniors going in the right direction, we'd be in good shape. I was really looking forward to this year, knowing that we had put in the work last year and hopefully this could be the year we put it all together."
The Knights are strong in all three aspects of the game. Hitting, pitching and defense.
Senior Travis Bragg (.402, 29 RBIs, 27 walks), senior Evan Aslaksen (.417, 27 RBIs, four home runs) and junior Max Williams (.914 OPS, .540 slugging percentage, six home runs) pace a team that hits .303 with a .412 on-base percentage. Zarella has a .402 on-base percentage with 36 runs scored. He has stolen 34 bases and been caught once.
"Everyone is hitting," Zarella said. "It's crazy. I haven't seen it before. I get on, I know I'm scoring."
On the mound, junior Alec Beversdorf (9-0, 2.01 ERA, 72 strikeouts to 16 walks) and senior Will Hughes (8-2, 1.87 ERA, 58 strikeouts to 10 walks) are cornerstones of a deep staff. Bourgeois, Williams and senior Josh Wright make up a formidable bullpen.
"It's an amazing staff," Hughes said. "The best I've ever been a part of. We've got two great starters, great bullpen. An amazing closer. It's lock down."
But perhaps the biggest ingredient to the Knights' success is the chemistry. It's a veteran group that enjoys being around each other. One bonded by one goal.
"We have a bond that I haven't felt ever since I've been at Falls," Zarella said. "We lost a lot last year, and losing made all of us mad. The key to us is when one guy is down, someone else has his back."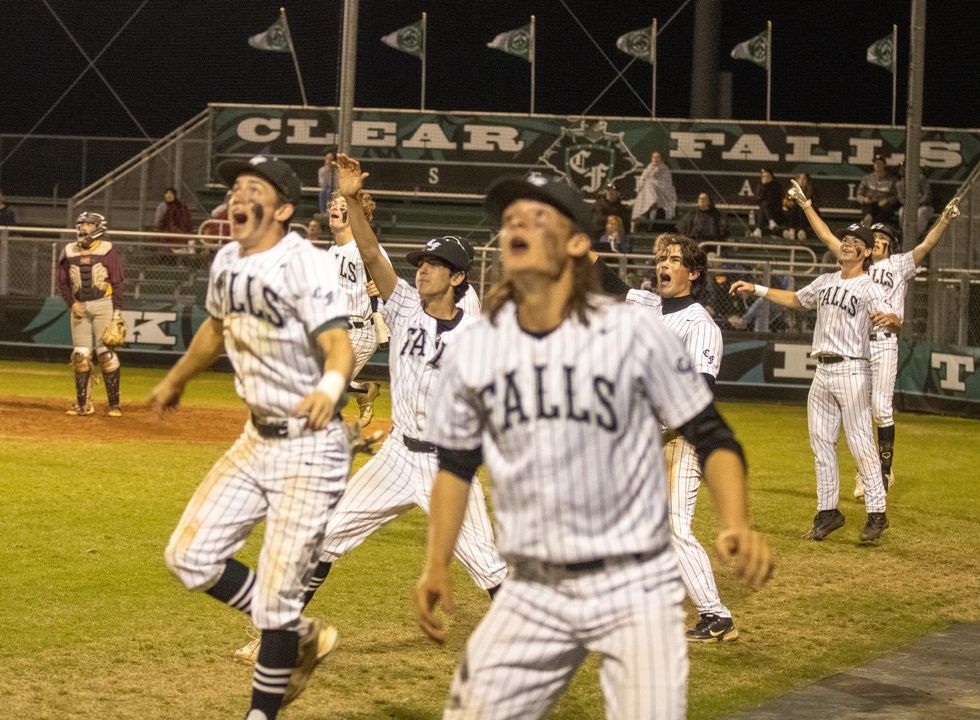 Clear Falls players look in as a walk-off home run clears the fence during a come-from-behind win over Deer Park earlier this season.Courtesy of Clear Falls social media
That one-for-all mentality has been proven on the field, much to Youngblood's delight.
Clear Falls started the season with a 10-5 win over Class 5A power Santa Fe, followed by eye-opening wins over Lake Travis (2-1) and Pearland (6-3).
"When we played Lake Travis earlier in the year, and I saw that our entire lineup, all nine guys, were able to give D1 pitchers a challenge, it showed me that we had an offense that could really back up an outstanding defense," Hughes said.
The Knights followed with a come-from-behind 8-7 win to beat another 5A titan in Friendswood. They rallied to win against Deer Park, 3-1, on a two-run, walk-off homer after being no-hit through five innings. They had another walk-off win, 8-7, via homer against Kingwood.
"When you start picking up those kinds of wins, you start thinking, 'OK, this can be special,'" Youngblood said. "You could tell it's a different squad. They responded differently to adversity than some of our teams in the past. Bond and chemistry is important, but realistically it just comes down to getting the job done. Yes, our guys are close and they hang out together, like a lot of good teams do, but they're there for each other when the game's on the line. That's most important."
Youngblood has a wealth of talent that he says he doesn't take for granted. Through 34 years of coaching, he knows teams like this don't come around often.
Players have an opportunity at hand that they, too, say they don't take for granted.
"We had challenges right off the bat," Zarella said. "Pearland, which is a good team. Lake Travis. But once we overcame those two challenges, I knew we had something special. We had something Falls had never seen before, and we just kept on building from that. Kept winning and winning."
True