VYPE U: Strake Jesuit 4x400 Cornerstone Signs with Duke
Feb 10, 2020
Strake Jesuit is continuing to make a name for itself in track & field, as they have produced another recruit for a major D-1 school. On Wednesday morning, SJ's Job Trahan signed with Duke University to continue his academic and athletic career. Trahan will look to lead Strake Jesuit's track & field team, the 2019 State Runner-Ups, on another state run in 2020.
When asked about some of the factors that led him into signing with Duke as his future alma mater, Trahan answered, "I chose Duke because the team is a family. When I toured, the upperclassmen were super close with the freshmen on the team….It felt similar to the Strake Jesuit track team."
The family type bond on Strake Jesuit's team that Trahan mentioned can be easily seen everyday out at practices on the track.
Head Coach Chad Collier teaches and encourages his older runners to lead workouts for the lower classmen and to make sure everybody gets their workout in, which is something that Trahan has done a good job of doing over the past three years. This has led to a major benefit in preparing Jesuit's younger runners to be ready to run on one of the three main relay teams that Jesuit is frequently seen competing in at the Regional and State Meets. As for Trahan, he competed in the 4x400 at the 2018 UIL 6A State Meet as a sophomore.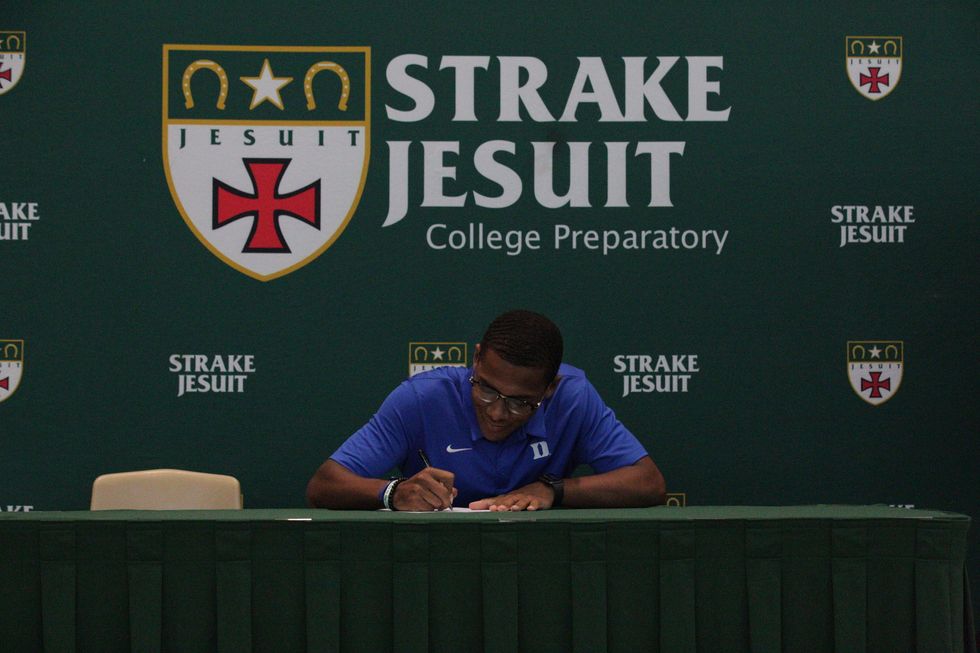 Pete Nguyen/SJ Yearbook
Trahan will be a third year varsity letterman in his upcoming senior season. He specializes in the 400 meters, especially the mile relay, which has been one of Jesuit's strongest events in their team history, and the 4x100.
Being a key sprinter to Strake Jesuit's track team, Trahan was a part of the same relay team that Matthew Boling competed on when Boling pulled off an amazing comeback on the last leg of the 4x400 to bring home first place at the 2019 UIL 6A State Meet.
Other significant mile relay teams that Trahan has competed on include a U.S. #1 of 3:14.4 seconds at the 2019 John Morris Pearland Invitational and a U.S. #3 of 3:11.91 seconds at the 2018 UIL 6A Region III Meet. Leading his mile relay team back to the State Meet for the third year in a row is a for sure feat that Trahan wants to accomplish.

Duke will obtain a good asset for their track team in signing Trahan. The Blue Devils will look to bring home their first ACC Championship Titles for indoor and outdoor track & field, which their recent signee hopes to be a part of. Nevertheless, Trahan still has his eyes fixed on his last high school track season, as will compete in his first meet this Friday at the 2020 John Morris Pearland Invitational at The Rig.
Keep reading...
Show less