Stars aligning for Baytown Lee
Aug 20, 2019
By Bradley Collier
The Lee Ganders were a tale of two teams last year. Coach Tim Finn's offense was the most explosive in District 12-5A-DII, averaging 450 yards a game.
However ...
The Gander defense was second to last in the district, giving up 410 yards per game – mostly on the ground.
But let's go back to the offense.
The District Offensive MVP a year ago was Ijenea Wooley and he returns with the hopes of leading Lee to the postseason. Lee's Big Man on Campus (BMOC) accounted for 36 touchdowns. The dual-threat QB threw for 2,500 yards and rushed for over 800.
"He's the catalyst," Finn said. "He will be even better this season because he has another year of experience in the offense, he's improved his accuracy and his arm strength is tremendous. The comfort of having some returning receivers and running backs is also key."
He has a talented backfield-mate in Keke Davis, a junior, who was a first-teamer in 2018 with over 400 yards on the ground. He has tremendous size and athleticism, and is a bonafide DI prospect.
"Keke missed a couple games because of injury last year, but he's a huge threat out of the backfield," Finn said. "Our running game complements each other well. Teams can't ignore what we do on the ground with Davis, Wooley and Jamal Quinones."
The top receiving target was first- teamer Elijah Partida, who tallied nearly 700 yards through the air. Anchoring the offensive line is Rashad Futch, who earned first- team honors.
On the defensive side of the ball, seven starters return but two all-district selections have graduated. Billy Haynes will anchor the defense up front, while Joseph Jones will lock down the defensive backfield.
Marcus Johnson will also support Jacob Vasquez and Edgar Pulido up front. Danavious Hill and Kyle McKiernan will patrol the middle of the field from their linebacker spots. Jones and Trudell Berry will anchor the last line of defense in the secondary.
"Starting a bunch of sophomores is not a great recipe in this district," Finn said. "Our front seven is a year older and made huge strides last year. We will have athletes playing both sides of the ball in the secondary because they are all tremendous skill players. We have to have them on the field."
Finn (118-79) enters his third season at Lee after coaching stints at Abilene Cooper, Wharton and Texas City. He has the opportunity to plant his flag in Baytown if he can lock up a postseason berth. The Ganders would need to surpass expectations to do so.
"This is one of the toughest districts in Texas," he said. "There is so much tradition at programs like Port Neches-Groves, Nederland and Vidor in southeast Texas. Crosby has been one of the best teams in the area recently. You can't forget about Barbers Hill, Dayton and Santa Fe – all consistent programs.
"This district is a place where smaller communities get behind their local teams," he said. "The facilities are there along with the fan support.
"We took a big step in the right direction last year and if we can do it again with more experienced players, we will be in the conversation for a playoff spot," he said. "With the experience we have, we have to win some of those close games to have a successful season."
...
THE MAGAZINE
VYPE Goose Creek August 2019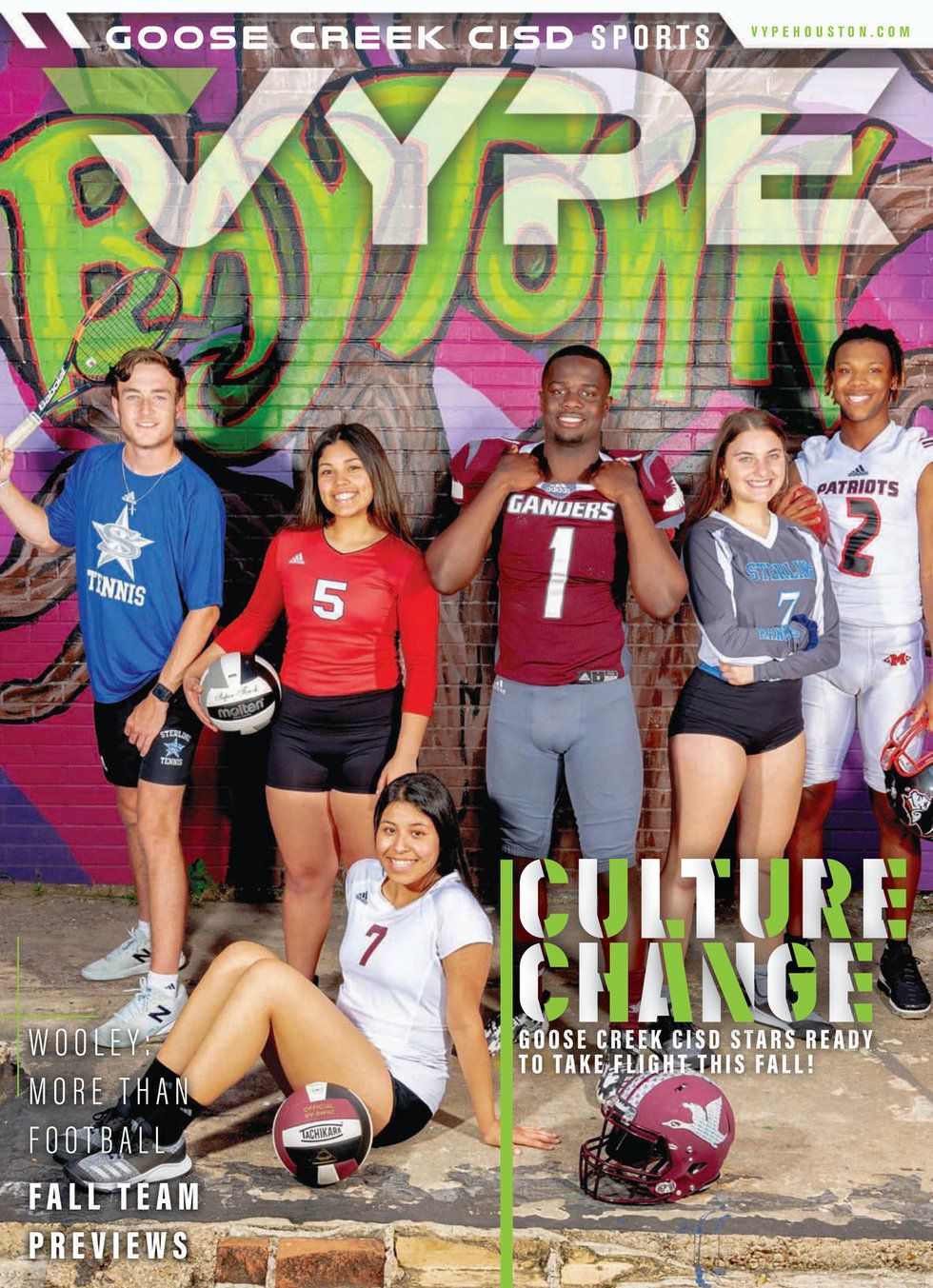 VYPE Goose Creek August 2019 www.ourdigitalmags.com
Keep reading...
Show less