Simone Biles: The Greatest Athlete out of the Houston
Aug 16, 2019
In Houston, Texas, everything is just about massive in size from the city itself to the food people eat, but nothing can compare to Houston athletes. George Foreman, Nolan Ryan, Jimmy Butler, and Mike Singletary are some the greatest athletes to ever come of out the Houston area, but who knew that the greatest athlete to come out of the mass city of Houston would be only be a four feet and eight inches tall woman from Spring, Houston.
At the 2019 U.S. Gymnastics Championship, Simone Biles won another championship title by preforming a historical performance that was highlighted by a double-double dismount (two twists and two somersaults) off balance beam and triple-double (a double back somersault with three twists spread out over the two flips) on the floor.
Biles added her sixth championship title which is tied for most U.S gymnastics titles by a gymnast to her Texas size trophy case next to her five Olympic medals. Just like Thanos in Avengers: Infinity War when he got the six infinity stones, Biles is showing pure dominance upon the world.
Biles has taken over the gymnastic world while flexing upon the world with her stunning smile and joined the G.O.A.T conversation. When it comes to determining the greatest athlete ever in any sport or from anywhere, people have to look at number of championships, longevity, and opponents.
Simone Biles' trophy case speaks up for itself. Biles has over 20 trophies that consist of World Championships, U.S. Championships, and Olympic medals. Now, she is considered the most decorate gymnast ever and she is only 22 years old.
Ever since Biles stepped out into the spotlight on a national level in 2013 at age of 16, she has done nothing but excelled and won competitions. Six years later, she is on top of the gymnastic world and considered the greatest gymnast ever.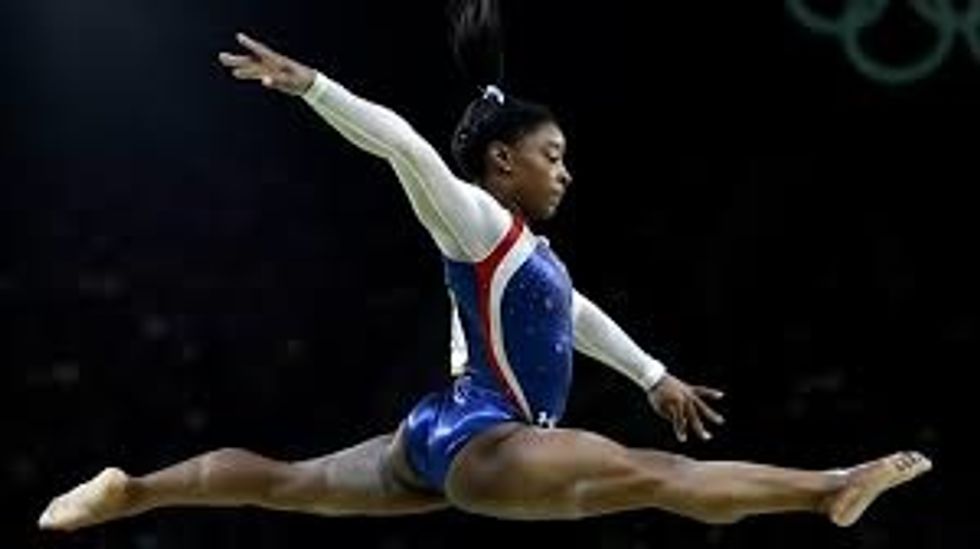 https://www.theatlantic.com/entertainment/archive/2016/08/the-olympic-quote-that-should-be-heard-round-the-world/495653/
What makes Simone Biles' success so significant is not just because of her massive size trophy case, but because she is an African American woman who was once in and out of foster care homes until she was adopted by her grandparents being as successful as she is.
A person can use one hand to count the number of African Americans that competes in the national and worldwide gymnastic competitions that Biles competes in. Even before everyone discovered how profound Biles is, she would stand out among the hundreds of her opponents by seemly being an African American gymnast.
For Simone Biles to be an African American woman in a sport that rarely sees African Americans competing in is amazing all by itself. So for Biles being consider the greatest gymnast ever makes her and her story even more incredible.
So, is Simone Biles the greatest athlete out of the Houston? Biles' profound story and accomplishments provides the answer to that question. The question now is whether Simone Biles is the greatest athlete of all time? But for now, Ms. Simone Biles is G.O.A.T. of athletes from the Houston, Texas.
Keep reading...
Show less