Bradley Collier (VYPE)
Atascocita is playing North Shore in the Regional Finals. So, what else is new?
The rivalry between these two 6A title contenders has become intense. So intense, it needs a nickname -- "The Eastside Bowl".
Despite the fact that North Shore has been the big brother over the past few years, Atascocita's defense -- led by LB Jadon Ducos -- will have something to say about that when they face off on Friday.
"I will always tell the guys it's win or go home," said Ducos. "Against North Shore, there is only one option... WIN. So we are attacking every day with that mindset."
Ducos has enjoyed a stellar senior season, leading much of the city of Houston in total tackles. He was all over field against North Shore in a heartbreaking loss in the regular season 16-13 on VYPE's Thursday Night Showdown.
"I can't take credit at all [for my success]," Ducos said. "It's God and willing, unselfish teammates. They do their jobs, even if it means not making the big plays and tackles."
But this game just means more... it's for a trip to the State Semis. It could also mark the last time Ducos and his squad suit up in the red, white and blue.
"It is very exciting to have made it this far," said Ducos. "I am thankful for another opportunity to go play ball. We are just taking it in and playing one day at a time."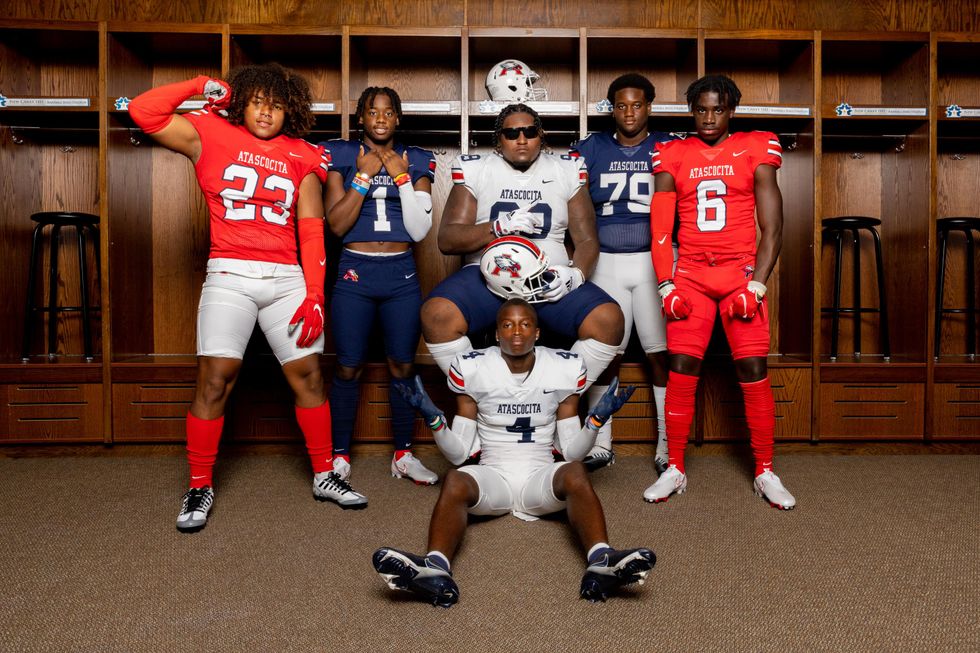 The Headliners of Atascocita FootballBradley Collier (VYPE)
This thought process is sure to bring up some nostalgic memories for the players, Ducos included. Coincidentally, the majority of the Atascocita roster grew up playing ball against, or with, the athletes in North Shore.

"I know a few of those [North Shore] guys, personally," Ducos said. "I grew up two minutes away from North Shore Middle School, so I would go to their field with my uncle and brother and play with the kids there. That's what sparked my love for the game."
Ducos and the Eagles intend to flip the script in Friday's rematch, to keep their hopes of a State title alive.
"It's going to take all we've got," said Ducos. "It doesn't matter who we play. But, I'm just glad we have another opportunity against these guys."
Bradley Collier (VYPE)
The Regional Finals are upon us -- two-steps from a the State Finals.
Perennial powers like Katy and North Shore are in contention, of course. Westfield, however, is one of the dark horses this postseason with eyes on the Class 6A crown.
Move-in QB PJ Hatter is at the center of the Mustangs' success.
After playing for Klein Oak his sophomore and junior seasons, Hatter chose to finish his high school football career at Westfield and hasn't looked back.
"Having a great team and coaching staff has really helped me develop my game," said Hatter. "At Westfield, there's so much energy in the locker room. Everyone gets hyped before every game and we have motivated each other to win throughout this season."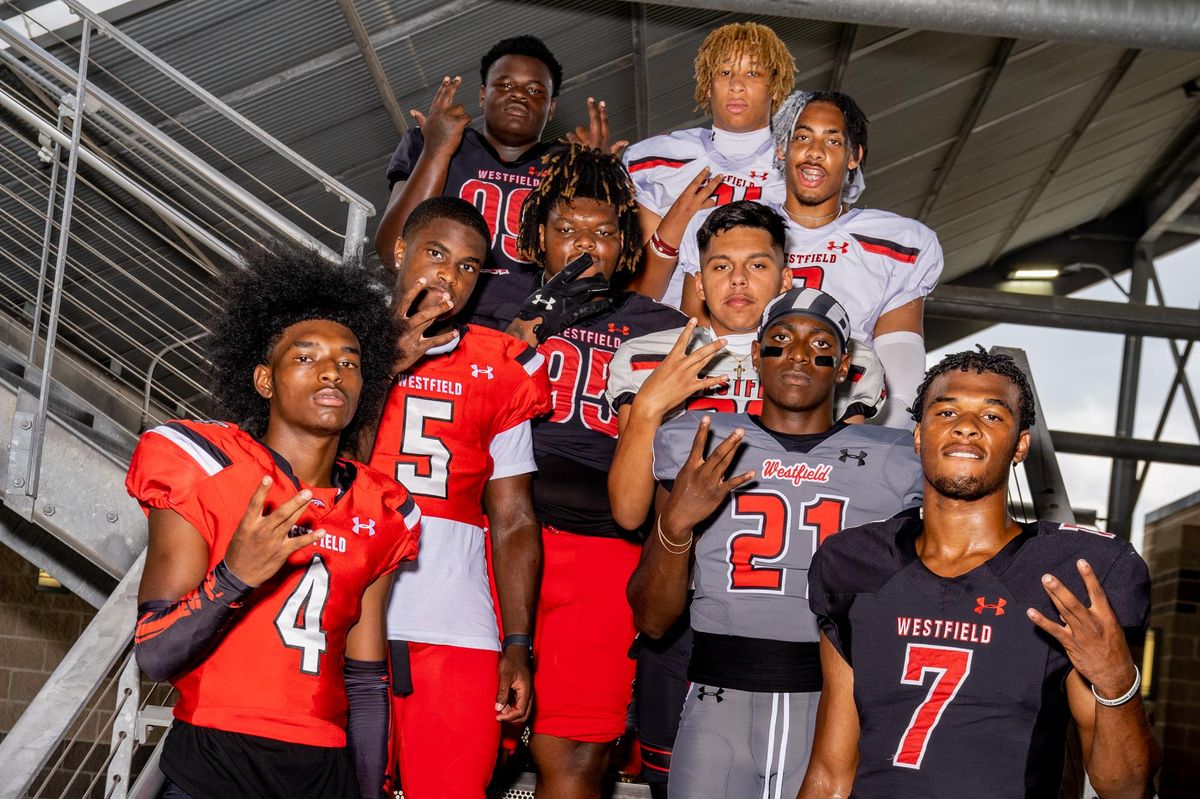 The Westfield Mustangs' StandoutsBradley Collier (VYPE)
Like Westfield, Hatter's performance has gone under the radar. With little attention from college scouts, the QB has seemingly played with a chip on his shoulders.
"We like being the underdogs," Hatter said. "We love to prove people wrong. We don't really get into it that much but we just look at it as motivation."
Hatter has been exceptional, throwing for 42 touchdowns and adding 10 scores on the ground, He has led the Mustangs to a 9-1 record in the regular season while advancing past Conroe (62-7), Klein Collins (41-38), and Waxahachie (10-7) through the first three rounds of the postseason.
Westfield has its work cut out for them in the Class 6A Regional Finals against Duncanville Saturday at 3 pm in Georgetown. Duncanville is a familiar opponent and has a stifling defense, giving up only 16 points in the postseason. It will be huge test for the 'Stangs.
"The key to beating [Duncanville] is to stay focused," said Hatter. "We have to trust our coaches' game plan and have the energy to play hard every down."
**Records obtained from MaxPreps unless otherwise noted
**Games already played have been noted but not taken into account for the rankings
BOYS BASKETBALL RANKINGS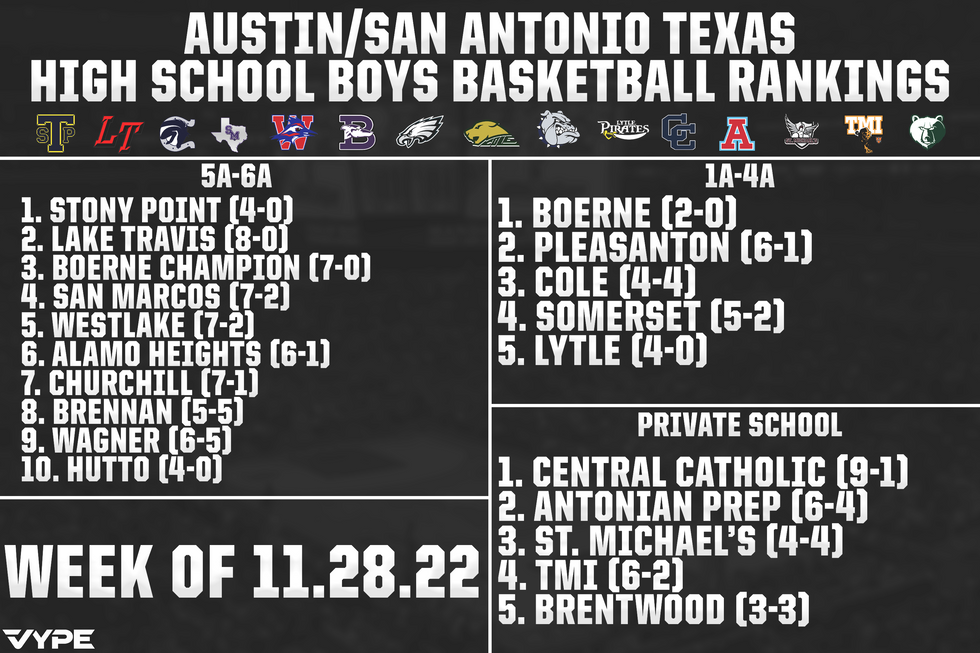 5A-6A: Lots of movement from the preseason, and we decided to go Top 10 here. Stony Point has looked good so far this season with a win over #4 San Marcos, and even with 4 games under their belt we decided to put them in. Boerne Champion is looking great in the 5A level to start the year as well. 6A is going to be a slog this year and there are going to be so many good teams in contention in the Austin and San Antonio areas.
1A-4A: Nothing changes here. Some teams like Cole and Somerset have some losses but early in the season losses aren't always what they appear. Take Cole for instance. They have 4 losses but they are all to teams of higher classification.
Private School: Central Catholic takes over the top spot and has a game tonight against San Marcos that is going to tell us where both of these teams stand heading into 2023.
GIRLS BASKETBALL RANKINGS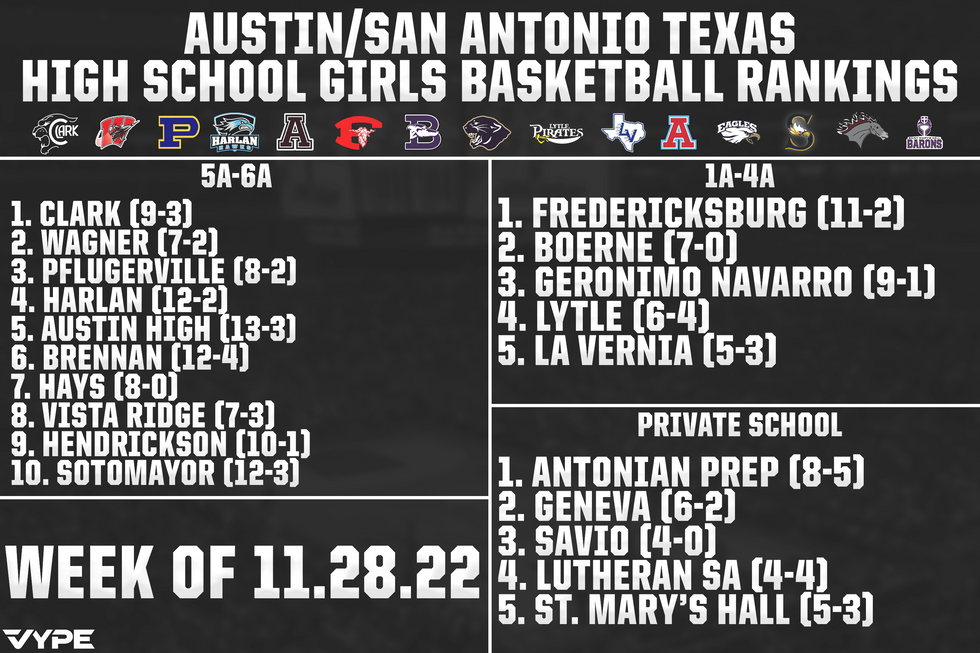 5A-6A: Steele and Cedar Park drop out after a slow start to the season and Pflugerville moves into the Top 3 after a great start to the season. Austin High will be a team to watch as the season progresses as well. And a 12-3 start for new school Sotomayor sees them enter the Top 10.
1A-4A: Fredericksburg and Boerne stay 1 and 2 with Fredericksburg looking really good. They are looking to get back to the Alamodome for the State tournament and they have the squad to do it. Also moving into the rankings is Geronimo Navarro who look great to start the season.
Private School: Antonian Prep stays in the top spot while Geneva moves to the 2 spot. Savio moves to 3 with their undefeated start.
Join the #VYPETEAM
Get up to date news from all over the country!