North Shore's Davis has been "that dude" since Little League
Dec 10, 2019
What LSU's Joe Burrow is to the Heisman, is what North Shore's Dematrius Davis Jr. is to the city's Player of the Year.
He just keeps wowing Houston high school football fans with his arm… and his feet.
The 6-foot quarterback threw for 312 yards, ran for 293 yards and in a 79-46 state quarterfinal against Atascocita on a sunny day in front of 8,000 fans at Sheldon ISD Stadium.
He was the show.
Look, North Shore OC Willie Gaston wasn't trying to fool anyone Saturday afternoon. Fake a swing pass to ESPN No. 1 recruit Zach Evans and let Davis Jr. do the rest.
Ask legendary coach Gary Joseph, the mighty Katy Tigers couldn't stop virtually the same play in the Regional Semis. Davis Jr. ran for 283 yards and three scores, while throwing for another 134 yards and three scores in a rematch against the Tigers.
Entering this week against Lake Travis and Elite 11 QB Hudson Card (Texas Longhorn-commit), Davis Jr. will again show who is the best high school player in the Bayou City.
…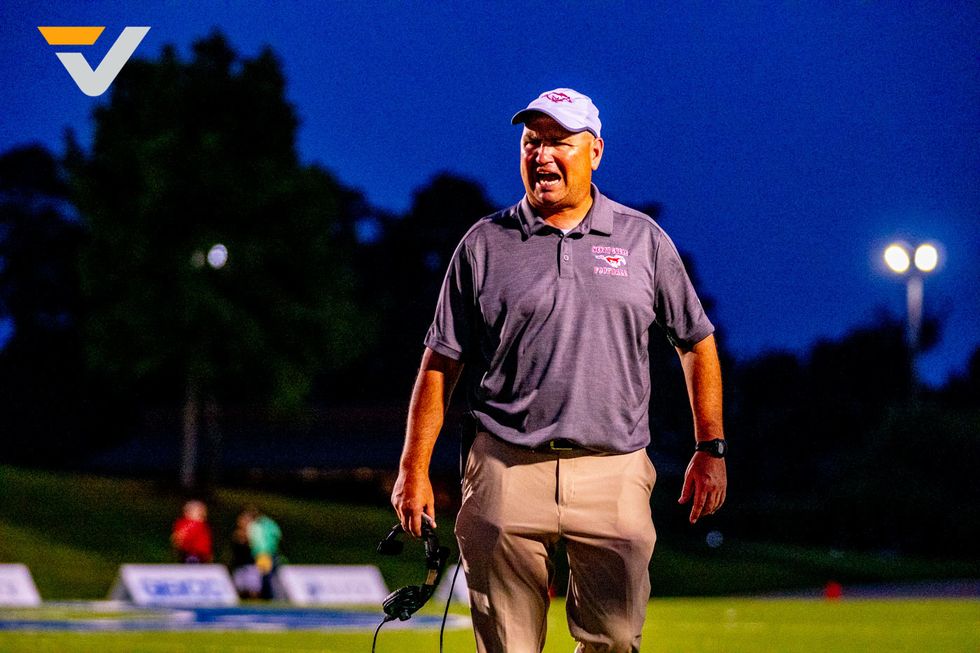 North Shore coach Jon Kay has stressed Davis to "enjoy the journey"
As a dad, I had to talk to the person who has had a front-row seat to the Show. Dematrius Davis Sr. has been there the entire way with his son -- coaching, mentoring and enjoying the ride.

"He's always been an alpha. He's been like that since he was six-years old," Davis Sr. laughs. "He's always played with older kids. That has kept him humble. Now that he's playing with kids around his same age, the game is really slowing down for him. He's really comfortable.
"I knew he was going to be really good around the age of 10," Davis Sr. said. "He was dominating the Humble Area Football League and we had to move him up."
Davis Jr. dove into select spring leagues with buddies Zach Evans and Shadrach Banks. Not a bad squad, huh?
"Move on to the North Houston Gators and the Houston Gators spring select leagues. We would face the Dallas Lions, who is full of Duncanville kids. He's known those guys for years. He grew up playing against them.
The Dallas Lions countered with QB Ja'Quinden Jackson (Texas-commit) and four-star LB Kendrick Blackshire.
"When he threw that Hail Mary last year, that was nothing new. We had huge plays and triple overtime games against them back in middle school. It was such a rivalry. We could see this coming about four years ago. We knew both North Shore and Duncanville would be this good."
...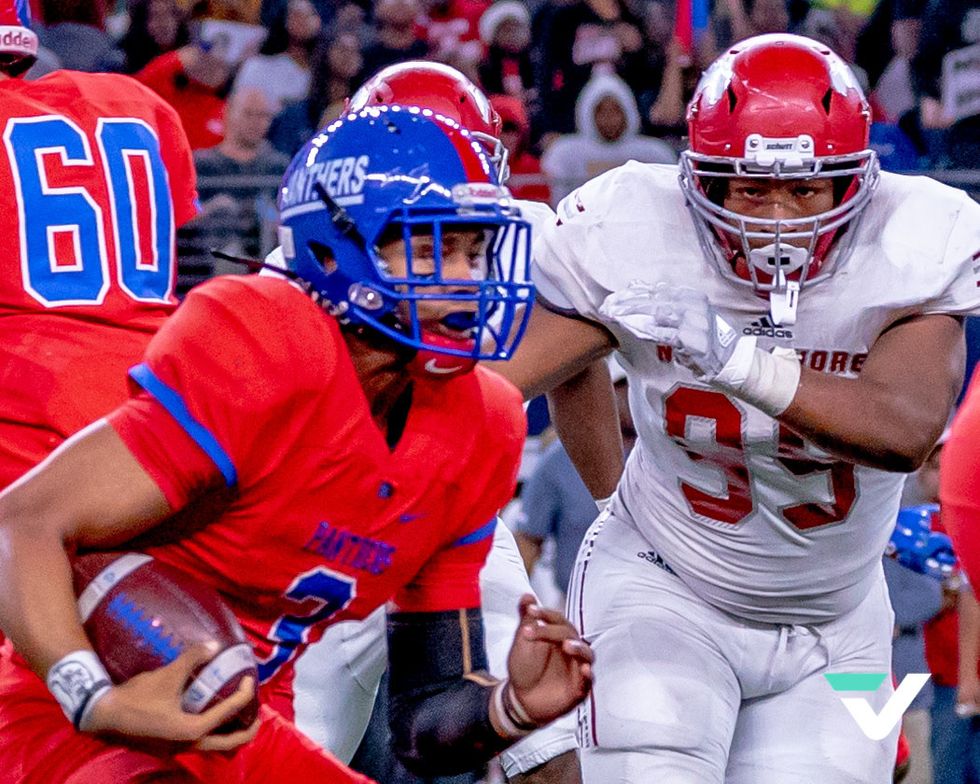 Davis has battled UT-commit and Duncanville QB Ja'Quinden Jackson since middle school
Before Davis Jr. had enrolled in high school, he was offered by Baylor at a one-day camp.

North Shore coach Jon Kay knew he was coming, but he couldn't have expected this. Funny thing is that OC Gaston was once the Big Man on Campus at North Shore – at quarterback.
It's a perfect marriage.
"His ninth grade year was what we expected," Davis Sr. said. "He got moved up later in the season, but he just wasn't ready to play Katy in the playoffs. His sophomore year worked out great. We were worried about him running and taking that beating, but because North Shore had so many great receivers, he had a big year throwing the ball.
"At that point I thought, man no one has really seen him run the ball yet," he laughs.
Here are the staggering numbers over two years.
Davis Jr. is 32-2 as the starting QB at the power program on the #Eastside. He's thrown for 76 touchdowns to 9 interceptions and 6,761 yards. He's rushed for another 1,943 yards and 29 scores. He doesn't even play the entire game, as North Shore is often skunking their Class 6A opponents just after halftime.
"He and Coach (Willie) Gaston are really close. He owes so much to Coach G," Davis Sr. said. "He got him ready and it's been a dream come true. He lets him just go out and play the game. He doesn't hold his hand."
This season has been a challenge.
"He was on a high all offseason and summer after the Hail Mary. Katy gave him a wake-up call. That was the best thing that could have happened to him."
His favorite target Shadrach Backs (Texas A&M-commit) has been banged up all season with feet and ankle injuries, keeping him out much of the season. His backfield-mate Evans was suspended for three games earlier in the year. Davis Jr. has shouldered the load all season with a "chill" attitude.
"As great as he is physically, it's been his mental approach that has been the constant force for us all season," coach Jon Kay said.
Watch him play. He's having fun. Watch his teammates respond to him – he is their undisputed leader.
He's the dude… on a team of dudes.
…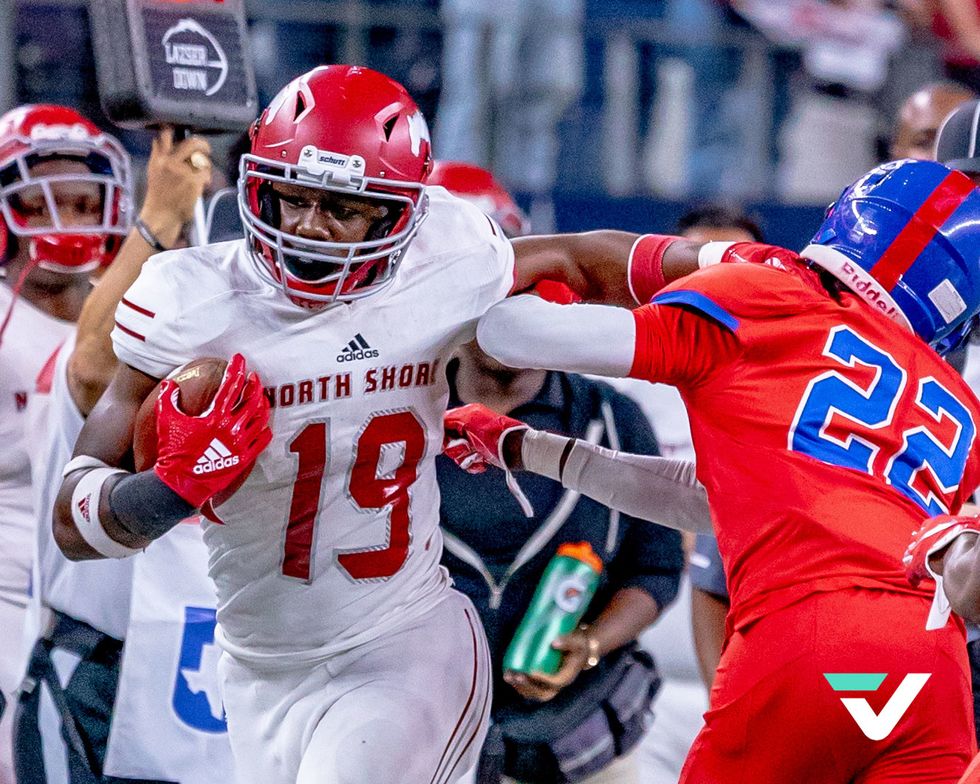 Davis has had to pick up the slack with long-time buddy Shadrack Banks being injured
As decorated players climb the ladder of their high school careers, the noise gets in the way. The rankings, the recruiting process, the chatter.

Davis Jr. keeps it at bay.
"Coach (Jon) Kay always talks about trusting the process and that the best part is the journey," Davis Sr. said. "He's right. You have to love the journey. You have to earn it – the starting position, the grades, the accolades, the scholarships. If you earn it, it's going to mean so much more to you.
"He knows who he is. He doesn't need anyone to verify who he is," he said. "I may get mad when he gets slighted in the rankings, but he always tells me not to worry about it. He says he will take care of it on the field and he'll meet them on the 50-yard line after the game."
It's usually with a win.
Davis Jr. recently committed to Virginia Tech with coach Justin Fuente and OC Brad Cornelson. Hmmmm. The next Michael Vick, a former Hokie?
"Virginia Tech really picked him. They recruited him so hard. They really celebrated his commitment. The staff has a plan for him, and he really fits their style. They are comfortable with having a 6-foot quarterback. They have had success with that before with Michael and Marcus Vick and Tyrod Taylor. They want him to bring them back to those glory days."
…
For now, it's on to Lake Travis. The hype and hoopla don't really get to him. It never has.
"He's a laid-back guy. He takes out the trash and cuts the grass," Davis Sr. said. "We just got him his first PlayStation. Because we didn't give him one earlier, he was always on the practice fields working out."
He does have a phone and received a text after the Atascocita game from an admirer.
"Vince Young texted after the game to congratulate him," Davis Sr. said. "He thought that was pretty cool."
Young is the legend of Houston high school football, but Dematrius Davis Jr. is gaining on him.