Maxcey lifts Friendswood to state with sweep of Lake Creek
Jun 03, 2022
VYPE Media
With Friendswood on the brink of the UIL Class 5A state tournament, Mustangs senior Dylan Maxcey made sure to leave nothing to chance.

Maxcey went 2-for-3 with five RBIs, including a momentum-surging three-run homer, to lead Friendswood to an 8-3 Game 2 Region III-5A final win and a sweep of Lake Creek at Rice University's Reckling Park on Thursday evening.
Friendswood took Game 1 on Wednesday, 4-1, behind a dominant performance from Texas Tech commit Jacob Rogers, who allowed one earned run on four hits over seven innings.
The Mustangs are 29-7-1. After reaching the regional final for the first time in 11 years last season, Friendswood is bound for Round Rock. It's Friendswood's second state appearance after going in 2008.
"Last year's tough ending and loss was one of the hardest things I've personally had to overcome," Maxcey said of the team being swept in the regional final against Barbers Hill. "But in baseball everything is a lesson, whether it's the hard way or the easy way. It feels amazing to be back in this position and learn from past mistakes."
The Mustangs' rally cry this 2022 campaign has been the "Redemption Tour."
"This year, we went through a lot of ups and downs and we used last year's team and situations to understand what it's supposed to be," Maxcey said. "But we only compared when it was needed and tried to stay away from that because this is a totally different team."
Lake Creek ends its season 28-7 and a reginal finalist in just its third full year of varsity baseball play.
Boots Landry, a Texas A&M commit, started things off for Friendswood with a two-run homer in the first inning. Maxcey, one of eight returners from last year's team, contributed a RBI double the following inning for a 3-0 Mustangs lead.
After a Sam Lee sacrifice fly got Lake Creek on the board in the bottom of the second, Maxcey drilled a three-run bomb in the top of the fourth inning to make it 6-1.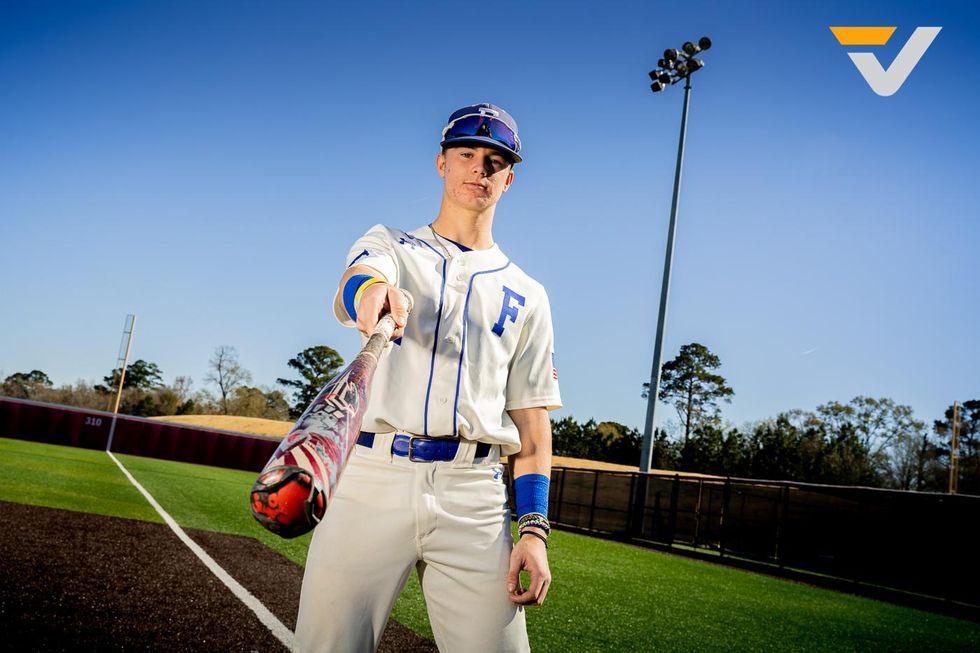 Friendswood senior and Texas Tech signee Dylan Maxcey went 2-for-3 with five RBIs and a three-run homer in Thursday's Game 2 regional final win over Lake Creek.VYPE Media
The Lions got two more runs on a James Kennedy two-run single before Maxcey struck again, delivering a sacrifice RBI to score Ayden Pearcy before Reed South settled the scoring with a RBI double.
Maxcey had an outstanding series against Lake Creek. In all, he went 3-for-5 with five RBIs and two walks.
"My approach was to find barrels and just try to get the next guy up," Maxcey said. "Early on as a team, we struggled and coming this far, now we all have 100 percent trust in each other. So for me, every time I go in the box, I get in there doing whatever I can to find a way on. Just pass the torch and pick each other up, at-bat after at-bat."
Friendswood got a good start from Houston commit Easton Tumis (4 2/3 innings, three earned runs on three hits, three strikeouts to two walks) and great relief from Dane Perry and Griffon Kasemeyer, who combined to throw 2 1/3 innings of scoreless ball with three strikeouts and no walks.
Lake Creek starter Jace Newkirk lasted 3 2/3 innings, surrendering six runs (three earned) on eight hits, striking out one and walking none.
Friendswood had eight runs on 11 hits and one error. Lake Creek had three runs on six hits and four errors.
1-2 at bat, 2 BBs
True