A late bloomer, Spartans' George grinds for success
Sep 21, 2022
VYPE Media
During an area playoff game against Tompkins last year, Stratford outside hitter Skylar George, then a junior, hit the pivotal point of her high school career.

It was late during the game and the Falcons were pulling away from the Spartans. George was playing into a downward spiral, making uncharacteristic mistakes as her team's season slipped away.
"We were falling short," George said. "They were getting aces. I was making errors because of nerves and anxiety. I was just really tense. I'm expecting my coach to pull me."
George kept glancing over to coach Jenny Adcock, awaiting the dreaded hook. It never came.
"She looks at me and goes, 'I'm not going to pull you. I'm letting you figure this out,'" George said.
Stratford lost but the moment did wonders for George.
"I was just so comforted that she had that trust in me and she knew I was that leader for my team like that," George said. "Even though we lost, it's stuck with me. That trust she has in me and how I work on the court. Knowing I'm really needed pushes me to be better and drives me."
That Tompkins game was the catalyst to what has been an outstanding season for George. The 6-foot-1 striker is averaging 3.6 kills and 2.9 digs per set to go with a .386 kill percentage and 43 aces for the 22-12 Spartans this year.
\u201cOpened up our first district match with a win against Cy-Fair, and totaled 21 kills on Friday! Check out my Hudl Highlight - Skylar's Highlights - Cy-Fair, on @Hudl at - https://t.co/Ivn9xiMPob @StratfordVball @77079Athletics @HoustonSkyline\u201d

— Skylar George (@Skylar George) 1663033321
"Skylar as a senior is a lot different than Skylar as a junior," Adcock said. "She's gained a lot of confidence and that is a huge difference. Those moments of self-doubt are fewer and farther between. Skylar is out there because I believe in her for six rotations for every point of every match. That's the confidence I have in her as an athlete, a leader and a teammate."
George is a late bloomer. She didn't start playing club volleyball until the eighth grade.
"I was really behind," she said.
Prior to that, she played almost every sport. She hooped at Spring Forest Middle School. She played Albion club soccer for years. She was on the swim team and did track.
But cheerleading was George's initial interest, so much so that she thought she'd be a cheer coach someday.
"I was a cheerleader my whole life," George said. "I was very girly girl. My mom cheered in college, so I definitely wanted to follow in her footsteps. But as I got older, I turned into this athlete who was tall. I started club soccer, thought I would play it in college, and then something was just different in volleyball. I just had to play it."
George saw a lot of what cheerleading offered in volleyball.
Both are dependent upon the sum of the whole. Just how girls working together in cheer can dictate the success of a routine, George said team camaraderie can change how a team plays on the volleyball court.
"I loved how no one can do it themselves," she said. "It has to be the pass that leads to the set that leads to the kill. Everyone has this individual gift but it's for the team, which I loved. It was so cool to me."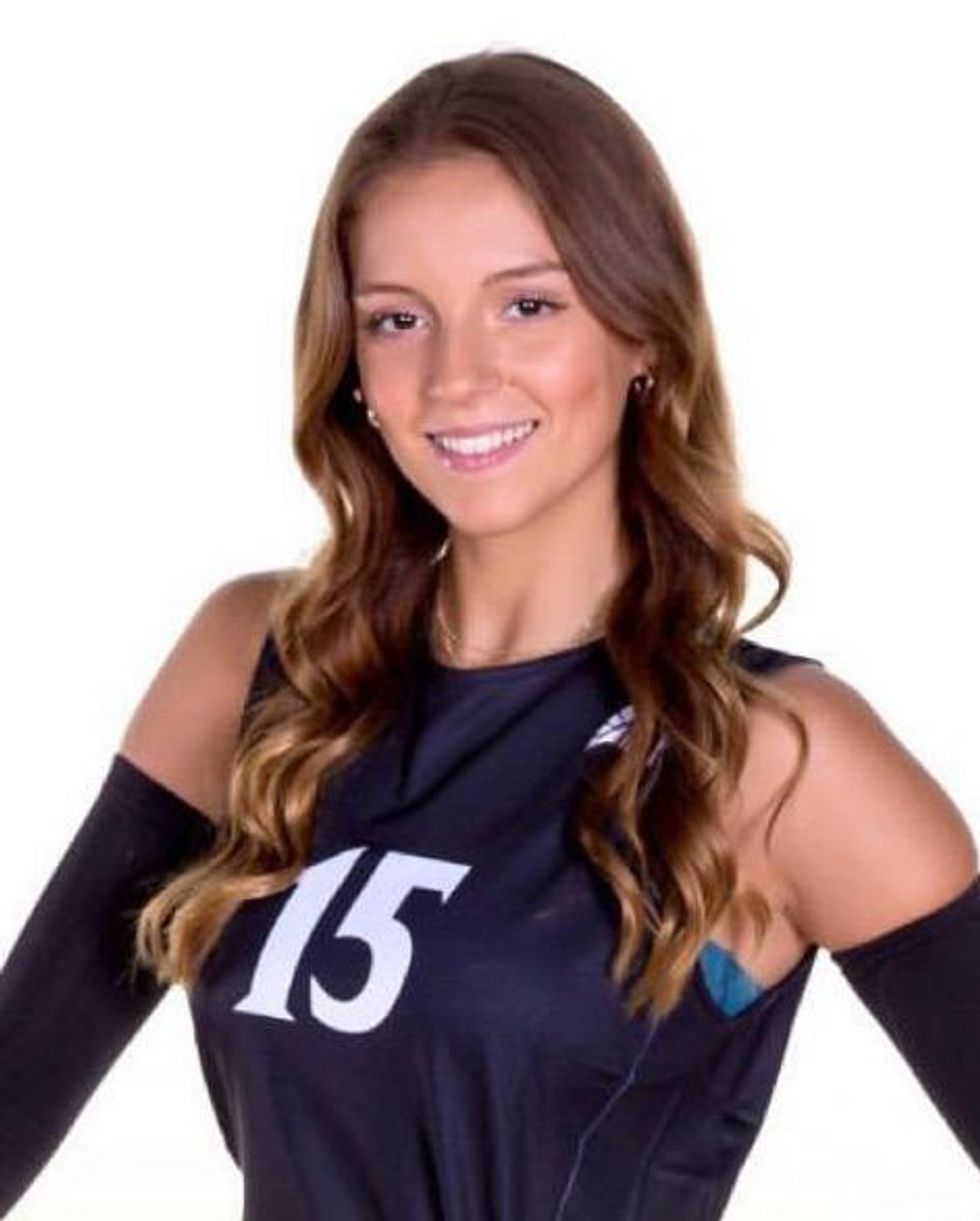 Stratford senior Skylar George.Courtesy photo
George's passion for volleyball is evident in her work ethic. She embraces the grind, welcomes it. But it wasn't always that way.
Her sophomore year, George went to parties and hung out with friends. Typical kid stuff. She didn't start taking volleyball seriously until her junior year, when she saw teammates and friends committing to colleges.
She knew she needed to get better.
So, George has sacrificed fun for work. She has games Tuesdays and Fridays, ice baths and recovery on Saturdays, and skill training Sundays and Mondays.
"If you don't love the grind and the workouts and the practices, how are you going to play at the next level?" George said. "How are you going to better yourself?"
She would know. It's not easy going from a volleyball novice in the eighth grade to one of the top players in the Greater Houston area four years later.
From the day she walked into the gym, ready to play for her club team, and laid eyes on the "big court" where the best of the best players played, George yearned to join them, be one of them.
So, she worked toward it.
"I'd watch them and look up to them," George said. "They just hit so hard, and I wanted to do the same. So, I went to privates every single weekend. After any game in middle school, I'd go to a private (training). I got reps and reps and reps and just got better as I got older and understood the game."
She has earned the respect of others.
During a recent game, an opposing team persistently targeted George on serve-receive to exhaust her and make her uncomfortable. It's normal for opposing teams to attack outside hitters on the front row while serving, making the hitter think about passing and hitting and moving them around.
Despite the intentional barrage deposited upon her, George never backed down. She was passed to 38 times by the opponent and only once was she aced.
"I just never felt like it affected her," Adcock said. "Her pass rating for that match was on par for her entire season, and her hitting efficiency was actually better in that match than the rest of the season. Last year, it might have bothered her. This year, she accepts teams wanting to push her."
George's recruiting remains open. She recently joined Houston Skyline's top club team. The upcoming club season will be critical for George, who wants to play for a college program and coach where she can be challenged.
"I don't want to go to a school where I come in as one of the best," George said. "I've done that before. I want to work for it. I want to be pushed. So, I want to be picky."