RACE FOR THE RING: The Class 6A Top 20 powered by Champion Energy
Aug 14, 2019
The 2019 VYPE Class 6A Preseason Football rankings are here!
Of course, the defending state champions sit atop the rankings for a second-straight year with Katy sitting right behind them. That will make the opening week game very exciting. Check out the rest of the Top 20 below.
VYPE is offering fans the opportunity to purchase a copy of the magazine and have it delivered to you, instead of waiting to find it in stores.
CLICK HERE TO ORDER - 2019 VYPE Houston Football Preview Magazine
No. 1 North Shore Mustangs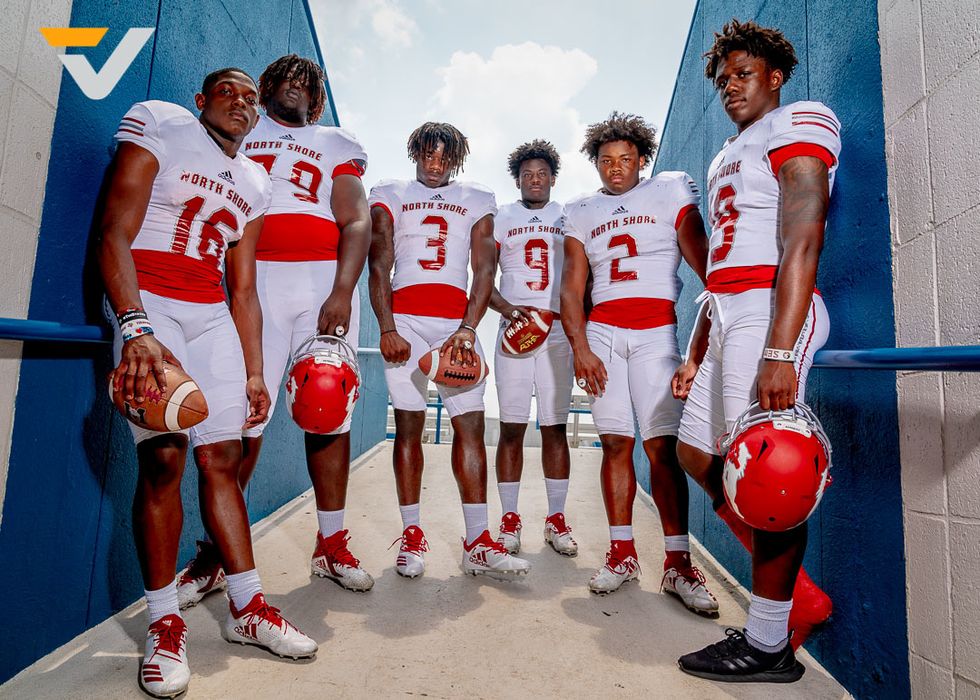 Here come the champs loaded and ready to defend their title. North Shore enters the 2019 season as the heavy-weight favorite not only to claim the District 21-6A Championship but also make a run back to state in December. Jon Kay guided the "Beasts of the East" to the program's second state crown in the previous three seasons in 2018 with a perfect 16-0 mark and an unforgettable win against Duncanville. Dematrius Davis passed for 3,373 yards and 43 touchdowns, while his top target Shadrach Banks (Texas A&M-commit) reeled in 60 grabs for 1,299 yards and 17 touchdowns. Zach Evans returns to anchor the backfield as the top recruit of the entire 2020 class in the country. Evans rushed for 1,793 yards and 29 scores a year ago. The bigs upfront include Alabama-commit Damieon George, Jaeden Roberts and Edzavier Deblaw. Arkansas pledge John Gentry joins Evans in the backfield. Defensively, Kansas State-commit Jojo Wilson and Utah State-commit Upton Stout will hold down the secondary, while Miami-commit Corey Flagg Jr. will anchor at linebacker. The season begins with a monster battle against the Katy Tigers.
No. 2 Katy Tigers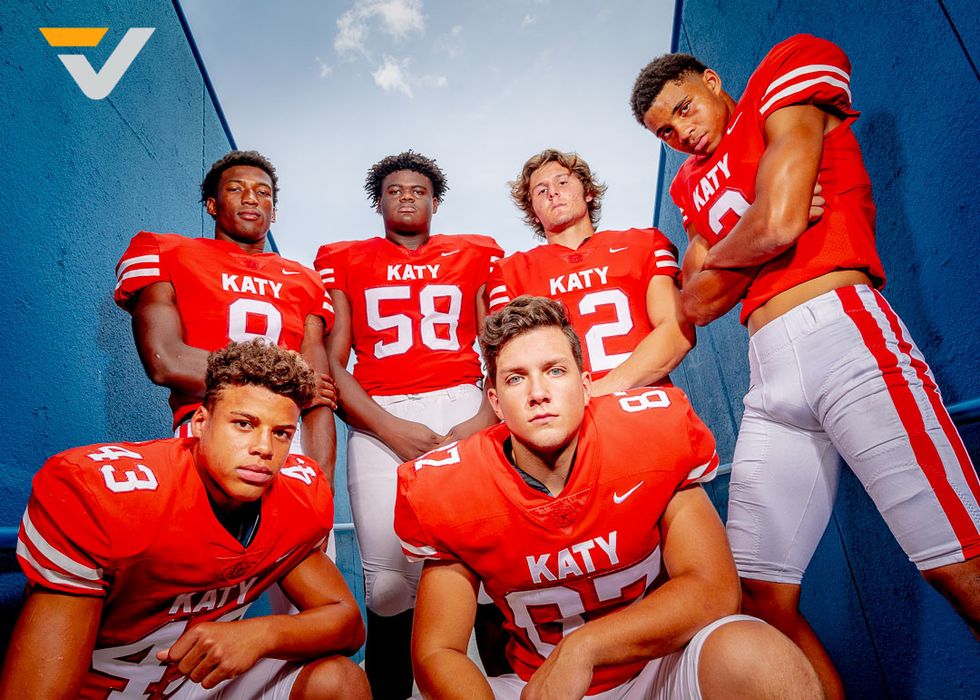 North Shore is getting all the shine, but do not sleep on the Katy Tigers. Tiger Nation won't say it, but they want H-Town to remember that they are still the brand of the city with eight state titles and 15 state title appearances. The Tigers went back to the drawing board and are ready for 2019. The offensive line is experienced with Drew Murphy, Justin King, Dakota White and Brayden Gammel to protect QB Bronson McClelland, who enters his junior season after throwing for 2,300 yards and 30 scores a year ago. His primary WR will be Jordan Patrick along with Steven Stiles. Tight ends Samuel Dunn, Fernando Garza and Jake Norman are giant. Running backs Sherman Smith and Ronald Hoff will tote the rock. Defensively, the strength is the secondary. Hunter Washington is a national recruit, along with Heights' move-in Bobby Taylor. UTSA-commit Bryan Massey, Dalton Johnson and Hamilton McMartin are super talents as well. The linebackers are led by Jaylen Phillips and Ty Cana. The front will be the only question mark.
No. 3 Atascocita Eagles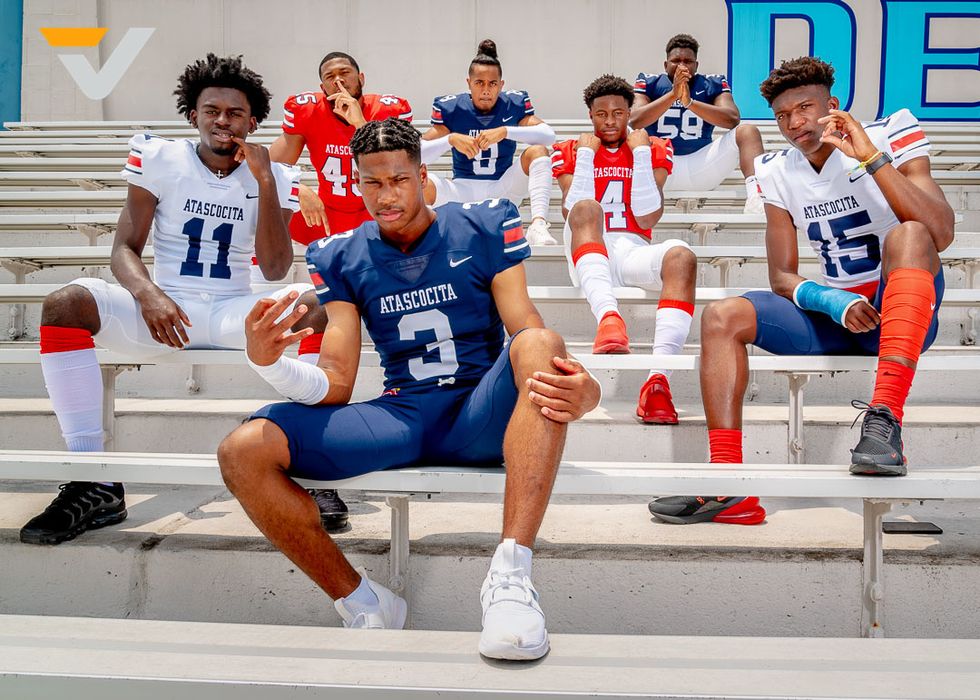 Another year and Atascocita is once again a favorite to walk away as a district champion and contend fora deep playoff run. Under Craig Stump's guidance, the Eagles have become a consistent power – finishing first or second in district the past six years. The northeast Houston power has won 10 games, five times during that stint. A trio of Will Jones, Jer'Marques Bailey and Kameron Dewberry — a sky-rocketing national recruit — will anchor the line and try and replace the talented Kenyon Green (Texas A&M). With this force upfront, Brice Matthews will have plenty of protection to operate the offense. His top targets will include Dylan Robinson (University of Houston-commit). Defensively, Asyrus Simon (UTSA-commit) will anchor the defensive line, while OLB David Tuihalangingie patrols the middle. Atascocita is loaded with talent coming back and will be a sure-fire contender.
No. 4 The Woodlands Highlanders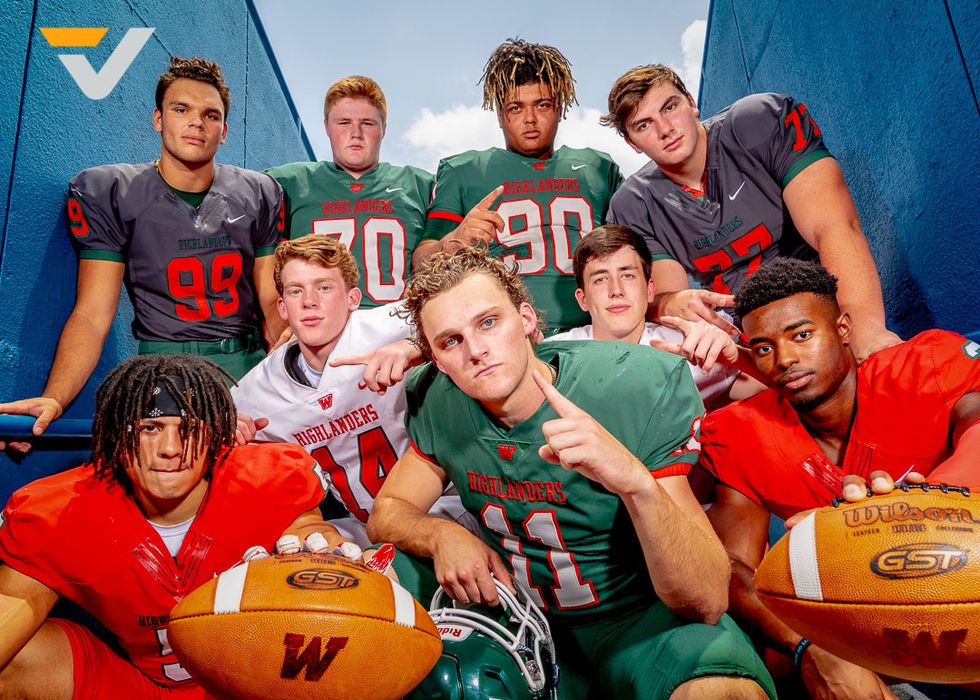 It's year two for Jim Rapp at The Woodlands. It didn't start off stellar last season going 0-2, but the Highlanders improved every week and reached the Regional Semis before losing to Allen. The Woodlands return 16 starters and received a big-time move-in over the summer. The OL is a strength with Jett Duncan, Titan Tucker and Cody Johnson to protect the quarterback, which is somewhat up in the air. What is certain is RB Bryeton Gilford, who is a durable back, will carry the load all year. The WRs are solid with Kansas-commit Malik Johnson and national recruit Teddy Knox (from Baton Rouge's Southern Lab) in the fold. The defense is solid up front with underrated Caleb Fox and Simon Cruz. The back seven is a little inexperienced and will lean on LB Cannon Starke and DB Carter Doucet. Kicker Fabrizio Pinton (Air Force) is also a weapon
No. 6 Cy-Fair Bobcats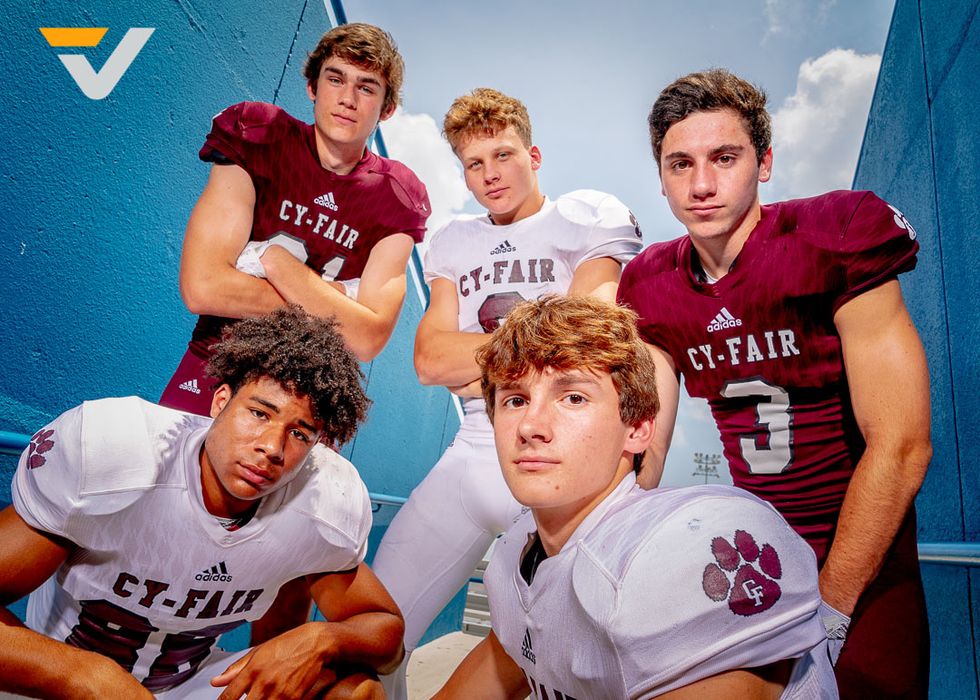 The Cy-Fair Bobcats are no joke. The Bobcats won the state title in 2017 and reached the Regional Finals last season before falling to North Shore 28-21. Coach Ed Pustejovsky is one of the most underrated coaches in all of Texas, getting the most out of his athletes. He has a stud RB this season in junior L.J. Johnson, who rushed for over 1,000 yards and is a national recruit. Sound familiar? This is Cy-Fair's winning blue-print– the run game and a salty defense. Finding a game-manager at QB and depth on the OL is key, while the defense is sound with safety Payton Tally (Princeton)quarterbacking the unit. The offensive skills will include tight ends Jack Whitmer and Bayne Tyron (Tulsa-commit) and receiver Chase Davidson. The district title seems to be a lock, but can #BFND continue its run deep in the postseason?
No. 6 Dickinson Gators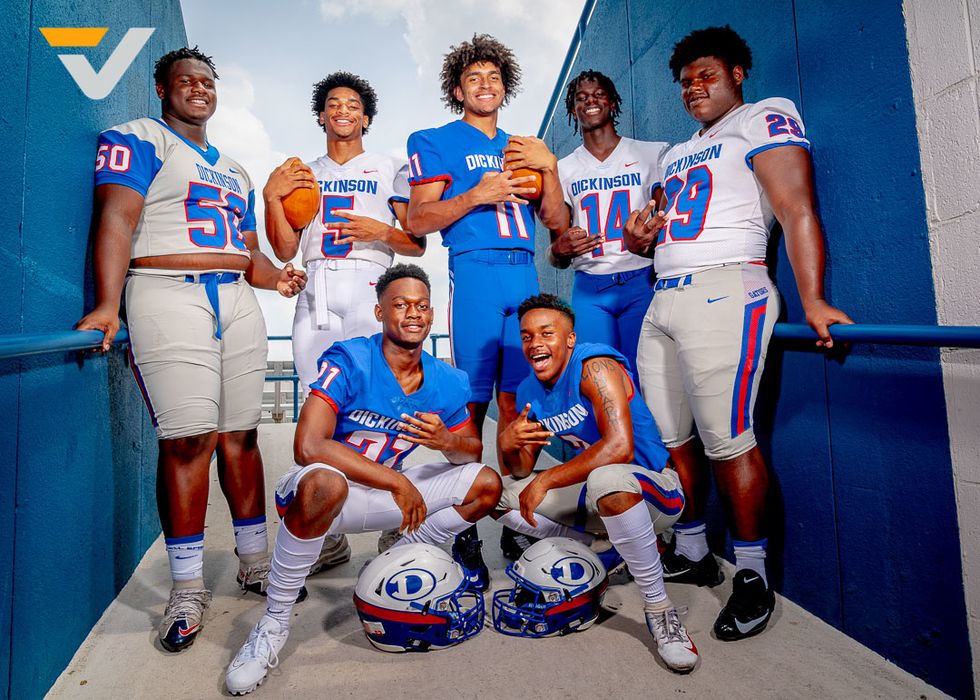 Chomp, chomp. The Gators return some legit firepower in 2019 after reaching the second round of the postseason a year ago. Coach John Snelson is looking for the coveted District 24-6A title, which has eluded the Gators the past three years due to the emergence of Clear Springs. This could be the year as QB Mike Welch returns to The Swamp. Welch went off for 3,500 yards and 50 scores combined. His favorite target is Darryl Harris, who had near 1,000 receiving yards. Super-sophomore Donovan Bradley exploded on the scene last season and will be the featured back. The defense returns eight that includes DI defensive back DJ Warnell leading the way. Victor Idusuyi, Derrick Martin, Canon Boone and Keith Cooper give the line some serious bit back end of the defense is stingy with Warnell, Anthony Wickware, Paul Smith and Savien Arnett. The OL will need to find their legs early in the season, but the Gators will be lurking come the regional rounds.
No. 7 Tompkins Falcons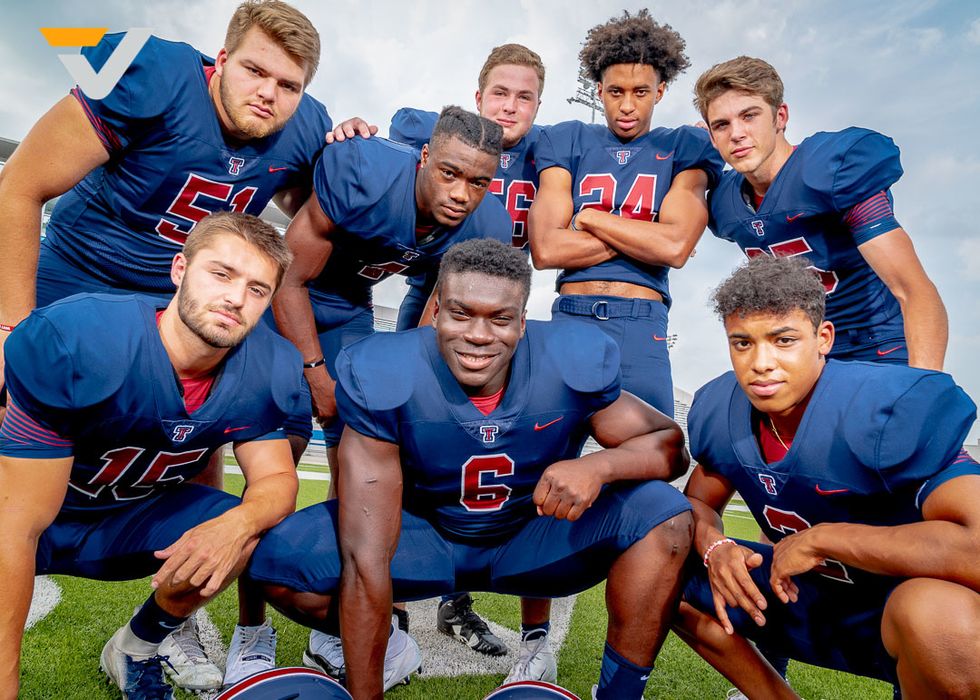 Talk about a reclamation project. Under the direction of coach Todd McVey, Tompkins has entered the citywide conversation in 24 short months. McVey came out of Katy ISD admin and went 0-9 in his first season. In year two, the Falcons made school history going10-3 and reaching the Regional Semis before losing to state finalist West Brook. The Falcons are back and will challenge Katy for district bragging rights, which the Tigers haven't surrendered since 2008. Easy now. Can junior QB Jalen Milroe live up to the hype after committing to the University of Texas? He's pretty good and has a backfield-mate in R.J. Smith, who went off for 2,600 yards and 33 scores. Hayden Burke is a team captain, who will anchor the offensive line. Taurean Muhammad is Milroe's main-man downfield and has picked up several mid-major offers for his ability to get open. The defense will be led by national-recruit Tunmise Adelye on the edge, while Colby Huerter will hold down the secondary.
No. 8 Pearland Oilers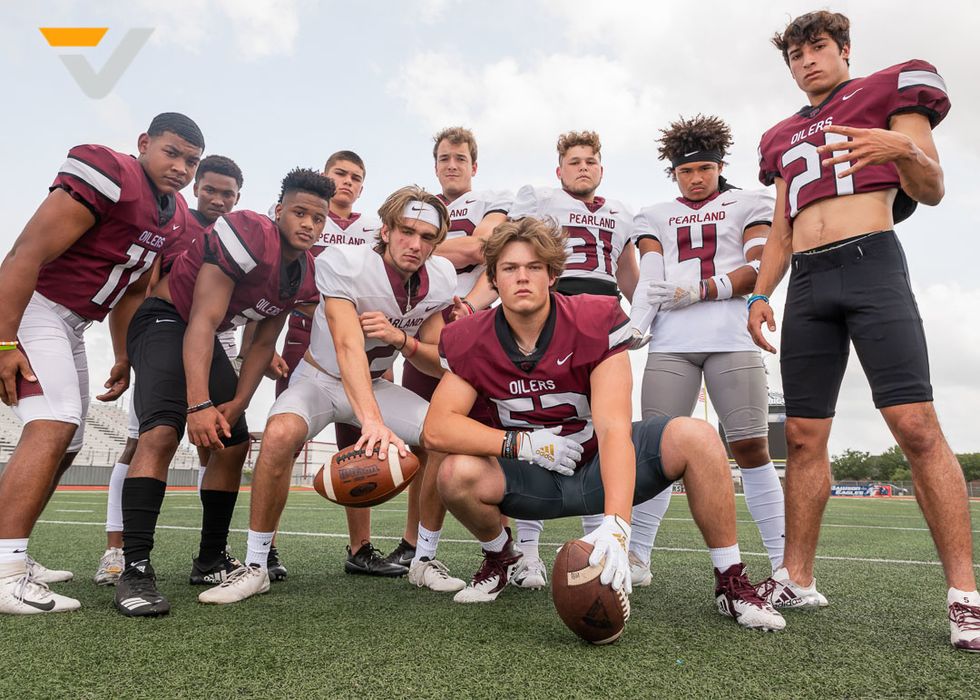 After running the table through the regular season going 10-0 and capturing a district title, the Pearland Oilers were rudely eliminated by Dickinson, losing 49-21 in the first-round of the playoffs. That hasn't set well with the returners to the Rig. Coach Ricky Tullos prepares for year two of his regime with a wily QB running his offense. J.D. Head burst onto the scene throwing for over 2,200 yards and 24 scores. Head has committed to Louisiana Tech, but loses his running-mate Jaelin Benefield to graduation. Torrence Burgess will take the baton as RB1 for the Oilers with big shoes to fill. The OL returns Gannon McKinney and Trey Maeker. The defense was significantly hit by graduation, but does have Anton Simieou, Kele Linton and Brendon Stokes. The Oilers will have to hold off Strake Jesuit for the district title and could likely see Dickinson or Clear Springs in the first round of the playoffs.
No. 9 Summer Creek Bulldogs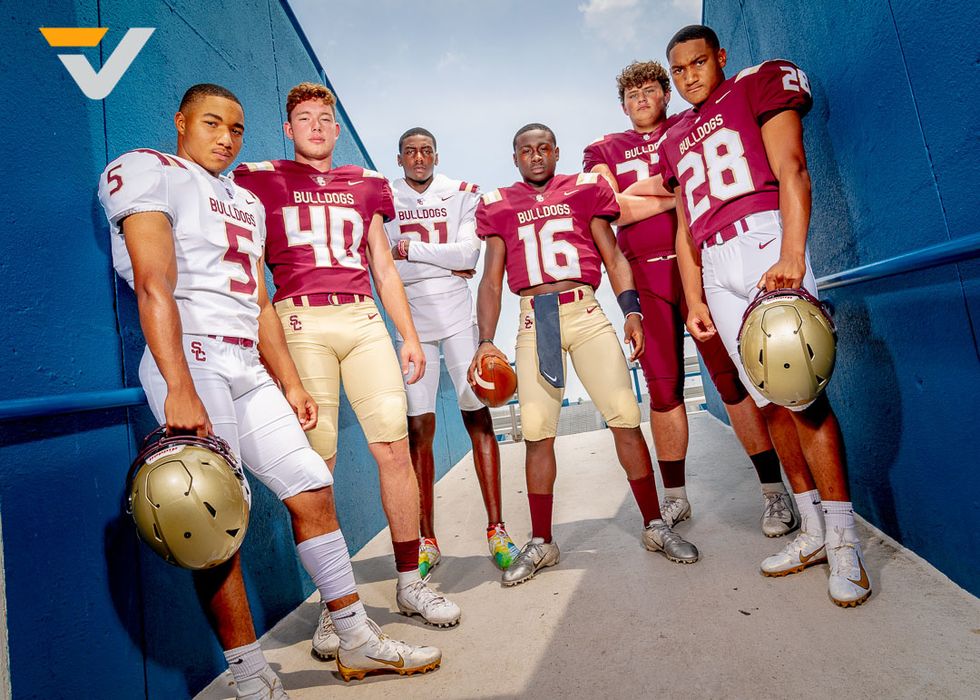 Under second-year coach Kenny Harrison, the Bulldogs reached the third round of the playoffs last season but fell short to Cypress Creek. Back off that team is dynamic dual-threat quarterback Bryan Bush, who was the District 22-6A MVP last year. Bush is not the biggest quarterback, but he is explosive and a game-changer after registering 1,985 yards passing and 1,375 yards rushing. Expect a full offseason to pay off huge dividends for him heading into just his junior season. Other key returners on offense to help Bush include Luke Lapeze and Kelvin Banks on the line; Elijah Bean and Drevion Grant at the receiver position and Torrie Curry and Sam Williams in the backfield. Defensively, Devion Hargrove returns after a first-team, all-district season at cornerback. Also back are second teamers Ethan Schwartzman on the line and Devon Hodlen at outside linebacker. Other key pieces to the defensive unit will be Koby-Sebasyen King (OLB) and Sean-Krystoff King (S).
No. 10 Klein Oak Panthers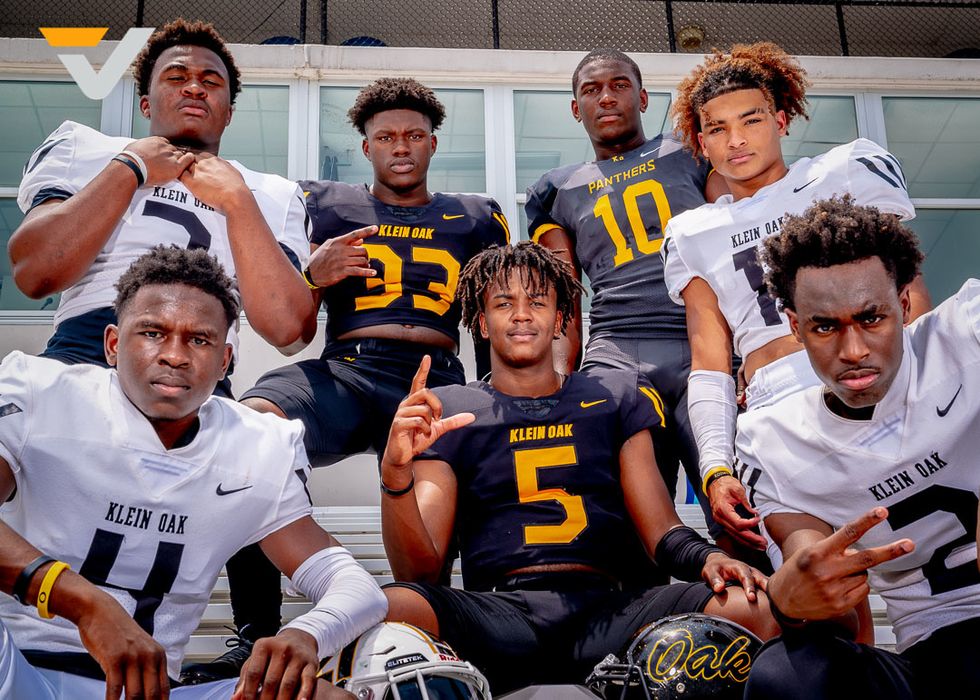 If Klein Oak coach Jason Glenn is nothing else, he's enthusiastic. Sure, he was a star in college and played in the NFL, but this is his calling. He can coach. Glenn led the Panthers to the Regional Semis a year ago, going 10-3 overall. Glenn welcomes back talented QB Montrell Bolton, who threw for over 1,700 yards. While his favorite target Tyler Hudson is off to Central Arkansas, in comes move-in and national recruit Dwight McGlothern. McGlothern can play DB or WR. The offensive line will need some work, but big-back Charles Garrett doesn't need much help as he powers over defenders. The defense is led by newcomer Chanstyn Thomas and Lance Bob up front. Kaden Kleinart runs the middle of the defense while the secondary is led by Keon Jones, Dominick Morris and McGlothern when needed. The district will get Oak ready for another run in the postseason.
No. 11 Clear Springs Chargers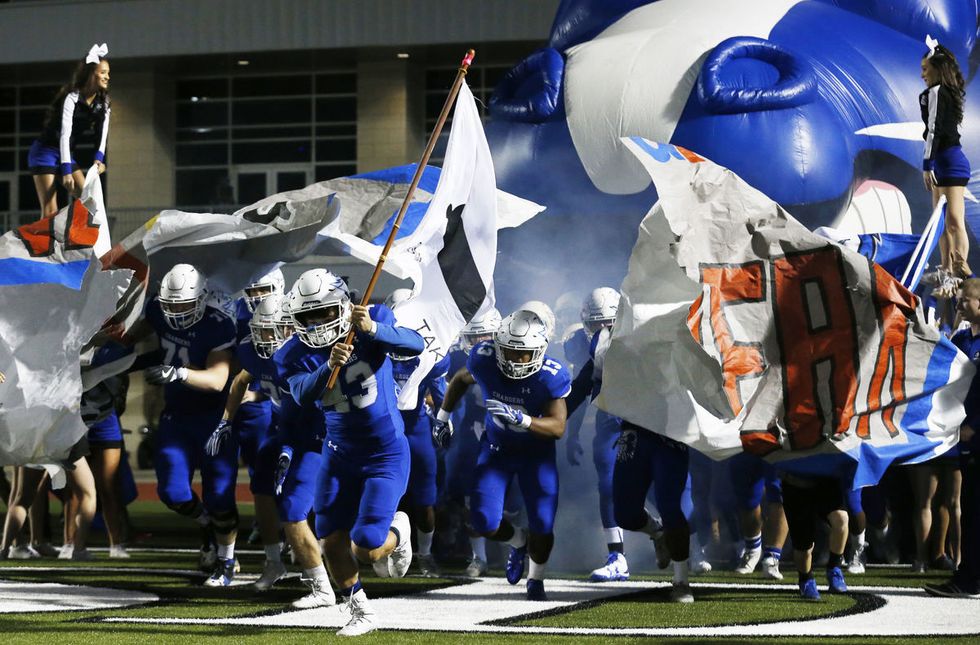 The Chargers have won three consecutive District 24-6A titles but have stubbed their toes in the first-round each year. Last year was to Hastings. What will they do to get over the hump in 2019? Coach Craig Dailey is not afraid to schedule anyone. The Chargers leadoff with Converse Judson, Klein Collins and Katy in the non-district season, which gets them prepared for district play. The leading man for Springs is QB Garrett Rooker, who threw for over 1,600 yards as a junior. The district MVP is gone in Todd Hudson, so a running back must emerge to run behind captain Ryan Knaus at OL. Colton Grier could be a difference-maker on the line at6-foot-6. Rooker's top target will be Isaiah Bibb, who had over 800 yards last season. It's all about defense, however, as the Chargers have to make some key stops Jacob Muellner, Cameron Reffells and Kirk Collins will anchor the defense at each level. They are undersized but technically sound.
No. 12 Westfield Mustangs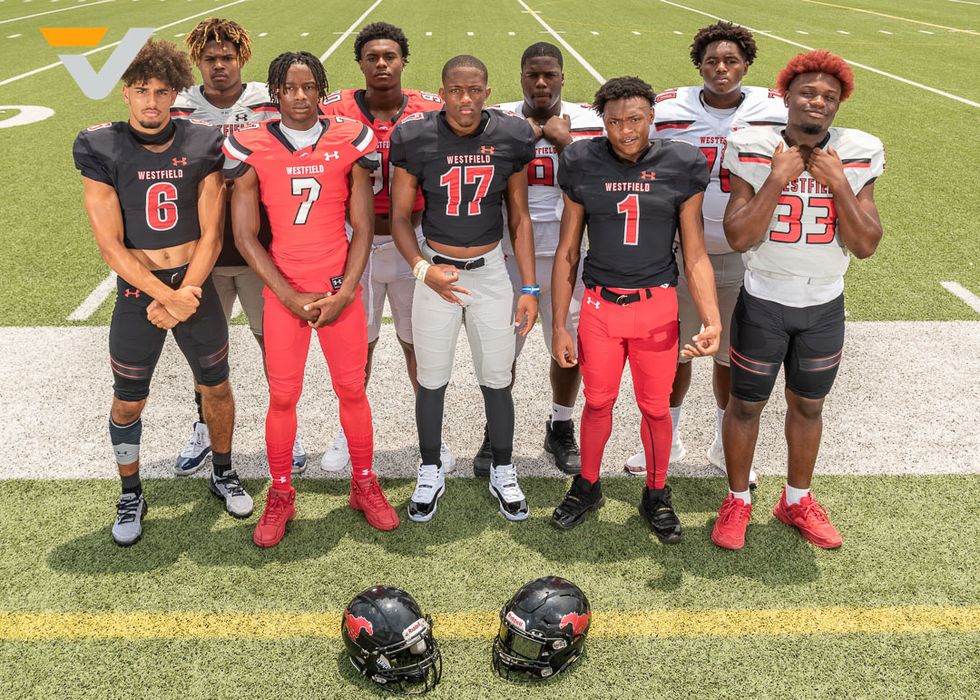 The Westfield Mustangs flexed its muscles last year reaching another Regional Final and winning another district title. The 'Stangs just reload and will do so again in 2019 as coach Matt Meekins has a powerful defense and a few weapons on offense who are homerun hitters. The front seven on defense is the strength of the team. Surprise, surprise. Tim Hardiman, William Hatter and Nick Booker are beasts up front, while Dyllon Peavy runs sideline to sideline at his linebacking post. If Kendal Taylor can recapture the magic that he had at Klein Oak, the running back spot will be stellar. Tulsa-commit Malachi Jones (786
No. 13 Cypress Ranch Mustangs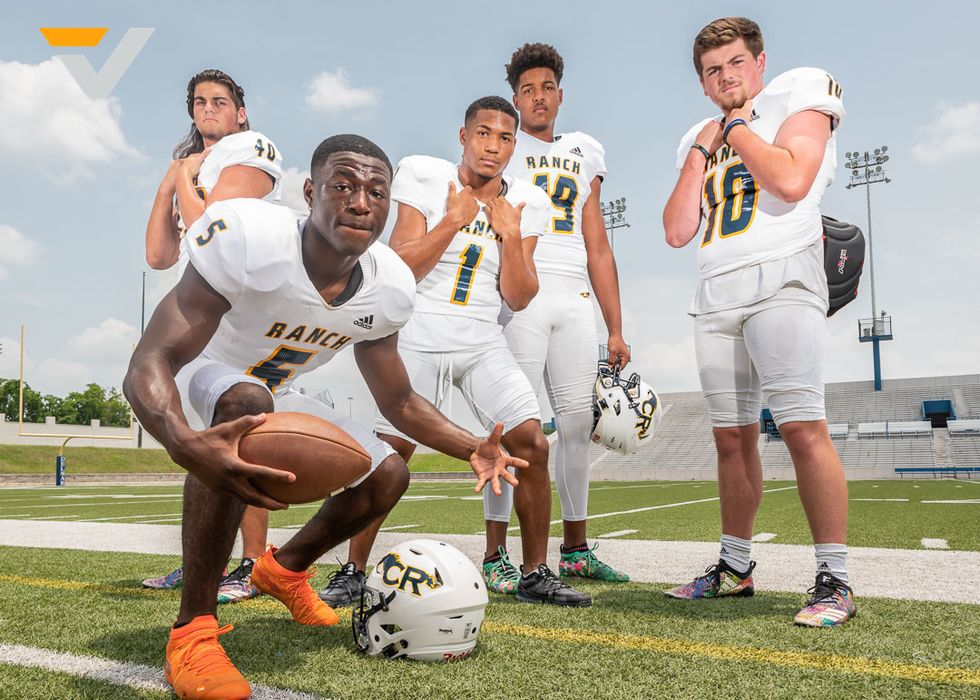 Cypress Ranch has seen some drastic changes since last season. Coach Gene Johnson, who opened the school, took the head job at Waller. Defensive coordinator Andrew Shanle took his first head coaching job at Cypress Ridge. In comes Sean McAuliffe from traditional San Antonio power Converse Judson to take over the reins of the Mustangs. Quarterback Logan McDonald returns and will have an explosive backfield-mate in first-teamer Willie Eldridge, who will run behind Kade Taylor. SFA-commit Kobe Banks will stretch the field from the WR spot. He will be complemented by a pair of big-league tight ends – 6-foot-6 Arizona-commit Drake Dabney and 2021 prospect Ben Postma. The defense was hit by graduation but Logan Stiba, Romario Noel and Christian Richards are the headliners.
No. 14 Klein Collins Tigers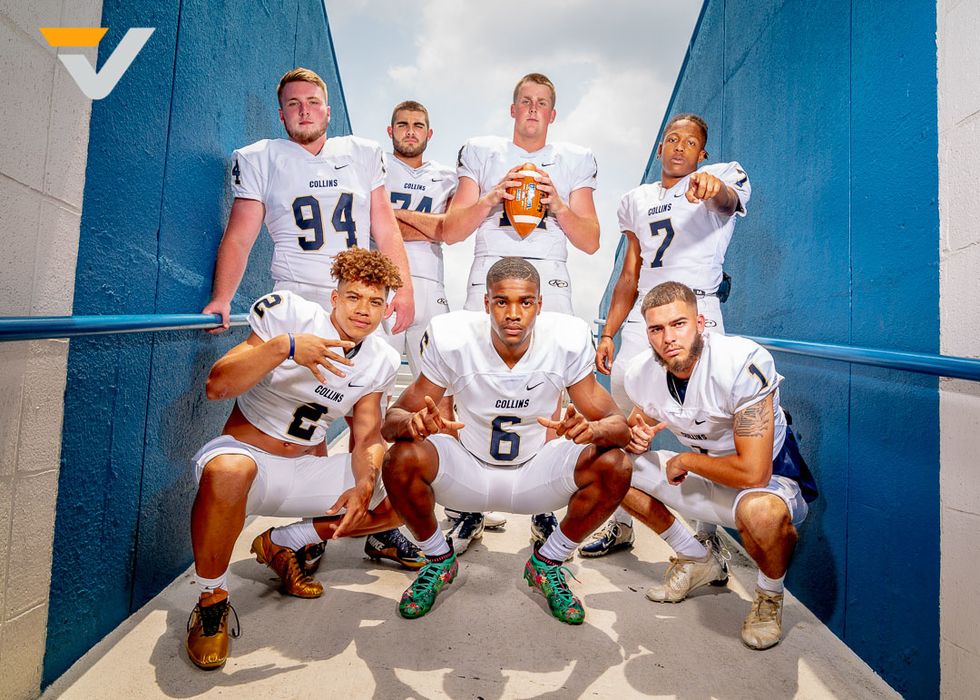 The Tigers of Klein Collins have dominated their district over the past several seasons. In year one of the Adrian Mitchell regime, the Tigers kept the winning tradition going. However, Carter Rhyne and Isaiah Spiller (Texas A&M) are off to college, so new names must emerge as leaders. RB Braelon Bridges is a legit back who can carry the mail, but the QB spot is inexperienced. Colby Powers may become the signal-caller with options to throw to Xierre Murray and Josh Cordova. The defense is always stingy and this year will be no different. Defensive tackle AJ Townsend will carry the baton with Zechariah Ivery, Trent Ward and Cornelius Campbell upfront. The backfield is also a strength with Donald Lee, Trent Wildridge and Jalen Davenport. This district is tremendously competitive with The Woodlands and Klein Oak vying for that district title.
No. 15 Ridge Point Panthers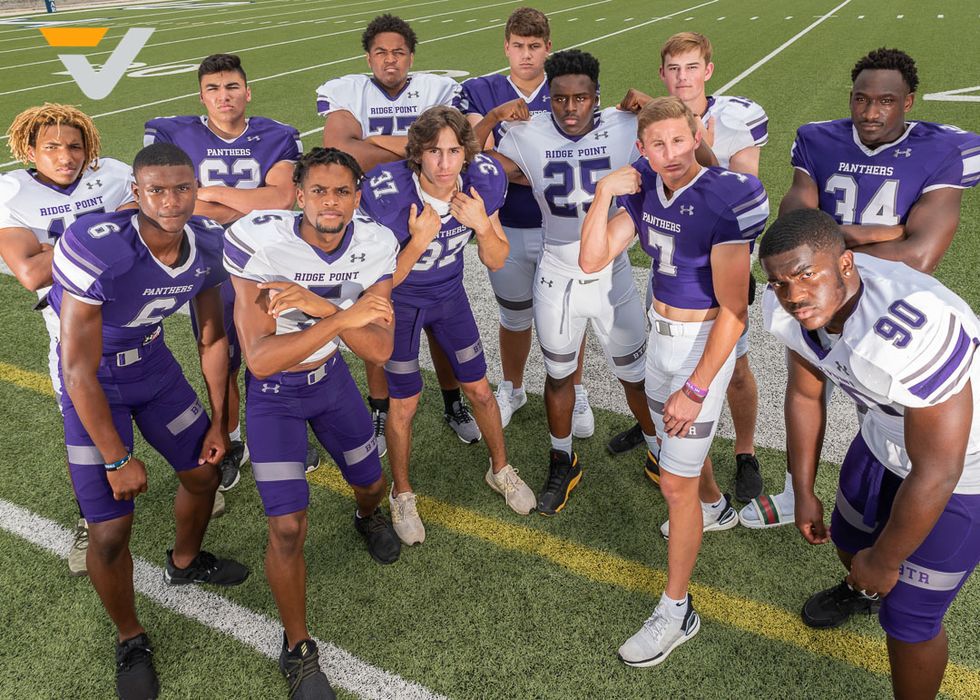 Ridge Point has been the king of Fort Bend since its opening in 2010. The Panthers cruised to another district title a year ago but fell in the second round. Running the offense for coach Brett Sniffin is Will Pendergrass, who threw for over 1,600 yards in2018. Pendergrass is a winner having helped lead the Panthers to the state finals in baseball last June. He's committed to the University of Houston and has a moxie about him. The go-to-guy with the ball in his hands is John Paul Richardson, the son of former Aggie and NFLQB Bucky Richardson. He can run, catch and return. Adrian Johnson is a DI linebacker, while Frank Osagiede joins him as the teeth of the defense. The Big Man on Campus is District Defensive MVP Bryson Stewart at defensive end. He destroys offensive game plans. Fort Bend Travis will push this team and compete for their coveted district title streak.
No. 16 Strake Jesuit Crusaders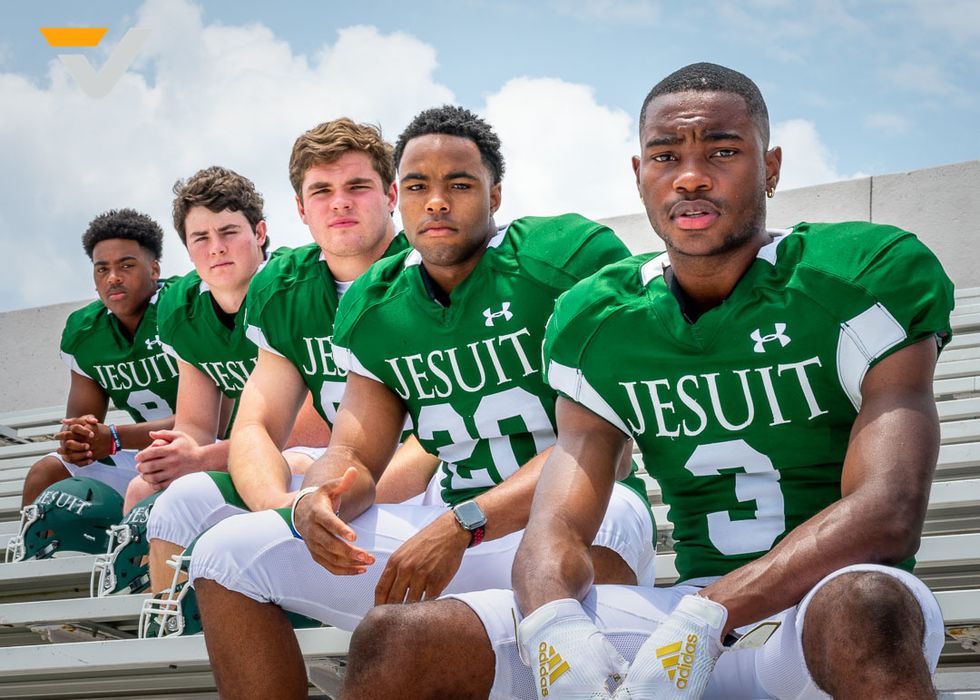 Strake Jesuit will once again fight for that district title in 2019. The Crusaders bring back District 23-6A Newcomer of the Year Dylan Campbell, who will be a force. Campbell (Texas Southern-commit) rushed for more than 1,300 yards a year ago and 17 scores. He will need to be even better this year with Michael Wiley off to Arizona. Expect big things from him. Strake Jesuit will have to find a new man to take the snaps after Michael Hansen graduated. The Crusaders will also rely on offensive lineman Barclay Briggs and tight end William Dickason to help the offense go. Defensively, Denzel Blackwell (Boston College-commit) will be one to watch along with Christian Gordon (ILB) and Grant Perry (DE). Klay Kubiak enters year two at the helm of thisprogram and will try to get them back into the playoffs for a third-straight season. If the Crusaders can beat out Pearland for the district crown, it'd be the first district title since 2008 for the program.
No. 17 Travis Tigers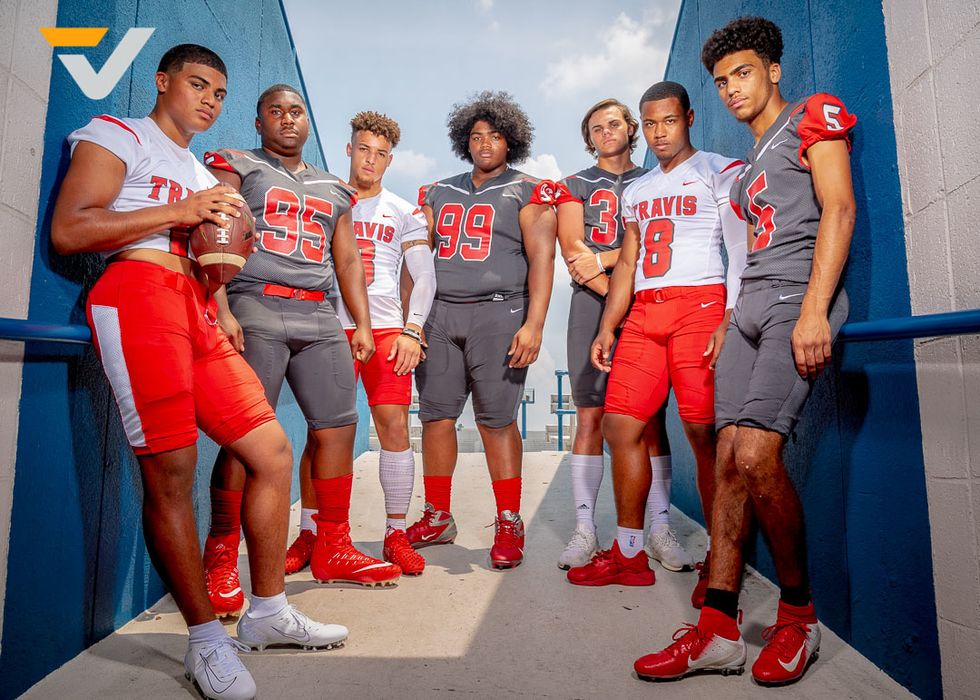 This is going to be a fun team to watch. From reigning District 20-6A Offensive MVP Eric Rodriguez throwing the ball up to Penn State-commit Parker Washington to Kaelen Shankle coming out of the backfield. Back to that QB-WR combo. This could be the best combo in the city only second to Dematrius Davis and Shadrach Banks over at North Shore. Rodriguez passed for 3,025 yards and 29scores last year, while Washington reeled in 1,486 yards at the receiver position. This team could push Ridge Point for the District 20-6A Championship. Defensively, Pat Brown and Cameron Oliver will be lock downs on the defensive side of the ball. Oliver led the district with six interceptions during the regular season. This team will mimic last season's, which averaged 474.2 yards per game in the district. The defense will have to better its third-worst 387.1 yards per game it gave up a year ago to win the district crown. Circle the October 17 game against Ridge Point as a must-see contest.
No. 18 Lamar Texans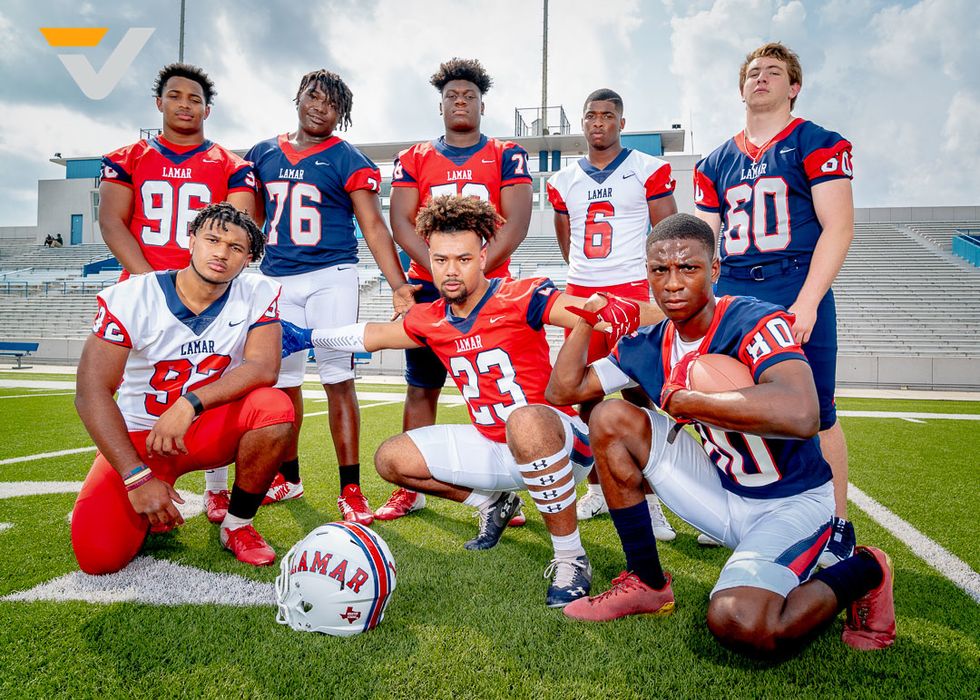 Lamar has always set the standard in Houston ISD. Michael Lindsey enters year two since taking over for the legend Tom Nolen. The Texans will seek their 10th-straight district crown in 2019, dating back to the 2010season. Dual-threat quarterback Troy Tisdale will lead this offense for a second year. Tisdale passed for 1,220 yards and 13 scores and rushed for another 952 yards and nine scores in the regular season. His favorite target is Ka'Veon Griffin, a second-teamer. D'Angelo Hudson, Ce'Darrion Crooks and Walter Hlavinka will be his bodyguards up front, while Jaquon Marion will be carring the load out of the backfield. The defense is going to have to bow its neck. Second-teamers Aven Shelton (48tackles) and Josh Stanton are the bigs up front, while Caleb Giles will patrol the middle of the field.
No. 19 Eisenhower Eagles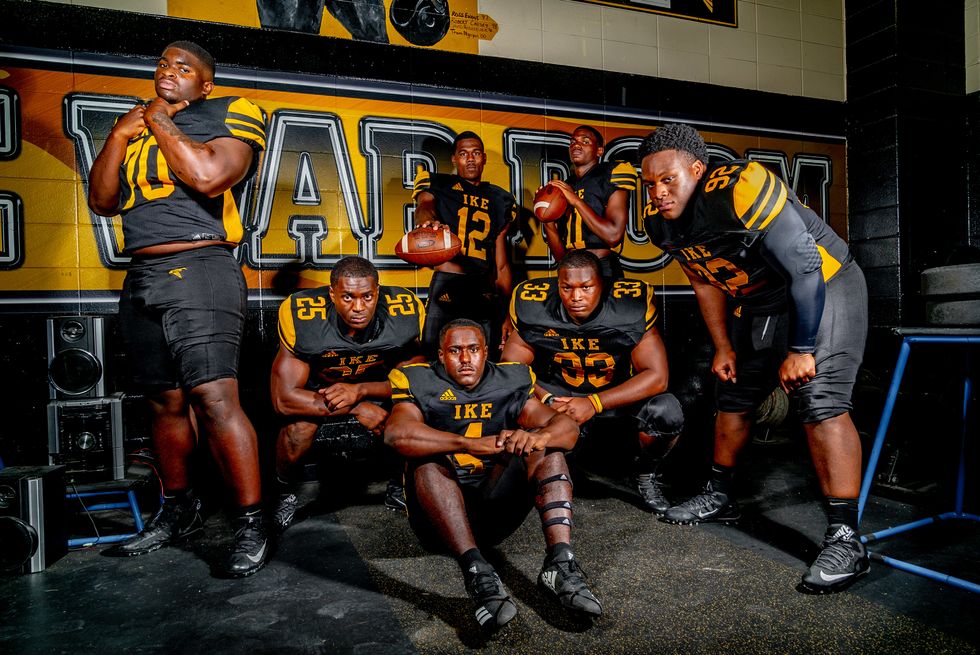 It's time to bring the swagger back to the Swoop! Eisenhower should be the best returning team in Aldine ISD for the 2019 season and for good reason. Eisenhower brings back a loaded offense, which includes 1,000-yard rusher Sevan Guidry. The senior is a power-back that is not easy to bring down and will be the one to set the pace early for IKE. The offense had a good offseason, qualifying for the state 7-on-7 tournament. Christian Sims will operate this offense, after passing for more than 1,100 yards a year ago. His top targets will be Anthony Isom, Adrian Arriaga and Ja'Marcus Martin. Defensively, Eisenhower ranked only behind Westfield, which is historically known for its defensive units. The Eagles gave up just 236.7 yards per game last year. The only thing it didn't have on its resume last season was a shutout. Damon Dosewell will set the tone up front after recording 70 tackles and 10 sacks last year. Dewayne Jackson had 75 tackles to complement him. This IKE team looks to make it back-to-back playoff appearances for the first time since 2014-2015.
No. 20 Langham Creek Lobos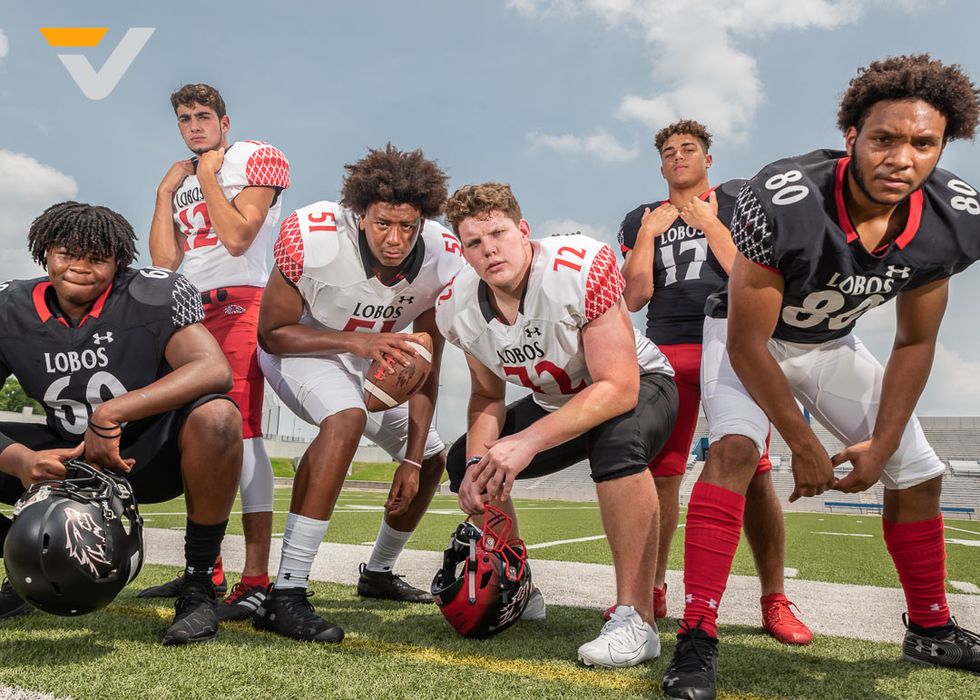 Gone is the athletic Chris Herron, who played some quarterback and receiver for the Lobos a year ago. Herron is now at Kansas State. The Lobos will lean on its defense early, considering that that unit brings back seven starters. Jordan Shields is one to watch as he had 110 tackles last season. Ernest Thomas will be the force down in the trenches for Langham Creek. To take a district crown, the Lobos would have to upend Cypress Ranch, which will have a new head coach this year. Todd Thompson knows how to push the right buttons over at Langham Creek and should have this group contending for a district title and playoff run. Kash McCray will carry the offense early at running back, after rushing for nearly 500 yards last year. Also watch out for Brayden Staggs and Daniel Keys up on the line to open the lanes for him to bust through. Langham Creek will be seeking its fourth-straight playoff appearance and first district title since 2014 as it heads into this season.
Keep reading...
Show less