Fort Bend Christian Academy Magazine: Winter Wrap
Jun 04, 2021
LAROCCA, COLES LEAD BOYS TO AREA ROUND
THEFORT BEND CHRISTIAN BOYS BASKETBALL TEAM WAS BATTLE-TESTED ENTERING THE POSTSEASON WITH STATE CHAMPS TWCA, SECOND BAPTIST AND LUTHERAN SOUTH AS DISTRICT-MATES.
The Eagles beat Laredo's St. Augustine, 75-67, in the bi-district round, but fell to St. Mary's Hall of San Antonio, 71-64, in area.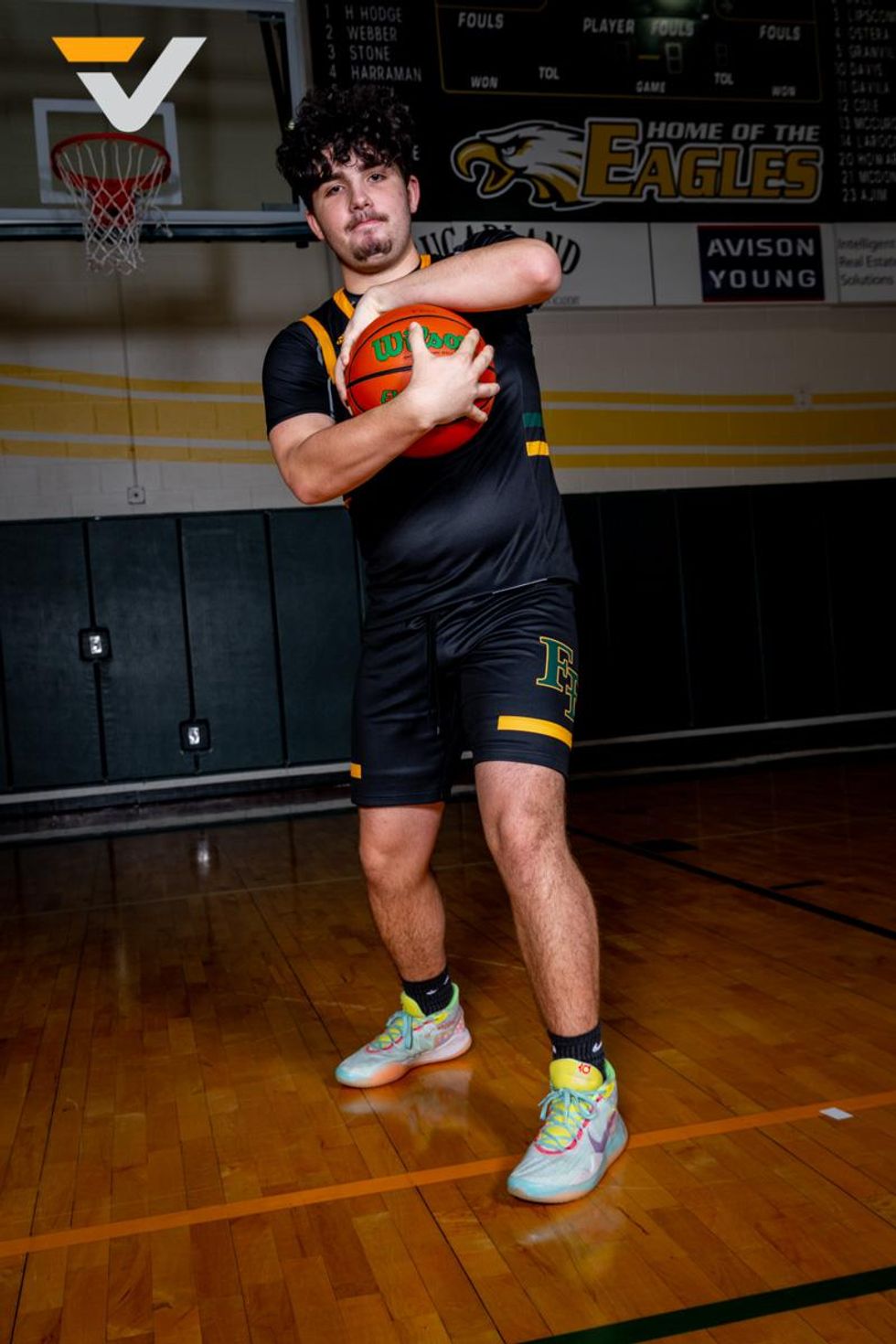 Sharpshooter Owen LaRocca hit the 1,000-point career mark this season en route to a first-team, all-state and all-district award. His backcourt-mate Samuel Cole was a first-team, all-district, and an all-state, honorable mention selection. Cole is just a sophomore point guard.

Solomon Cole, an Abilene Christian University football signee, was a second-teamer along with David Kasemervisz, a Stanford football preferred walk-on. Blake Scott earned an all-district, honorable-mention nod.
LADY EAGLES EARN ANOTHER PLAYOFF APPEARANCE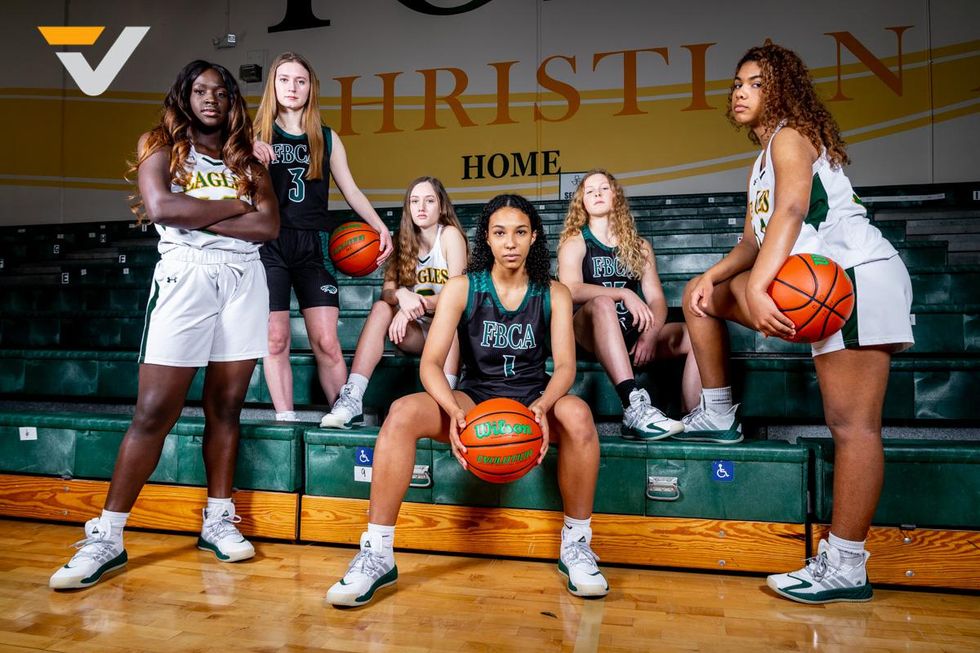 COACH TREY PHILLIPS LED HIS TEAM TO A 14-9 OVERALL RECORD AND THEIR DISTRICT RECORD WAS GOOD ENOUGH TO FINISH THIRD IN CONFERENCE PLAY. THE EAGLES BEAT AUSTIN'S HYDE PARK 44-37 IN THE BI-DISTRICT ROUND OF THE POSTSEASON BUT FELL IN AREA TO SAINT JOSEPH ACADEMY OF BROWNSVILLE.

The straw who stirred the drink was Nyah White. The senior averaged just over 10 points per game as she was named all-state, honorable mention and first-team, all-district.
Senior Samantha Williams also had a solid season with a first-team nod after scoring at a 7.5 ppg clip. Junior Angel Nwodu and sophomore Macy Granville return next season after a second-team nod. Senior Mary-Katherine Ferrell also was a second-teamer.
Junior Madison Dunn and sophomores Evyn Carpenter and Brooke McAnulty were honorable mentions.
AVILES, MONTOYA LEAD THE WAY FOR FBCA MENS SOCCER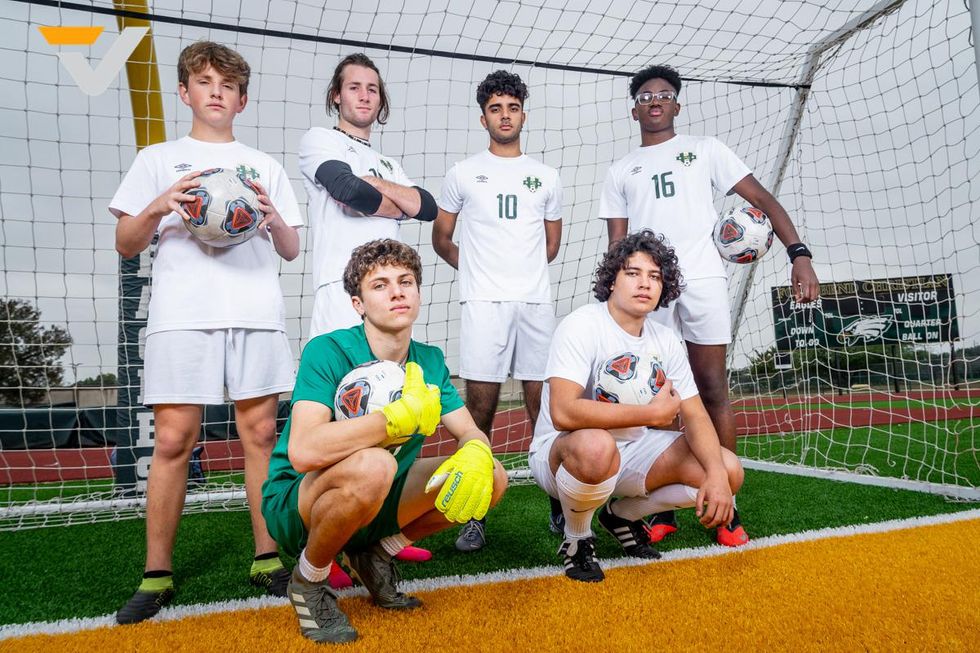 THE FORT BEND CHRISTIAN ACADEMY BOYS SOCCER TEAM FINISHED THIRD IN A VERY COMPETITIVE DISTRICT. THE EAGLES HOSTED A PLAYOFF GAME FOR THE FIRST TIME IN SEVERAL SEASONS AND KNOCKED OFF BRENTWOOD CHRISTIAN 4-0 IN THE BI-DISTRICT ROUND.

FBCA's season came to an end at the hands of St. Joseph Academy of Brownsville, 1-0, in an area round contest.
Ian Aviles led the way as an all-state, honorable mention. The senior, who signed with the University of Chester, was a first-team, all-district selection. Defenseman Austin Westfahl was second-team, all-state and first-team, all-district. Emanuel Montoya was also first-team, all-district. The freshman attacker is the future of the Eagle program.
Defensive standout Oluwafikunre Kuteyi earned a second-team nod, while goal-keeper Matthew Bernstein and midfielder Nadeem Rana were honorable mentions.
DEFENSE ON POINT FOR FBCA WOMENS SOCCER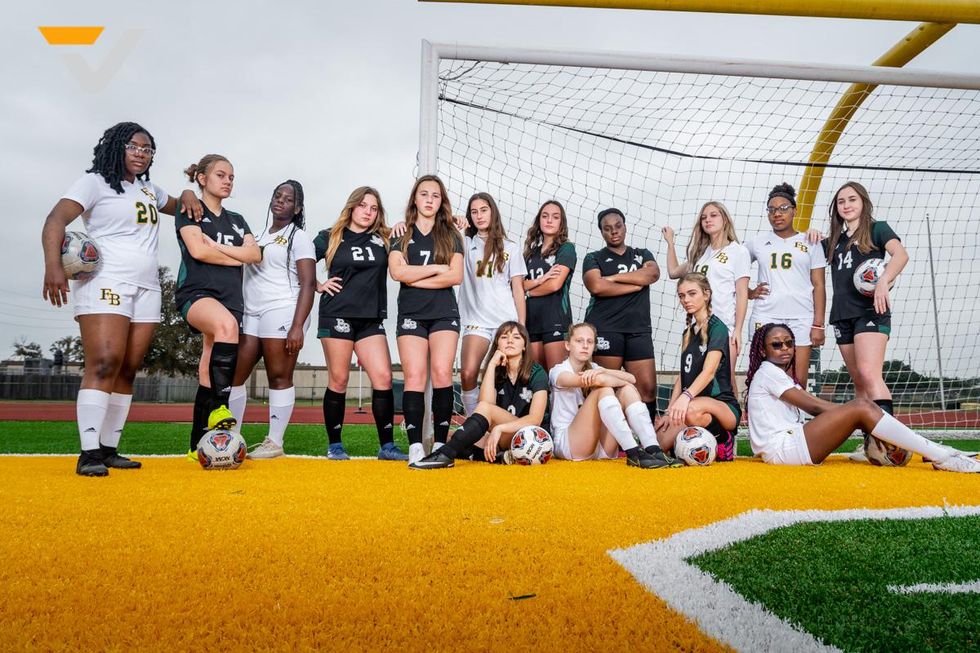 THE GIRLS TEAM HAD A SOLID SEASON, COMING OUT OF COVID. THE EAGLES LOST IN THE BI-DISTRICT ROUND TO ST. JOHN PAUL II OF CORPUS CHRISTI.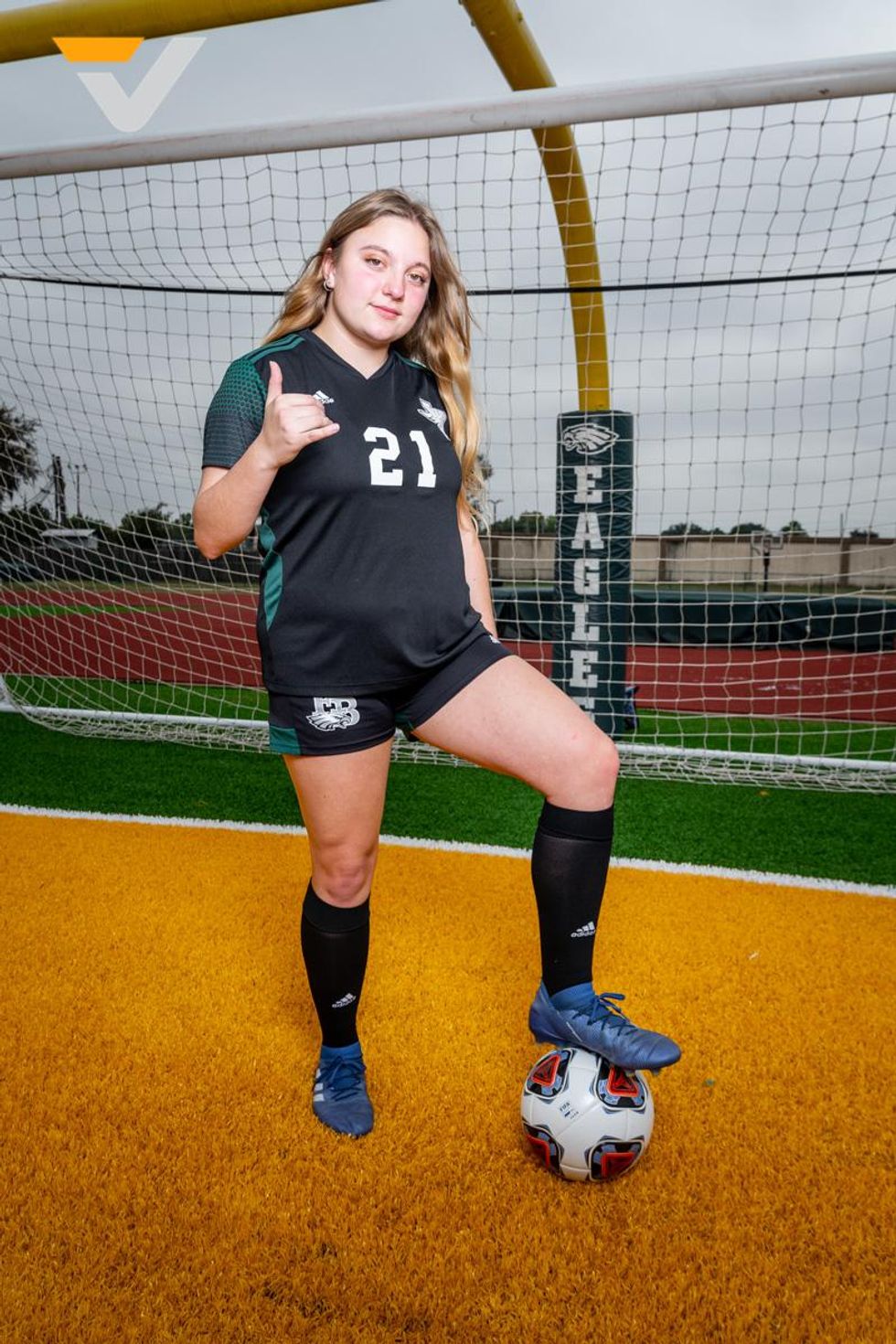 The Eagles were led by freshman Kyra Whitman, who was named first-team, all-district. The defense flexed all season as Abigail Preng and Jessica Crocker earned second-team, all-district nods. Crocker was a lock-down goal-keeper.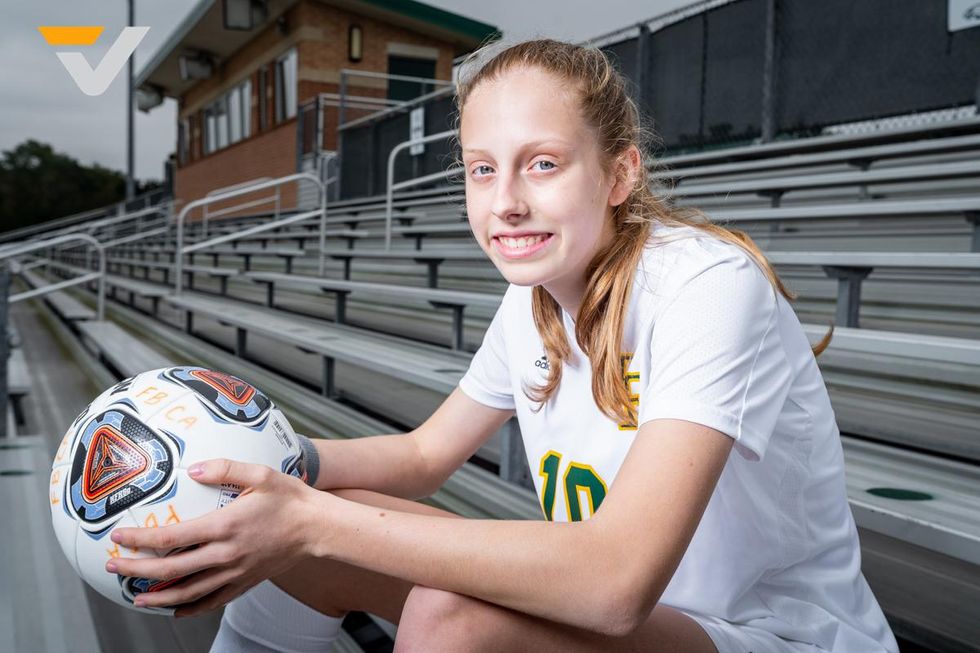 FBCA had a trio on the honorable mention team that included attacker Sydney Biles, midfielder Kiley Blanchard and defender Ruth Tamuno.

FBCA SWIM FUELED BY KLATT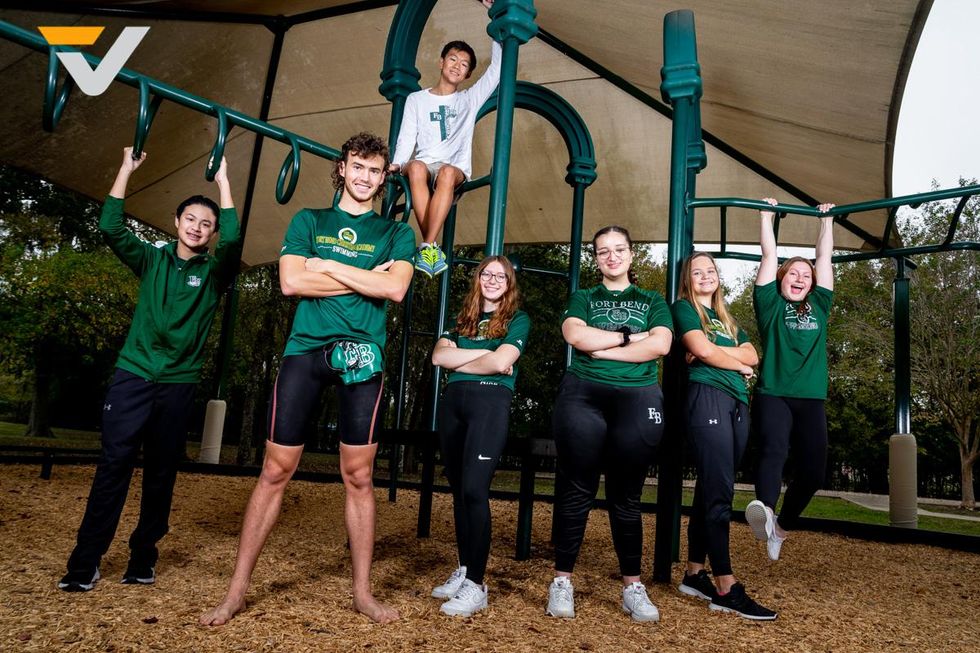 FORT BEND CHRISTIAN JUNIOR GRANT KLATT IS A BEAST IN THE POOL. HE VIRTUALLY HOLDS EVERY BOYS SWIMMING RECORD AT FBCA.

Klatt won a pair of TAPPS State titles in the winter and both times set state meet records. He won the 200- yard IM with a time of 1:51.5 and then set the 100-yard Butterfly record with a 49.37 mark.
Julio Jayes finished fourth in the 100-yard Backstroke, while the 400-yard Freestyle Relay team earned bronze. Overall, the Eagles finished fifth as a team.
The girls finished ninth overall as a team, led by sophomore Whitney Childs, who finished second in the 100-yard Butterfly and third in the 100-yard Backstroke.
The following earned Academic All-State Selections: Hung Dang, Conley Feng, Julio Jayes, Grant Klatt, Darian McMillen, Celso Perez, Madelyn Possi.