BACK-TO-BACK: Houston Christian captures another SPC Title
Feb 13, 2023
Bradley C. Collier (VYPE)
The Champs have done it again.
Despite having a target on their backs all season, Houston Christian girls basketball rose to the challenge, earning their second-consecutive SPC State Title.
Following an undefeated 2021-22 season (33-0), the Lady Mustangs didn't quite reach that level of perfection this Winter season. But, that didn't stop them from dominating the competition throughout their repeat year.
After going 26-4 in the regular season, and subsequent four-game advancement throughout the postseason, Houston Christian faced division rival Episcopal in the SPC Championship. With seniors -- D'Asia Thomas and Loghan Johnson -- leading the charge, the 'Stangs held their composure to retain the SPC crown winning 71-59.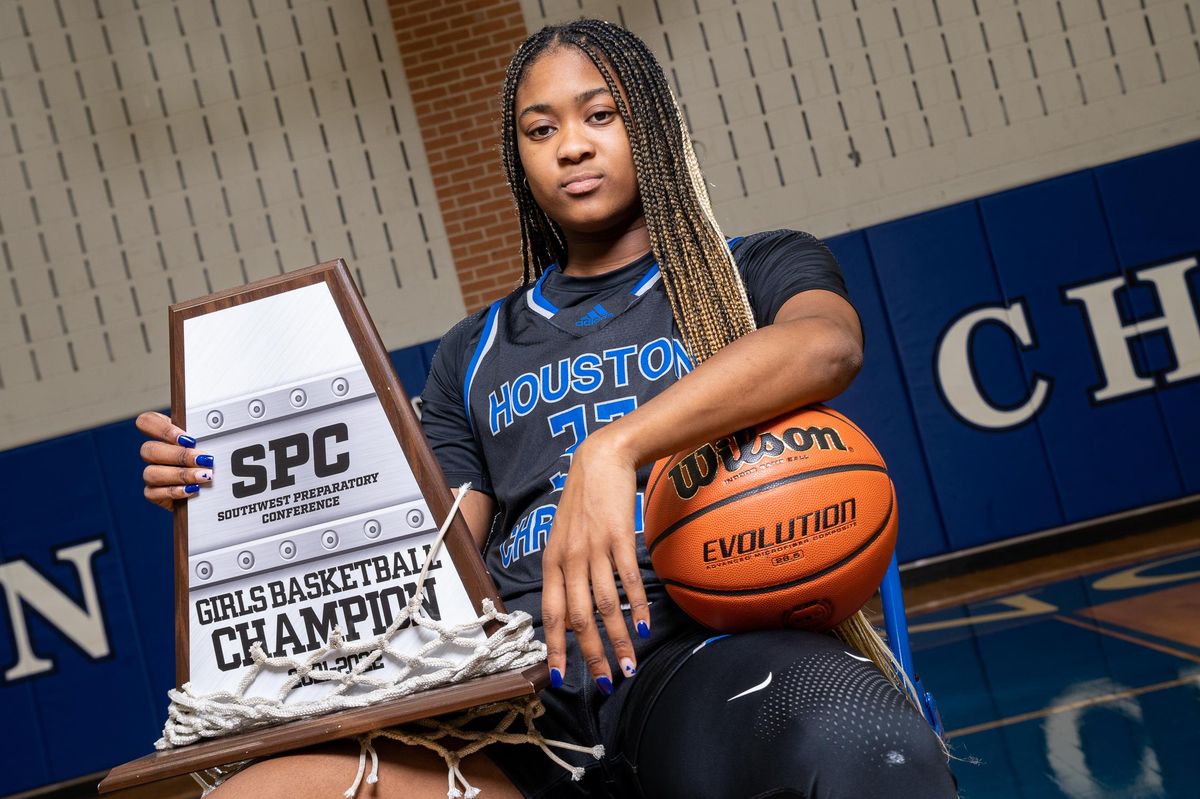 Houston Christian's D'Asia ThomasBradley C. Collier (VYPE)
Thomas, in particular, was instrumental in their victory scoring 28 points with 18 rebounds.
"I honestly don't feel a certain type of way [in regards to their second-straight title] because we've done it before, and it wasn't a surprise that we could do it again," said Thomas. "It was just a matter of how much we wanted it as a team and how hard we played together. After the win, we all just took in the moment and we wanted to witness the boys win as well. As soon as we heard they won, we went crazy. It's just exciting to see that both our teams fought to win SPC."
Despite missing the majority of Saturday's game due to an illness, senior SG/SF Loghan Johnson played a major role on the Mustangs' roster this season surpassing 2,000 career points in the process. However, she credits her team's success to something much less tangible.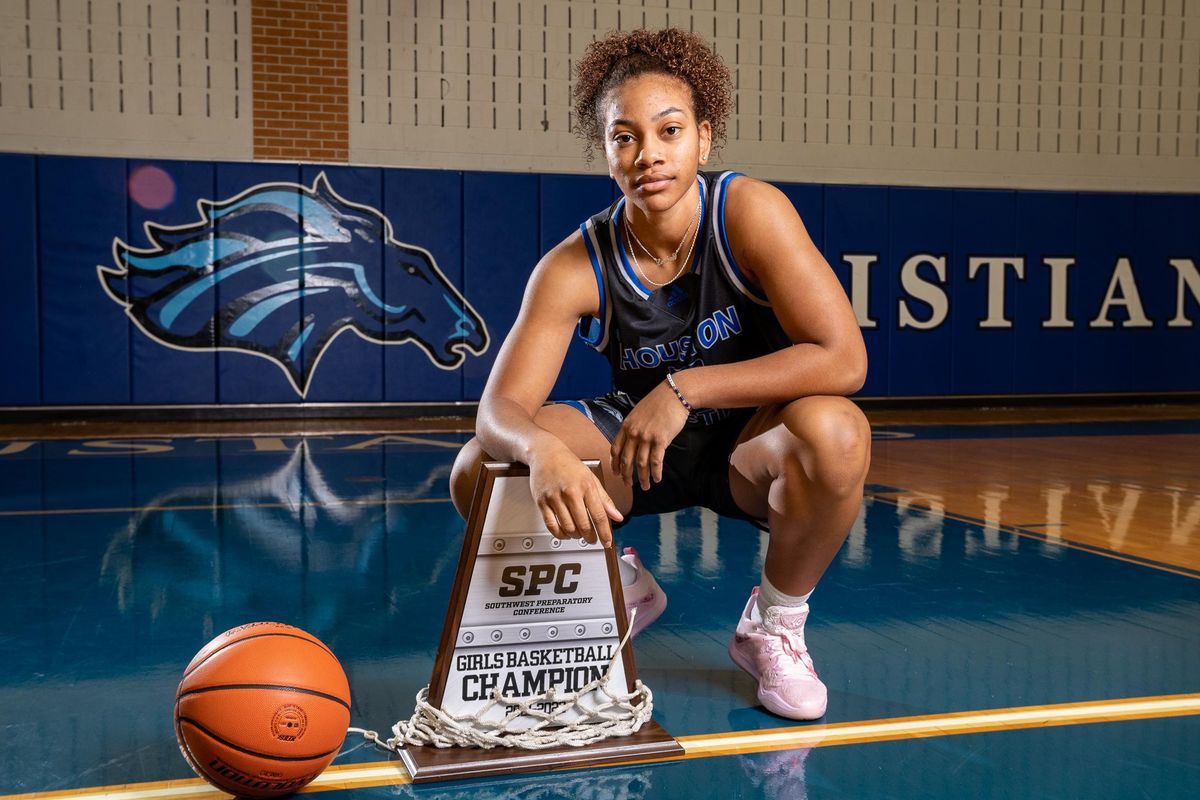 Houston Christian's Logan JohnsonBradley C. Collier (VYPE)
"Energy was something that was never really lacking in big moments for us," she said. "Our energy was definitely contagious throughout our team, which turned into hustle and determination that was able to help us get through a lot of games. If there was a way to measure it, I'd say we always had the most."
Both seniors have certainly enjoyed the time spent at Houston Christian. Obviously, championships will do that. Although, the experience they've gained isn't lost on them.
"I'm glad I got the opportunity to come here," Thomas said. "Some lessons I've learned at Houston Christian will help me to always keep fighting and have a winning mindset as I move on."
Thomas will be advancing to Georiga Tech, and Johnson to Texas Tech at the conclusion of this semester. Despite the fact that they won't be a part of next year's program, the two are confident that Mustangs' girls basketball will remain a contender for years to come.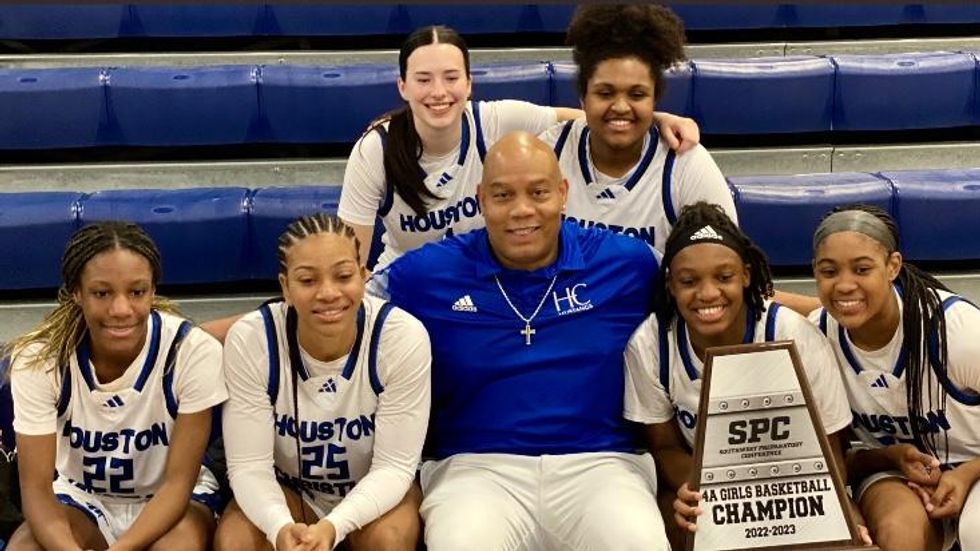 The stars of HCHS Girls B-Ball with Head Coach Ryan Bickham, post-victoryPhoto taken by HCHS' Madison Williams' mother: @Donster16
"I think the future of HC is something to look forward to watching," Johnson said. "The biggest lesson I learned from Houston Christian was our motto, 'we over me'. I think I've learned that it takes a whole team, not just one person. Everyone has to buy in mentally and physically to have such a successful season as we did. So, seeing what the younger players will do and who'll step up into those leadership roles now that six seniors are graduating, will be interesting to see.