VYPE AWARDS: Private School Cross Country presented by Houston Methodist & Sports Medicine
Dec 28, 2022
...

ALL-VYPE PRIVATE SCHOOL TEAMS
Private School Girls Cross Country Team
Mackenna Bessler, Bay Area Christian
Anna Bordas, St. Pius X
Zoe Calimani, TWCA
Alexa Christensen, St. John's
Charlotte Freeman, Legacy Prep
Lucy Holden, Episcopal
Averi Garrity, St. John 23
Marin Goebel, St. Agnes
Hannah Mann, Providence Classical
Madison Morgan, Episcopal
…
Private School Boys Cross Country Team
Wilson Bailey, St. John's
David Carbajal, St. Thomas
Marcus Gaitan, LSA
Cody Hogan, Logos Prep
Benjamin Lauzon, St. Thomas
Zachary Kleppel, Providence Classical
Luke Mason, Logos Prep
Sam Marino, Episcopal
Aiden Rivers, Legacy Prep
Jonathan Vuong, Rosehill Christian
...
GIRLS RUNNER OF THE YEAR FINALISTS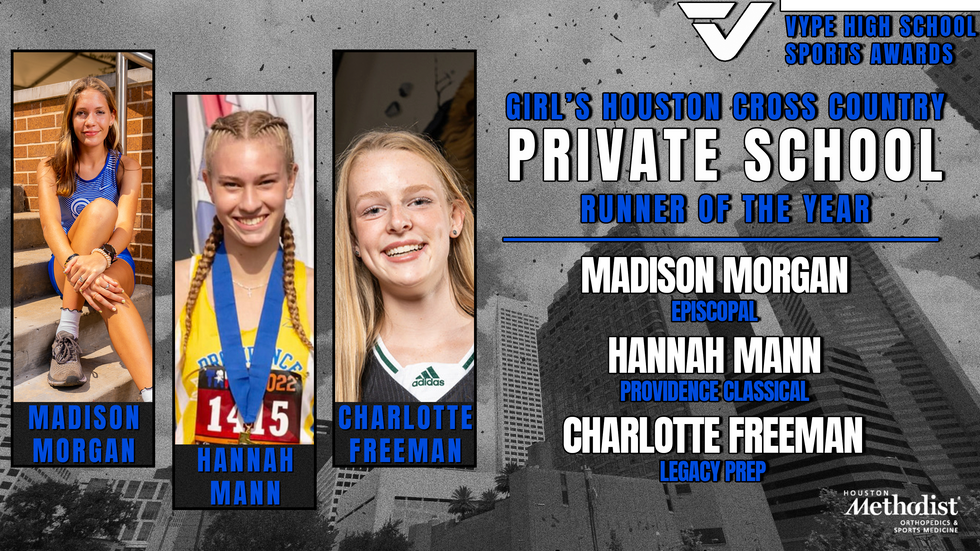 BOYS RUNNER OF THE YEAR FINALISTS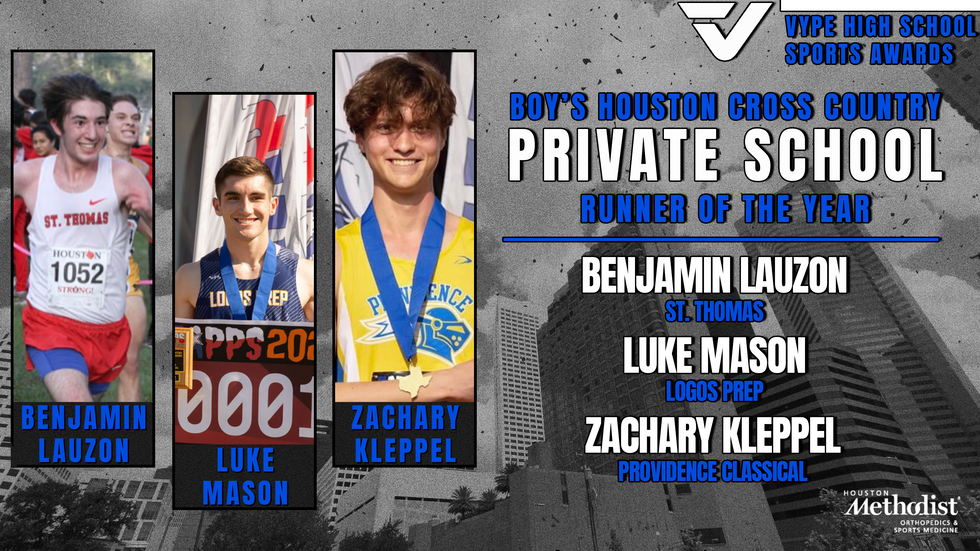 ...
Watch the video below to find out who won the Private School Cross Country VYPE Awards presented by Houston Methodist Orthopedic & Sports Medicine
Houston Methodist Orthopedics & Sports Medicine is Houston's leading provider of orthopedic services, from sports medicine to joint replacement. Houston Methodist offers comprehensive diagnostic, treatment and rehabilitative services with a high standard of excellence for elite athletes, active adults and student athletes. Houston Methodist serves as the official health care provider for the Houston Texans, Houston Astros, Rice Athletics, Houston Livestock Show and Rodeo™, Houston Ballet, Houston Symphony and Houston Grand Opera.