The Playmakers powered by UTMB Health
Mar 16, 2022
Photo by Bradley Collier || VYPE Media
The Greater Houston-Area is loaded with elite talent in every sport. Welcome to the VYPE Playmakers powered by UTMB Health, where we will head down south and recognize of Galveston and Brazoria County's best athletes.
Addison Engle - Pearland Dawson 
Some regular season stats before playoffs start..
22/22 games started
1,380 min played
0.81 GAA
5 full game shutouts
9 first half shutouts(our awesome freshman GK, Zoe, played 2nd half)#GKunion @DHSLadySoccer @tascosoccer @50_50Pod @LethalSoccer @GIK_FemaleHUB @ImCollegeSoccer pic.twitter.com/mOLc4QUe7F

— Addison Engle (@engle_addison) March 13, 2022
What is one of the keys to a successful soccer team? Having a solid goalie back in net. Addison Engle provides that for Pearland Dawson. The junior goalkeeper helped Dawson to a 17-2-3 overall record and second place finish in district play. For her season, Engle was a part of 14 shutouts and started all 22 games for the Eagles. She averaged just 0.81 goals per match and clocked 1,380 minutes. Engle will be a key to the Eagles' success come the playoffs.
Tyriq Brunn- Shadow Creek
Top Men's times achieved over the past 7 days in TX: 100m-Tyriq Brunn (Shadow Creek) 10.56 200m-Omari Mitchell (Mansfield Timberview) 21.43 400m-Jamari Harts (DeSoto) 47.83 800m-Walker St. John (Grapevine) 1:53.32

— the track nerd (@track_nerd) February 22, 2022
Tyriq Brunn may be a name to remember this track season. The Shadow Creek senior is off to a blazing start this season. After a personal best of 10.56 in the 100-meter dash back in February at the William D Sirmon Relay, Brunn with that time still holds the best mark in the State of Texas in mid-March. Brunn has also fared well in the 200-meter dash winning the Stafford Spartan Relays on March 4 with a time of 21.87 seconds.
Last season, Brunn reached the Region III-6A Meet for the 200-meter dash and finished 9th overall. He had a solid AAU season this summer in both the 200 and 100-meter dashes.
Mykenna Robbins - Lutheran South Academy 
Congratulations Makynna Robbins on making Second Team All State!! pic.twitter.com/ij5TCV6yHW

— LSA Athletics (@lsaathl) March 11, 2022
Lutheran South Academy's Mykenna Robbins put up big numbers this year and the awards rolled in for it. Robbins was named TAPPS second-team, all-state recently after leading the Pioneers with 18.2 points and 11.3 rebounds per game. She also chipped in 1.9 assists and 2.9 steals per game. Robbins is just a sophomore and with that in mind, she will continue to just get better and better as time goes on.
Noah Baca - La Porte
Congrats to Noah Baca for committing to @UMHB! They are getting one standup student athlete. Glad he is ours to finish out the season! #LPELITE pic.twitter.com/6bwrNqxR6i

— La Porte XC/Track (@LaPorteRunning) March 4, 2022
Noah Baca will be taking his running talents to the next level. The senior at the beginning of March signed with the University of Mary-Hardin Baylor. Baca is a distance runner for La Porte. In cross country season, Baca advanced to the UIL State Cross Country meet after finishing 8th at the District 22-5A meet and 20th at the Region III Championship. He finished 89th at State. Now, in track season, Baca has already ran a personal best in all three of his races - the 800-meter, 1600-meter and 3200-meter events.
Kristopher Johnson - Galveston O'Connell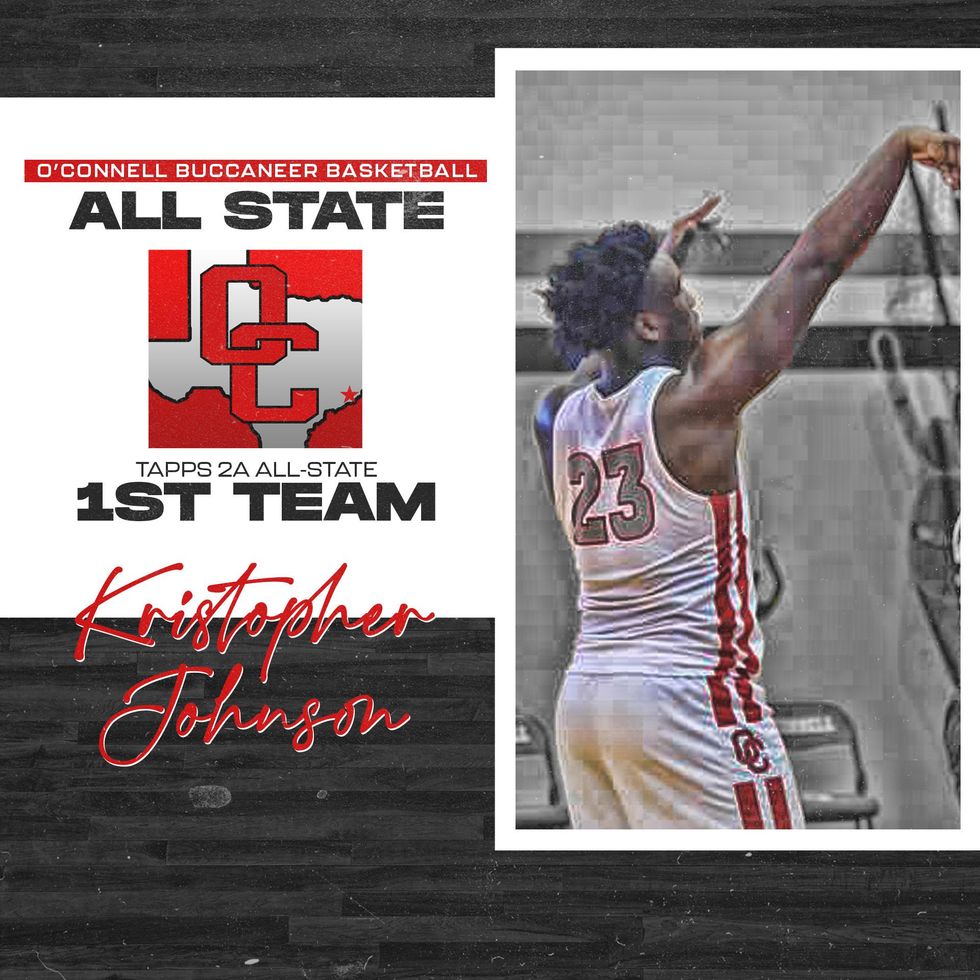 Galveston O'Connell reached the TAPPS 2A State Tournament at the beginning of March. The Bucs finished the season 25-7 overall and ranked No. 3 in the state by TABC Hoops. One of the key pieces to O'Connell's run was junior Kristopher Johnson who averaged a team-leading 17.6 points and 9.2 rebounds per game. Johnson also had 4.4 assists and 3.1 steals per game. The junior was named to the TAPPS 2A first-team, all-state squad recently.
Our specialists recognize the importance of being able to maintain an active lifestyle and whether you're looking to address a joint injury, receive prompt treatment for a concussion, or simply improve your overall athletic performance, UTMB Health Orthopedics Sports Medicine is here to help.