There is so much fun to be had at a VYPE Media Days!

From team and individual pictures, social media shout-outs and video interviews, it is all there for the student-athletes to feel like a superstar. VYPE had its Willis High School 2023 Winter Media Day recently.
Check out some of the best Willis has to offer in the behind-the-scenes Hype Video from the Media Day!
Bradley C. Collier (VYPE)
The Mavs were 23-12 last season and finished in a three-way tie for District 22-6A in wins and losses.
Not to bury the lead, but Robert Miller III (6-foot-11) is the No. 1 prospect in the state of Texas, averaging over 20 points per game a year ago. He is headed to LSU next season.
Gary Brown will compliment Miller and averaged over 13 points a year ago. Senior Tyler Cook is a shooting guard that will provide additional scoring, while Chris Jones Jr.will run the point.
Bradley C. Collier (VYPE)
HITCHCOCK RETURNS TO THE COURT THIS WINTER HAVING MADE SCHOOL HISTORY A YEAR AGO, EARNING THE FIRST UIL STATE CHAMPIONSHIP (CLASS 3A) IN PROGRAM HISTORY.
This precedent was established on the heels of reaching the title game in 2021, and the Bulldogs are looking to make it three-for-three.
Tenth-year coach Christopher Jordan-Foster will bank on his team's physicality, particularly on defense, to make that goal a reality.
"Having some really fast and physical guys on the floor helps us out a lot," he said. "I know we're not going to be as polished offensively compared to some teams that do it year-round, before getting our football guys back late. However, like I tell them all the time, 'defense travels with us'."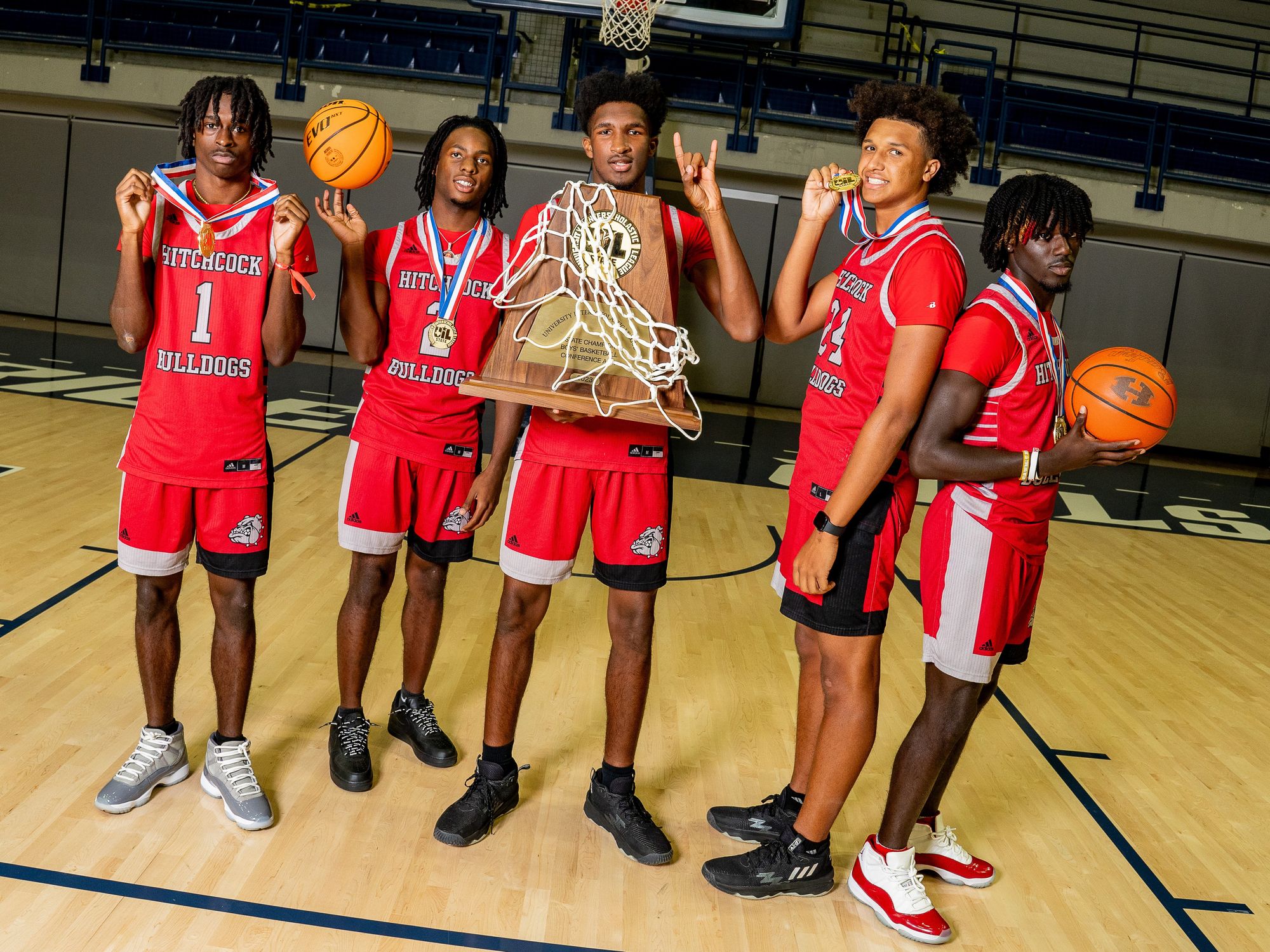 The stars of 2023-24 Hitchcock BasketballBradley C. Collier (VYPE)
Being a Hitchcock alumnus himself, Jordan-Foster knows a little something about the ownership his team takes in their game.
"I'm a hometown kid," he said. "There's something different about bringing something back to your home, which makes you have a little bit more pride in your work. I stress that to the guys, as well. It's more personal and I want them to feel that – looking back to when you made history for your community."
That upbringing is likely what feeds into the culture he's brought back to Hitchcock.
"Those guys growing up together, playing alongside one another for a while has played a key factor in the growth of the culture," said Jordan-Foster. "Also, changing systems from a zone-press to more of a full-court man was a game-changer for us. That's kind of our M.O. – we're going full-court every time."
The Bulldogs will feature several returners from last year's championship squad, including Damien McDaniel (Sr. G), Lloyd "Chubby"Jones III (Jr. PF), Kelshaun Johnson (Jr. G) and Elijah Sherwood (Jr. G), who Jordan-Foster expects to take a big step forward this season.
So, what will it take for Jordan-Foster and Hitchcock to run it back in 2024?
"First of all, it's going to take some focus," he said. "With a lot of football guys coming onto the court, health is a key component to this as well. I've had these guys for a while now, so they know what I expect from them when we head into the Winter. But, staying healthy will definitely be important to us."
The stage is set. Now, it's time for the encore.
Join the #VYPETEAM
Get up to date news from all over the country!