Recruit of the Week: Aledo volleyball's Vivian Parker presented by Academy Sports + Outdoors
Nov 23, 2021
Photo provided by Vivian Parker
As the 2021-22 volleyball season comes to a close, it's fun to look back and see all of the highlights of amazing athletes who spent the season showcasing their talents on the courts. While only a handful of teams could earn the right to make it to the UIL State Tournament, there were still plenty of athletes who had stellar seasons. One of those athletes is none other than Aledo's sophomore outside hitter Vivian Parker. VYPEDFW was able to catch up with Parker following Aledo's season:
Outstanding Season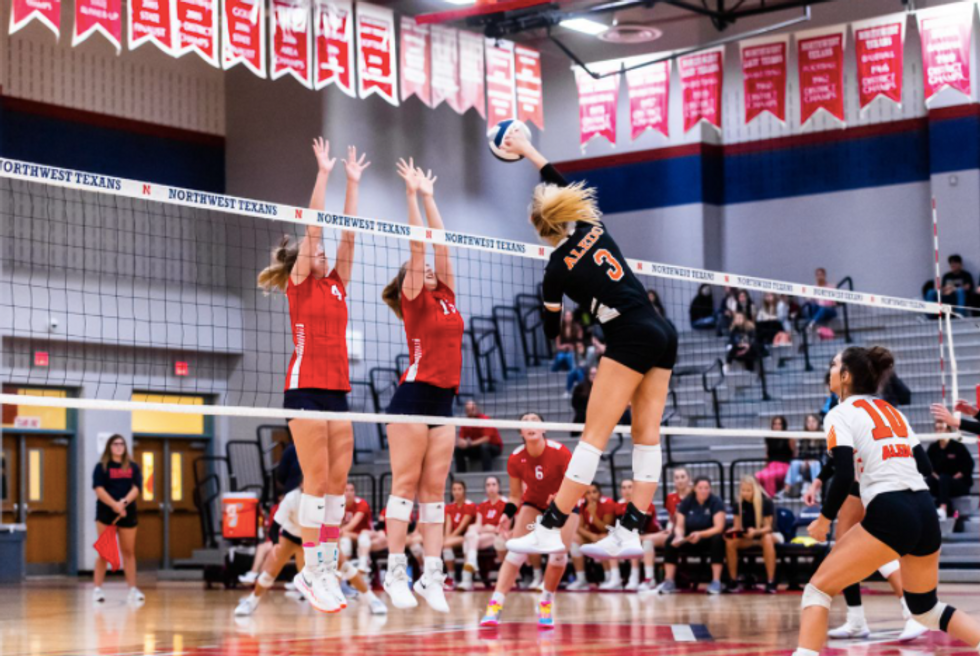 Photo provided by Vivian Parker
Parker posted an incredible season as she helped lead Aledo to the first round of playoffs. Parker led the team in kills with 429, tallied 489 digs (second highest on the team), 32 blocks, 31 aces, and posted a .250% hitting percentage. An athlete doesn't just get good overnight. It takes a lot of hard work, dedication, and time to mold yourself into the player that you hope to become. Parker says the secret to her success this season is that there's no secret. "My amazing coach, Clair Gay. She is so great about communicating, putting us in situations to succeed, and talking us through our failures in order to help us learn how to use those failures to grow," Parker told VYPE. "Over the season she puts us in more and more of those situations and we succeed in small steps. Over time, the small steps are a big change."
One of the things that helps make a team stronger is the relationships that the athletes build with one another. For Parker, she believes not only does this make all the difference, but it has been key to Aledo's success. "The secret to our team's success this year was that we had a very close bond outside of volleyball," she started. "We spent all of August through November together and it made every practice more enjoyable because we were all very close friends."
Accomplishing Goals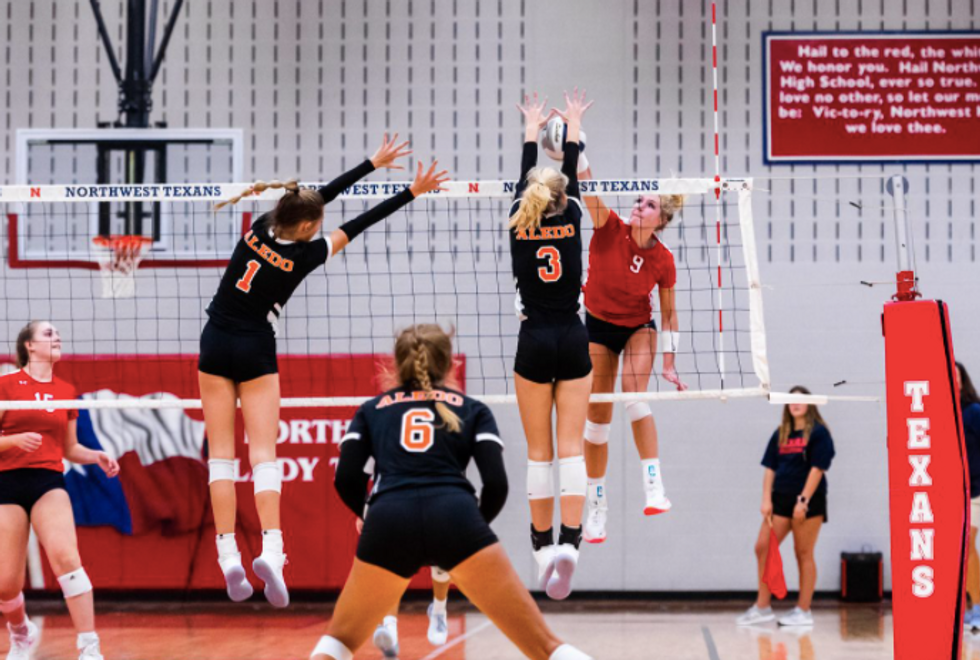 Photo provided by Vivian Parker
Going into her sophomore season, Parker had plenty of goals that she wanted to focus on. "I came in with some really concrete goals this year. I wanted to get at least 400 kills and 500 digs while hitting at least .250% for the season. We also got eliminated in the first round of playoffs last year, so I wanted to get passed that game this season. I beat my kills goal and fell 11 short of my digs goal. I hit exactly .250%, so I felt good about those. We lost a heartbreaker in the first round of the playoffs to a really great Birdville team (13-15 in the fifth set). It adds fire for next year." Parker was also named as the utility player of the year for Aledo's district, an accomplishment she marks as her biggest so far in her first season to play six rotation outside hitter.
With her goals laid out before her, Parker had an excellent mindset... continuing to grow. "Last year, for school, I played outside hitter, but didn't play as much defense or serve receive. So, this was really my first year to play all the way around. I wanted to absorb and work on each part, defense and serve receiver to feel for how to do those things correctly- especially when it all starts to go wrong," Parker told VYPE. "I also wanted to improve my range of shots from the pins. I also really wanted to watch the upperclassmen on how they lead and develop because being an upperclassman myself is coming fast."
Making Memories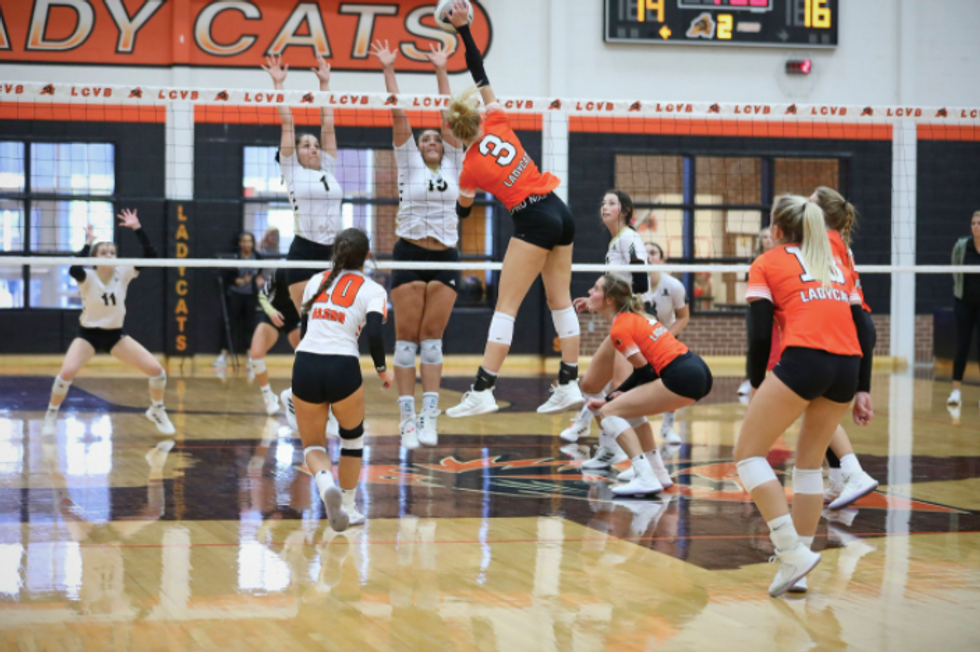 Photo provided by Vivian Parker
Although she is just a sophomore, Parker has made plenty of memories with her team so far. That's not hard to do when you're close with your teammates and spend a lot of time together. When asked what her favorite memory with Aledo volleyball has been so far, Parker drew from this season. "A big game we had this season with our rival for the district title," Parker started. "They are a really good team with nine seniors on their roster. Earlier in the season, they came to our place and beat us in straight sets. It looked like they were going to run away with the district title this year. For our second meeting at their place, they made a huge deal about it on social media- they made the game a 'blackout game' and really pushed to get the stands full in order to watch them close out district against us. We went in and beat them in straight sets. It was my favorite moment because it's the best we played as a complete team all season. It was a great team win for us."
On offseason and the future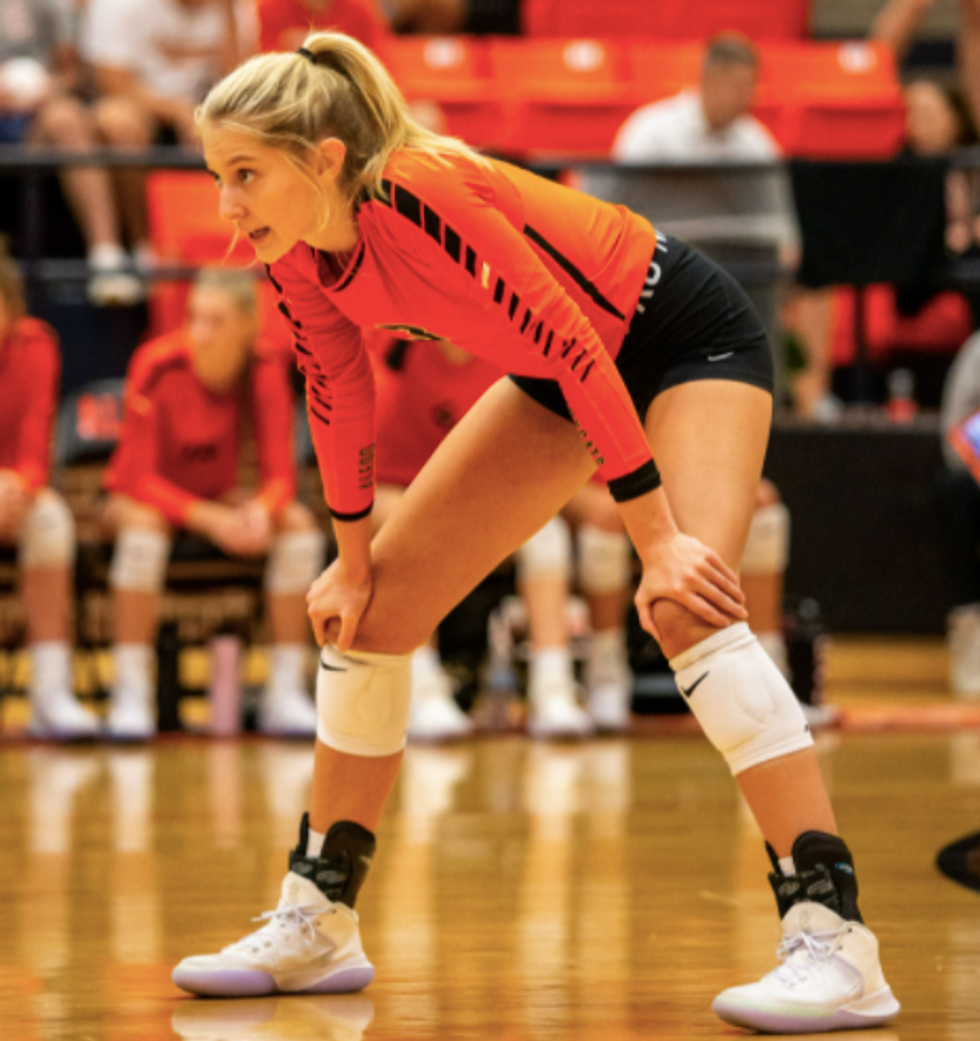 Photo provided by Vivian Parker
One of the things that makes a good athlete become a great athlete is their willingness to continue to put in the hard work when no one is watching- during the offseason. When asked about how she stays focused during the offseason, Parker said: "Offseason? We basically get three-ish weeks off in between the school season ending and the club season starting, so it feels more like a short break. I do take the time to get my body right and back to a good baseline to reduce injury risk. The gym where I go- APEC in Fort Worth- has a great program to get everything balanced back out, fix nagging issues, and get you where you need to be going into the club season. I use the time from early November through December to build a good foundation for club season."
Since Parker is just a sophomore, she has not yet committed to a college program, but this doesn't keep her from being excited about beginning the process. "What I'm looking for in a college is strong team culture with similar goals- both as a team and as people with coach/player relationships," Parker said during her exclusive interview. "Yes, I want to win and play at the highest level possible, but volleyball will be over in a few years. The lessons we learn in sports are valuable for life. I'm looking for a program that values us as people and teaches us how to win correctly, mentors us, and prepares us to be the most successful adults after we graduate."
For now, Parker isn't exactly sure what she wants to major in, but with a heart for helping others, she is interested in and considering education/special education or something in health sciences.
Fun Questions:
Who is your favorite professional sports team?
"My favorite professional sports team is the Dallas Mavericks."
Who do you look up to most as an athlete?
"Alli Stumler, the outside hitter from Kentucky."
If you could go to dinner with one person (dead or alive) who would it be?
"Also Alli Stumler. I think she's an amazing player, but more importantly an amazing person."
For all the ways you love to play, Academy Sports and Outdoors makes it easier than ever to gear up and have fun out there! Get free shipping on your favorite brands at academy.com or get free curbside or in-store pick-up at your Academy store. Gear up this Winter at Academy Sports and Outdoors.