In their second district game of the season, Aubrey is traveling to Gainesville to face off against a tough Leopards squad. Both teams are looking to secure a second district victory on Friday night. VYPE DFW dives into their seasons so far:
Aubrey Chaparrals (1-4, 1-0)
Aubrey had a tough time in non-district play as they faced off against tough opponents like Sunnyvale, Anna, and Frisco Panther Creek. With a forfeit against Arlington Seguin, the team went 0-4 through their non-district matchups. Battling through intense moments on the field, the Chaparrals learned to overcome challenges and enter district play ready to get the job done.
As the team entered district play last week, they hosted Bridgeport in a 49-9 victory. Led by Emerson Cagle, Dylan Brooks, Alex Osterman, Landon Martino, Xavier McCoy, Tyler Brown, and others, Aubrey is looking to continue their strong effort in district play on Friday night in Gainesville.
Gainesville Leopards (4-1, 1-0)
Gainesville is having a strong season so far. Their only loss came in a hard-fought 21-20 battle against Vernon in a week two home opener. Through non-district play, the Leopards posted big wins against Trinity Leadership (48-20), Dallas Hillcrest (28-21), and Denton (51-47) to set the tone for their season.
Entering district play, Gainesville went on the road and fought against Sanger. Outlasting Sanger, Gainesville posted a 45-31 victory in which the offense recorded over 320 rushing yards in the game. Led by Ladanian White, Cade Searcy, Payton Mathews, London Daniels, Marcus Murphy, and others, this offense is ready to battle on Friday night in front of a home crowd.
What To Expect
Last season, Aubrey defeated Gainesville in a 63-6 dominating fashion during their undefeated district run (6-0). Looking to improve their record this season, the Chaparrals will do whatever it takes to overpower Gainesville right out of the gate. Gainesville has had incredible game IQ this season- a defense that knows how to make timely stops paired with an offense that moves with a purpose just might have what it takes to finish the job against Aubrey.
Kick-off is slated for 7:30 p.m. on Friday, September 29th at Gainesville High School.
Bradley C. Collier (VYPE)
If Fort Bend Christian Volleyball has proven anything through the first half of the season, it is not to underestimate them. Otherwise, they will promptly show that they mean business.
Despite several stars graduating from the 2021 championship team, second-year coach Tommy Sustala quickly guided a youthful team back into the status of being title-contenders.
"Coming in last year, with pretty high expectations in the program, and losing several key players of their championship team was a daunting task," he said. "But, we just kept building from there, and before you knew it, we hadn't lost a district match and advanced to the State Finals."
"This year, we've gained several key pieces. We're better than we were last year, and we're already halfway through district with several players to depend on, and the team is looking to keep that rolling."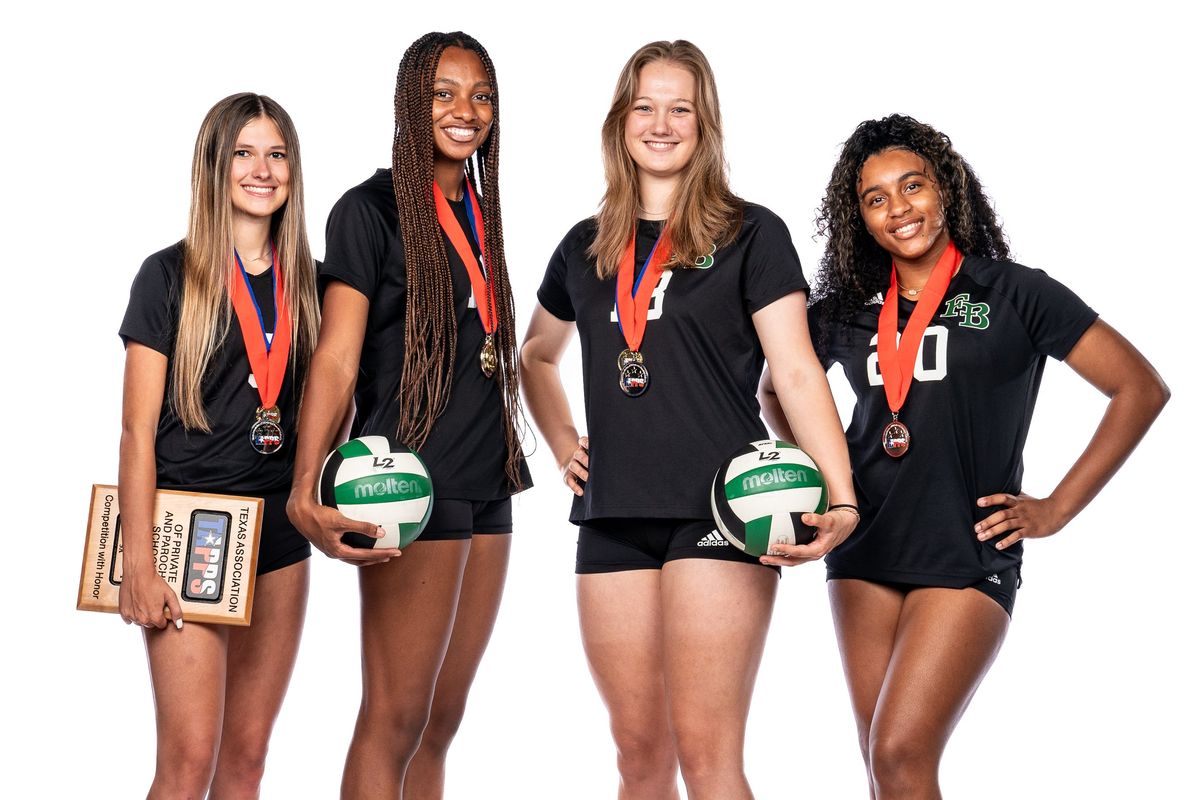 Bradley C. Collier (VYPE)
As Sustala acknowledged, FBCA hasn't lost to a district opponent since their 2020-21 season. That streak was extended when they faced off against a highly-ranked adversary in the Lutheran South Pioneers, in which the Eagles trounced LSA (3-0) in their first matchup of the season.
"Our kids have taken it personally that they've been a little overlooked in the private school competition," said Sustala. "I love it, as a coach. We're not going to necessarily catch people by surprise, but kind of flying under the radar works to our advantage."
"The road through the district and the state tournament runs through our school, so when they see another school like LSA getting deserved recognition, it gets them fired up. I love it, as a coach, because it motivates them with the important matches that stand before us."
Rest assured, Fort Bend Christian (now 23-3) deservedly sits at the top of our current private school rankings.
But one stands to wonder, what has coach Sustala added to the program after the departure of
"I've had the great opportunity to coach some really high-level club volleyball," he said. "With the training I've gained from Houston Juniors and Houston Skyline for five years each, I feel that I bring a very technical approach to the game, especially with the statistics side of things."
"I believe that having those high-pressure matches in the world of club ball gets you well prepared as a coach, as well as for the players. That experience is invaluable when you have the depth that we do at Fort Bend Christian, and the competition we face, year after year, has really allowed us to thrive."
Throughout this Fall, Sustala has had the luxury of working with game-changers such as Bayleigh Minor (Jr. MB), Cambry Gerardi (Sr. OH), Layne Bulow (Jr. OH), Ruth Ochelli (Jr. RS), Daniela Ramirez (So. L), and Lauren LeRoux (Jr. S).
With their current trajectory, another TAPPS state title could be within the grasp of FBCA.
Bradley C. Collier (VYPE)
Every team needs its captain.
Taking on that role requires not only the confidence in oneself to lead by example, but often the social prowess to instill that same confidence in one's teammates. To encourage them at a moment's notice.
Fortunately for the Travis Tigers volleyball program, their team captain junior setter Ava Williams has prowess to spare.
"Being the captain, I've become a very vocal person and I like to keep everyone involved," she said. "I take my time to make sure I go out of my way to get to know every teammate that I have, so that we can all bond and play well together as a team. The best teams have the best connections.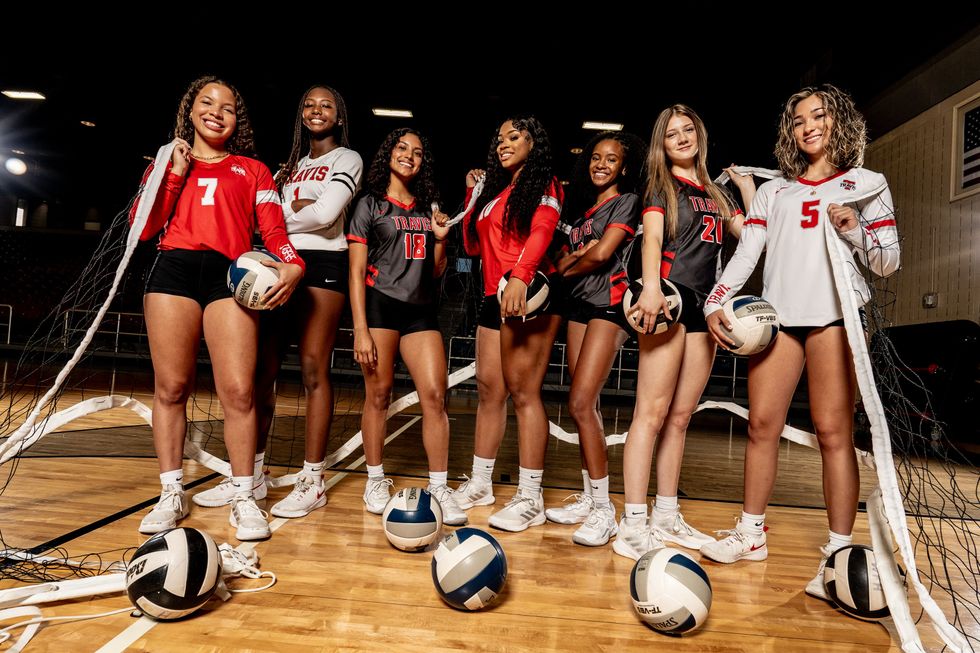 2023-24 Travis Tigers VolleyballBradley C. Collier (VYPE)
"Other than playing volleyball, we will do our best to bond with each other outside of the game. For example, we went out into the woods together without our phones to see how we would manage. We'll do team dinners and other things together to keep that dynamic strong."
Volleyball is a full-time gig for Williams.
In addition to playing for Travis and the teams that preceded her time at the school, she competed at Houston Skyline with her sister until she was 15 years old, before moving over to her current club team Katy United.
"I started playing when I was really young and have just kept going with it," said Williams. "Since then it's always been a part of my life, with both my club and school teams. I just can't get away from it. I also ran track in middle school, but when high school started I knew that volleyball was something I had to fully commit myself to."
So what does the future hold for this junior Tiger?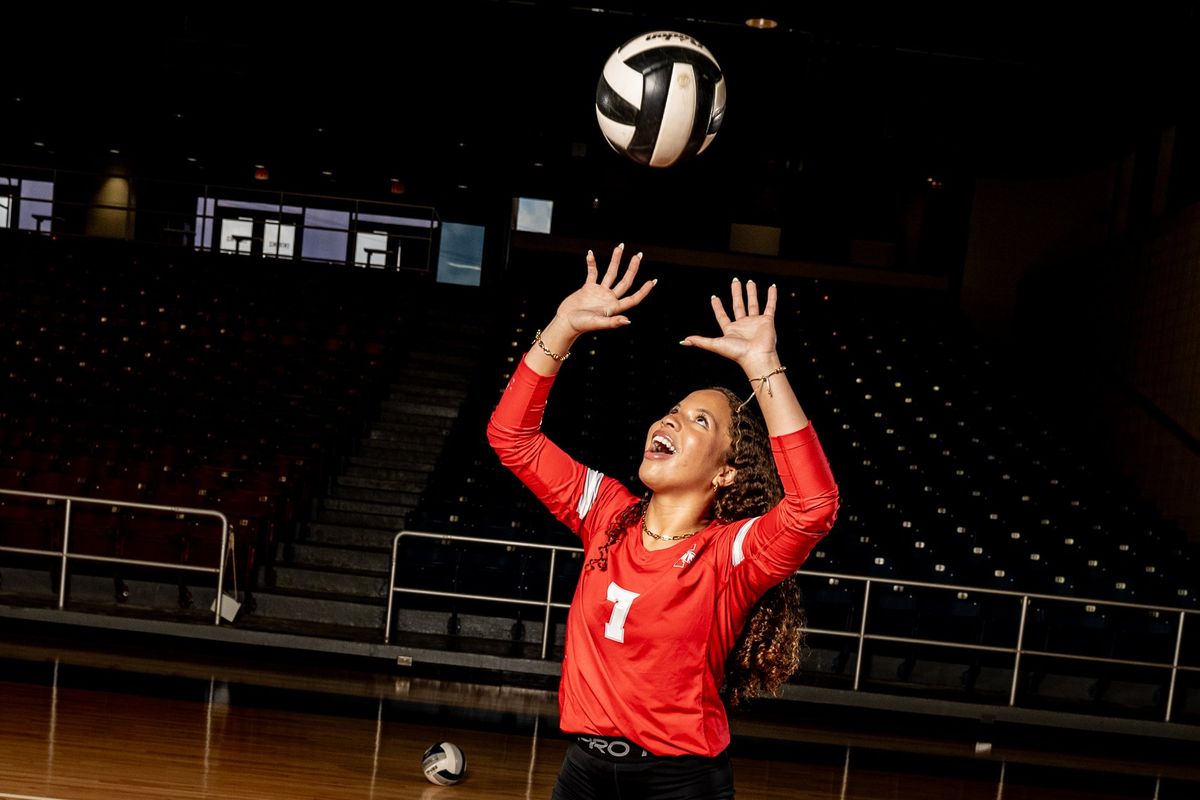 Bradley C. Collier (VYPE)
"I definitely want to play in college," Williams said. "I've been leaning towards the Florida area, so I've been in contact with schools over there. I haven't decided what I've wanted to major in yet, but I think I want to go into the Sports Entertainment industry at some point. As an athlete, you want to be around other athletes, and that seems like it would be an interactive and fun job for me."
Williams is clearly a people person. That's something she likely picked up in her time at Travis, which she holds in high regard.
"I think Travis is one of the best schools in Fort Bend," she said. "The academics, athletics, and amount of diversity we have has allowed me to excel as a person because I've been exposed to different types of people and ideas. Travis has the environment that can prepare any student for the real world and that will be incredibly beneficial for me, further down the road."
Keep an eye out for Williams as she and her team undergo their remaining district schedule. Given how vocal she is, it won't be hard to miss her.
Join the #VYPETEAM
Get up to date news from all over the country!