4-for-4: George Ranch's Harkrider a 4-time state qualifier
Nov 04, 2021
Olivia Raymond | VYPE Media
Haley "Lexi" Harkrider knows what it's like to be one of the best cross country athletes in the state of Texas. The George Ranch senior has been one since her freshman year.

Harkrider is headed to the UIL Class 6A state meet for the fourth straight year after helping lead the Longhorns to an 11th consecutive district championship and finishing 17th individually at the Region III-6A meet last month.
"It's really exciting," Harkrider said. "Honestly, I'm proud of myself, and I'm thankful for everyone who's helped me to get to where I am. Making it to state all four years is tough. The last two years were really hard, because of the heat. Last year, I (blacked out) twice, and this year some races I had to walk a bit or else I was going to black out. So going through all that and putting myself in position to still make it to state … it was a struggle, but I pulled through."
Harkrider credits commitment and consistency as her recipe for success. She has long surrendered any semblance of a social life, choosing running instead of hanging out with friends. She runs on the weekends. She pays close attention to her diet and is conscious about hydrating during the day to ensure she's at her best for practices.
"It's just running, and more running and more running," said Harkrider, who plans to run at the next level and has been talking to many colleges. "I don't take vacations. Even during spring break, just more running. There's no breaks. I'm always running."
Harkrider participated in a triathlon in the second grade, and that piqued her interest in running. She started taking it seriously in the fourth grade.
Not only did she find running fun, but it was also a sense of security.
"It makes me happy," Harkrider said. "I have ADHD and it gets all my hyperness out. I can get into a zone. It calms me down. I just really enjoy it."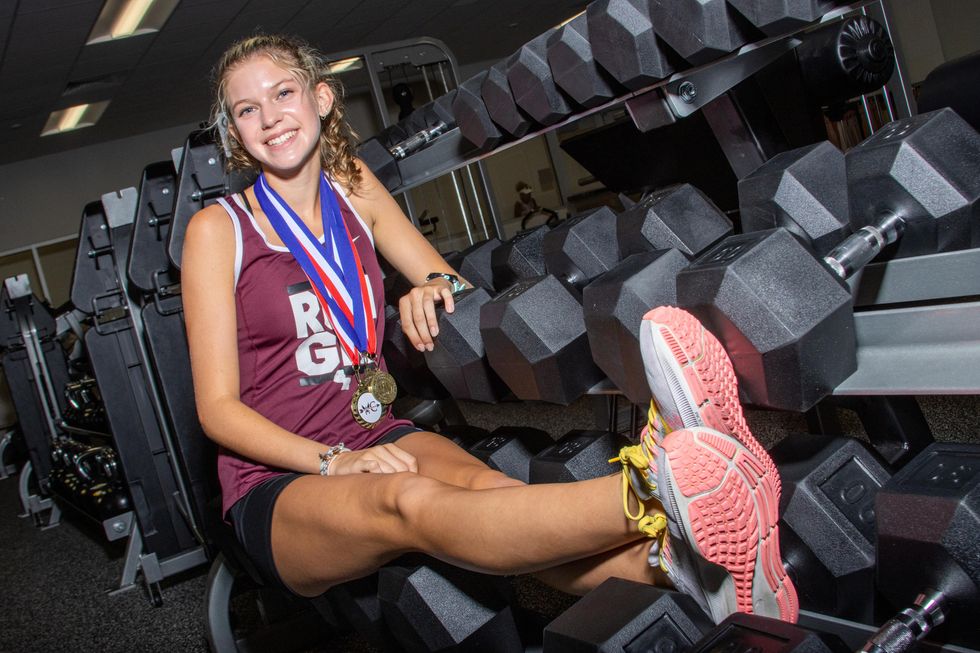 George Ranch senior Haley Harkrider.Olivia Raymond | VYPE Media
Pair that with the coaching of longtime George Ranch leader Alicia Dutch, and Harkrider finds overall comfort in cross country, athletically and personally.
"She's definitely put me in check," Harkrider said of Dutch, laughing. "She has great structure and discipline, and she knows how to coach athletes. She's great at coaching us as a team, but she's coaching us as people, too, and I think that really helps."
Harkrider often has one-on-one conversations with Dutch. The coach's compassion has been needed whenever days get tough.
Dutch listens to her athletes, as far as when recovery is needed and when practice needs to be kept light. She knows everyone's limits. She understands when to push and when to hold back.
"She's tough on us, but she knows how to also be easy on us when we need it," Harkrider said. "She expects a lot out of us. She's very supportive; it's like a sweet toughness."
It's that culture, Harkrider said, that has been the backbone for one of the region's top programs year in and year out for more than a decade.
"She knows what I can do, and she's proud of me," Harkrider said. "She's helped me understand that one bad day doesn't define me."
Harkrider finished 55th at state last year with a time of 19:19.28. Her personal record overall in the 5000-meter run is 19:01.91. She was 72nd at the state meet in 2019 and 101st in 2018 as a freshman.
Harkrider is hoping for a top-30 finish on Saturday in Round Rock. But it's not the result that will determine whether her race is a success.
"I'm going out there just to have as much fun as I can," Harkrider said. "See what kind of race it turns into. I want a comfortable race, but still do pretty decent. But whatever happens, happens. As long as I have fun."