Who's That Guy? Waltrip's Rodriguez shocks golf field
May 22, 2019
---
Most great golfers start early. Like, really early.
Some parents get their kids out on the links at five-years-old, swinging clubs and sitting in their laps yearning to drive the golf cart.
Waltip's Christian Rodriguez picked up the sport as a freshman in high school.
"My coach was looking for guys to sign up for golf and I went for it," he laughs. "I didn't even have clubs.
"I started practicing at First Tee of Greater Houston with all these little kids," he said. "I was a giant compared to these elementary school students, but we were all just picking up the sport."
A year later, he was literally a scratch golfer.
---
…
Most golfers are so focused on the sport, they never leave the leave the links.
Rodriguez has been to regionals in cross-country; a two-time district champ in the 800 and 1600-meters in track; a two-year varsity basketball player and the two-time defending district golf champion.
Let's just say the Southwestern University golf signee is multi-talented.
"I really loved being involved in all sports, but I love golf for several reasons," he said. "I love the adversity of it. Sometimes you are hitting the ball well. Other times you are thinking, 'what's going on here.' I love to use my imagination on the course. I love creating shots and shaping the ball."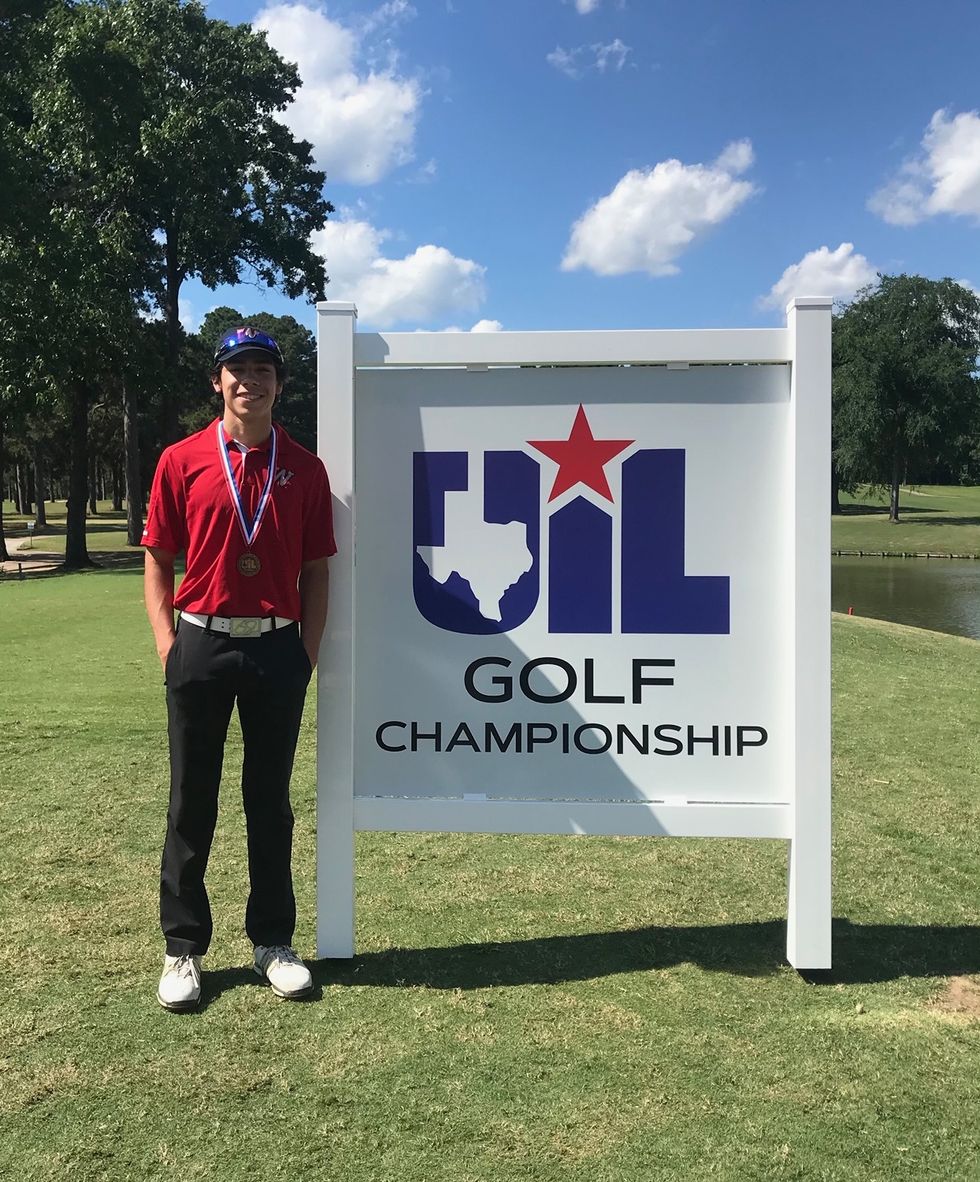 Rodriguez at state golf
He also loves to catch people by surprise. He's well aware that HISD is not known as a golf hotbed. The competition is not overwhelmingly challenging, but he holds his own going up against the traditional powers.
"I like being the underdog," he said. "I show up and I know the other golfers are thinking, 'who is this guy.' They've never heard of my school. Then the see how legit I am."
Rodriguez reached the Class 5A State Golf Tourney this week as an individual, finishing 24thoverall.
"I came in prepared," he said. "I had a slow start on the first day with a 78. I knew that wasn't going to cut it. I came back on Day 2 at shot a 74. I know I left a lot of shots out there, but it was a great experience."