Bradley Collier (VYPE)
Katy's dominant postseason continued following their recent 56-34 victory over C.E. King at NRG Stadium last Friday in the Regional Finals.
With only two wins away from claiming their 10th title, the undefeated Tigers will look to their top playmaker, RB Seth Davis, to maintain his MVP-caliber form and lead Katy to the State Championship.
After falling to Westlake in last year's State Semifinals game (45-14), Davis and company are determined to flip the script in their matchup against Vandegrift.
"Last year didn't end how we wanted it to," said Davis. "It would be awesome to get another ring, so we have been working hard all throughout the offseason in order to make up for that, and win another State Championship."
Seth Davis and his older brother, Jalen, were key factors in Katy's 2020 title. The younger Davis' game has only sky-rocketed since. Since he was a child, it's been a goal of his to become one of the best running backs to ever play for Katy.
"I knew Katy had a lot of great running backs and I wanted to be part of that list," Davis said. "It took hard work, even when times were tough. I'd have to thank my parents for that. They took me to all the workouts so that I could get better and perfect my craft. Without them, I wouldn't be where I am."
Due to his exceptional high school career, Davis has been given the opportunity to play in college at Mississippi State, following the conclusion of his senior year. Exciting though it may be, the memories the young athlete has amassed during his time as a Tiger, will not soon be forgotten.
"It's been great playing for Katy," said Davis. "My most memorable moment is when I scored six TDs in one game (the most single-game scores in Katy history). But, I've made several life-long friends, and it's been great playing for Coach [Gary] Joseph and all the other coaches who have taught me to be unselfish and how to persevere."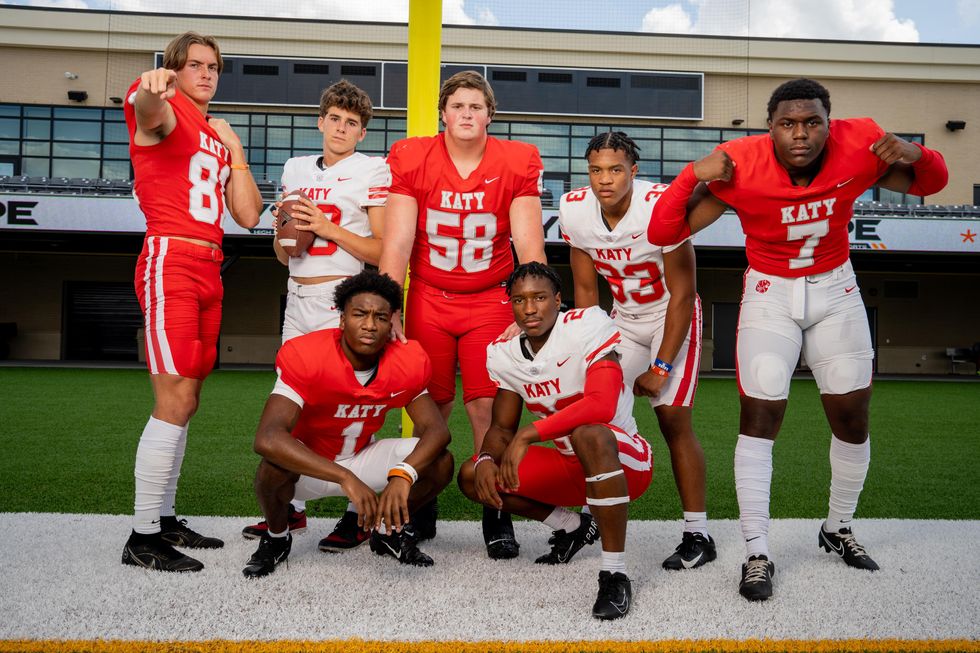 The Katy Tiger standoutsBradley Collier (VYPE)
The future looks bright for No. 23, but the Tigers have their sights set on another 6A State Championship, before anything else. Currently, Vandegrift stands in their way of returning to the Title game. The two powerhouses are set to face off this Saturday at 1 P.M, at the Alamodome in San Antonio.
"We are just going to keep doing what we've been doing," Davis said. "Running the ball and executing the play-action has been our offensive strength. We expect to play a good team, who plays hard on Saturday. So, we've gotta be ready to go."
On this weeks show Wac and Jackson talk about some of the semifinal matchups happening across the state.
FOR SOME, IT TAKES YEARS TO FIGURE OUT WHAT THEIR PASSION IS.
Macie Moore knew hers in the ninth grade.
"Back in high school, I was a line member, then a Lieutenant, then a First Lieutenant and then the Captain," she said. "I held several leadership roles, and I have so many great memories. It made me step out of my shell and become a confident person in front of my peers."
The new Bridge City Strutter Director fell in love with dance and always wanted to come home to lead the Red and White's award-winning dance team. That was her dream since high school.
Which was three years ago!
The 21-year-old Moore would not be denied. Upon graduating from Bridge City, she made the world-renown Kilgore Junior College Rangerettes, where she danced for two years.
"Being a part of the Rangerettes opened up a whole new world for me," she said. "I learned so many styles of dance. We performed everywhere from England to Virginia. It was a great opportunity for a girl from Bridge City, Texas and opened up so many doors for me career-wise."
She knew she was on the clock, however, knowing legendary Strutter Director Cathy Riley was ready to retire.
"I called and begged her to give me a little more time," she said. "She knew I really wanted this."
Moore would finish her Bachelor 's Degree from Lamar University with head-spinning speed and accuracy.
"I've always planned on this being my permanent position," she said of the Strutters'Director job. "This is where God has placed me, and it's been a very smooth transition. I love sharing my passion with the girls. It never feels like a job and I can do this forever."
For Moore, leading strutters has so many layers to it. She is a to teach life lessons.
In ninth grade, the Bridge City Strutters were performing a routine during a pep rally and something wasn't right for Moore.
"I'll never forget, it was our ' Thriller ' routine for our Halloween pep rally," she said. "I blanked out during a performance. That never happened.I had to come off the floor. I cried to let me perform at the football game that night, but Ms. Riley knew something was wrong."
She was sent to Texas Children's in Beaumont and was diagnosed with Type 1 Diabetes. "It threw me for a loop because I don't do well with change," she said. "I didn't want to stick out from everyone else, having Diabetes. I really struggled emotionally.
"But without Diabetes, I wouldn't be who I am today. It really built me into a strong, independent woman. That's what I preach to these girls. There are going to be trials and tribulations in their lives. But if you can get over them, nothing can stop you."
Moore's life-lessons hit different because of her age and experience.
"I'm really transparent with the girls and I feel like they can relate to me because I'm really not that much older than them," she laughed. "Even though they think I act like an 80-year-old woman, I've been through what they are going through very recently. I can show them techniques and what they are supposed to look like.
"To think, I was a senior in high school as their pre drill instructor when they were in the eighth grade. Now they are seniors, and I am their Director."
Life happens fast, doesn't it?"
Join the #VYPETEAM
Get up to date news from all over the country!