Jeff Riordan built the Code Red brand at Crosby High School in east Houston years back, bringing a winning vibe to the Cougar program.
He's done the same at Chapel Hill with Code Blue. Riordan has built a power program that has been to the State Semis the past three seasons. This year they face Davenport for the right to play in the State Finals a week from now.
VYPE's Matt Malatesta caught up with Riordan on the eve on the State Semis.
To the surprise of no one, the state superpower Westlake is back in the Final Four of the Class 6A-Division I championship bracket.
And it is no surprise that they face North Shore... again. This will be a rematch of last year's State Semifinal match, in which the Chaps fell to the now Willie Gaston-led Mustangs by a score of 49-34.
However, the game-plan doesn't change for Salazar and company.
"I've reflected on the game from last year, watching the game film, and it was the big plays that killed us. We played well, but when they had a big play it went for a touchdown, and you can't do that against a good team like them."
...
Per the usual, after entering the district portion of their schedule, the Chaparrals have gone on a rampage in the Texas high school football scene.
It all begins with their stingy defense, which has allowed a mere 9.7 points per game entering the State Semis, and features the likes of Judson Crockett (Sr. DB), Elliot Schaper (Jr. LB), Denim Collins (Sr. DB), Caden Boenig (Sr. DL) and Cullen Devine (Jr. DL).
"I think we've been very complementary of each other all year long," said coach Tony Salazar. "Our defense tends to start up fast, which makes it that much easier on our offense because of the short fields and quick touchdowns, and from there we keep it rolling."
Speaking of offense, the emergence of sophomore QB Rees Wise has been one of the more exciting developments this Fall.
Since stepping on the field in Week No. 4, Wise has thrown for nearly 2,000 yards through the air, with over 400 yards on the ground, and 30 total touchdowns on the year.
"We needed a little spark in the first game against Lake Travis, and we put him (Wise) in there and he provided it," said Salazar. "From there, our football team has gained confidence in the young quarterback, and obviously he has delivered."
Of course, he hasn't done it all by himself on the offensive side of the ball.
It can't hurt to have the second all-time leading rusher for the Chaparrals, senior RB Jack Kayser (1119 yds/19 TDs in 2023), with you in the backfield.
"It's no secret that our offense runs through Kayser," Salazar said. "He's small in stature but he's big on game. He's just a workhorse who shows up every week ready to work, and he's the energizer bunny who we look to for the big plays."
With a holistic approach to this State Semi, the Chaps know the assignment.
"We have to protect the football, capitalize in the red-zone, control the line of scrimmage and tackle effectively on defense," Salazar said. "If we can also eliminate the types of plays that lead to points, then I like the chances of the Chaparrals being around next week."
Bradley C. Collier (VYPE)
HITCHCOCK RETURNS TO THE COURT THIS WINTER HAVING MADE SCHOOL HISTORY A YEAR AGO, EARNING THE FIRST UIL STATE CHAMPIONSHIP (CLASS 3A) IN PROGRAM HISTORY.
This precedent was established on the heels of reaching the title game in 2021, and the Bulldogs are looking to make it three-for-three.
Tenth-year coach Christopher Jordan-Foster will bank on his team's physicality, particularly on defense, to make that goal a reality.
"Having some really fast and physical guys on the floor helps us out a lot," he said. "I know we're not going to be as polished offensively compared to some teams that do it year-round, before getting our football guys back late. However, like I tell them all the time, 'defense travels with us'."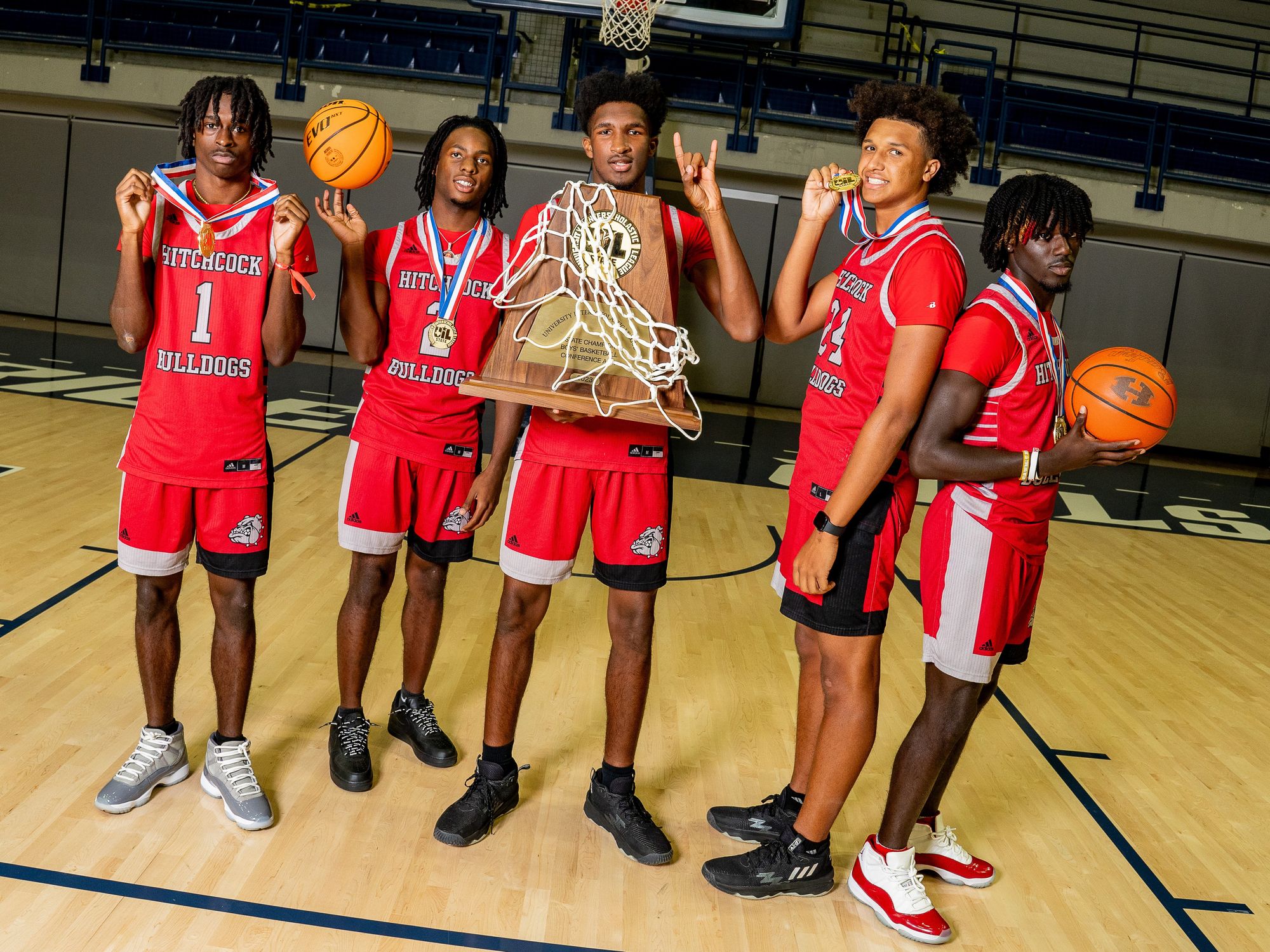 The stars of 2023-24 Hitchcock BasketballBradley C. Collier (VYPE)
Being a Hitchcock alumnus himself, Jordan-Foster knows a little something about the ownership his team takes in their game.
"I'm a hometown kid," he said. "There's something different about bringing something back to your home, which makes you have a little bit more pride in your work. I stress that to the guys, as well. It's more personal and I want them to feel that – looking back to when you made history for your community."
That upbringing is likely what feeds into the culture he's brought back to Hitchcock.
"Those guys growing up together, playing alongside one another for a while has played a key factor in the growth of the culture," said Jordan-Foster. "Also, changing systems from a zone-press to more of a full-court man was a game-changer for us. That's kind of our M.O. – we're going full-court every time."
The Bulldogs will feature several returners from last year's championship squad, including Damien McDaniel (Sr. G), Lloyd "Chubby"Jones III (Jr. PF), Kelshaun Johnson (Jr. G) and Elijah Sherwood (Jr. G), who Jordan-Foster expects to take a big step forward this season.
So, what will it take for Jordan-Foster and Hitchcock to run it back in 2024?
"First of all, it's going to take some focus," he said. "With a lot of football guys coming onto the court, health is a key component to this as well. I've had these guys for a while now, so they know what I expect from them when we head into the Winter. But, staying healthy will definitely be important to us."
The stage is set. Now, it's time for the encore.
Join the #VYPETEAM
Get up to date news from all over the country!