Bradley C. Collier (VYPE)
FBCA basketball has experienced its ups and downs throughout this Winter season. With the regular season nearly concluding, a playoff berth is on the horizon.
With Jaden Araiza in the backcourt, the Eagles have a shot.
In last week's thriller against Second Baptist (FBCA narrowly fell 70-73), Araiza was a nightmare for the opposing defense -- going off for 40 points. His standout performance brought his high school career totals past the 1,000-point mark.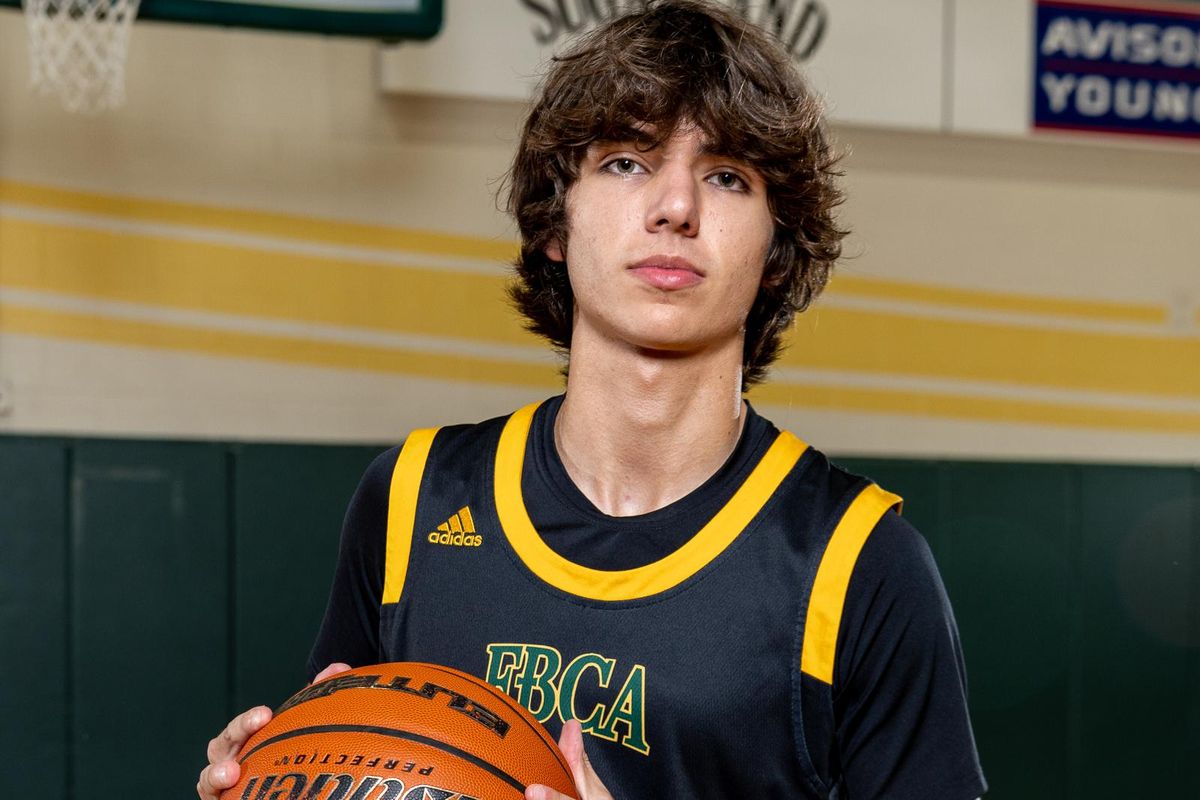 Bradley C. Collier (VYPE)
"Reaching 1,000 is a big moment for me," said Araiza. "From my position, being able to do what I have done this year, is surprising to others, but not to me. Despite being a four-year varsity player, I sat out most of my sophomore year with a broken nose, which definitely derailed my confidence. But, I persevered and had a pretty decent junior year (Averaged 15 PPG, 7 APG). However, this year, I've fully developed into the player I've always known I could be, and have almost doubled my stats from last year."
That he has. Araiza currently averages 25 PPG, 6 APG, 5 RPG and three steals per game. His consistency throughout his senior season has elevated him to be a leader on the resilient Eagles roster, which Araiza revels in.
"As a senior guard, everybody looks to me to be the one who leads," he said. "I know that my coaches look to me to be the guy they can trust in all scenarios, and I think my teammates have been able to trust me to make the right decisions. Our offense runs completely through me, and I have to make sure that I am in the right role, but my teammates are, as well."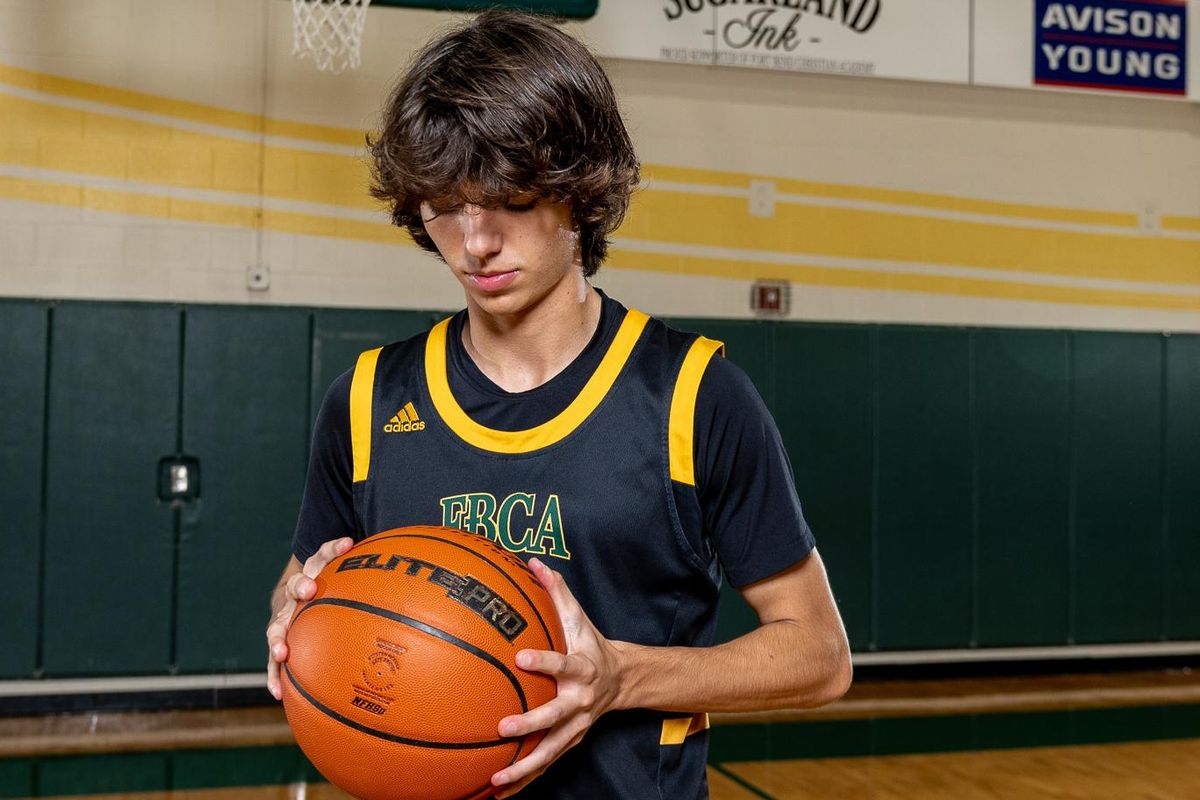 Bradley C. Collier (VYPE)
As previously mentioned, this season has had its ups and downs, however, Araiza and the Eagles advance with a steadfast determination to secure their place in the postseason.
"Right now, our team is looking to finish off these last few district games going 4-0," Araiza said. Our mentality has played a huge role in our performance this year. We're going to give it everything we have, regardless of the odds not being in our favor. We might be a young team, and even though we aren't the most developed, our team will be the most aggressive thanks to our new coach [Brandon] Scott's influence."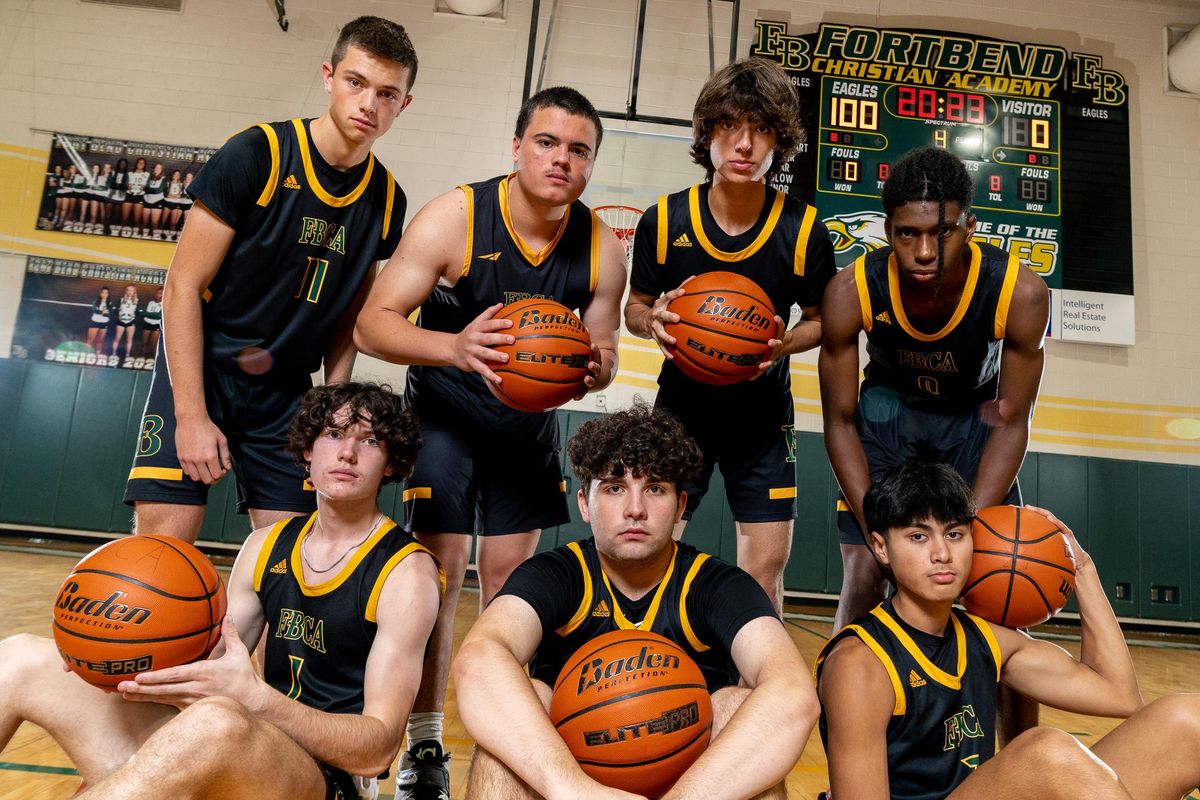 2022-23 FBCA Eagles BasketballBradley C. Collier (VYPE)
Araiza has yet to receive a college offer, he has plenty of motivation backing him to follow his dream.
"My biggest inspiration would have to be my parents," said Araiza. "Without them, I don't know where I'd be. Luckily, they have sacrificed a lot for me to bring me to this point today. My dad and AAU Coach (from 1st to 8th grade), Lamar Holt, are the ones who taught me everything about the game from a young age. My mom has always been my biggest supporter, providing me with everything I need. Furthermore, if I had to choose an athlete as my role model, I'd say Kobe Bryant, having seen how how hard he worked and the drive he had. All of these influencesin my life, inspire me to emulate that attitude in everything I do."
Don't sleep on Jaden Araiza and the FBCA Eagles, they just might surprise you.
Justin Hartojo (VYPE)
Catcher could be considered one of the most critical positions in baseball.
They are essentially the "Quarterback" on the diamond, given how they are responsible for players' positioning and maintaining communication with their team.
Furthermore, a bat is often swung within six inches of their face, so the unwavering focus is of the utmost importance.

Luckily, for some of the Houston area's baseball programs, their teams are in good hands.
Nolan Traeger (Catcher-2024)--Concordia Lutheran Crusaders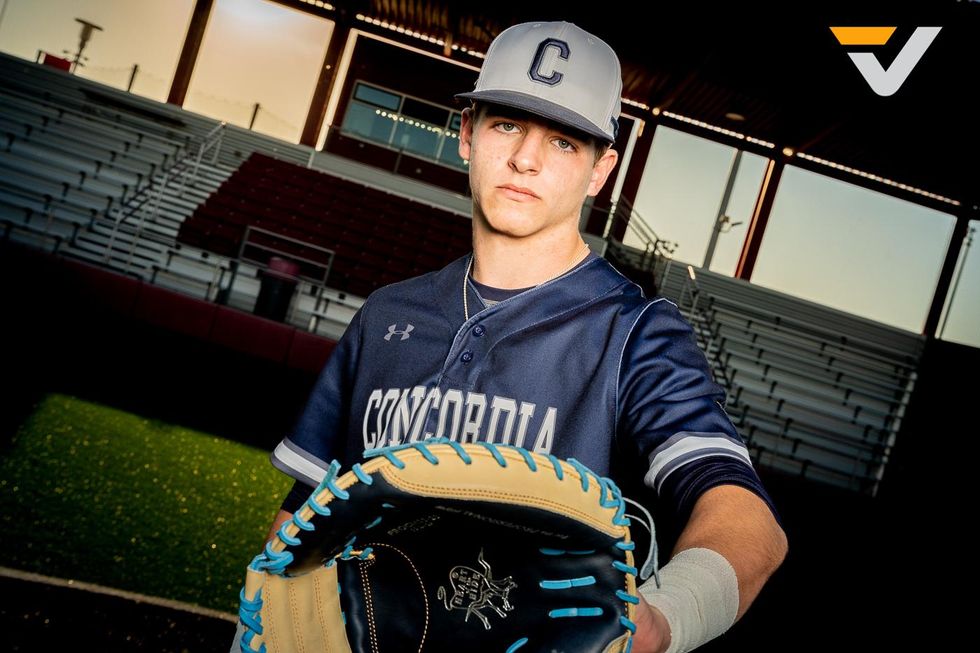 Concordia Lutheran's Nolan Traeger
Bradley C. Collier (VYPE)
Concordia Lutheran baseball is blessed with talent across the board. Their catcher Nolan Traeger is no exception. The 6-foot junior enjoyed a stellar 2022 performance, earning first-team, all-state and State All-Tournament honors, en route to the Crusaders' appearance in the TAPPS State Semifinals.
Although the previous season ended sooner than expected, Traeger is confident that his team can go further this Spring.
"Last year was a tough year, not the outcome we wanted of course," said Traeger. "We lost some of our seniors, but we're reloaded and planning to get back to the State Championship. Concordia has been really good to me and I'm just hoping that I can bring something to it."
Traeger's time spent with Concordia Lutheran, as well as his experience in Twelve Baseball and the 15u USA National Team, has garnered him the opportunity to continue his baseball career after graduation. It's been years in the making with a tremendous amount of work put in, and it's resulted in his commitment to join his brother -- RHP Jax Traeger at TCU.
"It's a fun process to be on these teams and to get the experience I have," he said. "It comes with some perks and can be a little nerve-racking at some points, with all the scouts I've played in front of. But, I just play my game and relax, so, it's been a fun ride."
Expect another big year from the Concordia Catcher and the 'Saders, as they're likely to be contending for a final-four spot, at a minimum.
Andy Guy (Catcher-2024)--Kinkaid School Falcons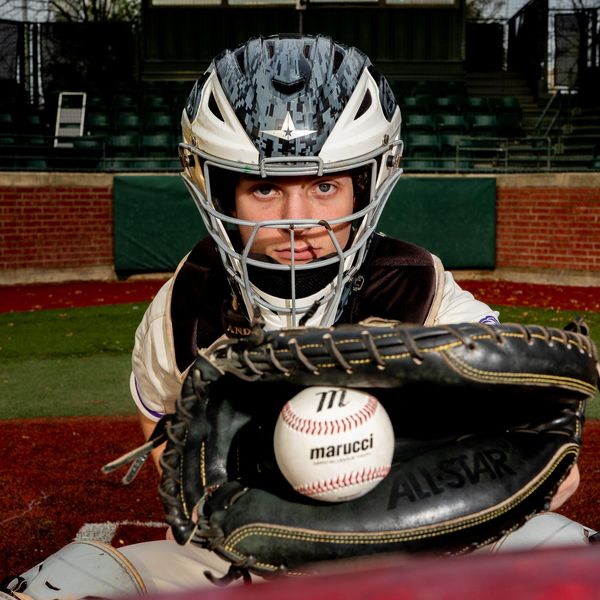 Kinkaid catcher Andy Guy will be back behind the plate for the Falcons, as they start their campaign for a second-consecutive SPC State Championship. With numerous starters returning, including Guy (All-South Zone selection) and junior outfielder Miles Roeder (All-SPC), the Falcons don't appear to be slowing down.
"As a team, we expect to dominate the SPC," said Guy. "Our end goal hasn't changed. So, we're after another Championship. Individually, I'm striving to make the All-South Zone team, again. I hold myself to higher standards as an older member of the team, so I want to set an example and be a leader for everyone."
The Kinkaid junior has his sights set on another title, but, also has ambitions in mind for his future.
"I decided that baseball was my sport when I was around 12 years old, even though I wasn't necessarily great at it," Guy said. "I loved the game and dreamed of playing in college one day. Baseball has opened up so many doors and brought me several relationships I never would've had without it. In the future, I hope to see myself looking back at a terrific college baseball career that, in the best of worlds, catapulted me to a pro contract."
Cade Arrambide (Catcher-2024)--Tomball Cougars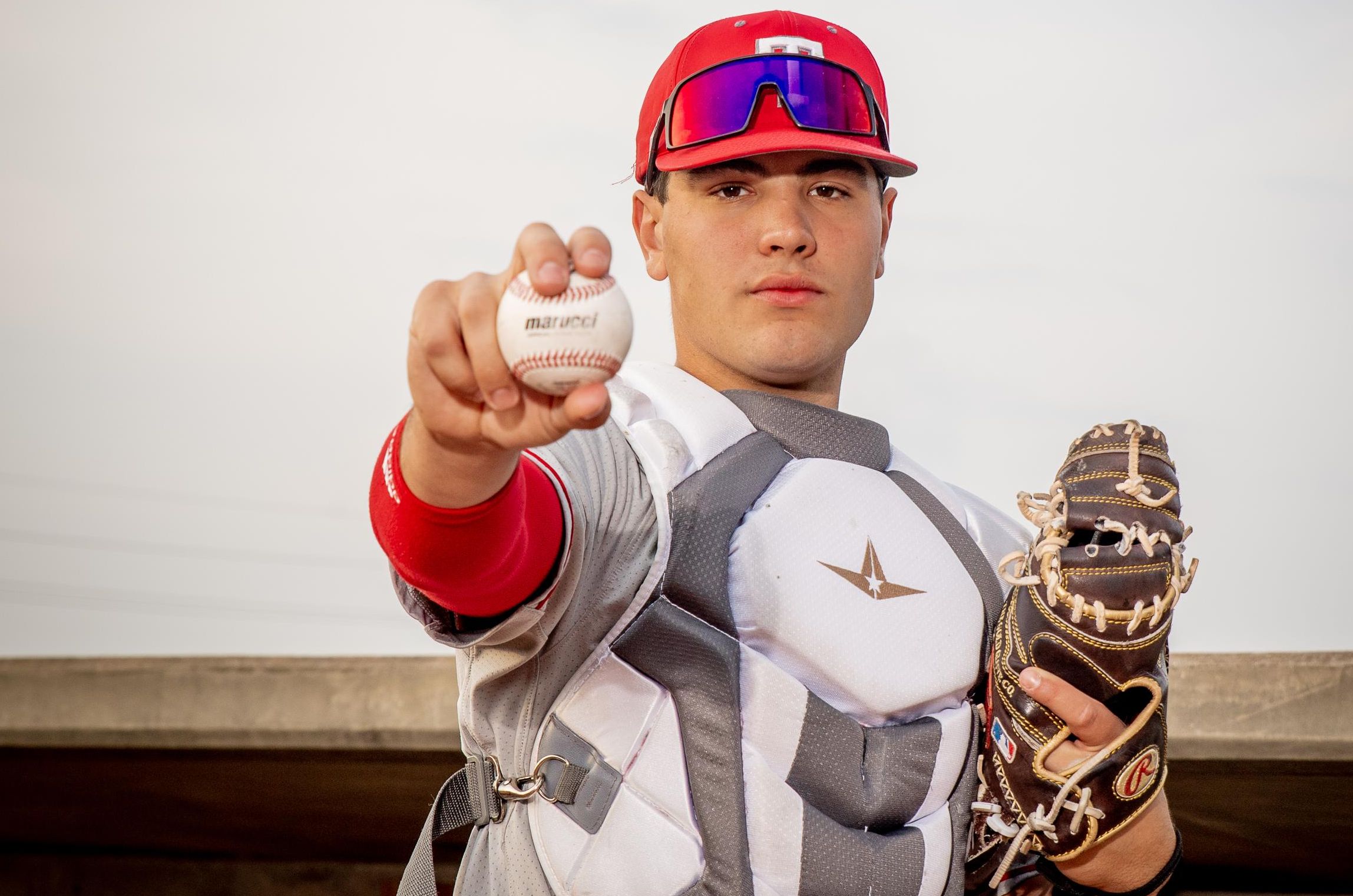 Tomball's Cade Arrambide
Jamey Wright (VYPE)
Tomball is fresh off the heels of an impressive 24-11 season, that saw them advance to the UIL Regional Quarterfinals. Junior catcher Cade Arrambide played a significant role in the Cougars success, garnering him first-team, all-district honors. That momentum should only progress, heading into the Spring.
"Being a returning varsity player, it's my duty to lead and inspire the team by being a great role model, both on and off the field," said Arrambide. "We lost a good number of seniors last year that left some big shoes to fill. So, I hope to be a vital piece of the team that Coach [Doug] Rush fields. We're looking to push further than round three this year."
It should come as no surprise that Arrambide's performance on the diamond has gained him the attention of scouts and recruiters nationwide. Hence, his commitment to play for LSU, following his 2024 graduation.
"LSU is a great school with an amazing baseball program," he said. "The coaching staff -- Jay Johnson, Josh Jordan, Wes Johnson, and the Director of Operations Josh Simpson -- made playing ball at LSU an obvious choice. Plus, several family members have attended LSU. We thank God for the blessing of [my] abilities, the opportunities and the coaching/training I've had along the way."
Join the #VYPETEAM
Get up to date news from all over the country!