VYPE Media
KATY—After every game, Seven Lakes junior Dakyus Brinkley sits with his father, Jasper, and watches tape.

Father and son break down every play, first detailing Brinkley's lowlights and then the highlights.
"Attention to detail," preaches Jasper, who played seven years (2009-2015) in the NFL as an inside linebacker and totaled 316 tackles and nine forced fumbles. "It's the little things."
Brinkley studies and learns. Soaks it all in. And then the Brinkleys move on to game film on the next week's opponent, searching for any and every edge, no matter how small.
"He's been a huge influence, with football and outside of it," Brinkley said of his father. "Especially because we played similar positions. In high school, he played outside linebacker and D-end, too. It's about the little stuff. The details. If an O-line moves a certain type of way on a pull, he wants me to recognize that and know the play is coming my way."
Brinkley is one of the top players in the Class of 2024. The 6-foot-4, 230-pound outside linebacker is a four-star recruit, per 247 Sports, with offers from Texas, Texas A&M and Texas Tech, among others.
He is the prototypical edge rusher that modern football drools over.
Seven Lakes coach Jimmy Hamon knew as soon as Brinkley stepped onto campus as a freshman that he had something special. Brinkley had natural athleticism, a quick first step, strong hands and did things naturally beyond his years.
"Seeing him jump and run, for a guy his size who was probably 6-1 or 6-2 at the time, he was outrunning most of our guys," Hamon said. "We just didn't have a guy that size at 14 years old who was doing those things at a time when most kids are still growing into their body. He was just so coordinated and athletic."
Brinkley admitted last season was bumpy as he transitioned from defensive end to outside linebacker in the Spartans' 3-4 defense. He was moved around more, and he had different keys to read.
Brinkley compiled 36 total tackles and one sack in nine games.
"The toughest adjustment was reading my man on pass-drops," Brinkley said. "But as I started to read better and my vision got better, I feel like things got better. It was very up and down but once I got used to it, it became easy to me. The fact I can move around more and go different places, I love it. I don't have to stick to just one side or one assignment. I can play wherever."
Brinkley knew he wanted to play football before he could even play football. He grew up in the game.
Not only was Jasper a standout at the University of Georgia and a 2009 fifth-round pick by the Minnesota Vikings, Brinkley's uncle, Casper, was a standout defensive end at the University of South Carolina and spent time with the Carolina Panthers in 2008 and 2009.
"I remember wanting to play football but couldn't, because I was so young," Brinkley said. "I cried about it. I'd grown up seeing all my other family members play. I remember thinking that one day I wanted to be as good as them. It was heartbreaking for me to not play. Once I started playing when I was six, seven, I really fell in love with it."
Brinkley considers himself a mix of dad and uncle. He has Jasper's physicality and vision with Casper's strength and speed.
"There's pressure but, to me, I'm just going to play the game as hard as I can," Brinkley said. "When I'm on the field, I just want to win. I'm not worried about anything else. I block all that other stuff out."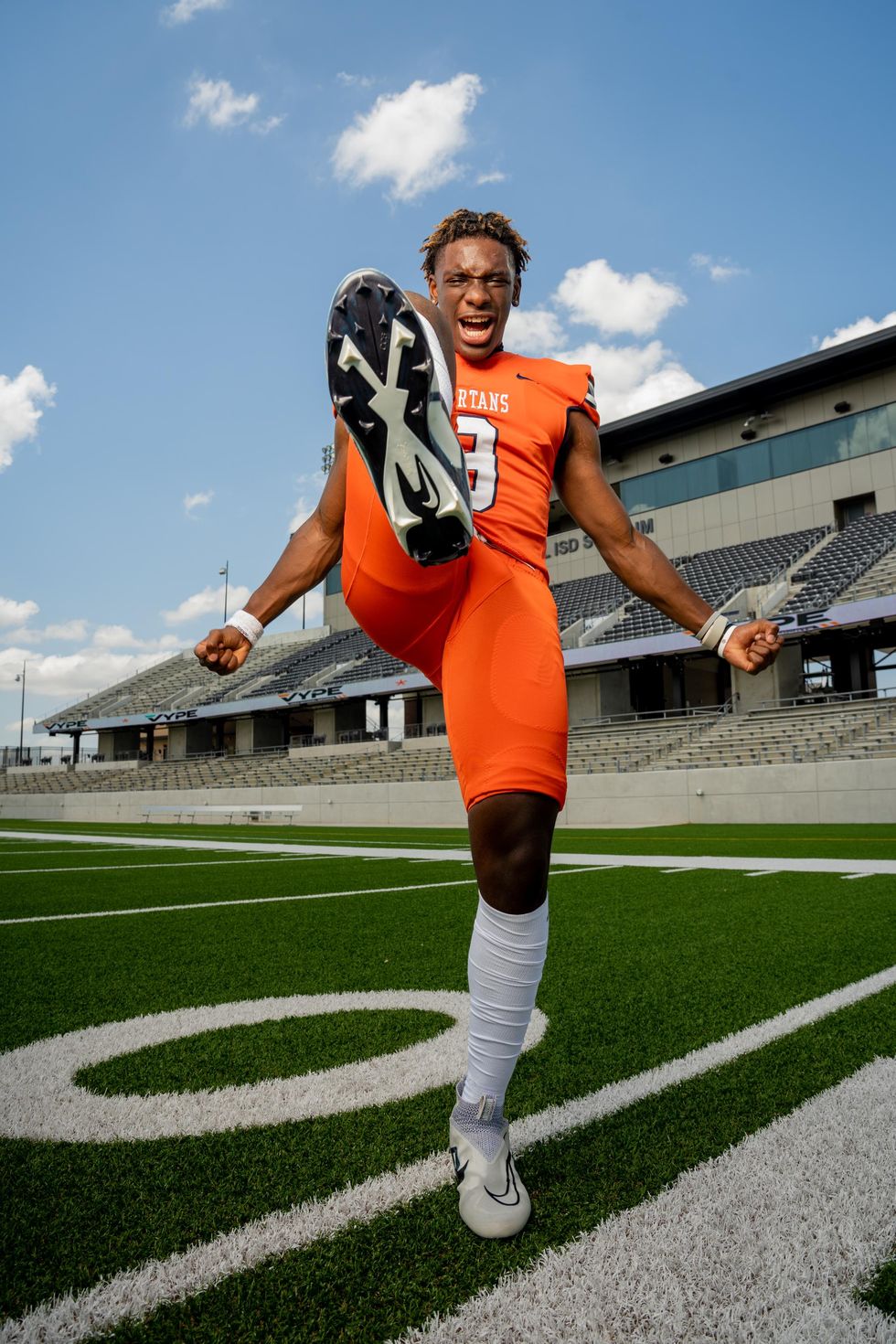 Seven Lakes junior Dakyus Brinkley.VYPE Media
Hamon got to know Jasper well this summer as Brinkley's recruiting started soaring.
Hamon admires Brinkley's reserved nature and willingness to be coached, things he credited Jasper for.
"Coach, coach him hard," Jasper told Hamon. "Don't let his head get too big. Keep him humble. Keep reminding him he hasn't made a name for himself yet."
Hamon, entering his fifth season at the helm of Seven Lakes, said he appreciated how Jasper made sure Brinkley spent time around the Spartans this summer and was on campus early and often for strength and training, only missing to take visits to colleges.
"For someone as accomplished as he is in the game of football, his dad is never up here telling us what we're doing wrong," Hamon said. "He supports us. He listens. He does what we ask of any parent. He watches film with Dakyus and offers coaching points. He cares about Dakyus being around his high school teammates and coaches. He's just the model parent. He's supportive. He's present. But he's not overbearing.
"His dad has this old-school approach and I respect that. I appreciate it. That's not always the way parents today are going."
Hamon and his coaching staff spent the spring and summer devising personnel and substitution packages to disguise Brinkley on the field, finding ways for him to be as versatile as possible within the defensive scheme.
"What we try to do with (the 3-4) ends up being unique with how we use our personnel in it," Hamon said. "A guy like Dakyus, he can be an outside linebacker, but we're also going to have some opportunities for him at defensive end and swap for a lighter guy when we want a speed package. Drop Dakyus down to defensive end, bring a safety down to the outside 'backer and put another safety in."
Brinkley is all but assured of going down as one of the greatest Spartans ever. Hamon mentions his potential and talent in the same breath as former SMU standout Braeden West (2015 Seven Lakes graduate), current New York Jet Caleb Benenoch (2012 graduate) and current Oklahoma Sooner David Ugwoegbu (2019 graduate).
"When you just finished your sophomore season and you're getting the likes of Texas, Texas Tech and A&M coming your way … just yesterday, I got an email from Notre Dame," Hamon said. "I think you'll see him play and start on Saturdays. Dak is pretty special."
This is the best district in the State of Texas when it comes to talent, winning and just flat-out being ultra-competitive. North Shore is coming off yet another State Championship in 2021, making it three in the last four seasons.
Atascocita is not going anywhere with a plethora of young talent and experience, while C.E. King, Summer Creek and Beaumont West Brook will duke it out for the last few spots.
PREVIOUS DISTRICT PREVIEWS (2022)
VYPE PRESEASON AWARDS
MOST VALUABLE PLAYER: Kaleb Bailey, North Shore
OFFENSIVE MVP: Zion Brown, Atascocita
DEFENSIVE MVP: Jayven Anderson, North Shore
BREAKOUT PLAYER OF THE YEAR: Darein Hargrove, Summer Creek
SLEEPER TEAM: Humble Wildcats
Preseason Rankings
North Shore Mustangs
Atascocita Eagles
Summer Creek Bulldogs
C.E. King Panthers
Beaumont West Brook Bruins
Humble Wildcats
Kingwood Mustangs
Beaumont United Timberwolves
NORTH SHORE MUSTANGS
Winners of three of the last four State Championships at the UIL's highest classification and beating DFW-power Duncanville in all three has solidified the "Eastside Dynasty". They put that on their newest ring, which is No. 5 in program history. Kaleb Bailey, who started at QB as a freshman and was named the 6A DI State Championship Game Offensive MVP, is back with a full offseason under his belt with OC Willie Gaston. Bailey was dangerous last year, he will be even more so in 2022. David Amador will be his top target as the UTSA-commit eclipsed 1,000 yards receiving a year ago and had the state-title-clinching touchdown reception in the 17-10 win over Duncanville. The backfield will be loaded with talent as Rashaad Johnson is back to anchor that group with sophomore Dre Hardeman (who has a UTSA offer) getting his first real varsity action. Hardeman is the son of North Shore great Tiki Hardeman, who went on to Texas A&M. Other names on offense include Omarion Dudley (OL), Terrence Guillory II (WR) and Christopher Barnes (WR). Defensively, Jacoby Davis, Evan Jackson, Jayven Anderson and Devin Sanchez will lockdown opponents passing games for the Mustangs. Also, watch out for Jaylon Joseph rushing off the end as well and Marlon Germany at linebacker. The defense got better with the addition of Elijah Fields from Spring, and on offense, Deion Deblanc will be a weapon over from Eisenhower.
ATASCOCITA EAGLES
Craig Stump enters year 11 leading Atascocita and for the last nine, the Eagles have finished either first or second in district play. Then, for the past seven seasons, Atascocita has turned that into at least a thirdround playoff run. Last year, they fell in the State Quarterfinals to North Shore. QB Zion Brown, who was named the District 21-6A Newcomer of the Year last season, was thrown into the fire a bit as a sophomore but played well. Brown passed for north of 2,000 yards and rushed for nearly 700 more and has gotten even better this offseason. Expect Tory Blaylock to tote the rock more this season, after blazing through college camps this summer running 4.4 40-yard dashes and piling up the offers. Nate Kibble will be looked to lead an offensive line that has now produced two NFL Draft picks, while Texas A&M-commit Samu Taumanupepe will anchor the defensive line. Also, watch out for Jadon Ducos at linebacker and Braylon Conley at defensive back for the Eagles as offense stoppers. Other names to take note include TC Lee (WR) and Pharrell Gordon (DL).
SUMMER CREEK BULLDOGS
Summer Creek was on the brink of a program-defining win in the playoffs a year ago as they nearly beat Katy in the State Quarterfinals, which is the deepest playoff run in program history. This team has a bunch of talent coming back. It starts with second-team, all-district quarterback Jahrik Jones (1,465 yards, 5 TDs) running the offense and Lloyd Avant, a first teamer from last year, running out of the backfield. Avant rushed for 1,794 yards and 27 scores last season. First-team, all-district receiver Corey Nichols and second teamers Maxwell Huisintveld (TE), Roriyon Richardson (WR) and Christian Crockett (OL) and honorable-mention picks Kordell Rodgers (TE) and Viliami Salakielu (OL) are all set to return. Defensively, first teamers Paul Singleton (LB – 42 tackles) and Darein Hargrove (CB – 5 INTs) are back along with honorable-mention picks Darien Riley (DL – 5 sacks) and Kyran Duhon (DL). Other names to take note of include Jaylen Mays (DT), Mati Tomas (ATH), Chad Woodfork (DE), Melvin Nichols (WR) and Jeyden Coleman (DT).
C.E. KING PANTHERS
Think about this. In 2016, C.E. King went 1-9. Then the switch flipped. In comes Derek Fitzhenry as the head coach, they improve and all of a sudden, the Panthers have now made the playoffs for four-straight seasons. In 2021, C.E. King posted its first 10-win season since 2014. Fitzhenry has now changed positions to just be the Athletic Director, while defensive coordinator George Young moves into the big chair. Starting on the defense, Utah-commit Jo'laison Landry will be solid at defensive end, joined by Colorado-commit Kam'Ron Bizor, who moves in from Jack Yates. Lavonte Johnson has athleticism running through his blood as his father played ball at LSU. Other key returners include second-team receiver Elias Dejean and second-team defensive lineman K'mard Kimble (44 tackles). Jo'Laison Landry, Zaylon Davis and Texas-commit Dylan Spencer (8 sacks) were all named honorable-mention picks off the line as well. Will Hicks (73 tackles) was an honorable-mention selection at safety. Other names to remember include Logan Mackey (SS/CB), Wyndell Mitchell Jr. (QB), Denim Johnson (QB) and Anthony Bates (OL).
BEAUMONT WEST BROOK BRUINS
It wasn't that long ago that Beaumont West Brook was playing for the big trophy in AT&T Stadium. Now, inside the state's toughest district, the Bruins are trying to find their way back. Coming off a 5-5 season, coach Chuck Langston returns four starters on offense and three on defense. The lone all-district selection from a year ago who returns is honorable-mention pick Braxton Chambers on the defensive line. Jayvon Sorrell will play both ways for Beaumont West Brook at receiver and corner. Christian Spencer and Jeremiah Jordan return to the offensive line, while defensively Chambers (DL) and John Hardin (LB) will be the leaders of their position groups. Also, watch out for John Hardin (LB), Terrell Smith (ATH), Rae'G Dailey (WR) and Jabarous Broussard (DL) as players to watch.
HUMBLE WILDCATS
The Wildcats in their first year under Marcus Schulz, who came over from Splendora, went 2-8 overall. Now, in year two, Humble looks to get back into the playoff picture, which they reached in 2019 with a magical 10-win season. Texas Tech-commit TJ West is the star of the show. West was a second-team, all-district receiver a year ago and will be the big target for Tristen Bernard, who passed for more than 1,500 yards a year ago. Defensively, Jacory Johnson will quarterback the defense at linebacker after piling up nearly 120 tackles a year ago, followed by Jetavin James, who had 88. Johnson was a second-team, all-district linebacker in 2021. James was an honorable-mention pick along with defensive lineman Isiah Quezada. Also, watch out for junior Ayden Alvarez on the offensive line for the Wildcats.
KINGWOOD MUSTANGS
Third-year coach Cale Melton heads into the season hoping to find some wins after going 2-8 (2020) and 1-9 (2021) in his first two seasons at the helm of the Mustangs. Kingwood does return second-team, alldistrict receiver Ty Boatright and on defense Josh Pelfrey (72 tackles) at outside linebacker. Pelfrey was a second-team, all-district pick as a junior. Boatright led the team in receiving with 264 yards in catching 30 passes mostly from Trey Reese, who had 849 yards passing with four scores in 2021. Defensively, Cameron Burkes will be the returning leading tackler after notching 79 a year ago along with four sacks. Josh Gil also returns at punter for Kingwood.
BEAUMONT UNITED TIMBERWOLVES
The Timberwolves have seen ultra-success on the basketball court, winning back-to-back 5A State Championships. Now, can they athletic success carry over to the football field and into Class 6A as Beaumont United makes the move up? Jonathan Martin will guide the offense at quarterback, while Christian Gladney will anchor the defense on the line. This jump will be tough for United, especially in such a football power district. Other names to take note of include Weston Davis (OL), Jacob Green (OL/DL), Gatieus Coleman (RB) and Anthony Hawkins (LB).
True
As the Football season begins to creep up on us, it's time for fans to pick who they believe should have the honor of being the VYPE HOU Preseason Public School Running Back Of The Year! With plenty of area athletes graduating, the Houston area will see a rise in the young athletes making a name for themselves this fall. Be sure to get your vote in!
Voting will remain open until 11:59 p.m. on Tuesday, August 2nd.
Please note that the use of voting software or bots will result in a deletion of votes and a potential DQ from the contest. PLEASE try to keep this fair and fun for all involved!
All athlete polls and their content are only associated and created by VYPE Media and its staff. The content is not created or voted on by any corporate sponsor or marketing partner. Please contact VYPE Media directly if you have any questions, comments, or concerns around our Fan Polls.
If you need gear for skiing, snowboarding, cycling, running, hiking and more, Sun & Ski Sports has it in-stock and ready for your upcoming adventures! Shop in-store at their 13 locations in Texas, or sunandski.com.
Join the #VYPETEAM
Get up to date news from all over the country!