Dennis Silva II | VYPE Media
Katy wrapped up its spring football season Tuesday evening with its annual Red-White game at Rhodes Stadium.

The game is not a typical spring football game. It is more of a community event than glorified scrimmage.
There are two "quarters" of 10-minute periods, followed by a brief "halftime" in which the drill and dance team is introduced and performs a routine. The second half consisted of two 15-minute periods.
Each varsity football player is introduced prior to the game. Cheerleaders are introduced. At halftime, there is an auction on behalf of the Katy athletic booster club. A football signed by the 2021 14-1 state semifinalist Tigers team went for $700.
"This game's for the kids, so they can enjoy it, have fun, play in front of a crowd," Katy coach Gary Joseph said. "Spring training is a grind, and it's supposed to be, but to have them get together, mix it up a little bit, be competitive and have some fun is a big thing."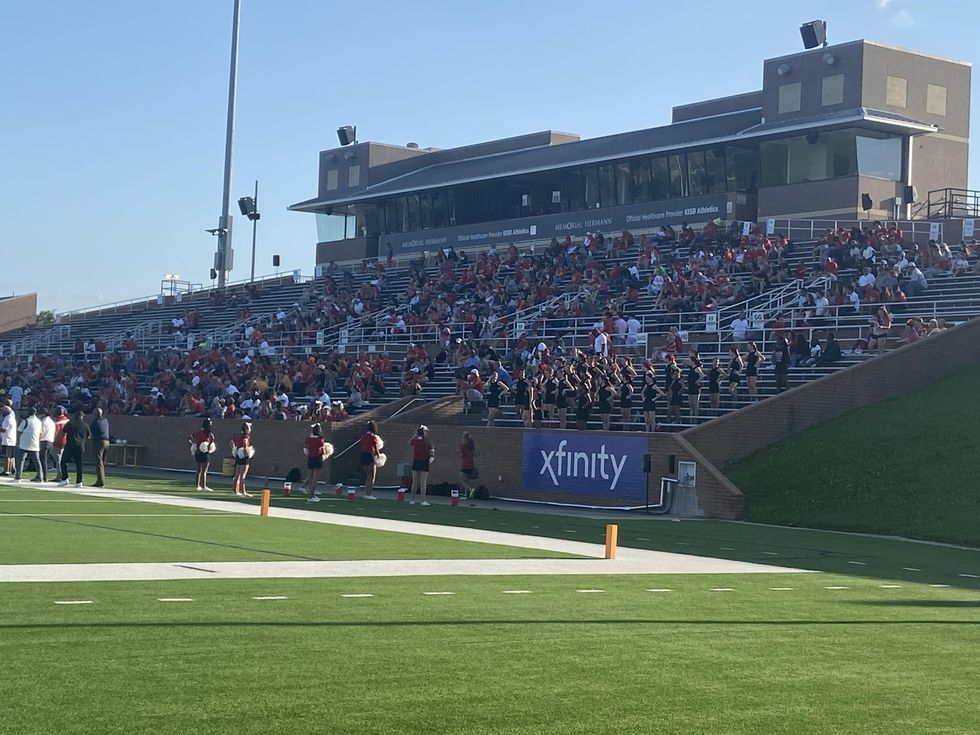 Pictured is the crowd at Katy's Red-White spring football game Tuesday at Rhodes Stadium.Dennis Silva II | VYPE Media
More observations from Katy's spring football season.
>> WANTED: BETTER
As Joseph reminded players afterward, there is a lot of work left to do.
"We've got to get better," he said. "We're not a finished product. We have to start developing some leadership. Games like (the spring game) can help with leadership. A game like this is about the little things, like center-quarterback exchanges. Everybody's working on fundamentals, but you've got to be able to do the little things, too. That's what games like this are for."
Incoming senior linebacker Damian Neveaux said a focus of the team's has been discipline. Lack of focus at critical junctures in the Class 6A-Division II state semifinal game against Austin Westlake last season cost the Tigers. Throughout the season as well, Katy had its share of moments where it uncharacteristically was inattentive and sloppy.
"We have a bunch of people on our team that's ready to go to work," Neveaux said. "We don't have a lot of highly-ranked players, but they work hard. My concern would be discipline, but that'll come during the summer. We've got to be more disciplined and ready to go."
>> THE TRUTH
Part of last year's discipline concerns was a sense of entitlement, Joseph said.
"They need to quit worrying about themselves and worry about being a football team and a football player," Joseph said. "Sometimes they put too much pressure on themselves because they try too hard to impress somebody. If you do that, the game's never going to be fun. The game will never slow down for you, because you're always going to sit there and play in doubt. Gaining confidence is a big thing. The discipline of doing the little things right is a big thing."
This spring, Joseph had his players focus on their "truth." In its essence, it's about remembering what the Katy football program is built upon.
Joseph said that means trust, respect, unselfishness, tradition and heart.
"We've made a big statement this year that it's about the truth," Joseph said. "It's about the bottom line. They're learning some things in what the truth actually means."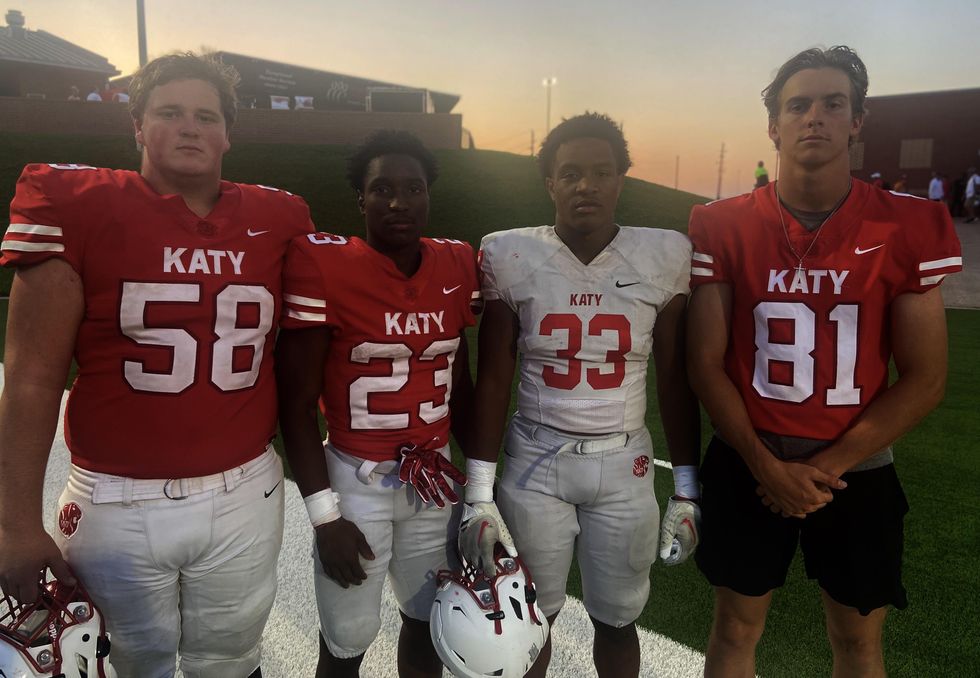 Katy's 2022-2023 team captains, from left to right: senior Jacob Egg, senior Seth Davis, senior Damian Neveaux and senior JR Ceyanes.Dennis Silva II | VYPE Media
>> TIGERS NAME CAPTAINS
Katy named its four captains for the 2022-2023 season.
They are senior offensive lineman Jacob Egg, senior running back Seth Davis, senior receiver JR Ceyanes and Neveaux.
"It means a lot," said Neveaux, the team's leading tackler last season. "I've been dreaming about this since I was a little kid."
Players elected the captains. Joseph said it was probably the closest race the program's had in captain voting since he's been at Katy (he arrived at Katy in the early 1980s as defensive coordinator). There were four other players within four votes.
"They have to understand that it's their football team now," Joseph said. "It's not last year's team or last year's leadership. A lot more will be expected from them. When bad things happen, they've got to step up.
"It's not just the four captains that have got to be leaders. Those are the people that represent you, but we've got to have leadership at all positions and all phases of this thing."
>> UP NEXT
Katy will start strength and conditioning in early June. That is the cornerstone of its offseason program. Players and coaches will tell you one of the critical reasons to their sustained success over the last few decades is the buy-in from players to the strength and conditioning camps.
The Tigers will participate in 7-on-7 this summer. They did not last year.
Katy opens the season Aug. 26 against Clear Springs at Challenger Stadium at 7 p.m. Its non-district schedule concludes hosting Atascocita on Sept. 2 at Legacy Stadium at 6 p.m. There are only two non-district games this year since District 19-6A, once again an all-Katy district, expands from seven to nine schools with the addition of Jordan and Paetow.
The Tigers open district play Sept. 10 against Tompkins at Legacy Stadium at 6 p.m.
Other key district dates:
>> Sept. 29, Rhodes Stadium, 7 p.m.: The Tigers get their first look at Jordan's Warriors.
>> Oct. 6, Legacy Stadium, 6 p.m.: The Tigers are the away team versus Class 5A, Division I state defending state champ Paetow.
>> Oct. 21, Rhodes Stadium, 7 p.m.: The Tigers are the home team against Cinco Ranch, which made a surprising run to the third round of the postseason last year and figures to make another strong run in 2022 with a plethora of dynamic returning talent.
True
As VYPE Media enters its 16th year of high school coverage, the company continues to expand its offering to meet the ever-changing ways the market consumes media.
Welcome to a VYPE Original Production -- "ON MY WHISTLE" as we go inside the hallways of Concordia Lutheran High School in Tomball, Texas.
Why 'Sader Nation? The TAPPS school has drawn legendary coach Willie Amendola out of retirement to reboot the football program. Yes, Amendola is the father of Danny Amendola - the Super Bowl Champion WR for the New England Patriots - but he's won a UIL State Title at the highest classification at Dekaney High School. He's straight off of central casting as a Texas High School Football Coach.
With the help of athletic director Matt Neidigk, VYPE captured behind-the-scenes content of the school's Spring football. "ON MY WHISTLE" will be a three-part series over the next three weeks.
Without further adieu, here is ... "ONE MY WHISTLE".
It was another thrilling season of girls soccer in the City of Houston in the public school realm.
In Class 6A, Ridge Point advanced to the UIL State Soccer Tournament for the first time in program history, while Magnolia went as the Class 5A rep for the first time since 2013. Both fell in the State Semifinals.
VYPE has scoured stat sheets, received nominations from coaches and here is the 2022 All-VYPE Public School Girls Soccer Team presented by Houston Methodist Orthopedics & Sports Medicine.
Player of Year Nominees: Olivia Schmidt, Friendswood (34 goals, 24 assists); Zoe Main, Ridge Point (32 goals, 12 assists); Laney Gonzales (35 goals/13 assists), Magnolia
(Winner will be announced next week as a part of the VYPE Awards presented by Houston Methodist Orthopedics & Sports Medicine.)
Goalkeeper of the Year: Maddyson Rich, Seven Lakes (3 Goals Against | 0.16 GAA, 16 Shutouts)
Coach of the Year: Evelyn Torres, Ridge Point
Team of the Year: Ridge Point Panthers
Attackers
1st Team
Charlotte Richardson, Ridge Point (18 goals, 16 assists, 6 goals in Postseason)
Cameryn Peter, Friendswood (18 goals, 23 assists)
Rileigh Toner, Stratford (18 goals, 8 assists)
Tiana Thompson, Klein (21 goals, 11 assists)
Elizabeth Werts, FB Kempner (19 goals, 22 assists)
Addie Zebold, Foster (19 goals, 13 assists)
2nd Team
Mariana Alvarez-Garcia, Deer Park (21 goals, 7 assists)
Brynn Baldon, Kingwood Park (16 goals, 7 assists)
Kiana Chastain, Santa Fe (29 goals, 4 assists)
Ellie Mikeska, Fulshear (24 goals, 9 assists)
Peri Olmo, Jordan HS (16 goals, 7 assists)
Anneliese Switzer, Bellaire (26 goals, 15 assists)

Defender
1st Team
Julia Abreu, Kingwood (Helped team earn 18 shutouts)
Georgia Mulholland, Ridge Point (8 goals allowed, 23 shutouts, 2 goals, 6 assists)
Ellie Stephenson, Stratford (16 season shutouts, 3 assists)
Jayla Roache, Klein (Team only allowed 4 goals)
2nd Team
Cara Chaffin, Memorial
Katie Lennon, Seven Lakes (16 shutouts, 6 goals scored)
Madelynn Murphy, Kingwood (11 goals and 5 assists)
Hannah Reed, Deer Park (Gave up 2 goals in district, 4 goals, 6 assists)

Goalkeepers
1st Team
Sophia Dean, Grand Oaks HS (District Keeper OTY, 165 saves, 0.73 GAA, 9 shutouts)
Taylor Sanderson, Magnolia (14 State Semis | 57 career saves)

2nd Team
Gabriela Vazquez, Katy Tompkins (0.71 GAA in 19 games, 13 shutouts)
Ellen Fairbanks, Friendswood (76 saves, 5 ga, 24 shutouts)
Join the #VYPETEAM
Get up to date news from all over the country!