With the end of football season comes the VYPE HOU Public School Wide Receiver of the Year Fan Poll Presented by Freddy's. VYPE HOU sorted through all of the stats from around H-town this season and has narrowed it down to some of the top athletes in the area. Be sure to vote for your favorite athlete out of the ones listed below!
Voting closes Tuesday, February 8th at 11:59 p.m. CST
Please note that the use of voting software or bots will result in a deletion of votes and a potential DQ from the contest. PLEASE try to keep this fair and fun for all involved!
All athlete polls and their content are only associated and created by VYPE Media and its staff. The content is not created or voted on by any corporate sponsor or marketing partner. Please contact VYPE Media directly if you have any questions, comments, or concerns around our Fan Polls.
The Freddy's Way: Enjoying great food without a long wait doesn't mean your meal has to be cooked before you order it. From steakburgers to sundaes, Freddy's makes food fresh after you ask for it because that's the kind of quality you deserve. Take a moment to catch up with friends and family; it's almost time to eat. Click here to see the nearest Freddy's location to you!
It shouldn't come as a shock that a State Semifinalist like Concordia Lutheran has become so proficient at developing and showcasing young talent. The Crusaders' bullpen is no exception, considering they played a major role in last season's success.
One of Concordia's premier pitchers, junior RHP/SS John D. Mitchell II, has become quite the ace for the perennial TAPPS powerhouse. He's been throwing heat during his tenure, already possessing a fastball that ranges in the low-90s. However, he wasn't just born with that.
"For me, pitching has been a process of frustrations and successes," said Mitchell. "After two years of trial and error, weight training, and discovering how to optimize my biomechanics, I've been sitting around 90 to 91 mph, since January."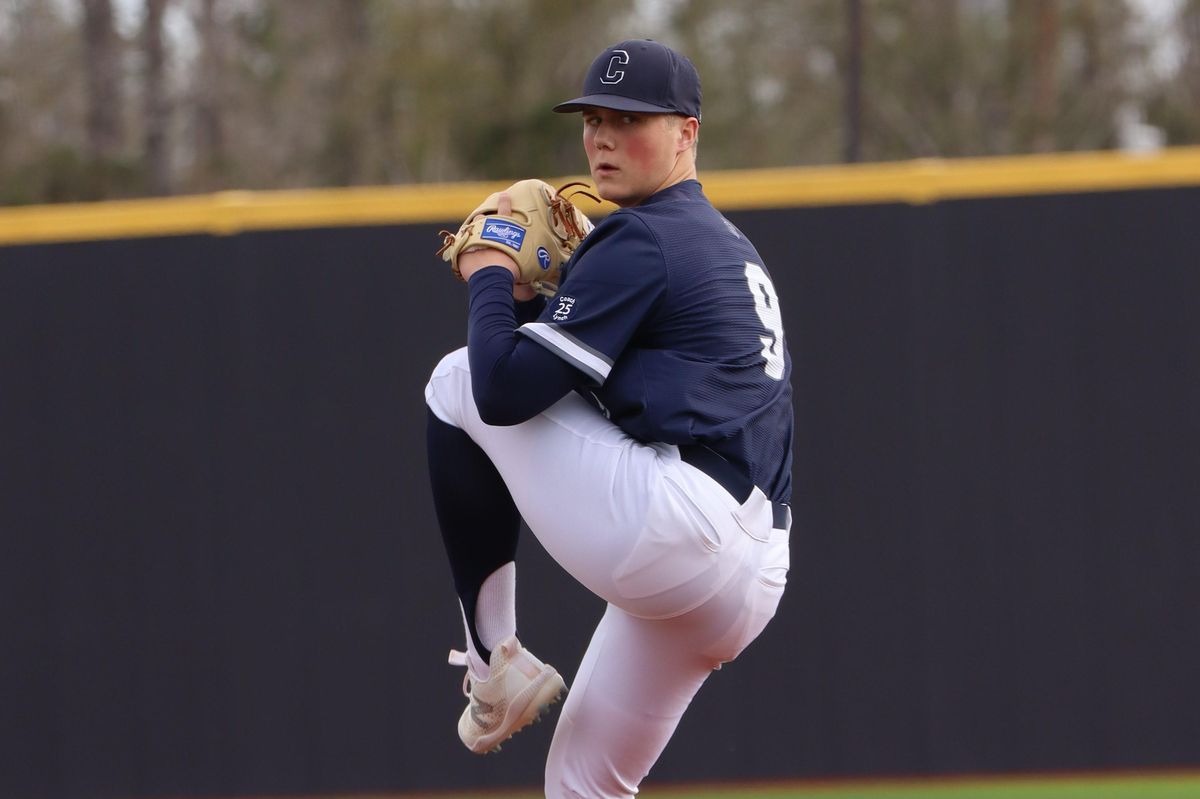 Concordia Lutheran's John D. MitchellPhoto taken by Shantae Smith
Last season, Mitchell was instrumental on the mound, for the Crusaders, which is impressive, considering he first started playing baseball in November of 2018. He will look to continue executing when the regular season commences, in February.
"I hope to be a great teammate and an elite player on a championship team," he said. "Individually, I strive to influence the younger guys in a positive manner, and I'm working to bring my fastball velocity up to 94 mph. As a team, we want to leave the field, each day, knowing we gave all we had, with no regrets. We're among the favorites and are hungry for the State Championship."
In order for the junior pitcher to acquire an impressive skill-set, at such an early age, Mitchell has had some expertise on his side, which includes, his mentor, Chicago Cubs RHP Hayden Wesneski, as well as Premier Baseball coaches, Dave Evans and Jeremy Isenhower.
"It's been inspiring to work with someone like him [Wesneski]," Mitchell said. "I spent a couple of hours with Hayden, each Sunday, from September 2020 to March 2021. He shared his experiences and what he was learning from Dave [Evans] and the Yankees. I still keep in touch with him. Like having an older brother, each time he has a great outing or I reach a new PR, he's always kind enough to reply. He's never 'big-leagued' anyone, and always has some insightful words of encouragement. I'm working to be like him, to be a late bloomer that makes it to THE SHOW."
With this level of training, and playing for a top Texas private school like Concordia, it should come as no surprise that Mitchell has already committed to an NCAA D1 team, the US Air Force Falcons.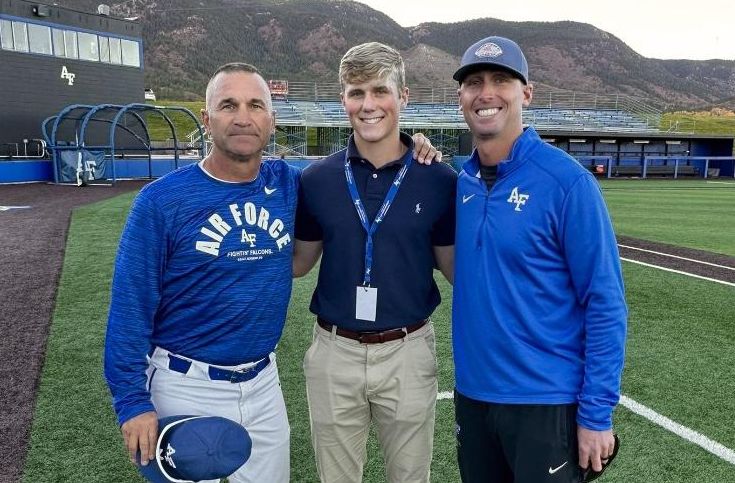 Mitchell with USAFA HC Mike Kazlausky and Pitching Coach Ryan Forrest at the Falcons' practice facility
"The main thing that made me fall in love with USAFA was the fact that I could be a part of something bigger than myself," said Mitchell. "The experience is incomparable. Once I understood it, I wanted it. In September 2022, when Coach Forrest called and offered me a "2024 Blue Chip", with the opportunity to develop into a leader for USAF, it brought tears of joy to my and my family's eyes. Since they [my parents] are the most influential people in my life, I embroidered their initials and birth year on my custom pitcher's glove as a tribute to all they have done for me. It's been amazing having them alongside me, every step of the way."
Anticipate a stellar year from this young Concordia pitcher. He and the Crusaders are vying for the top spot, with some trophy case hardware, to boot.
Join the #VYPETEAM
Get up to date news from all over the country!