Bradley Collier
Frisco Liberty baseball has been putting in the work all season as they do everything it takes to remain at the top of their district. Currently, the Redhawks are second in their district with a 12-2 record (20-6-1 overall). Senior Will Glatch has played a role in helping the Redhawks stay consistent.
The senior is a bit of a Swiss army knife addition to the Redhawks' team as he's proficient in the infield at various positions. Glatch is a catcher as well as a right-handed pitcher and third baseman. He also has a fire in his bat when he steps up to the plate on offense. Last week, Glatch pitched seven innings allowing zero runs and striking out twelve batters as Liberty went 3-0 against their opponents. Glatch allowed only one hit in a 5-0 win over Frisco Independence on April 6th. At the plate last week, Glatch hit one triple and posted a .375 batting average while tallying three RBIs.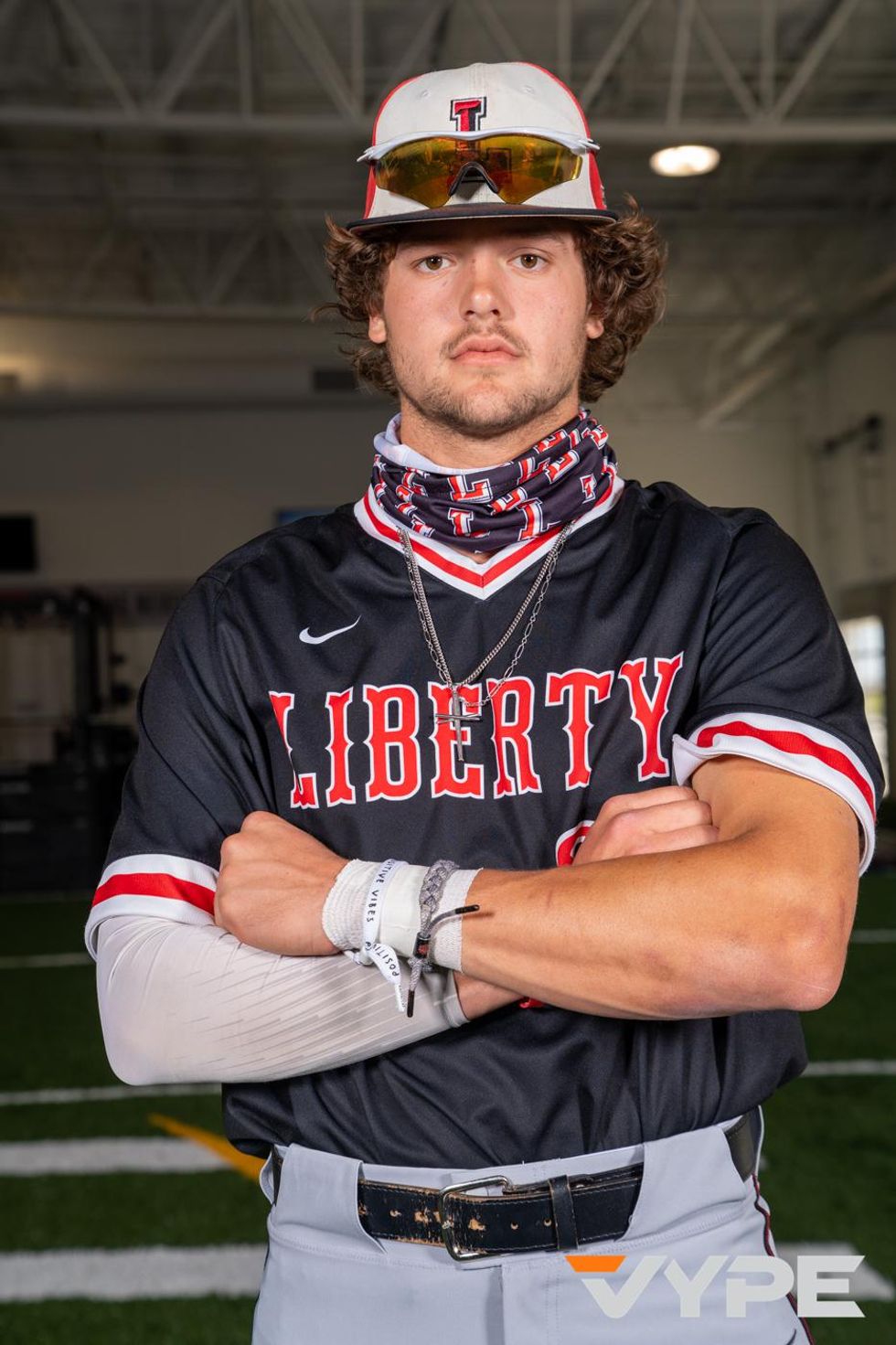 Bradley Collier
The uncommitted stand-out athlete has many goals this season, but his first is to "win district" with a "long-term goal of making it down to Round Rock for the state tournament." Glatch isn't focused on only the dubs for the Redhawks, though. "Winning is what everyone believes makes a successful season," said Glatch in an interview with VYPE DFW. "But in this program, we have had many years of growth and rebuilding without a winning record to get to where we are now. So, to me, a successful season is when a team becomes an overall more competitive team that treats one another as their own family."
Treating each other like a family is a key to the team's success this season, says Glatch. "We can all rely on one another to do their job. Everyone understands and accepts their roles." The secret to his individual success this season, though? "I have finally begun to focus solely on playing baseball without the distraction of football. That has really allowed me to perfect my craft for hitting, pitching, and catching."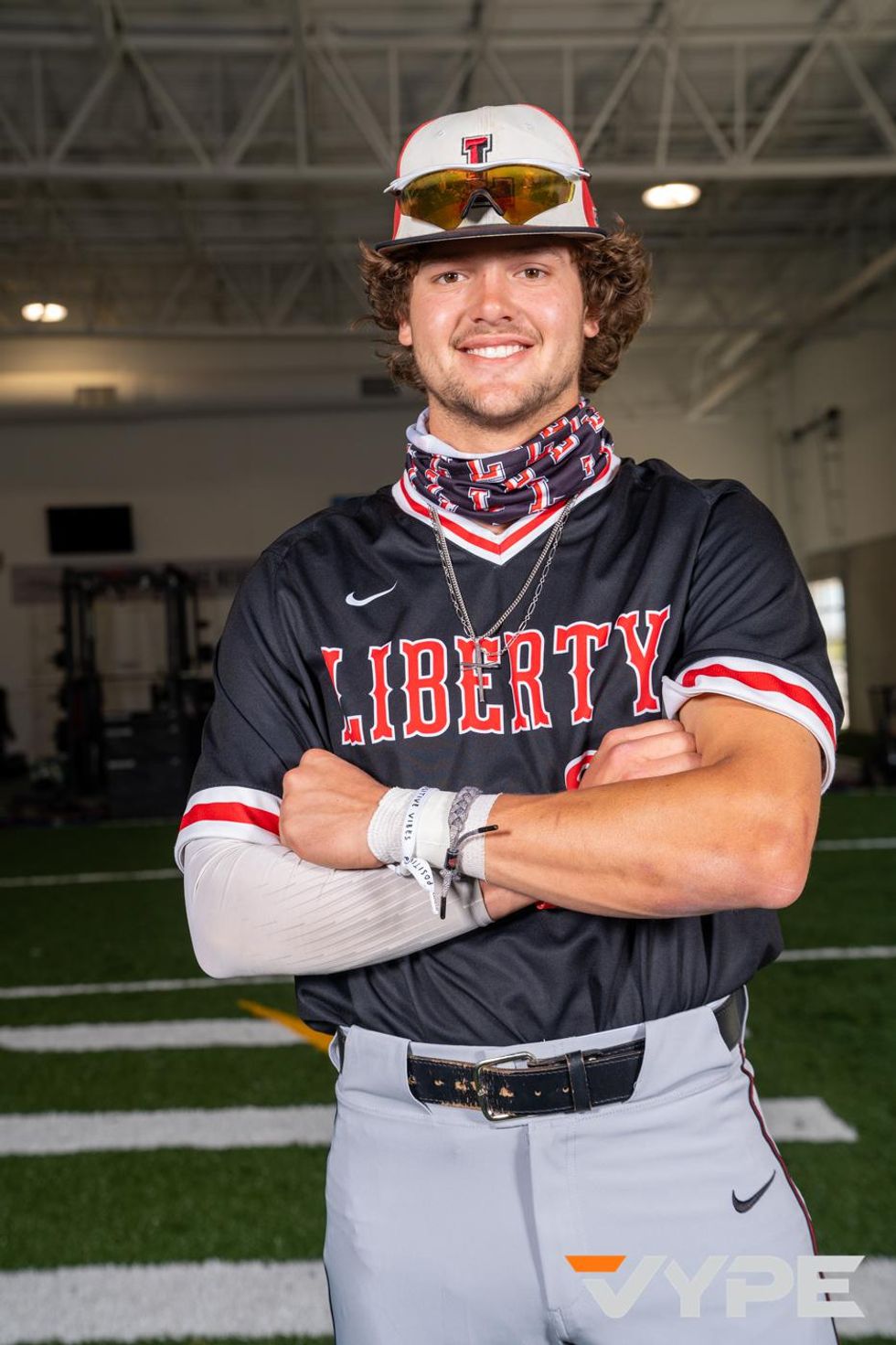 Bradley Collier
Interview with Glatch:
What has been your favorite memory playing for Frisco Liberty?
"My favorite memory from this team is the brotherhood and family-like culture that we have with one another."
As an uncommitted athlete, what are you looking for in a college program?
"I am looking for a program that will always compete, is a family, and that hates losing more than they like winning."

What do you want to major in in college?
"I plan to major in Accounting."

Who is your favorite baseball team?
"Texas Rangers."

If you could go to dinner with one person dead or alive who would it be? What would you talk about?
"I would want to have dinner with my uncle who passed away before I was born so I could finally understand why everyone says he was the greatest person to walk the Earth."

Who do you compare your playing style to or look up to as an athlete?
"I have always looked up to Drew Brees as an athlete, but I guess I'm going to have to find someone new now."

For more photos from VYPE DFW's baseball/softball photoshoot presented by Whataburger, please visit us at VYPE Photos.
Legacy junior Ethan Wiley graciously sent
VYPE
this prospectus for each and every Senior on the Titan Basketball team. Check out the write-up below!
Aaron Scott - Aaron Scott is headed to the University of North Texas as an extremely talented6'6 ball-handler who has outstanding hustle and scrappiness. Aaron can also shoot the ball beautifully, with his midrange being deadly from all angles of the court, and he has a nice three ball you just cannot leave open. Aaron is a threat on the offensive side of the court and his length makes him hard to get around on the defensive end. Aaron was also awarded conference MVP as the season ended, so he is coming in hot for his freshman year as a member of the Mean Green family.
Ashton Smith - Ashton Smith who is headed to Texas A&M University is an absolute powerhouse in the paint. His dominance inside is nothing to take lightly and his rim protection is just as dangerous. Ashton will jump out of the gym and finish at the rim with authority, or out-rebound his competitors, and he can do it all night long.
PJ Neal- PJ Neal who is on his way to Prairie View A&M University does it all. From his shiftiness to his acrobatic finishes, PJ plays the role of a floor general and makes it look easy.PJ isn't one to back down from contact either. He blows by his defender with ease and can either analyze the floor to look for a dime or bulldoze his way to the paint to finish, and that is only him on the offensive end. PJ will put his opponent in a box and get you some steals with that, and on the fastbreak, you might want to watch your back if PJ is trailing for the chase-down block. PJ gives all his energy on the floor every night and can handle all the pressure in the world. In addition to his on-court success, he also succeeds in the classroom with a 3.4 GPA.
Johnathan Massie- Johnathan Massie, headed to McNeese State University, fires from anywhere and everywhere on the court. He handles the ball with finesse, enabling him to either lull his defender to become comfortable and let him breeze by, or go for the shot over them. Johnathan also is a great rebounder on the offensive end amongst the bigs, giving him and his team more and more possessions on their end of the court. Johnathan finishes at the rim with strength and will muscle his way into the paint if needed. Johnathan is an offensive threat who is able to shoot at will, size up his defender and drive by them for a mid-range shot, or just take it to the rim with contact. Not only is he focused on the court but also off the court, maintaining a3.0 GPA.
Jaylon Gibson- Jaylon Gibson who is bound for Mount Saint Mary is a 6'3 guard whose handle is ridiculously tight, whose vision is almost futuristic, and who can hit from deep or finish with aggression. Jaylon's feel for the floor is unmatched: he has an ability to quickly analyze the court and see looks that almost no one else would notice. Jaylon is always looking to get his teammates a bucket, but don't let up on him because he will make you pay. Jaylon puts a padlock on anyone in front of him and doesn't back down from a challenge.
Sir Issac Herron- Sir Issac Herron who is on his way to Oral Roberts University is a menace in the paint when it comes to protecting the rim. At a hefty 6'9 his length helps him to reach and block shots from all over. Not only is he defensive, but his post-game is also nothing to take lightly. He will face up with his defender and elevate for a shot over them easily, or he will get a feel for his opponent and decide if he should back them down or fade. On the fast break, he can push the ball up the court and hit a guard at a fast pace or simply take it to the rim and finish there. SirIssac can do just about everything for you as a big man.
Brian Myles- Brian Myles who is making his way to Prairie View A&M University is a big who has an immense amount of grit and is greedy on the boards. He will get up and bring the ball down at all costs. Not only does he crash the boards but he works his magic in the post as well. His post moves are technical and tough, from spinning on one side of the goal and finishing on the other end, finishing with contact, or facing up and analyzing how he wants to make his move; Brian is someone who handles his craft carefully. He handles his craft off the court just as carefully by maintaining a 3.0 GPA.
HOUSTON - It was a moment that Charli Collier was destined for.

Collier, wearing a dress designed by former First Lady Michelle Obama's stylist Sergio Hudson, sat behind a single round table. To her right was her mother Ponda and to her left younger brother Casey, who is a lineman at USC. In the middle of the table was a beautiful bouquet of pink roses and just beside it a framed photo of her late father Elliott.

A night that Elliott, who passed away in April 2016, envisioned for his daughter since the eighth grade was here and his dream of her being No.1 came to fruition.
Charli Collier - the No. 1 overall pick of the 2021 WNBA Draft by the Dallas Wings.
"I thought about him the whole time, the whole moment he was there," Collier, who pointed straight to the sky the moment her name was called, said. "It was just really emotional. It was a crazy feeling. He always told me I'd be No. 1. To have that come into play it was crazy. I was a little nervous when [WNBA Commissioner] Cathy [Engelbert] came and made the pick, it was emotions everywhere.
"I still can't believe it. It's unreal and I can't put it into words."
Collier started her high school career at Barbers Hill before going on to the University of Texas, which she helped guide to the Elite 8 this past season.
Now, Collier gets to stay in Texas as she heads to Dallas.
"It means a lot to me, I'm Texas-born and raised," Collier said. "It just means a lot to me to be here for my hometown, my fans, my family just supporting me right down the street."
Being the No. 1 overall pick as a junior put Collier in an elite club becoming only the third-ever player to do that.

Coming from Houston, she also joins an elite club as Collier's name will now be mentioned in the same breath as Cy-Fair High School alums Chiney Ogwumike and sister NNeka Ogwumike, who were both taken No. 1 overall in their respective drafts (2014 and 2012), and Nimitz grad Brittney Griner, who was taken No. 1 overall in 2013.
"Those are amazing players that came out of Houston and to be a part of that is just awesome," Collier said. "I'm really humbled. I'm just looking forward to the journey and the experience."
Thursday was a busy day for Collier.
The future No. 1 pick facetimed with fellow former Longhorn Kevin Durant early in the day. The two talked about her being potentially taken No. 1, Collier sending him a WNBA jersey to wear in the tunnel when he arrives at the arena. The duo discussed what number she will wear (having worn 14 in high school and 35 for her college career) - which Durant likes 1 or 11 - and finally wishing her good luck.
The star-studded moments didn't end there.

After Collier was taken by the Wings, Dallas Maverick sensation Luka Doncic quote-tweeted her "WHAT'S UP DALLAS!!" tweet with "welcome to Dallas!"
"To see how young he is and the impact he's having on the league is amazing," Collier said about Doncic. "I love watching them play. I love the Dallas Mavs, so it's awesome to have him shout me out like that. It means a lot. I love his game, he makes an impact early and that's what I hope to do."
It won't be long before we see Collier in that new-look Dallas Wings jersey.
The Wings are set to open the 2021 season on May 14 in Los Angeles against the Sparks - who the Ogwumike's play for - before hosting their home-opener on May 22 at the College Park Center against the Seattle Storm.
"For me personally, I'm ready to get with my team and coaches and everybody," Collier said. "It's a quick turnaround because the season is here."
Being the No.1 overall pick came as a surprise to her, Collier stated as she was unaware that the Wings would be taking her in that top slot.

Getting to be that coveted of a prospect didn't come without hard work and tough skin.
"It takes a lot of work on and off the court," Collier said. "I feel like you have to have a great mindset. In this day and age, you have to be strong and confident. You have to have tough skin. There's a lot of people who have opinions and you have to learn how to block out the noise."
Join the #VYPETEAM
Get up to date news from all over the country!