Courtesy of Matthew Irwin social media
Before he took over as Katy Taylor's head baseball coach this season, Russell Krenek had a good idea of what he'd be dealing with.

"The first thing I learned is we had some good pitching," said Krenek, who spent the previous 15 seasons at El Campo. "That's been the strength. We're playing the cards we're dealt and having some strong arms that are really doing a fantastic job for us."
Largely because of a deep, quality pitching staff, the Mustangs (24-13) are in the regional quarterfinals for the first time since 2014. This coming despite Krenek being the third head coach in three years and Taylor finishing third in District 19-6A.
"It's amazing to be where we are right now in the playoffs," senior right-hander Matthew Irwin said. "I don't think anybody in Texas would've said we would make it this far, but we refuse to quit or back down, and our pitching is a big reason why we're here."
In six playoff games, Taylor has produced two shutouts and surrendered 22 runs, but only seven runs over the last five games. Irwin (11 2/3 innings, 1.61 ERA, nine strikeouts to three walks), senior right-hander Blake Wolf (7 2/3 innings, four hits allowed) and senior right-hander Jared Schaeffer (11 2/3 innings, 2.41 ERA, 15 strikeouts to five walks) are Taylor's "big three."
But there's more.
Senior right-hander Ryan Mullan (5 1/3 innings) has been terrific out of the bullpen, as has junior left-hander Layne Bishop (2 1/3 innings).
Krenek's rotation for the bi-district playoff series against George Ranch was Wolf-Schaeffer-Irwin. For the area round against Cy-Fair, it was Irwin-Schaeffer-Wolf. Irwin and Wolf each starred in do-or-die Game 3 wins.
"They've all risen to the occasion at different moments, and they've all picked each other up at different moments," Krenek said. "It's been a total staff effort. Not to sound cliché, but that's the reality of it. We have staff meetings with our pitchers on how we want to attack, and we don't necessarily have to roll out the same guy in game one or two or three. We feel like we can do any combination that gives us the best chance to win the game or series."
The Mustangs are a staff that attacks hitters and throws strikes. Against Cy-Fair, in which all games were decided by one run, Taylor's pitchers consistently got ahead early in counts, controlling the at-bat.
"We are trying to make the hitters get themselves out," Schaeffer said. "I think what makes our pitching staff dangerous is that all of us have the potential to go out and give our team a chance to win."
Many of the pitchers are peaking at the right time of the season. That is by design.
Krenek has emphasized a more intensive recovery process, implementing post-start runs and workouts. Irwin said arm care workouts after games have seen significant improvement from years past.
"It's nice to have that day in the weight room after a game to stretch your arms and get the blood flowing so we can recover quickly and strengthen our arms," Irwin said. "I think (Krenek) gets the best out of his pitchers because he knows every guy is different and he lets us do our routine and what we need to do to be successful, while also offering help and coaching us when necessary."
Leading up to the start of district play, only once did a Mustang throw more than 100 pitches in a game as Krenek made sure not to overextend guys early in the season, knowing he'd need them now.
"That's been critical, but it's also a luxury at the same time when you can pull a guy and you have confidence going into the next guy," Krenek said. "We're able to do that."
Another key to the success of the staff is the batterymate, catchers Peter Dworaczyk, a sophomore, and Yianni Stellakis, a junior.
Dworaczyk is highly regarded by Mustang pitchers for his attention to detail, pitch-calling and pitch-framing. Both he and Stellakis stay long after practice to catch extra bullpens.
"They work harder than anyone on the team," Irwin said.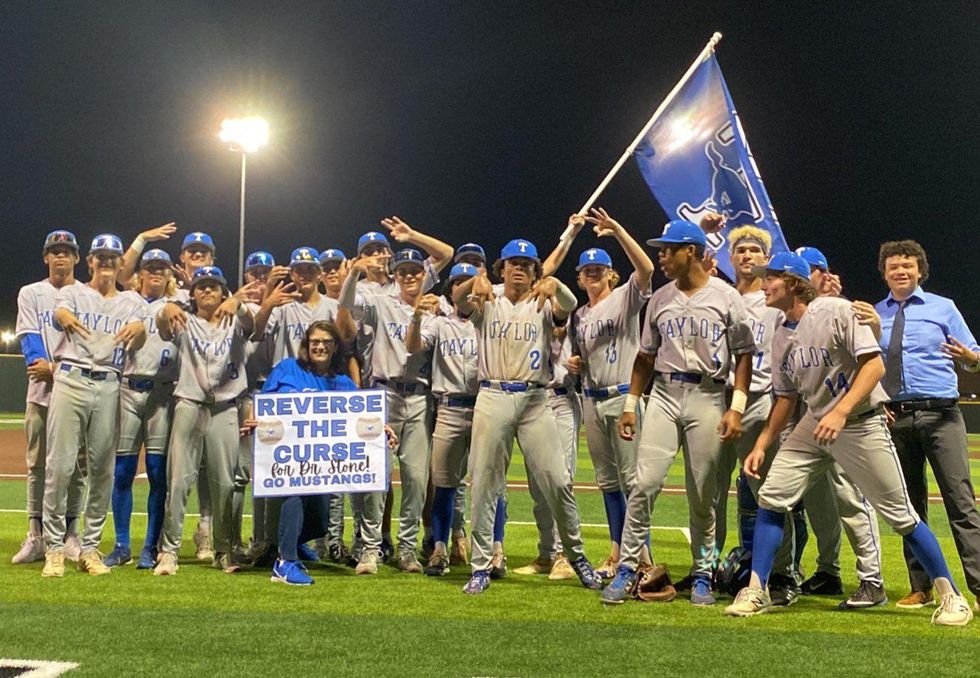 Katy Taylor is 24-13 this year and enjoying its finest season in eight years.Courtesy of Katy Taylor baseball social media
A staff that gets outs. A coach that cares and actively seeks player input into decision-making. An offense that, while reserved, can put up runs in a hurry when it's on time against the fastball and driving the ball to right centerfield.
"We aren't a team that's going to put up 10 runs a game like some teams we have played this season, so we need our pitching staff to be real consistent," said Schaeffer, also the Mustangs' cleanup hitter. "I believe that without how well our pitching has been this year, we wouldn't be in the position we are in right now."
More than anything, the Mustangs are a team that will fight. They are 3-0 in elimination games this postseason, having conquered a No. 2 seed in George Ranch and a district champion in Cy-Fair.
"We're resilient," Krenek said. "We scare a lot of people. They can't take Taylor lightly. I think we're a team that hangs in there and are able to do things late.
"If we get down, we've faced adversity numerous times already, so it makes us stronger."
True
Each week we take a look at a team from across the Austin/San Antonio area/surrounding areas that impressed us for one reason or another.
This week's team of the week took home some UIL State hardware this past week: Universal City Randolph girls track. The Ro-Hawks finished the 3A State Track meet with 86 points and ran away from the field early. One of the keys to their dominate run? Freshman Taylor Nunez who set the tone for the Ro-Hawks with 4 gold medals throughout the day. Below are the points accumulated for Randolph:
Long Jump: Taylor Nunez- 1st - 19' 7.25"
Triple Jump: Briana St. Louis- 2nd - 38' 5.5"
4X100M Relay: Cai Rogers, Briana St. Louis, Jourdann Cathro, Taylor Nunez- 1st - 47.01
800M: Jaela Smith- 4th - 2:22.53
100M: Taylor Nunez- 1st - 11.59
4X200M Relay: 2nd - 1:41.77
200M: Taylor Nunez - 1st - 24.06
Congratulations to the Ro-Hawks on a great season!
STATE CHAMPS!!!! Amazing job, girls!! All of your hard work paid off, and we are SO proud of y'all! 💙💙💙 pic.twitter.com/7g6dw84hmK
— Randolph Secondary Schools (@RandolphRoHawks) May 13, 2022
True
Northwest ISD Athletics
With state champions crowned, it's that time again where fans get the chance to vote on who they believe deserves to be named the VYPE DFW Public School Boys Track and Field Athlete of the Year! Sun & Ski Sports presented the 2022 VYPE DFW Public School Boys Track and Field Athlete of the Year Fan Poll. Be sure to vote for your favorite athlete out of the ones listed below!
The poll will remain open until 7 p.m. on Monday, May 23rd.
Please note that the use of voting software or bots will result in a deletion of votes and a potential DQ from the contest. PLEASE try to keep this fair and fun for all involved!
All athlete polls and their content are only associated and created by VYPE Media and its staff. The content is not created or voted on by any corporate sponsor or marketing partner. Please contact VYPE Media directly if you have any questions, comments, or concerns around our Fan Polls.
If you need summer gear for skiing, snowboarding, cycling, running, hiking and more, Sun & Ski Sports has it in-stock and ready to rock your upcoming adventure! Shop in-store at their 13 locations in Texas, or sunandski.com.
Join the #VYPETEAM
Get up to date news from all over the country!