(Vype)
ON THE HARDWOOD, THE NIMITZ COUGARS WERE THE SURPRISE TEAM OF DISTRICT 14-6A, ENDING THE SEASON IN THE SECOND-PLACE SPOT WITH AN 11-3 DISTRICT RECORD
.As a result of her team's success, Nimitz coach Shannon Harrison was named the Co-Coach of the Year and senior Mia Briggs earned the Outstanding Setter award. Holly Richardson was named Outstanding Hitter of the Year.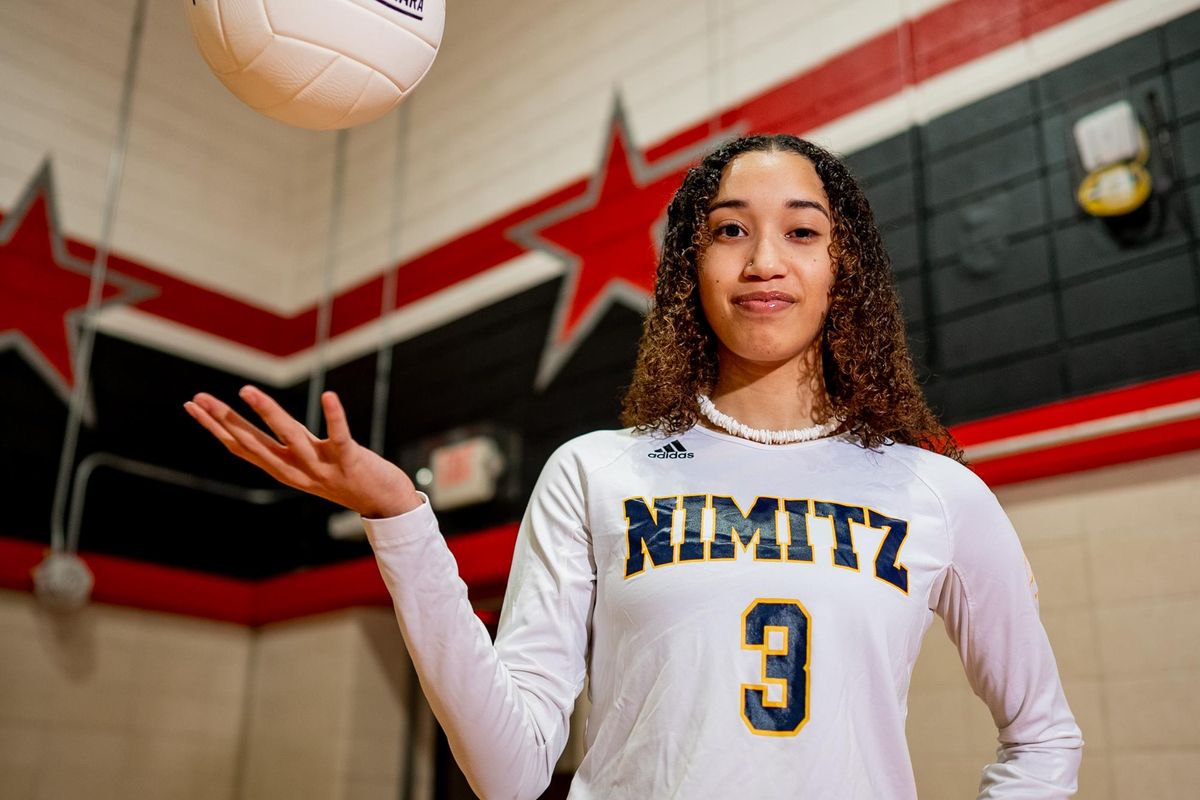 Nimitz's Mia BriggsDriskill (Vype)
Davis finished third in the district going 10-4 led by Ariel Andrade and Asia Davis. Both were first-team, all-district selections at the conclusion of the season.
MacArthur earned the final playoff spot behind the outside hitting of Jessika Martinez.
Eisenhower and Aldine tied for sixth in the district. The Mustangs' Elda Zuniga enjoyed a stellar season, earning Defensive Player of the Year honors.
POSTSEASON HONORS

OUTSTANDING HITTER OF THE YEAR: Holly Richardson, Nimitz
OUTSTANDING SETTER OF THE YEAR: Mia Briggs, Nimitz

DEFENSIVE PLAYER OF THE YEAR: Elda Zuniga, Aldine

FIRST-TEAM ALL-DISTRICT

Ariel Andrade, Davis
Asia Davis, Davis
Karisma Garcia, Eisenhower
Jessika Martinez, MacArthur
Gabriella Ruiz , MacArthur
T 'Asia Green, Nimitz
Malaijah Williams, Nimitz
Gisselle Cabieles, Nimitz
SECOND-TEAM ALL-DISTRICT

Veronica Cantu, Aldine
Tatiana Rodriguez, Aldine
Alayna Vincent, Davis
Erin Ferguson, Eisenhower
Choyce Washington, Eisenhower
Estefana Negrete, MacArthur
Jaden Harrison, Nimitz
Arriana Flowers, Nimitz
There is a new face representing the future direction of The Woodlands lacrosse.
Newly hired Highlanders coach, Anthony DeMaio, has the team excited for their upcoming season considering their leader has significant credibility, which could usher in a revitalized passion for the game in Texas.
Demaio's is a nationally-recognized player, having been a three-time All-American for Coronado High School (San Diego, CA), before becoming the only player to win two National Championships at the University of Maryland (2017, 2022). He is now a pro joining the Premier Lacrosse League's Redwoods.
Now, the 25 year old is the head coach for The Woodlands Lacrosse -- already one of state's top teams (won the State Championship in 2018).
"It's such a great atmosphere here [The Woodlands]," said coach DeMaio. "All the great players, but also great people and families are involved in lacrosse. The most intriguing thing for me is that they [the team] want to get better. They care about the program here, and that's something that you can't coach. I think we've gotten a huge buy-in. We are changing a couple of things culturally that will make us go further."
Culturally speaking, lacrosse is not a commonly followed sport in Texas. However, the success of this Highlanders team along with that of many other teams throughout the state, has the potential to increase the attention of the game.
"Texas is getting the best [lacrosse] coaches in the nation," DeMaio said. "I think Texas lacrosse is growing faster than anywhere else. I would say Texas is about five to seven years behind the East Coast, but I think that we're right there. That's because of the level of athletes we have here and people are starting to buy into it."
Will the Highlanders take it to a new level under the young coach?
"If a player knows that their coach is all-in and will do anything for them, then that develops a strong connection among the team and instills them with confidence," he said. "What's most vital to me is creating that family aspect, having your brother's back and making sure that you're playing for your team. It'll be something we pride ourselves on, and people across Houston and Texas will see that very evidently when we start playing games."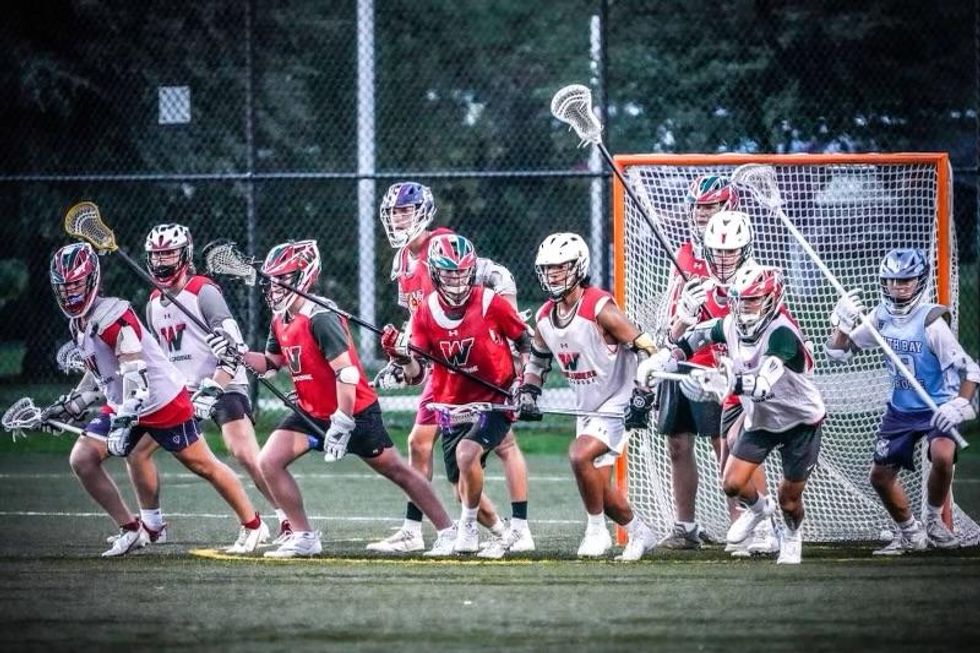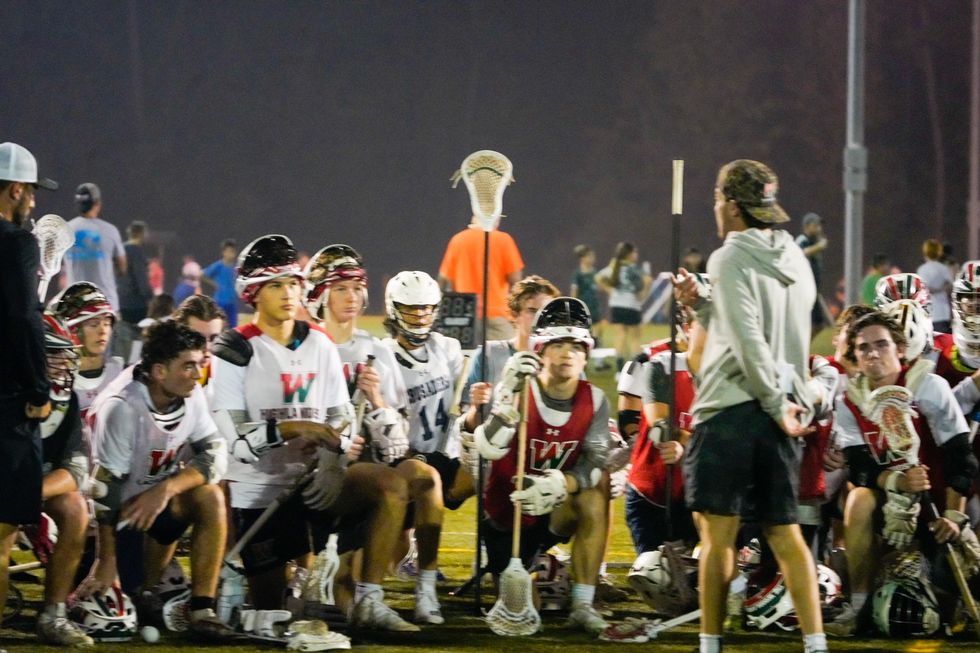 True
The first round of nominees for the prestigious 2023 McDonald's All American Games has been announced and 18 players total—5 boys and 13 girls—hail from the Greater Houston area.
The final rosters of the top 24 Boys and 24 Girls for the 2023 McDonald's All American Games will be announced on Tuesday, Jan. 24, 2023 on NBA Today between 3-4 p.m. ET on ESPN.
The games will be played on March 28 at the Toyota Center in Houston.
Local Nominees:

BOYS:

Corey Hadnot II, Cypress Creek High School, Houston
Zion Harper, Lutheran North Academy, Houston
Jace Posey, Strake Jesuit College Prep, Houston
Jaland Lowe, Marshall High School, Missouri City
Jamari McDowell, Manvel High School, Manvel

GIRLS:

Loghan Johnson, Houston Christian High School, Houston
Dalanna Carter, Barbers Hill High School, Mont Belvieu
Rylee Grays, Pearland High School, Pearland
D'Asia Thomas, Houston Christian High School, Houston
Riley McCloseky, Memorial High School, Houston
Abigail Tomaski, Memorial High School, Houston
Jorynn Ross, Summer Creek High School, Houston
Kortlin Allen, Westside High School, Houston
Kaitlynn Evans, Westside High School, Houston
Makayla Evans, Westside High School, Houston
Indiya Fields, Westside High School, Houston
J'Riana Moore, Westside Highschool, Houston
Arianah Lewis, Brenham High School, Brenham
Join the #VYPETEAM
Get up to date news from all over the country!