HOUSTON - The Pioneers have something special going on the south side of town.

On Thursday, Lutheran South Academy defeated Southwest Christian School Fort Worth in dominating fashion with a 16-0 victory to claim the TAPPS Division II State Championship.
For the Pioneers this is the fourth in program history and the fourth in the last six seasons. LSA has now won titles in 2015, 2018, 2019 and 2021. If COVID-19 hadn't of knocked out the 2020 season there is a chance this could be a three-peat for the Pioneers.
LSA jumped out early with an RBI single and double from Tyler Ehlinger and Easton Brenner, respectively, making it 2-0 after the second inning. After Tyler Helpenstill drove in a run with a single in the third, the Pioneers blew the doors open in the fourth.
The Pioneers pushed across three runs on a double play groundout, wild pitch and RBI single from Christian Melillo, making it 6-0.
In the fifth, Brenner added two more RBIs to his day with a double and finished the game 4 of 4 with three RBIs. Melillo had another RBI single, which made it 9-0. In the seventh, LSA tacked on one seven runs to push the lead out to 16-0, which would be the final score.
Nelson Klein, who set down the first nine batters he faced, was lights out on the mound pitching a complete game shutout in the TAPPS Division II State Championship game.
Bradley Collier
The softball season is nearing the moment Texas high school softball fans have been waiting for: the state tournament. Before we can get to that point, though, the best of the best must make it through the playoffs. Here's a look at the five teams you should be watching in the UIL softball regional finals:
Prosper (25-3-1)
With a 10-2 record through district play, the Prosper Lady Eagles finished second in their district. The Lady Eagles defeated big district opponents like Allen, Denton Braswell, Denton Guyer, and more on their way to playoffs. Outscoring their opponents by nearly 200 runs so far this season and have showed no signs of slowing down; especially now in the playoffs.
Last week in the area-round, Prosper faced off against a strong Irving Nimitz in a one-game playoff round. Prosper had no problem defeating Nimitz 9-1. The Lady Eagles have already started their regional quarterfinal series against Denton Guyer winning game 1 on Wednesday (3-1). The two teams are already district opponents and have seen each other twice before (Prosper winning one of the two games). The Lady Eagles can be expected to enter game 2 Thursday evening with their bats ablaze as they continue on in the playoffs.
Prosper Rock Hill (27-6)
The Rock Hill Lady Blue Hawks have been dominant all season. Rock Hill posted a 13-1 record in district play where to finish first in their district. Their only district loss came against an offensively strong Lovejoy team. Defeating the likes of Sherman, McKinney North, Denison, and more this season has given Prosper Rock Hill the fight and confidence they need to be able to succeed in playoffs.
The regional quarterfinal pairing with Frisco Memorial has already begun as Prosper Rock Hill defeated Memorial Wednesday night by a score of 6-2. Currently on a 12 game win-streak, the Lady Blue Hawks should have no trouble closing out the series and advancing to the next round.
Justin Northwest (27-5-2)
The Justin Northwest Lady Texans have spent all season proving that they are just as good as everyone around them. Going 12-3 in district play, the Lady Texans finished second in their district just behind Colleyville Heritage. With an 84% win percentage, Northwest has shown time and time again that they are ready for anyone and anything that stands between them and a state title. The Lady Texans have outscored their opponents 220-60 so far this season.
The regional quarterfinal pairing with Fort Worth Brewer is set to begin 7:00 Thursday in front of a home crowd. Fans can expect the Lady Texans to bring everything they have as they strive to be the best in UIL Class 5A softball.
Colleyville Heritage (28-7-2)
Finishing first in their district, Colleyville Heritage has been a force to be reckoned with all season. The Lady Panthers only lost two district games, one against Justin Northwest and the other against Richland. Outscoring their opponents by over 200 runs so far this season showing the dominance they have at the plate.
The Lady Panthers are set to face off against a strong Aledo team in the regional quarterfinals. The series against Aledo is set to begin 6:30 p.m. Thursday at Byron Nelson.
Flower Mound (31-2-1)
The Flower Mound Lady Jaguars have spent all season demanding respect from every opponent. Going undefeated in district play (14-0), Flower Mound finished at the top of their district defeating the likes of Plano, Flower Mound Marcus, Hebron, Lewisville, and more. Flower Mound has posted 12 shutouts this season while outscoring their opponents by 140 runs.
Flower Mound enters the regional quarterfinals on a four-game win streak with a fire in their hearts to further their game and continue to advance in the UIL playoffs. The Lady Jaguars are set to face Allen at 7:00 p.m. Thursday in front of a home crowd to begin their series.
MOLLEY CROSS HAS LEFT A TREMENDOUS LACROSSE LEGACY AT KING'S RIDGE CHRISTIAN. THE SENIOR WILL TAKE HER STICK DOWN THE ROAD TO ROME, GEORGIA TO PLAY FOR THE VIKINGS OF BERRY COLLEGE. VYPE CAUGHT UP WITH CROSS AS SHE REFLECTS ON HER TIME AS A TIGER.
VYPE: What was it about lacrosse that drew you to the sport?
CROSS: "I came from a bunch of different sports growing up. I fell in the love with the diversity of sports that lacrosse combines. Every player has a different skillset and there aren't two players who are exactly that same. The flexibility and creativity that you can play with… it's never-ending."
VYPE: What was it about Berry College that you loved?
CROSS: "I was blessed to have some different options to play lacrosse in college. But you know how people talk about that warm and fuzzy feeling you get when you step on campus? It really did feel like home to me. Out of all the teams I was able to visit, I connected most with the Berry girls and I'm super grateful for the opportunity."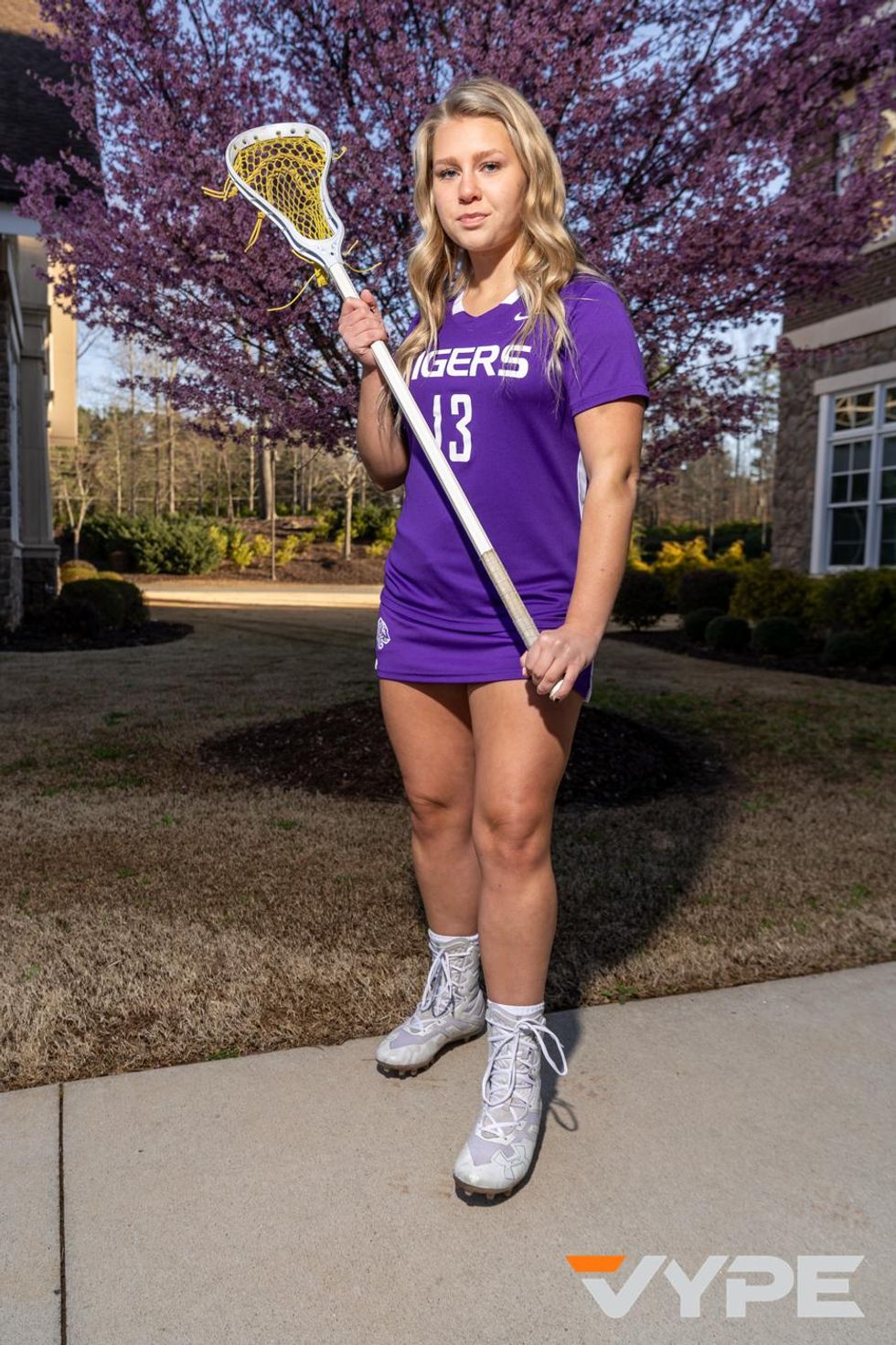 VYPE: What is your most fond memory of going to King's Ridge?

CROSS: "I'm about to graduate and I can strongly say that the support system here is unlike anywhere else. The teachers will go to the ends of the earth to be there for you in and out of school. The faculty is 100-percent there for you."
VYPE: So, outside of lacrosse, how do you spend your time?
CROSS: "I play year-round lacrosse, but when I do have free time I'm usually with my family, friends, and dogs. I'm an animal person and want to study pre-vet in college."
Join the #VYPETEAM
Get up to date news from all over the country!